DID YOU KNOW.....
Photos of Team Groups over the years
Football has a million and one stories and just as many facts and figures. Here are a few of them - the record-breaking, unusual and bizarre.
More Did You Knows...
Index
1 2 3 4 5 6 7 8 9 10 11 12 13 14 15 16 17 18 19 20
21 22 23 24 25 26 27 28 29 30 31 32 33 34
Photos of Team Groups over the years
The latest Front Page Pictures are on the Home Page - but here are the team pictures from previous weeks.
Other photo pages - Players, managers & fans - Football Grounds.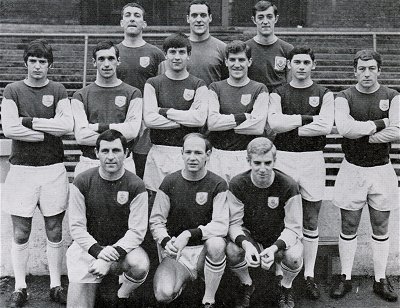 Burnley 1967/68
Burnley finished as League champions in 1959/60 but the time the 1960's came to an end the Turf Moor side had become very much mid-tablers in the top flight. They finished 14th four seasons in a row at the end of the decade. They had a renowned forward line with Andy Lochhead and Willie Irvine topping the club goalscorerers chart in each of the five seasons up to 1967/68. But that season saw the start of a change up front with those two players nearing the end of their careers at Turf Moor. New kid on the block was Frank Casper who signed at the start of the season from Rotherham United. He scored in this first three League matches for Burnley and finished top scorer in 1967/68 and 1968/69...and he later went on to manage Burnley.
(left to right)
Back Row: Brian O'Neil, Harry Thomson, Arthur Bellamy.
Middle Row: Willie Morgan, Frank Casper, Willie Irvine, Leslie Latcham, Ray Tennent, Ralph Coates.

Front Row: John Angus, Andy Lochhead, Colin Waldron.
* * * * *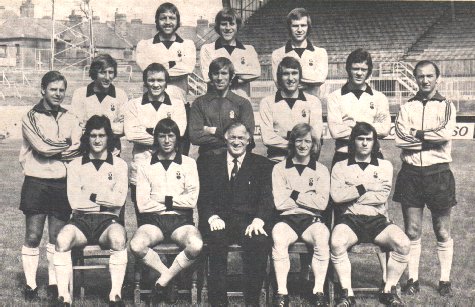 Coventry City 1972/73
After finishing just above a relegation spot in 18th place in 1971/72 Coventry brought a new management team to Highfield Road to help change their fortunes. Joe Mercer was appointed general manager and Gordon Milne became team manager - Mercer had moved from Manchester City when he realised his days were numbered there after losing his office and parking space at Maine Road! The new management team planned to move away from the defensive emphasis of previous manager Noel Cantwell but Coventry scored fewer goals and finished the season just above a relegation spot - in 19th place!
(left to right)
Back Row: Ernie Hunt, Ernie Machin, Bobby Graham.
Middle Row: Gordon Milne (Team Manager), Chris Cattlin, Roy Barry, Bill Glazier,
Wilf Smith, Jeff Blockley, Tommy Casey (coach).

Front Row: Dennis Mortimer, Mick Coop, Joe Mercer (General Manager), Willie Carr, Quintin Young.
* * * * *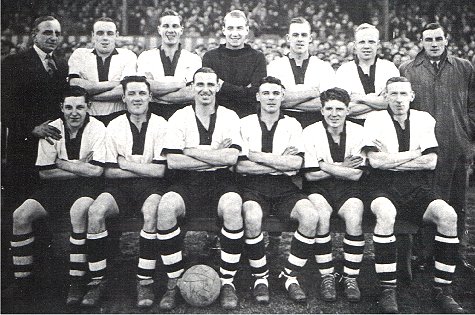 Notts County 1947/48
During the 1947/48 season season Third Division (South) side Notts County certainly hit the headlines in an amazing way when they bought a current England international of the time - Tommy Lawton - from Chelsea for a British record transfer fee, a mahoosive £20,000. The paying public soon helped repay that fee with 7 of the 13 league matches at Meadow Lane after he joined in November 1947 attracting 30,000+ crowds. The best was 45,116 for the 5-1 defeat of Swansea Town on Boxing Day. Lawton made his last four England appearances while a Third Division player and went on to score 90 goals in his 151 league matches for the club. He moved on to Brentford and then Arsenal although he did return to Meadow Lane in 1957 as manager for a little over a year.
(left to right)
Back Row: Tom Radcliffe (trainer), Eddie Gannon, Aubrey Southwell, Harry Brown, Bert Howe, William Baxter, Fred Evans;

Front Row: Anthony Freeman, Jackie Sewell, Tommy Lawton, Jack Marsh,
Albert Parks, Billy Corkhill..
* * * * *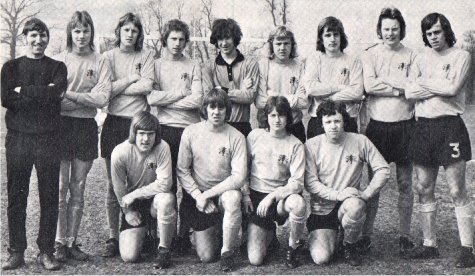 Watford Juniors 1972/73
Well they had the haircuts but did they have the footballing ability I wonder? I'm guessing they would have been the regulars in Watford's South East Counties League teams but both their Division 1 and Division 2 sides in that competition finished near the foot of the table. Did any of them make the grade? Steve Hodge rings a bell but he's not the one who later played for Forest etc. One who didn't make the grade at football is far left in front row Mike Gatting. Allegedly he was told he was too short and fat for football so tried cricket instead - and captained England!
(left to right)
Back Row: Wally Fielding (Youth Team manager), Peter Caines, Steve Hodge, Andy Chapman, Dave Owensworth, John Watt, Guy Bristow, Graham Parkins, Jimmy Walsh;

Front Row: Mike Gattin, Keith Mercer, Gary Johnson, Paul Lake.
* * * * *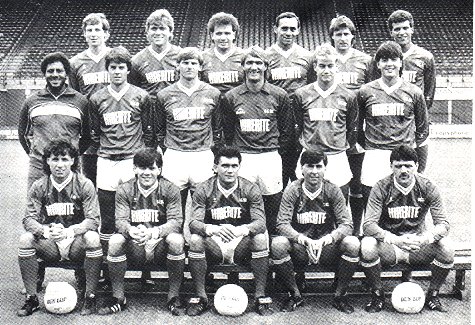 Bristol City 1985/86
The Robins spent 4 seasons in the top flight in the 1970's but the 80's started with 3 relegations in 3 seasons to leave them in Division 4. Former England player Terry Cooper took over as manager in 1982 and by the 1985/86 season they were back in Division 3.
(left to right)
Back Row: Lee Rogers, Rob Newman, Mark Hughes, Steve Johnson, Howard Pritchard, Keith Curle;
Middle Row: Alex Lockhart (physio), Gary Marshall, Alan Walsh, Keith Waugh, David West, Nigel Smith;
Front Row: Steve Neville, Andy Llewellyn, Bobby Hutchinson, Martyn Hirst, Brian Williams.
* * * * *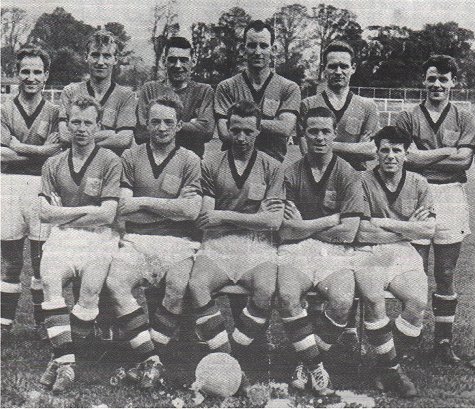 Plymouth Argyle 1958/59
The 1958/59 season saw the regional (north and south) Third Divisions change to national Third and Fourth Divisions with Plymouth finishing the season as champions of Division 3 and for the third time since they joined the Football League in 1920 they were promoted to Division 2.
(left to right)
Back Row: Peter Anderson, George Robertson, Geoff Barnsley, Reg Wyatt,
Neil Dougall, John Williams;
Front Row: George Baker, Jimmy Gauld, Wilf Carter, Barrie Meyer, Harry Penk.
* * * * *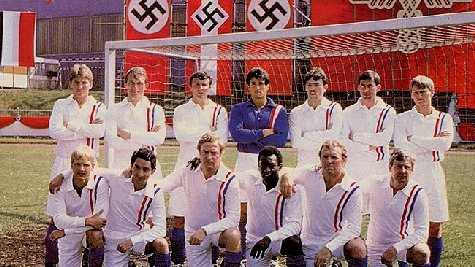 The Prisoner of War team from the 1981 film Escape to Victory
One of the better football-themed films. Ipswich Town had an important presence in the film - John Wark and Russell Osman were part of the POW team but Paul Cooper, Kevin Beattie, Kevin O'Callaghan, Robin Turner and Laurie Sivell were also involved, either as part of the German team or in the general filming.
(left to right)
Back Row: Doug Clure (Russell Osman), Michael Fileu (Paul Van Himst), Sid Harmor (Mike Summerbee), Robert Hatch (Sylvester Stallone), Arthur Hayes (John Wark), Paul Wolchek (Kazimierz Deyna), Erik Borge (Søren Lindsted)

Front Row: Gunnar Hilsson (Hallvar Thoresen), Carlos Rey (Ossie Ardiles), John Colby (Michael Caine), Luis Fernandez (Pelé), Terry Brady (Bobby Moore), Pieter Van Beck (Co Prins).
* * * * *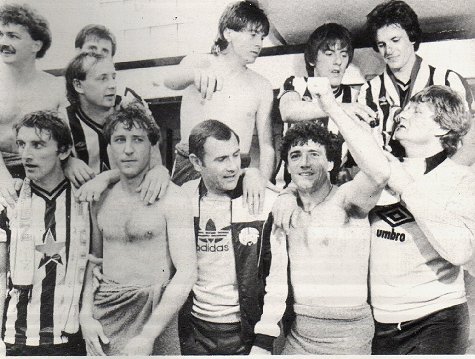 The dressing room at Newcastle United after they had beaten Derby County 4-0 in May 1984 to clinch promotion to the top flight.
(left to right)
Back Row: Kevin Carr, Glenn Roeder, David McCreery, Chris Waddle, Peter Beardsley, Kenny Wharton;
Front Row: John Anderson, Steve Carney, Arthur Cox (manager), Kevin Keegan, Willie McFaul (coach).
* * * * *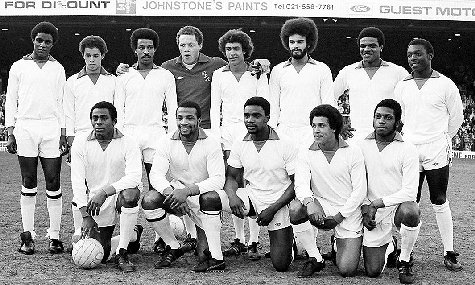 Well, if you watched the BBC 2 Adrian Chiles programme
Whites v Blacks, How Football Changed a Nation
you will recognise this picture of the black players who made up one of the teams for the Len Cantello testimonial played at the Hawthorns on Tuesday 15th May 1979. The beat the team of white players 3-2.
(left to right)
Back Row: Ian Benjamin (Sheffield United), Vernon Hodgson (WBA), Brendon Batson (WBA), Derek Richardson (QPR), Stuart Phillips (Hereford), George Berry (Wolves), Bob Hazell (Wolves), Garth Crooks (Stoke);
Front Row: Winston White (Hereford), Cyrille Regis (WBA), Laurie Cunningham (WBA), Remi Moses (WBA), Valmore Thomas (Hereford).
* * * * *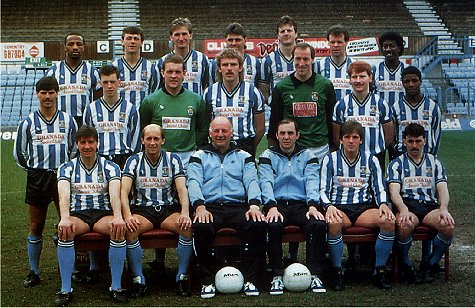 Coventry City 1987
The Sky Blues pictured at their former Highfield Road ground in 1987. It was the year of their greatest triumph, their 3-2 victory over Spurs in one of the better FA Cup Finals. They were denied a chance of playing in the European Cup Winners' Cup the following season because English clubs were banned from Europe at the time and haven't got as far as even the semis of the FA Cup since.
(left to right)
Back Row: Cyrille Regis, Steve Sedgley, Graham Rodger, Nick Pickering, Keith Houchen, Trevor Peake, Dave Bennett;
Middle Row: Ian Painter, Brian Borrows, Jake Findlay, Brian Kilcline, Steve Ogrizovic, Dean Emerson, Lloyd McGrath;
Front Row: Paul Culpin, Greg Downs, John Sillett (manager), George Dalton (physio), David Phillips, Michael Gynn.

* * * * *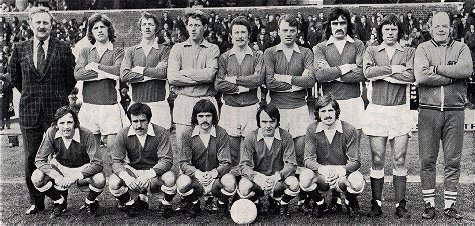 Wigan Athletic 1972/73
At the time they were still a non-league side, it wasn't until 1978/79 that they first played in the Football League. The 1972/73 season saw Wigan finish 3rd in the Northern Premier League and play at Wembley for the first time - a 2-1 defeat against Scarborough in the FA trophy final.
(left to right)
Back Row: Les Rigby (manager), John Rogers, Albert Jackson, Dennis Reeves, Ken Morris, Billy Sutherland, Johnny King, Mike Taylor, Ken Banks (trainer);
Front Row: Graham Oates, Ian Gillibrand, Micky Worswick, Paul Clements, Colin Chadwick.

* * * * *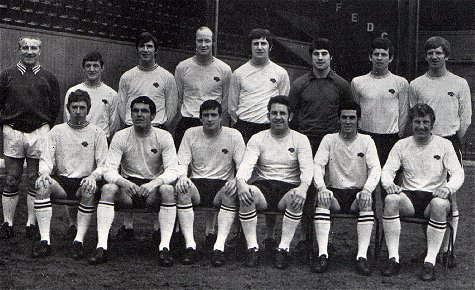 Derby County 1970/71
Brian Clough was manager at the time but was presumably walking on water somewhere when the picture was taken. Cloughie was working his magic at the Baseball Ground with County having not long been promoted to the top division and about to win the League for the first time and reach the semis of the European Cup. Then the real 'special one' moved to Brighton, Leeds and finally Nottingham Forest

(left to right)
Back Row: Jimmy Gordon (trainer), Willie Carlin, Kevin Hector, Terry Hennessey, Roy MacFarland, Les Green, Ron Webster, Alan Durban;
Front Row: John McGovern, Frank Wignall, John O'Hare, Dave Mackay, John Robson, Alan Hinton.

* * * * *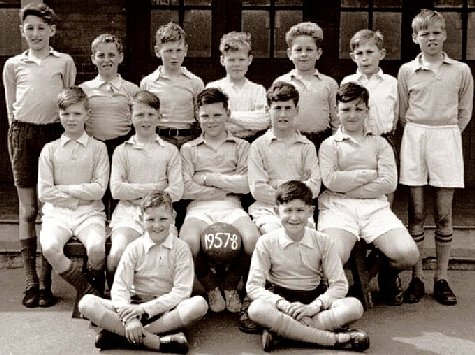 A picture of the Burnt Ash football team in 1957/58 - and you know one of them is going to be famous. But which one? One really has a Colin Bell look about him, probably too long ago for Frank Lampard and definitely too long ago for Peter Crouch. No the famous one is the far left on the middle row - David Jones. In later life David Jones was better known as David Bowie, and doesn't he look angelic in that picture! So what was the future of the other thirteen I wonder? Did any of them go on to play football at a higher level in later life or, like the most of the rest of us, did they come various cogs in the general wheels of life. Does anyone know?
* * * * *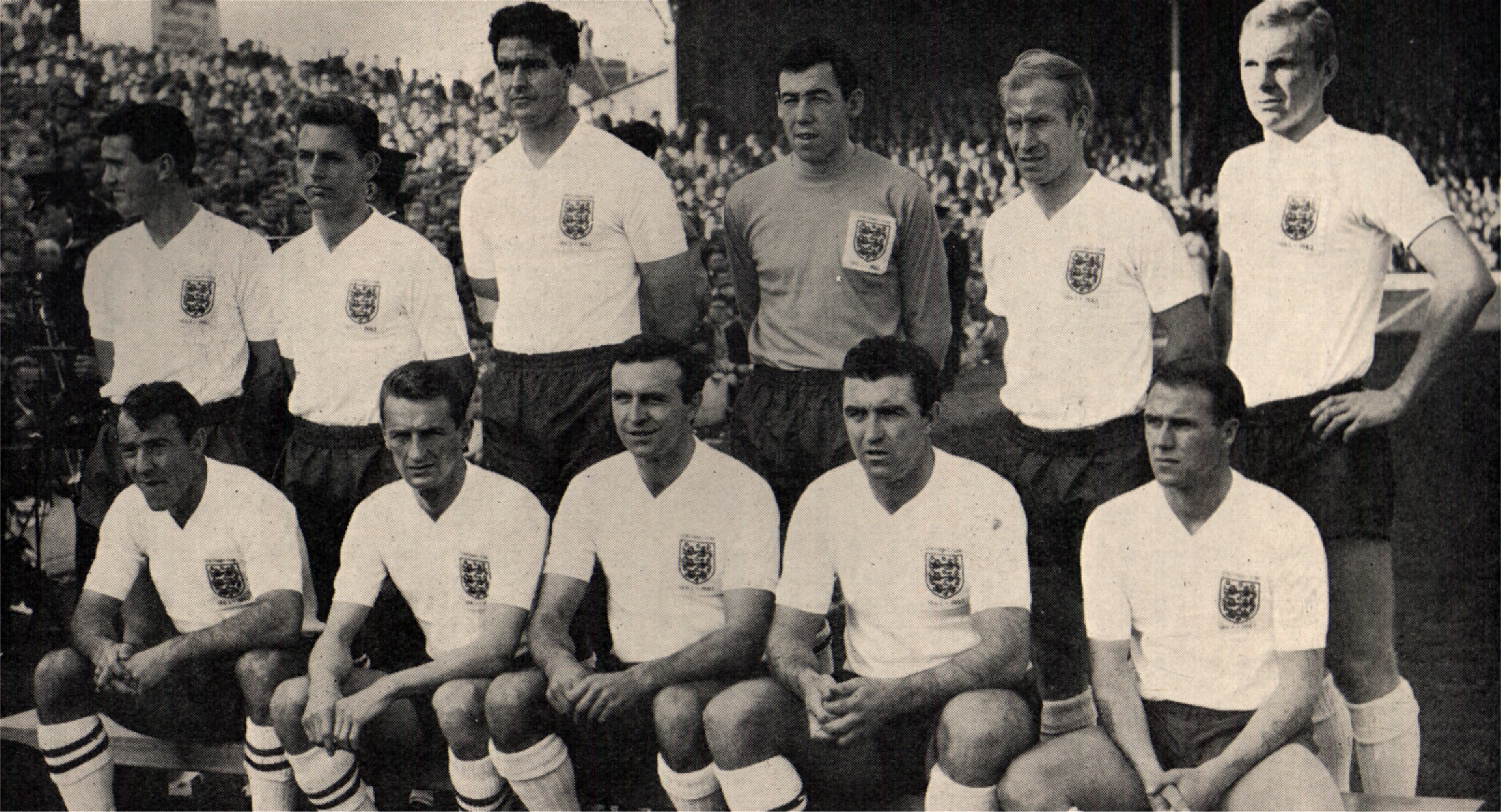 England 1963
Three years later England were to win the World Cup with 4 of the players in the above team (Banks, Bobby Charlton, Moore, Wilson).

(left to right)
Back Row: Terry Paine, Gordon Milne, Maurice Norman, Gordon Banks, Bobby Charlton, Bobby Moore;
Front Row: Jimmy Greaves, George Eastham, Jimmy Armfield, Bobby Smith, Ray Wilson.
* * * * *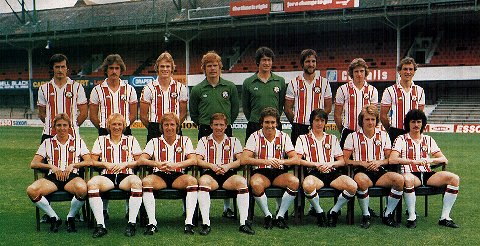 Southampton 1978/79
Pictured at The Dell in 1978/79 when they reached the FA Cup quarter-finals and were beaten League Cup finalists. And not a tattoo in sight!

(left to right)
Back Row: Ivan Golac, Mike Pickering, Malcolm Waldron, Peter Wells, Terry Gennoe, Chris Nicholl, Trevor Hebberd, Manny Andruszewski;
Front Row: Graham Baker, David Peach, Phil Boyer, Alan Ball, Ted MacDougall, Steve Williams, Nick Holmes, Terry Curran.
Link - Southampton results 1978/79
* * * * *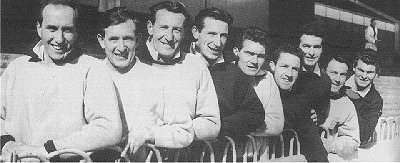 Tottenham Hotspur 1962
A Spurs picture taken just before their European Cup semi-final against Benfica in 1962. Tottenham, double winners in 1960/61, missed out on a place in the final, losing to the Portuguese champions 4-3 on aggregate.
Link - Spurs results 1961/62
From the left - John Hollowbread, Danny Blanchflower, Tony Marchi, Bill Brown,
Ron Henry, Dave Mackay, Maurice Norman, Jimmy Greaves and Tony Smith.
* * * * *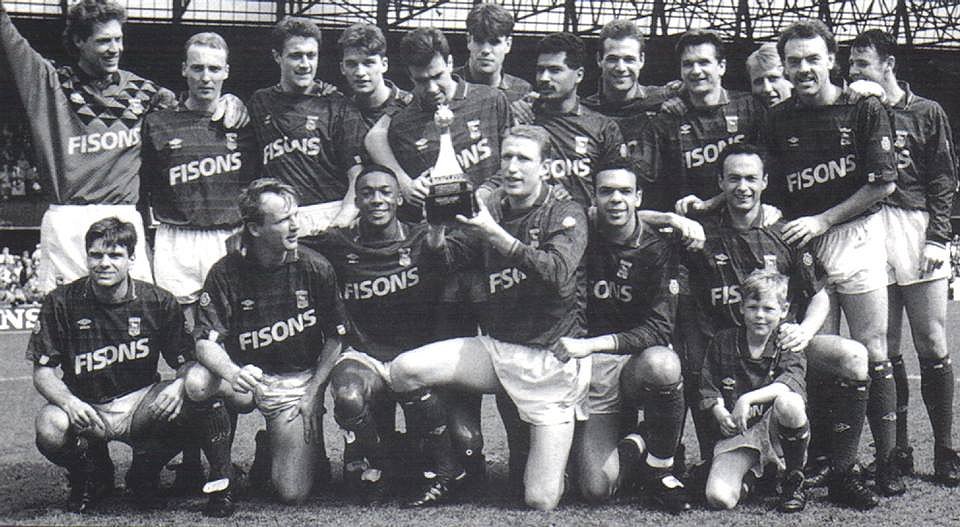 Ipswich Town1991/92
Ipswich celebrating their 1991-92 Division 2 title winning success which saw them promoted to the Premier League for its first season.
(left to right)
Back Row - Forrest, Johnson, Whitton, Youds, Thompson, Whelan, Zondervan, Palmer, Yallop, Pennyfather, Wark, Gregory;
Front Row - Stockwell, Goddard, Kiwomya, Linighan, Dozzell, Milton with Sam Bullard (mascot).
* * * * *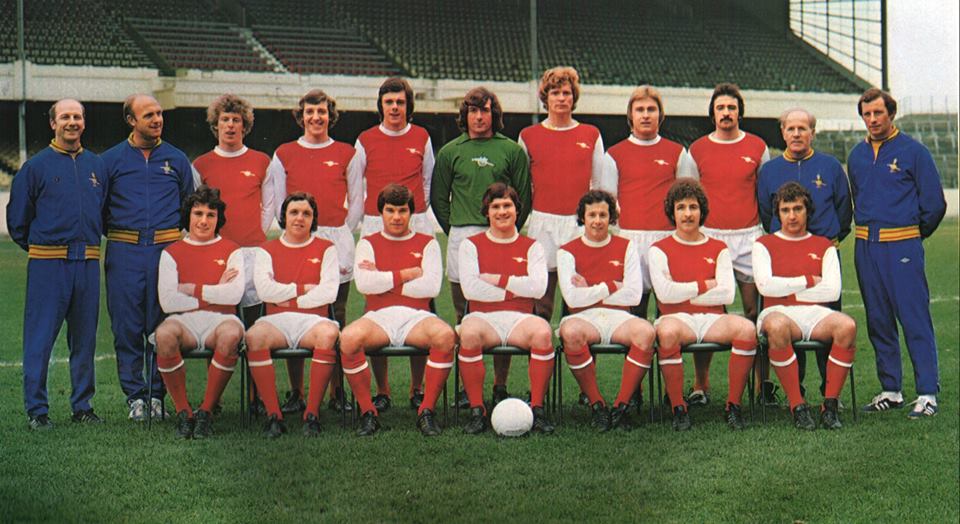 Arsenal 1977/78
(left to right)
Back Row - Street (physio), Howe (coach), Rix, Nelson, O'Leary, Jennings, Young, Price, Matthews, Dixon (assistant manager), Neill (manager).

Front Row - Stapleton, Powling, MacDonald, Rice, Brady, Sunderland, Hudson.
Link - Arsenal results 1977/78
* * * * *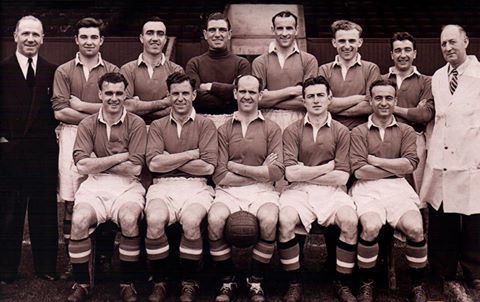 Manchester United 1951/52
A Manchester United team group from their 1951-52 League Championship title winning season -

(left to right)
Back Row: Matt Busby (manager), Jackie Blanchflower, John Aston, Reg Allen, Allenby Chilton, Don Gibson, Henry Cockburn, Tom Curry (trainer);

Front Row: Stan Pearson, Jack Rowley, Johnny Carey, John Downie, Harry McShane.
Link - Manchester United results 1951/52