DID YOU KNOW.....
WHOOPS........
Football has a million and one stories and just as many facts and figures. Here are a few of them - the record-breaking, unusual and bizarre.
More Did You Knows...
Index
1 2 3 4 5 6 7 8 9 10 11 12 13 14 15 16 17 18 19 20
21 22 23 24 25 26 27 28 29 30 31 32 33 34
Well, if former World Footballer of the Year George Weah was to ring you recommending his cousin - a Senegal international who had played for Paris St Germain - you would probably listen. Graeme Souness certainly did in 1996 when manager of Premier League Southampton and offered Ali Dia a one-month trial contract. But it wasn't George Weah who made the call and Ali Dia was far from being a good footballer. In fact he was hopeless. The Southampton players soon realised that in training but Souness wasn't around. He was due to play in a reserve friendly but he got away with that when the match was called off because of a waterlogged pitch. Amazingly he then found himself named as a sub for Southampton's home Premier League fixture against Leeds United on Saturday November 23rd 1996. And you can guess what happened next! In the 32nd minute England international Matthew Le Tissier was injured and on went Ali Dia in his place. And then everyone found out - he couldn't play football, he was hopeless! He lasted just 21 minutes before the substitute was himself substituted, probably the most embarrassing 21 minutes in the history of the Premier League. Le Tisser later described the performance -

'His performance was almost comical. He kind of took my place, but he didn't really have a position. He was just wondering everywhere. I don't think he realised what position he was supposed to be in. I don't even know if he spoke English – I don't think I ever said a word to him. In the end he got himself subbed because he was that bad.'
*********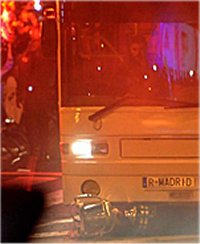 When Real Madrid beat Barcelona in April 2011 to win the Copa del Rey, the equivalent to our FA Cup, celebrations were in order. It was the first time they had won the competition since 1993 and was the first piece of silverware won by José Mourinho as manager of Real Madrid. So, an open-top bus trip was in order to show the cup off to the jubilant fans. All went well until defender Sergio Ramos dropped the cup...from the top of the double-decker bus onto the road...and the bus ran over it. Ouch!


*********
When an English Sunday League amateur side arranged a pre-season friendly in West Germany in 1973 they thought they were to play a side of a similar standing. In fact they had arranged to play Mainz, a senior professional side, who thought they were to play Wolverhampton Wanderers. The match, played on 15th August 1973, attracted a 'sizeable attendance'. The Germans didn't need a penalty shoot-out, they won 21-0!
*********
Two other Englishmen probably also wished that they had a German GCSE between them when they followed England to the 2006 World Cup finals in Germany. The non-German speakers carefully wrote down the street they had parked their car in before attending one of England's matches. Afterwards they couldn't find their car and were a little surprised at the comical expressions the locals gave when they showed then the piece of paper the road name was written on. Until someone translated it for them - 'one-way street'.
*********

The London 2012 Olympics proved to be a great success but early problems in the football competition showed everybody that a knowledge of geography would prove to be important in the smooth running of the Olympiad. The football tournaments kicked-off before the opening ceremony and on the very first day of Olympic competition - Wednesday 25th July 2012 - one football match almost didn't get started. When the North Korean women were warming up for the match against Colombia at Hampden Park they noticed that that the Hampden screens were showing the North Korean team alongside the South Korean flag - and the two countries aren't the best of mates! Off they marched in protest and it took some intense negotiations and apologies - and a change of flag - before the match eventually kicked off just over an hour late.
But that problem was nothing compared with what happened when the men's competition started the following day. In the programme pen pictures for the GB match against Senegal Welshman Joe Allen was described as being.....English! I'm not quite sure if the complaints came from the English or the Welsh but hey, they were representing Britain so why couldn't they all just have been called British!
*********
The Football Supperters' Association fan zones or 'embassies' were a popular feature of the 2006 World Cup in Germany. One England fan left his ticketless girlfriend with one of them while he went to a match - but he forget to collect her after the match. Presumably ex-girlfriend would now be a better description!
*********
"I was watching the Blackburn game on TV on Sunday when it flashed on the screen that George (Ndah) had scored in the first minute at Birmingham. My first reaction was to ring him up. Then I remembered he was out there playing."
Ade Akinbiyi - to think that is one thing, to admit thinking it is another!
*********
Things never seem to stay the same in football - except perhaps the disappointment. Tattoos, on the other hand, are a bit more permanent. So perhaps football fans should 'think before they ink' or face the inevitable consequences. Back in 2000 Huddersfield Town fans Jez Peel and Carl Longson each had the club badge tattooed on their legs - days before the club changed the badge! A not too happy Jez said 'This is not a go at Huddersfield, because we love the club, but we should have been asked'. Newcastle United fan Robert Nesbitt held Andy Cole in such high regard that he had a picture of him tattooed on his leg - a few days later he was transferred to Manchester United! Down the road at Sunderland in 2007 Scott Lee had a giant portrait of manager Roy Keane tattooed on his back - and how long do managers last?

Perhaps the most optimistic of fans are those of Manchester City. When City put in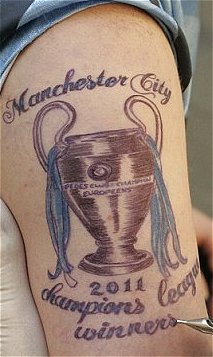 a £100 million offer for Kaka City fan Chris Atkinson thought he would get in first and had the Brazilian stars' name tattooed on his chest. Kaka signed for AC Milan! At the start of the 2009/10 season another City fan, Kirk Bradley, was so convinced that Manchester City would qualify for the Champions League that season and win it in 2010/11 he was tattooed with the predicted victory. They didn't win it, they didn't even qualify for the Champions League that season but it came close to being worse still - Manchester United were the beaten finalists! Still, with a slight amendment he could get it to work in 2014, or 2017 or....

The last word has to go to David Beckham. Wishing to mark his devotion to Victoria he had her name tattooed on his arm. To add a touch of class is was written in Sanskrit - which translated back into English as Vihctoria, bless him.
*********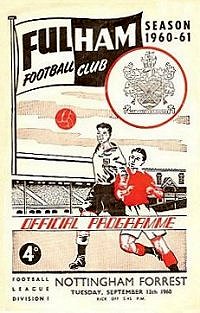 Spelling mistakes have always been a fact of life in programmes as they are in any printed publication. But the proof reader of the programme for First Division match between Fulham and Nottingham Forest at Craven Cottage in 1960 must have been particularly embarrassed by the mistake that was missed on the cover!

*********
When Middlesbrough played their first ever European competition match in September 2004 against Banik Ostrava fans must have wondered if Middlesbrough were 'going posh'. Printed on the tickets was "It is a condition of entry that gentlemen wear a jacket, collar and tie. Jeans, tracksuits and trainers are not permitted". It was another misprint - the wording should have been only used on tickets for the hospitality boxes but had been included on many of the tickets on general sale.
*********
Birmingham City fans have long had to endure the chants of opposing fans that they have never won a major trophy. And they have a long history, having been formed in 1875.
Many fans had wondered if the lack of success was down to a curse put on the club in the early 20th century. In the early 1900s Birmingham (who were known at Small Heath until 1905) had outgrown their Muntz Street ground and were looking to build a new, larger stadium. The area where St Andrew's now stands was identified as the best potential site and a Birmingham director, Harry Morris, convinced the board that a new ground should be built there. At the time it was wasteland and before building could start a band of gypsies had to be evicted from the site and it was they who reputedly put a 100-year curse on the St Andrew's ground.
Things went wrong at St Andrew's right from the start and the first match at the new ground - a First Division match against Middlesbrough on Boxing Day 1906 - almost suffered a postponement due to a heavy snowfall. The kick-off had to be delayed for an hour while the pitch was cleared of snow with the 32,000 present eventually witnessing a 0-0 draw.
The club were relegated at the end of their first full season at the new ground and there were never to enjoy a consistent run of success. A number of attempts were made to counter the curse by club managers. Ron Saunders tried putting crucifixes on each of the floodlight pylons and later Barry Fry tried urinating in each of the four corners of the ground (well he said it was to try to get rid of the curse!). Nothing worked.
If there was a 100-year curse that surely would have ended on Boxing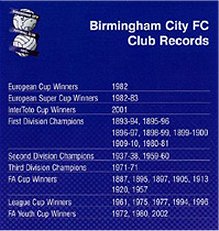 Day 2006, a century after their first match at St Andrews, and then Birmingham City could start winning things. Strangely that seemed to happen. Bluenose fans who had been given a 2007 Club Diary as a Christmas present must have had a shock when they looked at the Club honours page. In place of winning the Leyland Daf Cup and Auto Windscreens Shield was an impressive array of honours which included winning the European Cup, European Super Cup, seven League championships and another seven FA Cups. Perhaps there really had been a curse but instead of it stopping Birmingham winning honours it had just made their fans, well, a tad forgetful!
The reason was less supernatural than human. A mistake had been made by the diary printers and the honours won by near-neighbours and great rivals Aston Villa had ended up on the Birmingham City honours page. Embarrassment and apologies all-round but just to make sure things were clear Birmingham City announced, "We would also like to make it clear that Birmingham City Football Club has never won the European Cup." Now we know.
*********
Another embarrassing Birmingham story dates from the Second World War when they had a stand destroyed. But not from enemy action, although St Andrews's was regularly hit by bombs during the blitz. In January 1942 the stand was an auxiliary fire station and a fireman who wanted to put out a brazier used for heating used what he thought was water - but it was petrol. Goodbye stand!
*********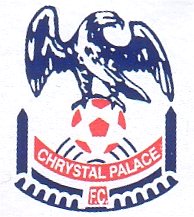 The Selhurst Park faithful had a new chant at the start of the 2004/05 Premier League season - 'There's only one h in Palace'. Amazingly Diadora - Palace's shirt manufacturer - had supplied the club with a batch of shirts with a badge that had the club name printed as Chrystal Palace! They did well on ebay!
It is more normal to 'drop the aitch' and that is what happened on the shirt that David Beckham wore at Wembley for the 1997 Charity Shield match against Chelsea. His name was spelt Beckam! Beckam - sorry Beckham - said 'I thought the lads were winding me up. Then I saw it for myself. It was too late to do anything about it, so we all had a laugh instead.'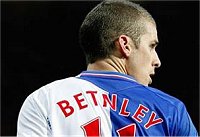 Other 'wardrobe malfunctions' include David Bentley becoming Betnley when playing for Blackburn against Manchester United in November 2007 and John O'Shea becoming S'hea when playing for Manchester United against Real Madrid in a Champions League tie. So it only happens in low-profile matches then!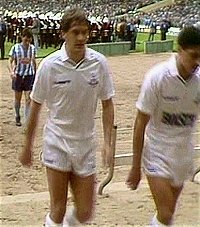 Spot the difference between the two Spurs players at the 1987 FA Cup Final against Coventry. Shirt sponsors pay a lot of money to have their name seen on TV at the high profile matches and for brewers Holsten there was no more high-profile match that a Wembley cup final. Kit suppliers Hummel supplied Spurs with new kit for the final but a manufacturing problem meant that the Holsten logo was missing from some of the shirts. The problem was discovered too late and with no plan B half the Spurs players played with Holsten on their shirt front and half had the name missing. Holsten were not amused! Spurs lost the match.
*********
A wrong shirt also caused a problem at the 1970 FA Cup Final. David Webb's extra time goal won Chelsea the FA Cup in the replay against Leeds at Old Trafford but he made the mistake of exchanging his shirt with a Leeds player before the medal presentation. As officials believed him to be a Leeds player he was not allowed to accompany his Chelsea team-mates to the medal presentation.
Fast forward to the 1992 FA Cup Final when everybody was presented with a medal - but the wrong ones! Victors Liverpool were handed the losers medals while beaten Sunderland players were handed the winners medals. The players later changed them.
*********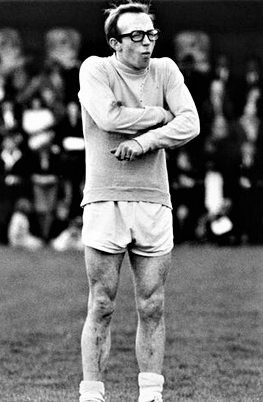 Norbert Peter Stiles - probably better known as Nobby Stiles! - played 28 times for England including that match in 1966 when England beat Germany. A great player and popular character he was also famously very short-sighted. He made his England debut against Scotland at Wembley on April 10th 1965 and after the match he and the other England players went to the Café Royal in London for the traditional after-match banquet. Not wearing his glasses he got lost in the corridors there before finding a busy dining room and sitting down in it. He started to wonder were his team-mates were and then a fellow diner lent over and asked him a question - "So, do you know the bride or the groom?" Whoops!
*********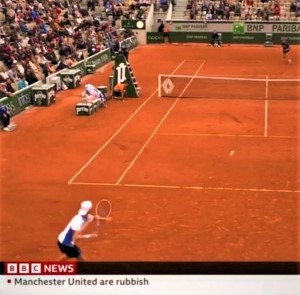 Manchester United didn't enjoy the best of fortunes in the 2021/22 season but when on the morning of May 24th 2022 the BBC announced that 'Manchester United are rubbish' it came as a bit of a shock to most of the the viewing public. The text announcing that opinion popped up on the news ticker at the bottom of the screen during a tennis update that morning. Later that day the BBC apologised to any United fans who might have been offended by the comment. They said that someone learning how to operate the ticker - presumably a Man City fan - had been writing 'random things' and a technical problem had seen that test ticker appear on the live screen for a short period. Whoops!
*********

On Saturday 14th December 2019 Derby lost 0-1 at home to Millwall in the Championship. The Rams' disappointment at that defeat was soon forgotten though as according to the Sunday Times the attendance at Pride Park was a new world record - 262,072. It must have been a tight squeeze as that's over 60,000 more than the previous record achieved at the Maracana Stadium in Brazil for the 1950 World Cup Final. Sadly it didn't make The Guinness Book of Records though as it proved to be a misprint in the Sunday Times. It should have been 26,272!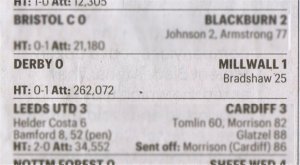 *********
There was a time when I thought that Brian Clough must have been the most famous person in the world, but perhaps not so. In seems that back in 1972, shortly after leading Derby County to the League title, Cloughie was dictating a letter to a temp secretary in her first day at the Baseball Ground. Dictation finished, he asked her to add his name to the end of the letter. 'And who are you' was her response!
*********
Ever been tempted to buy a restricted view seat.....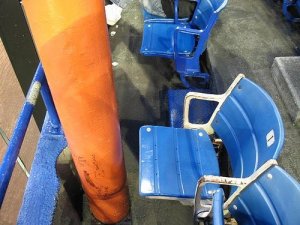 Don't!
*********
In November 1999 The Times printed an exclusive about Liverpool wanting to sign Didier Baptiste, the left-back of Monaco and the French Under-21 side with a £3.5m bid being on the cards. They had picked up the 'exclusive' from the Liverpool Clubcall line who in turn had taken it from the News of the World. Bless 'em, none of them had checked the facts. Didier Baptiste only existed as a fictional character who played for Harchester United in Dream Team, a football-based soap on Sky TV. The Times had to make a correction and those newspapers who had not run the exclusive had their own - accurate - headlines. The Guardian reported 'Dream £3.5million Liverpool transfer for a player who doesn't exist' and the Independent 'Paper links Liverpool to player who doesn't exist.' I bet they loved it!

*********
Our friends Birmingham were on the wrong end of yet another embarrassment in the 1921/22 season when they didn't play in the FA Cup - they didn't get their entry in on time! Not that they are alone with several other League clubs also missing out on playing in the FA Cup for the same reason - Clapton Orient in 1906/07, QPR in 1927/28 and Nelson in 1928/29.
Brighton & Hove Albion did get their FA Cup entry in in the 1932/33 season but didn't tick the box that gave them exemption from the qualifying rounds. As a result rather than start the campaign in the 1st Round proper they started in the First Qualifying Round. Mind you, perhaps that mistake was a forgiveable one with the club scoring 32 goals in their four qualifying round matches (full results).
*********
"We all have bad days, but he was still brave enough to take the penalty which is what he is all about".
Stoke manager Tony Pulis in January 2013 after his player Jonathan Walters had scored two own goals - and missed that penalty. Stoke lost 0-4 at home to Chelsea to end an 17 match unbeaten home Premier League run.
*********
When David Beckham attended the wedding of an Aston Villa supporter in April 2011 he made a fashion blunder which hit the national headlines. Flies undone? White socks? Evidence of breakfast on his tie? No, he wore his OBE medal on the wrong lapel of his suit! Now that's something I have never done and I bet you haven't either. The Muppet! (The wedding he ruined was between Prince William and Kate Middleton at Westminster Abbey).
*********
Obviously not making enough money from the sale of their current replica strip a bright spark at Old Trafford thought they could make a bob or two more by selling a replica or the kit worn by United in their European Cup final of 1968. A never-to-be-forgotten night at Wembley when they won the European Cup for the first time. So the red replica kit went on sale - until an even brighter spark realised that they had played in blue that evening. It was withdrawn from sale.
*********
Football commentators must often wish that they thought before speaking (Colemanballs) but even 'considered' opinions can backfire on them. When Match of the Day commentator Alan Hansen watched Manchester United lose their opening-day Premier League fixture 1-3 at Aston Villa on Saturday August 19th 1995 he said 'you'll never win anything with kids'. The kids in question included David Beckham, Paul Scholes, Nicky Butt and Gary Neville and United went on to win a League and FA Cup double that season. And those words were immortalised on T Shirts, mugs, mouse mats.......
*********
Ron Atkinson's first match in his short spell in charge of Nottingham Forest was in January 1999 against Arsenal at the City Ground. He might well remember his warm welcome with some pleasure but that was then followed by an embarrassing moment - he went and sat in the Arsenal dug-out!
*********
In October 1997 Spurs kicked off the second half of their Premier League match at Newcastle with just nine players - Les Ferdinand and Ruel Fox were both still in the toilet having lost track of time!
*********
It can be handy to know the rules (1). In a 4th Round Capital One Cup match in October 2012 Arsenal fought back from 4-0 down at Reading to finish the 90 minutes level at 4-4. Elated at the comeback and the prospect of a replay Arsenal's Olivier Giroud and Francis Coquelin celebrated by throwing their shirts into the jubilant Arsenal support. Then they were told there wasn't a replay and they would be playing extra time - and they had to ask for their shirts back! (It's never over....)
*********
It can be handy to know the rules (2). When Bath City kicked off their FA Youth Cup match at Newport County in September 2011 I'm guessing none of their players expected to have blanket coverage of the match in the national daily newspapers - because of the colour of their underpants! The rules state that if thermal undershorts are worn they have to be the same main colour as the shorts. Referee Darren Adie noticed that the cycling shorts worn under the red shorts of two Bath players weren't the regulation red with one wearing black and the other white. Both were ordered to change. One of them didn't have anything else to change into and so had to play commando and if that prospect wasn't bad enough Newport scored their first goal before the two got back onto the pitch. That led to words between the ref and Bath manager Billy Clark which resulted in the manager and non-playing sub Ciaran Rogers being red-carded by the ref for dissent. By full-time Bath had four players sent off - Billy Cooper, Zemell Burton, Ben Bicknell and goalkeeper Lewis Pierre - with their seven players losing 6-0. It's a funny old game!
*********
You may not have recognised Bob Colston if you saw him but if you watched ITV on a Saturday afternoon between 1972 and 1999 you would have recognised his voice as the reader of the classified football results. On one occasion just before he was due to read the results he had a coughing fit and at very short notice a 'substitute' reader had to be found. Unfortunately his replacement knew nothing about football, even to the extent that Division was not the name of a football club! So the first result he read was - Division 1 Arsenal 2.
*********
In January 2009 when Bishop Auckland heard of the death of one of their former players, Tommy Farrer, they did all the respectful things. Tributes were made in the club programme and local newspaper to a former player who had played in three Wembley FA Amateur Cup finals for the County Durham club as well as being capped for England at amateur level and playing for Great Britain at the 1956 Olympics. A minute's silence was also held before Bishops Northern League game against Newcastle Benfield. It was only when a club official rang his 'widow' to pass on his condolences that they found out that Tommy was still very much alive and kicking at his home in Maidstone!
*********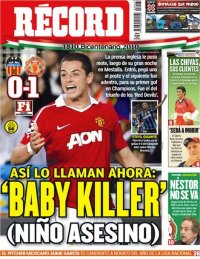 The term 'Baby-Faced Assassin' is used in a complimentary way - we would probably think of Ole Gunnar Solskjaer in his days at Manchester United. The same sort of phrase is used abroad, which is fine if we all use the language we understand and try not to be too clever. A Mexican newspaper, The Record, did try to be too clever when one of their countrymen, Javier Hernandez, scored the winning goal for Manchester United against Valencia in a Champions League match in September 2010. Thinking they were converting the Spanish version of the phrase to the English version they called him a 'Baby Killer' instead - on the front page! I'm not sure if the 'Baby Killer' sued for libel!
*********
There was a bit of a diplomatic incident after the Czech Republic played a friendly in Prague in May 2008. The programme had the Latvian team picture with all the right names printed and the Latvian flag with all the right colours. There was a perfect rendition of the Latvian national anthem before the match. But they were playing Lithuania!
*********
Earl Spencer's daughter, Kitty Spencer, and a friend had tickets for the East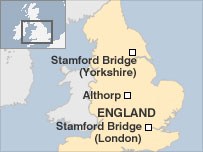 er Sunday fixture between Chelsea and Arsenal in March 2008. When the taxi arrived at the family pile at Althorpe House in Northamptonshire the sat-nav was set to Stamford Bridge, but not the one you would have expected. Instead of travelling south to one of the most famous grounds in the country in one of the largest cities in the world the taxi drove north to the small village of Stamford Bridge near York! You would have thought that two keen Chelsea fans would have noticed (Lady Kitty is a blonde) but the taxi firm took the blame. Paul Achiampong, the owner of Mayfair Taxis said 'Mistakes do happen now and again. But I admit this is a big one.' Yep!
*********
You would have thought that Michael Knighton would have been wary of people over-stretching themselves after his abandoned £20 million bid for Manchester United in 1989. He later bought Carlisle United but by 2001 the Cumbrians had hit hard times and looked to be heading out of the League. Knighton introduced the 'saviour' of the club at a press conference, Stephen Brown had agreed to buy a 25% stake in the club after selling a Spanish hotel for £6 million. Sadly it wasn't to be. The successful hotelier in fact worked in an Indian restaurant, lived in sheltered accommodation and drove an H reg Vauxhall Cavalier. Knighton said 'This man has caused horrendous embarrassment to me and this club. I have never been hoodwinked in my life.' Well, not until then anyway!
*********
A report in the Observer which wasn't
spell-checked!
"With seven minutes gone the packed terraces erupted as Butler struck the ball into Liverpool's net, but the linesman's fag was aloft indicating offside."
*********
When Northern League referee Russell Tiffin entered hospital for a vasectomy he thought it would be a quick in-and-out procedure which could be kept private. But after the operation he made the mistake of inspecting the surgeons' handywork but on seeing some blood he fainted, hit his head on a basin and spent the next three days in hospital with concussion. And the publicity followed!
*********
Brighton v Nottingham Forest - Littlewoods Cup 2nd Round 1st leg match played at the Goldstone ground on Wednesday 24th September 1986. The team page is printed below - any ideas of the problem that arose?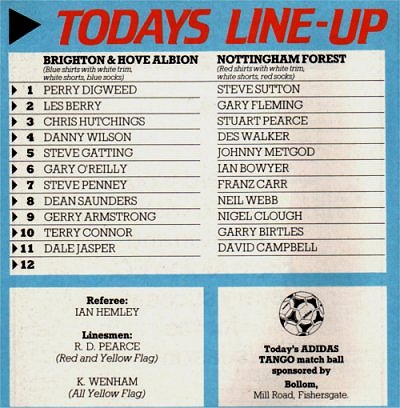 Check the surnames. Stuart Pearce and the linesman RD Pearce - who were brothers. Stuart claimed that he had no idea that his brother Ray was running the line until he saw him as he ran out on the pitch. They kept quiet about the family connection and luckily there were no controversial decisions needed to be taken by Pearce the linesmen. Even the ref didn't know of the family connection until Stuart gave his brother a birthday present in the officials' changing room after the match. So Stuart didn't know his brother was officiating but just happened to have his birthday present with him. Mmmm...makes you wonder! Anyway the two brothers next met up on the pitch less controversial circumstances when Ray refereed his brothers' testimonial match, Nottingham Forest v Newcastle in 1996.
*********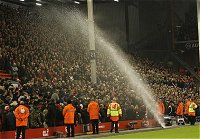 Well, imagine yourself at Anfield at the half-time break against Newcastle in November 2012. Liverpool had won only once in the League at Anfield that season, had gone behind against Newcastle just before the break and it was freezing cold. Couldn't get any worse you might think. Then a sprinkler malfunctioned and soaked those in the first 20 rows or so of a stand. Life can be a bitch!