DID YOU KNOW.....
FAMOUS FOOTBALLING INJURIES
Football has a million and one stories and just as many facts and figures. Here are a few of them - the record-breaking, unusual and bizarre.
More Did You Knows...
Index
1 2 3 4 5 6 7 8 9 10 11 12 13 14 15 16 17 18 19 20
21 22 23 24 25 26 27 28 29 30 31 32 33 34


During his spell at Leeds United Rio Ferdinand suffered a tendon strain in his knee...watching television! As his manager at the time, David O'Leary, explained: "He was watching television and had his foot up on the coffee table. He had it there in a certain position for a number of hours - and strained a tendon behind his knee."
Another player who found a television set to be more than a match was David 'Calamity' James who once pulled a muscle in his back when reaching for a television remote control. James also missed a match at Liverpool suffering from a RSI injury to his thumb which he blamed on his excessive computer-game habit.
*********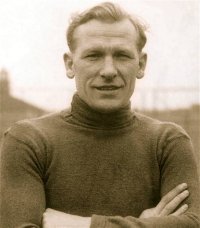 Certainly not trivial was the injury suffered by Bert Trautmann when playing in goal for Manchester City against Birmingham City in the 1956 FA Cup Final. With Manchester City 3-1 up and 17 minutes remaining Trautmann dived at the feet of opposing forward Peter Murphy to prevent a goal scoring opportunity, the collision seeing him needing treatment for several minutes. With no subs in those days the former German prisoner-of-war played on although clearly in distress and made several more saves in helping Manchester City to their first FA Cup success in over 20 years. The pain continued and three days later he discovered that he had five broken vertebrae - he had broken his neck! His surgeon was blunt in his assessment of the injury - 'You should be dead' he told the player. But Trautmann always denied that it was a brave act, 'If I had known I had broken my neck, I would have been off like a shot.'
It was seven months before he played again and in total he made 545 league and cup appearances for Manchester City before retiring in 1964. Forty years later he met the Queen and she asked him 'Have you still got that pain in your neck?' Yes, probably the most famous footballing injury of them all.
*********
In the second League match of the 1975/76 season at Birmingham City, Manchester United's goalkeeper Alex Stepney became so animated in shouting at his own defenders that he dislocated his jaw and had to be taken to hospital.
*********

While at Southampton goalkeeper Dave Beasant missed 8 weeks of a season after a confrontation with a bottle of salad cream. He knocked it over and attempted to control the falling bottle with his foot but only succeeded in rupturing his ankle ligaments.
*********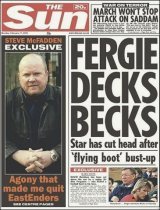 When Manchester United were beaten 2-0 by Arsenal at Old Trafford on Saturday 15th February 2003 in an FA Cup Third Round tie United manager Alex Ferguson was not a happy man. Famous for his 'hair-dryer' treatment of players this time he kicked a boot in a moment of anger. Not much news-worthiness in that except that the boot hit 'Golden Balls' David Beckham in the face causing a cut over his left eye which needed stitches. It may have been a trivial injury but it was one that then made the headlines the world over.
*********
Ok, some injuries sound amusing but in reality they all have their consequences for the people who suffer them. They can be career - and life - changing and sadly, rarely, they can have even more tragic consequences.
One such tragic injury struck Woolwich Arsenal in their fourth season in the Football League (Woolwich Arsenal dropped Woolwich from its name in 1914). One of their players, full-back Joe Powell, suffered a horrific broken arm in a United League match at Kettering Town's North Park ground on November 23rd 1896. Dirt entered the open wound which caused blood poisoning and tetanus. His arm had to be amputated but sadly on November 29th the 26-year-old died at his Plumstead home. Joe Powell had joined Woolwich Arsenal in 1892 when the Londoners bought him out of the army. He captained the Woolwich Arsenal side in their first match in the Football League, against Newcastle United in September 1893, and had played in 86 of the 98 Football League matches Woolwich Arsenal had played prior to the Kettering fixture.
*********
Goalkeeper Chic Brodie made over 400 Football League appearances but is probably the player best remembered for the things that went wrong in his life. In 1972 the Sun described him as 'a walking mishap, a one-man casualty station, a multiple accident statistic' and after another mishap the newspaper headline was 'Unlucky Chic, The One-Man Natural Disaster'. Playing for Brentford against Millwall in November 1965 a hand grenade was thrown into his penalty area which he inspected and threw it into the net (it was later found to be a fake). In August 1970, again playing for Brentford, he brought a match at Lincoln to a halt when an acrobatic save brought down the goalposts. He was the Margate goalkeeper on the receiving end of a 11-0 FA Cup defeat by Bournemouth in November 1971 (Ted MacDougall scored nine of them). After he retired he became a taxi driver and once had a collision with a Jaguar...driven by Geoff Hurst! But perhaps he is best remembered for the injury he received when playing for Brentford at Colchester in November 1970. A dog ran onto the pitch and collided with Brodie, breaking his kneecap. He said 'the dog may have been small - but it just happened to be solid.' Although it is perhaps seen as a comical injury it did effectively end his Football League career and I certainly said 'ouch' when I first saw it........
*********
The 1993 Coca-Cola (League Cup) final saw Arsenal beat Sheffield Wednesday 2-1 at Wembley with the winning goal coming from Steve Morrow, the first of only a very few goals he scored for the Gunners. After the final whistle Arsenal captain Tony Adams tried to lift Morrow on to his shoulders in celebration of his part in the victory - but dropped him! While his team-mates were collecting their winners' medals the unfortunate Morrow was on his way to hospital with a broken arm. He did get a Wembley presentation of his medals though a month later before Arsenal's FA Cup final against - ironically - Sheffield Wednesday which they won after a replay.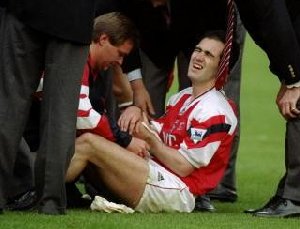 Perhaps Arsenal have more to celebrate than most but another serious injury to an Arsenal player while celebrating was suffered in January 2007. Shortly after coming on as a sub for Arsenal against Manchester United at the Emirates Robin van Persie scored and in the celebrations that followed he broke a bone in his foot. He was Arsenal's leading scorer in the Premier League at the time and despite not making another League appearance that season because of the injury he still finished as the Gunners top League scorer. Deprived of his goals Arsenal finished a distant fourth in the Premier League that season.
*********

OK this may not be an injury but it did cause a player to fail a medical. In 1972 Frank Worthington was about to move from Huddersfield Town to Liverpool but failed a medical at Anfield because of high blood pressure - caused by 'excessive sexual activity'. Liverpool manager Bill Shankly sent Worthington to Majorca for a week to relax - but that wasn't the place to expect him to relax! So on his return he once again failed the medical and his move to Liverpool was called off. He later moved to Leicester City and in his playing career he played for 11 League clubs and made 8 appearances for England.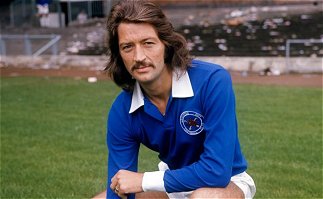 *********
In May 2008 Rochdale striker Lee Thorpe could only watch his team-mates from the sidelines when they played their League 2 play-off final against Stockport at Wembley, Rochdale's first-ever match at Wembley. He had broken his arm in three places a couple of weeks earlier. He did it in an arm-wrestling contest with team-mate Rene Howe on the coach to the semi-final against Darlington! Striker Chris Dagnall was seemingly full of sympathy when he later described the incident. 'Everybody on the bus heard the snap, it was that loud.' Ouch!
*********
Partick Thistle manager John Lambie knew exactly what to say to his trainer when his striker Colin McGlashan was dazed and didn't know who he was -
"That's great. Tell him he's Pele
and get him back on."
*********

An Italian playing for Grimsby Town is always likely to be a fans' favourite, especially when the player himself contributed out of his own pocket a large part of the fee than allowed him to move from Serie A to Lincolnshire. But as popular as Ivano Bonetti was with the fans that earned no brownie points with manager Brian Laws when he considered the Italian had not tried hard enough. After a 3-2 defeat away to Luton Town on Saturday 10th February 1996 (just a month after they had beaten Luton 7-1 in an FA Cup tie) Laws confronted the former Juventus player about his lack of effort and the confrontation ended when Laws threw a plate of chicken wings at Bonetti, breaking his cheekbone. From then on the legacy of that amazing signing by Grimsby was forgotten and just those chicken wings got the headlines.
*********
The 'Special One' lost something of his magic in 2015/16, starting on the opening day of the Premier League season on 8th August 2015. With minutes remaining of their match against Swansea City an injury to Eden Hazard saw the Chelsea medical staff rush onto the Stamford Bridge pitch to treat him. Nothing unusual in that you might say but José Mourinho saw things differently. The reigning champions were holding on to a 2-2 scoreline, were down to 10 men because of a red card and with only minutes remaining would be temporarily down to 9 players as the rules meant that Hazard would have to leave the pitch after receiving treatment. He was unhappy with his medics saying 'I was unhappy with my medical staff. They were impulsive and naive. Whether you are a kit man, doctor or secretary on the bench you have to understand the game. You have to know you have one player less and to assist a player you must be sure he has a serious problem. I was sure Eden did not have a serious problem. He had a knock. He was tired.'

A clash of personalities followed resulting in the first team doctor leaving the club, an FA inquiry and threatened legal proceedings with every move being followed with great interest by the press. I don't want to be sexist but perhaps part of the reason was that Dr Carneiro, Dr Eva Carneiro that is, was a not a too unattractive woman which saw the press print plenty of pictures of the doctor with every story-line. I don't think it would have happened if it was my GP and it perhaps cheapens a serious story and it's something of course that I totally disapprove of!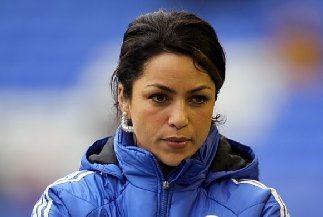 *********

When Aldershot visited Chester for a Division 4 fixture on New Years Day 1966 given they were visiting the Welsh borders it was not much of a coincidence that they faced two Chester full-backs with the surname Jones. What did turn out to be a very strange coincidence though was by the time the final whistle was blown the two full-backs - Ray Jones and Bryn Jones (not related) - had both ended up in hospital after separate incidents, both with broken legs! Despite going down to 10 men (only one substitute in those days) Chester won the match 3-2.

In a League 1 match at Glanford Park on 17th January 2015 Scunthorpe United had the misfortune of losing two goalkeepers with broken arms in their 2-0 defeat against Bristol City. First choice goalkeeper Sam Slocombe and substitute keeper Jamie Severn both suffered their injuries in the first half leaving outfielder Andy Boyce to take over between the posts.
*********
The joys of married life! In December 2004 when playing for Servette against Schaffhausen in a Swiss League match Paulo Diogo jumped on one of the boundary fences to celebrate a Servette goal. Not being aware that his wedding ring was caught on the fence he jumped down leaving behind the ring and much of his finger, the rest having to be amputated in hospital. And he was booked by ref Florian Etter for excessive celebration of the goal. Ouch!
*********

In the days before substitutes injured players were often expected to stay on the pitch and do their duty. In one instance, on Saturday 16th February 1952 at Villa Park, Stoke goalkeeper Dennis Herod suffered a first half injury in a First Division match. He was patched up and sent out for the second half and asked 'to make a nuisance of himself' on the left wing. He did - and scored the winning goal in Stoke's 3-2 victory over Aston Villa. His injury - a broken arm!
*********
In March 2009 three-times FIFA World Player of the Year Ronaldo made his competitive debut for Brazilian side Corinthians as a sub after thirteen months out of the game following surgery for a career-threatening knee injury. He survived the 20 minutes he spent on the pitch without a problem only to end up with a badly bruised and swollen right eye after being hit by a microphone when a post-match media scrum surrounded him while attempting to get an interview.
*********
Felix Magath was appointed manager of Premier League bottom club Fulham in February 2014 and was sacked in September 2014 when the Cottagers were bottom of the Championship. You would have thought that dismal record – just 3 wins in 19 League outings – or the fact that he was the first German to manage in the Premier League would be what most of us would remember him for. But not so – it was an injury on which his fame is guaranteed. Fulham captain Brede Hangeland suffered a thigh injury but Magath overruled the medical team and the traditional recovery programme they suggested. Instead the kit-man was sent to the local Tesco store to buy some some cheese which, after being soaked in alcohol, was placed on the injured thigh! Magath might have managed three Bundesliga title winning teams in Germany but those 19 matches would prove the only League matches he took charge of in England!
*********
An unfortunate misprint in a report about an injury in the Hartlepool Mail...
"Paul Walker is doubtful with a toe injury while John Foster will have a late fitness test on his thing injury."
*********
When Uruguay's Juan Hohberg scored an equaliser just three minutes before the end of normal time of the 1954 World Cup semi-final against Hungary he was knocked unconscious as his team-mates celebrated the goal.
*********

In October 2010 it was announced that French footballer Yoan Gouffran had an allergy which was a bit of a problem for a footballer - grass. His manager at Bordeaux, former Fulham boss Jean Tigana, said 'For a footballer, it's embarrassing'. Perhaps so, but thankfully there is now one footballer who won't be making intentional dives!
*********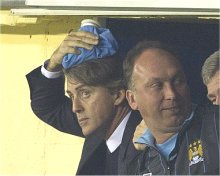 It's not just the players who suffer the injuries. In November 2011 Manchester City manager Roberto Mancini stood up quickly in a tense moment in a Champions League match at Villarreal and discovered that the dugouts at the El Madrigal ground were not for standing up in - low roofs!. He spent the rest of the match with an ice-pack on his head.
There wasn't much to celebrate in England's start in the 2014 World Cup finals in Brazil, in fact just the Daniel Sturridge goal in the 2-1 defeat against Italy. The England bench went wild and in the celebration physio Gary Lewin slipped and dislocated his ankle and had to be stretchered away. Still, he didn't have to watch the second half!
When 11-year-old Charlie Silverwood attended a friendly at Dean Court in July 2013 he knew it was going to be a memorable match - Bournemouth v Real Madrid no less - but he didn't realise just how memorable it would be for him. An early free-kick from Cristiano Ronaldo missed the target but hit the youngster full on the arm and although in pain - in true Bert Trautmann fashion - he watched the match to the end. He then found out in hospital that he had broken his wrist and needed an op to reset the bone. I guess most of us have broken-bone stories but one which includes a capacity attendance, Real Madrid, Cristiano Ronaldo, a singed Real shirt as an apology and nationwide media attention has surely got to be a tad more interesting than tripping over a kerb!
*********
Wasn't the world sympathetic when it was announced that because of a leg injury Spanish international Marco Asensio would miss the opening match of Real Madrid's 2017/18 Champions League campaign against Apoel of Nicosia! His injury? Well it seems he shaved his legs. Sadly the razor was dirty infecting a hair follicle on his leg which resulted in a pimple which prevented him from pulling one of his socks up. Bless!