DID YOU KNOW....
GOALS and THEIR GOALSCORERS
Football has a million and one stories and just as many facts and figures. Here are a few of them - the record-breaking, unusual and bizarre.
More Did You Knows...
Index
1 2 3 4 5 6 7 8 9 10 11 12 13 14 15 16 17 18 19 20
21 22 23 24 25 26 27 28 29 30 31 32 33 34


Joe Payne proved that anything is possible in football. A Luton Town player he had been loaned out to non-leaguers Biggleswade Town, made a couple of League appearances for The Hatters in 1934/35 and four more at the start of the 1935/36 season, all at wing-half. Seven months after his last Football League appearance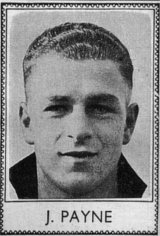 injury problems saw him selected as centre-forward when Bristol Rovers visited Luton in a Football League Division 3 South fixture on Easter Monday 1936 - April 13th. He scored his first League goal, it was a hat-trick by half time and by the time the final whistle had blown he had scored 10 - the only person ever to score 10 in a Football League match and breaking the record of nine which had only been set the previous Boxing Day (Bunny Bell scores 9). 'Ten Goal Payne' as he was then known, couldn't stop scoring after that. In all he scored 83 times in 72 appearances for Luton and played once for England (scoring twice) before moving to Chelsea for just £2000 in 1938. A short spell with West Ham followed but sadly a promising career was interrupted by the war and ended prematurely due to injury problems. But surely no-one will take that record from him.
*********
I'm sure we all remember 'that' goal in England's 2-0 defeat in Croatia on Wednesday 11th October 2006. In the 69th minute of the Euro 2008 qualifier a harmless enough back-pass from Gary Neville hit a divot, bounced up, goalkeeper Paul Robinson kicked air and the ball just continued its progress uninterrupted into the back of the net. The incident just summed up all our frustrations with England at the time (sounds familiar!) with the 2-0 defeat keeping England out of the top two in the group and giving them the summer off when the finals were played.
*********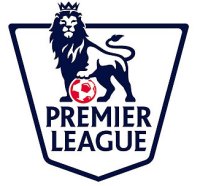 The first goal scored in the Premier League was by Sheffield United's Brian Deane against Manchester United five minutes after the new competition had kicked-off on Saturday August 15th 1992.
The 10,000th Premier League goal was scored by Tottenham's Les Ferdinand against Fulham on Saturday 15th December 2001. To celebrate that landmark Ferdinand received a £10,000 cheque to donate to a charity of his choice and ten years later Marc Albrighton received a £20,000 charity cheque when scoring the 20,000th Premier League goal. His goal was for Aston Villa against Arsenal on Wednesday 21st December 2011.
The first club to score 1,000 Premier League goals were perhaps not unsurprisingly Manchester United. Cristiano Ronaldo scored their 1,000th in the 4-1 defeat at Middlesbrough on Saturday 29th October 2005. The first club to conceded 1,000 Premier League goals were Spurs. It was scored at White Hart Lane on Saturday 14th January 2012 by Wolves' Steven Fletcher in a 1-1 draw.
The first club to score a century of goals in a Premier League season was Chelsea who scored 103 goals in their 2009/10 title-winning campaign. The first time a club has conceded three figures in the Premier League was in 1993/94 when Swindon Town let in 100 goals in their one and only Premier League season.
*********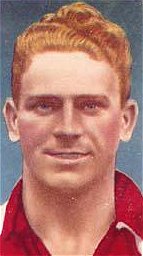 Second Division Middlesbrough were the club to watch for goals in the 1926/27 season - they scored 122 League goals with George Camsell getting 59 of them. Both were new goalscoring records with both figures being 15 goals more than the previous best although amazingly both records were bettered the following season, 1927/28. Those 59 goals by Camsell (pictured) included 9 hat-tricks and a run of 12 League games when he scored in every match. Scoring in 12 consecutive League matches is an achievement in itself but what is more remarkable is that in those 12 matches he scored 29 goals for Middlesbrough -
Sat
Oct
16
Nottingham Forest
Away
Lost
3-4 (1 goal)
Sat
Oct
23
Barnsley
Home
Won
5-1 (1 goal)
Sat
Oct
30
Darlington
Away
Won
4-1 (1 goal)
Sat
Nov
6
Portsmouth
Home
Won
7-3 (4 goals)
Sat
Nov
13
Oldham Athletic
Away
Lost
1-2 (1 goal)
Sat
Nov
20
Fulham
Home
Won
6-1 (4 goals)
Sat
Nov
27
Southampton
Home
Won
3-1 (1 goal)
Sat
Dec
4
Blackpool
Home
Drew
4-4 (2 goals)
Sat
Dec
18
Swansea Town
Home
Won
7-1 (4 goals)
Sat
Dec
25
Manchester City
Away
Won
5-3 (5 goals)
Mon
Dec
27
Manchester City
Home
Won
2-1 (2 goals)
Sat
Jan
1
Port Vale
Home
Won
5-2 (3 goals)

Thats 29 goals in 12 League matches - and in the next match he scored another goal in an FA Cup tie against Leicester City!
*********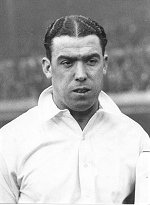 William Ralph Dean - Dixie Dean - scored an amazing 349 goals in his 399 League appearances for Everton. 60 of those goals came in the 1927/28 season which is a League goalscoring record which surely will never be beaten. But he left it late needing to score seven goals in the last two matches. Dixie's League goals in1927/28.
The League goalscoring record immediately prior to Dean setting the record -

38 goals
Joe Smith
Bolton Wanderers
Div 1
1920/21
39 goals
David Brown
Darlington
Div 3N
1924/25
44 goals
Jimmy Cookson
Chesterfield
Div 3N
1925/26
59 goals
George Camsell
Middlesbrough
Div 2
1926/27
60 goals
Dixie Dean
Everton
Div 1
1927/28
Since then only 3 players have scored 50 Football League goals in a season -
55 goals
Joe Payne
Luton Town
Div 3S
1936/37
55 goals
Ted Harston
Mansfield Town
Div 3N
1936/37
52 goals
Terry Bly
Peterborough United
Div 4
1960/61
*********
The goal that David Beckham scored on the opening day of the 1996/97 Premier League season - against Wimbledon at Selhurst Park - showed that their was more to Manchester United than just Eric Cantona. A very youthful 'Golden Balls' scores from his own half...
*********
The most dramatic increase in goals scored in the Football League took place in the 1925/26 season due to a change in the offside law. Prior to that season defending players had almost perfected the offside trap - Bill McCracken and Frank Hudspeth of Newcastle being the masters - leading to many stoppages for offside and play being compressed into a narrow space either side of the halfway line. Goals and attendances were down and football had started to become boring. The FA had two possible solutions to the problem - to reduced from three to two the number of defending players needed to be in advance of the attacking player for him to be offside or to add a line in each half 40 yards from the goal behind which a player could not be offside. Trial exhibition matches were played and the FA decided on the first option which was recommended to the International Board and adopted for the start of the 1925/26 season.
The changed was dramatic with 6373 League goals being scored in the 1925/26 season compared with 4700 in the previous season - an increase of over a third. And there were some amazing results.
In Division 1 (goals up from 1192 in 1924/25 to 1703) Aston Villa beat Burnley 10-0 on the opening day of the season. Sheffield United had home victories of 11-2 over Cardiff and 8-3 against Manchester City but lost 4-7 at Bury and 1-6 at Sunderland. In addition to that defeat Manchester City also lost 5-6 at Bury but won 6-1 at Manchester United and at home had their own 8-3 victory against Burnley, beat Leicester 5-1 but lost 1-5 to Huddersfield!
In Division 2 (goals up from 1068 to 1487) Darlington at home beat Portsmouth 7-1, Clapton Orient 6-0 and Sheffield Wednesday 5-1 but away from home lost 2-5 at Chelsea and 1-6 at both Port Vale and Stoke. Apart from that victory over Darlington, Stoke also beat Fulham 5-0 at home but away lost 1-5 at both South Shields and Wolves, 2-7 at Oldham and 3-7 at Derby.
In Division 3 (North) goals were up from 1320 to 1628. At home Hartlepools beat Walsall 9-3, New Brighton 6-1, Accrington 5-1 and both Southport and Wrexham 5-0 but away lost 0-6 at Rochdale and 2-5 at Chesterfield, Coventry and Nelson! Doncaster beat Accrington 6-2, Coventry 8-1 and Southport 6-1 at home but away lost 1-6 at Ashington and 3-5 at Nelson.
In Division 3 (South) goals increased from 1120 to 1555. In home matches Plymouth beat Aberdare 7-2, Bournemouth 7-2, Crystal Palace 6-2, Norwich 6-3 and Southend 6-2 while away they beat Charlton 5-0, drew with Crystal Palace 5-5 and lost 1-6 at Aberdare!
*********
Liverpool had a terrible 2009/10 campaign. Their worst League finish for years saw them lose their manager and a place in the Champions League. And when you're down, nothing goes your way. On Saturday 17th October 2009 in a Premier League match at the Stadium of Light Liverpool 'keeper Pepe Reina appeared to have a shot from Sunderland's Darren Bent covered. It then hit a beach ball, deflecting the match ball to the right of Reina into the net with the beach ball just missing the post on his left. It was the only goal of the match - and it was a Liverpool beach ball thrown onto the pitch by a Liverpool fan! Still every cloud has a silver lining. The £10 beach ball set (with beach bag and towel) then proved to be a top-seller in the Liverpool club shop with seemingly every opposing fan wanted to buy one to rub salt into Liverpool's wounds! As one rival fan joked 'This is one of the most flexible products I have ever purchased. Great for not only the beach, but can also play up front.'
Manchester City suffered the same sort of problem when being knocked out of the FA Cup by Sheffield United at Bramall Lane on Sunday January 27th 2008. This time the culprits were blue and white balloons released into the Manchester City penalty area by City fans. An early cross into the City penalty area saw the ball hit a couple of balloons before nutmegging Michael Ball and leaving a straightforward goal for Luton Shelton. If being knocked out of the cup by a balloon was bad enough when the City players got back to the dressing room they found that thieves had made off with £2000 of their cash!
*********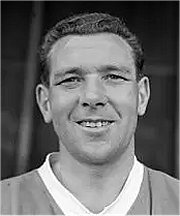 The record for most Football League goals in a career belongs to Arthur Rowley. In a career that spanned 1946 to 1965 he scored 434 League goals in 619 matches for West Bromwich Albion, Fulham, Leicester City and Shrewsbury Town. His 44 Division 2 goals for Leicester in 1956/57 and 38 Division 4 goals for Shrewsbury in 1958/59 still stand as club record highs in a single season.
*********
On 12th August 1995, the opening day of the new League season, two goalkeepers scored goals – Chris MacKenzie (for Hereford v Barnet in Division 3) from an 80-yard downfield punt and Roger Freestone (for Swansea v Shrewsbury in Division 2) from the penalty spot.
*********
Matches between certain clubs just seem to be a reason for scoring goals. Less than two months after Arsenal had won 7-5 at Reading in a Capital One cup-tie in October 2012 the Gunners returned to the Madejski Stadium to beat Reading 5-2 in a Premier League fixture. But over a longer period nothing can match the scoring in matches between Charlton Athletic and Plymouth Argyle in the 60's. In the four seasons from the 1959/60 season the eight Second Division fixtures between the two clubs produced 60 goals and they were evenly matched with all the matches ending in home victories and 30 goals being scored at The Valley and 30 at Home Park. The results -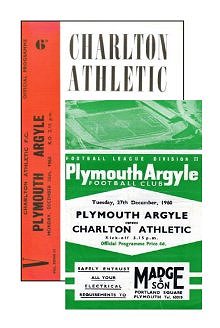 1959/60
Charlton 5 Plymouth 2
Plymouth 6 Charlton 4
1960/61
Charlton 6 Plymouth 4
Plymouth 6 Charlton 4
1961/62
Charlton 3 Plymouth 1
Plymouth 2 Charlton 1
1962/63
Charlton 6 Plymouth 3
Plymouth 6 Charlton 1

*********
When Swindon Town paid £110 to Swansea Town in June 1926 to sign Harry Morris it didn't take long for the former Fulham, Brentford and Millwall player to start repaying that whopping transfer fee. He made his League debut for Swindon on Saturday August 28th 1926 scoring a hat-trick in the 5-1 win over Southend at the County Ground. Two days later another hat-trick was scored, against Exeter, followed by a goal in each of the next two games.
Highest League Scorer in a Season: Harry Morris, 47, Division 3 (s), 1926/27
Most League Goals in Total Aggregate: Harry Morris, 216, 1926/33
Harry Morris holds all of Swindon's goal records, having scored 229 goals for the club between 1926 and 1933.[51] Harold Fleming is second with 203, with Don Rogers third with 178. Morris scored the most goals in a season with 48 during 1926–27, 47 of which were in League games which is another club record. The most goals scored by an individual is also held by Morris and Keith East, who have both scored 5 against League opposition (Morris having achieved this in 1926 and 1930).
*********
So what it is with Manchester United v Tottenham Premier League matches refereed by Mark Clattenburg - two matches and two memorable goal incidents. The first was on Tuesday January 4th 2005 with the score 0-0 after 89 minutes. Tottenham's Pedro Mendes hits a long hopeful lob which United keeper Roy Carroll looks to have covered but fumbles it with the ball going over the line - and I mean well over the line. No goal given and VAR was a long time away!
Fast forward to Old Trafford on Saturday October 30th 2010 when Manchester United, Spurs and Clattenburg re-assemble to provide us this time with a goal that stood that shouldn't have done. In fact the goal scored by Nani of Manchester United is probably the most bizarre goal scored in the Premier League. Nani went down in the Tottenham penalty area and claimed a penalty and presumably believing one would be awarded grabbed hold of the ball. But referee Mark Clattenburg hadn't awarded a penalty. Spurs keeper Heurelho Gomes presumably believed a free kick had been awarded for the hand ball and put the ball down ready to take the kick. But the ref hadn't awarded a free kick either. So the ball was still live and Nani just hit the ball into an empty net. A goal and all hell is let loose....
*********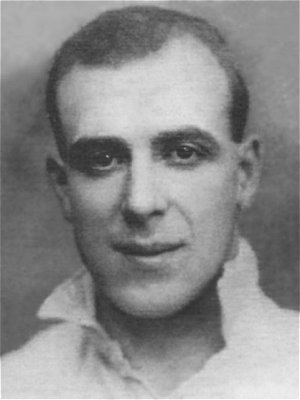 Division 1 runners-up Aston Villa scored a top flight record of 128 goals in 1930/31 while champions Arsenal scored one goal fewer. Villa's Tom 'Pongo' Waring (right) scored in 30 of the 39 League matches he played in that season, his 50 League goals included two four-goal hauls in the first three matches of the season. Also in 1930/31 Blackpool conceded a top-flight record 125 League goals - but they weren't relegated - 1930/31 Division 1 table and results.
*********
The title of 'cheekiest goal' probably goes to Ernie Hunt who scored for Coventry against Everton in the First Division on 3rd October 1970. Willie Carr took a free kick by gripping the ball between his ankles flicking it into the air with a backward donkey-style flip and as the ball came down Hunt volleyed home. It was the 1970/71 Match of the Day 'Goal of the Season' and became part of the MOTD opening credits but sadly the move was soon banned. In later years Willie Carr looked back on his most famous 'assist' -
'I will always be associated with the donkey-kick goal which Ernie Hunt scorded for Coventry against Everton in 1970. We had a free kick and I gribbed the ball between my legs before flicking it up for Ernie to volley into the corner of the goal. We had tried it a few times in training but it never worked and then against Tottenham Ernie nearly hit the clock behind the goal. When we did it against Everton everything worked perfectly although I flicked it up too high. Fortunately the Everton players didn't know what was happening so the wall didn't move.'
*********
When Ahn Jung-Hwan scored a golden goal for South Korea which took his country to the quarter-finals of the 2002 World Cup and eliminated Italy from the competition he became an overnight hero. But not in Italy. Sadly for Ahn he was at the time employed by Perugia in Italy's Serie A - but not for long. He was sacked by Perugia president Luciano Gaucci who said "I have no intention of paying a salary to someone who has ruined Italian soccer."
*********
And one that got away...
In the Second Division match between Chesterfield and Burnley at Saltergate on 5th September 1936 a shot from Chesterfield's Walter Pontin looked certain to hit the back of the net, but it wasn't to be,,,

*********
The next time you hear a Premier Division manager moan about the number of matches they play spare a thought for the players for Midland League clubs back in the 1929/30 season. The competition consisted of 26 clubs which meant each club played 50 League matches! And there were quite a few goals scored. Every one of the 26 clubs either scored or conceded a century of goals with six clubs doing both. One club got close to letting in a double century of goals! The 650 Midland League matches in 1929/30 saw 2853 goals scored at an average of 4.39 goals a match.
Link - Midland League table 1929/30