DID YOU KNOW.....
Photos of Players, Managers and Fans
through the ages
Football has a million and one stories and just as many facts and figures. Here are a few of them - the record-breaking, unusual and bizarre.
More Did You Knows...
Index
1 2 3 4 5 6 7 8 9 10 11 12 13 14 15 16 17 18 19 20
21 22 23 24 25 26 27 28 29 30 31 32 33 34
The latest Front Page Pictures are on the Home Page - but here are pictures from previous weeks.

Other photo pages - Football grounds - team groups.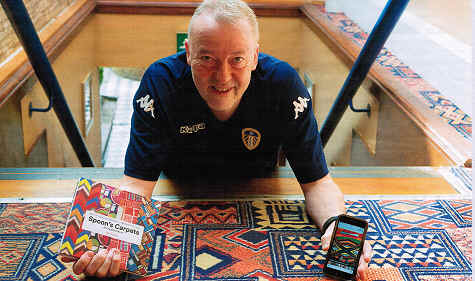 A win is the priority of course when attending an away match but there are other things to look forward to - a new ground ticked off the list usually followed by a first visit to the Wetherspoons pub in that area. I have to say that admiring the carpet designs at those Wetherspoons pubs was never really high on my list of priorities! I assumed that they were all the same - but that is not the case! There is a book called Spoon's Carpets which illustrates all the various floor coverings in those establishments. And it seems that because of the book a football fan has become one of the foremost experts in the subject - he receives many photos of carpets to test his knowledge of which pub they are in. That expert is Peter Batty, a fan of Leeds United. OK I hear you say, its not quite the same as scoring a winning goal in a Cup final but for a Leeds fan its something really special (sorry Leeds!). Lets hope that we will be celebrating a win when we next tread on those carpets at Spoons!
* * * * *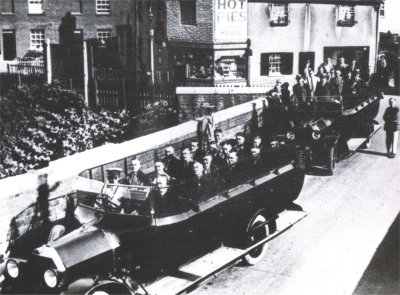 Well, if you think current footballers are well looked after compared with the past then you haven't heard about the perks Exeter City players enjoyed back in the day. Every year the Exeter players were treated by the club directors to a pre-season charabanc trip, usually to Dartmoor. Pictured are the Exeter players in the first bus about to set off for one of those trips, the second bus housing the club directors. You just know a riotous time is about to be enjoyed by all!
* * * * *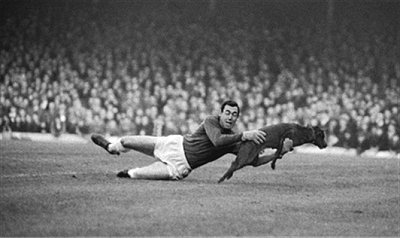 Gordon Banks in action - in my opinion he was the best goalkeeper England has ever had. His save against Pele in 1970 is the one we all rightly remember - amazing - but my favourite photo is when he 'saved' a dog five years earlier. But was a save or a tackle I wonder? The incident took place in the First Division match between Leicester City and Manchester United at Leicester's former home at Filbert Street in November 1965. How on earth do dogs get into grounds? Sadly for Leicester though that proved to be the only bit of success for Banks that Saturday afternoon - United won 5-0!
* * * * *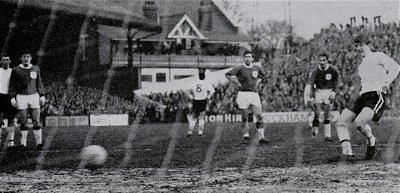 No mistaking the Craven Cottage home of Fulham although the wide open spaces of the Putney End have long been replaced by a stand. The picture shows Allan Clarke converting a controversially-given (aren't they all!) penalty in Fulham's FA Cup 3rd Round match against non-leaguers Macclesfield Town in January1968. Fulham won that one 4-2 in a season of poor results. The following week they lost their First Division fixture at West Ham 7-2 and finished the season in bottom spot with relegation seeing them start of a period of over 30 years outside of the top flight.
* * * * *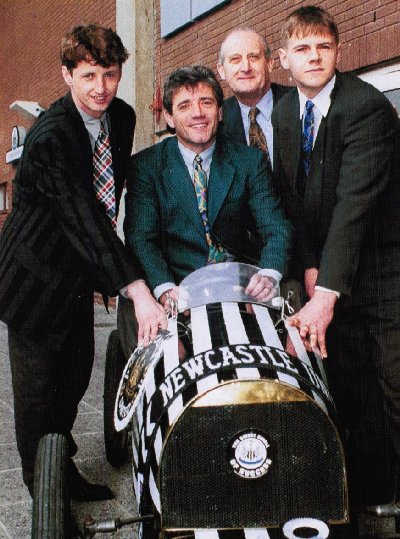 Superstars never seem to be parted from their supercars...even when they move on to management! Back in the 1990s Newcastle United manager Kevin Keegan poses in this top-of-the-range sports car when welcoming two new players to St James' Park with club chairman Sir John Hall. And to be fair it was a brilliant bit of motivational thinking. Right at the start show new players what sort of car they will be able to buy if they are successful at the club and success will surely follow. And it did - in his four seasons as manager of Newcastle in the Premier League in the 1990s they finished in the top 6 in each season.
* * * * *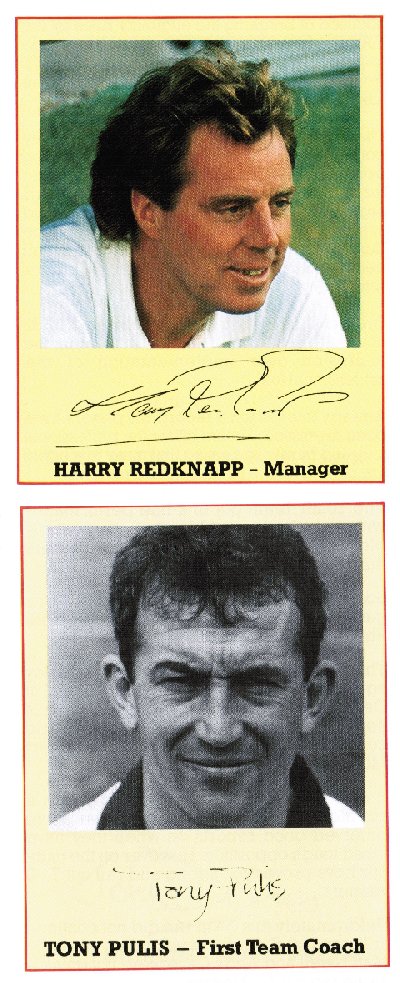 Don't they look young! Two pictures pinched from a Bournemouth programme from 1991 when Harry Redknapp was manager and Tony Pulis was first team coach at the south coast club. It was 'Arry's first stint as a manager and in the quarter of a century or so since he has been in the hot seat at West Ham, Portsmouth (twice), Southampton, Spurs, QPR and Birmingham. Harry Redknapp became manager of Bournemouth in October 1983 and survived until the end of the 1991/92 season when Tony Pulis took over for his first managerial job. Then followed spells at Gillingham, Bristol City, Portsmouth, Stoke (twice), Plymouth, Crystal Palace, West Brom and Middlesbrough!
That lot is enough to age any manager!
* * * * *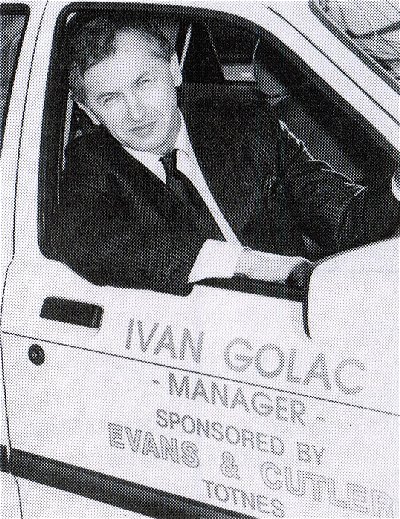 I was looking through an old Torquay United programme the other day - 1992 vintage - and was surprised to see a picture of their manager, Ivan Golac, in a sponsored car with his name on it. I can't see Jose or Arsene putting up with that can you! I must admit a manager having his name on a car isn't the best of security measures either. And the way that managers come and go would mean that the door would need a respray after not too long. That was the case with Ivan Golac at Plainmoor - Torquay were relegated at the end of the 1991/92 season and that ended his spell on the south coast, after just 19 matches in charge. Yugoslav Ivan Golac is probably best remembered as a popular player in his two spells at Southampton while as a manager things looked up for him after leaving Torquay when he moved north to boss Dundee United.
* * * * *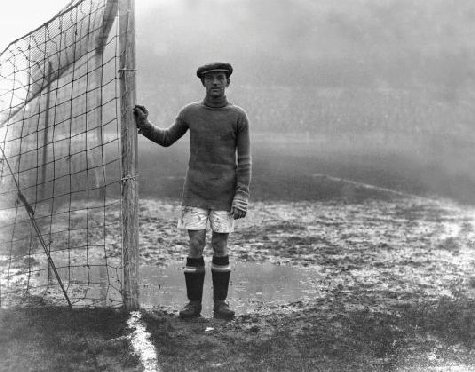 You just know that is a goalkeeper who wanted to be at home in a hot bath! Look at the state of that pitch and rest assured that the rain that caused that mess would be descending on fans standing on the uncovered terraces as well as the players. And there would have been quite a few of those fans as the picture is of Billy Mercer in 1925 when his team Huddersfield Town dominated the English football scene. Billy Mercer played 48 times for Huddersfield when they became the first club to win a hat-trick of League championships in 1923/24, 1924/25 and 1925/26. Previously he has spent 10 years at Hull City where he made 193 League outings.
* * * * *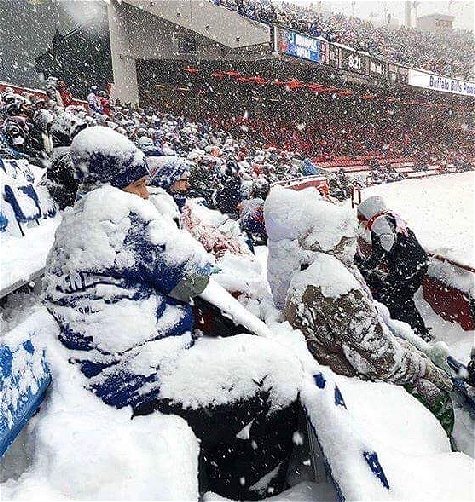 Dedicated - and presumably bloody cold!
* * * * *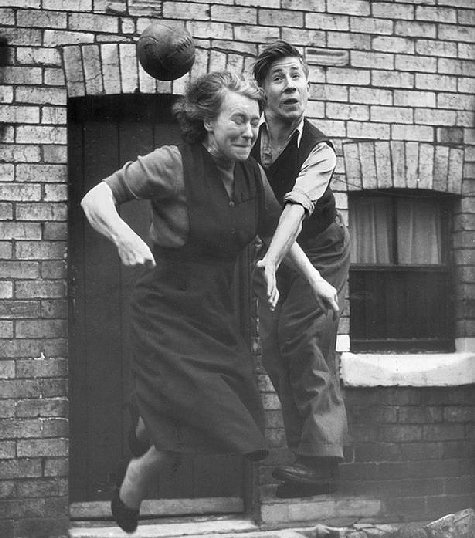 A 15-year-old Bobby Charlton with his mother Cissie outside their Ashington home in 1953. And, bless her, his mum was putting some effort into that header wasn't she with that being a proper leather football! Cissie was in fact a member of a famous footballing family. Uncles Jack, George, Jim and Stan Milburn were all Football League players while cousin Jackie Milburn - 'Wor Jackie' - made his name playing for Newcastle United and England. Bobby was one of four brothers. He and older brother Jack were World Cup winners of course while Gordon had an unsuccessful trial period at Leeds United when Jack was at Elland Road. Gordon Charlton left it late to show his footballing skills - it seems he became a bit of a superstar in his 60's playing walking football in Rotherham.
* * * * *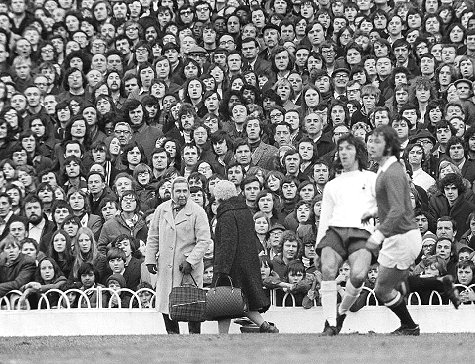 Genuinely one of my favourite football photos. Spurs are playing Manchester United in a First Division match at White Hart Lane in March 1972 but that fact seems almost unimportant. It's the two ladies walking along the touchline who seem completely oblivious to what's going on a few feet away. What on earth are they doing there? I've heard the speculation and even wondered it the picture has been doctored - but do you know why they are in the spotlight?
* * * * *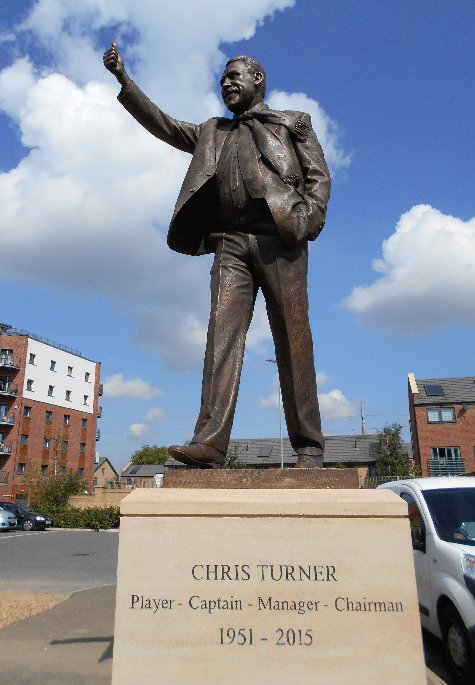 Peterborough United joined the statue club on September 1st 2017 when they unveiled a statute of Chris Turner. Chris had done it all at Posh - a former player, club captain, manager, club co-owner and chairman. He made 364 first team appearances for Posh between 1969/70 and 1977/78 scoring 43 goals and his short period as manager was one of the most successful in the clubs' history and included Posh's first Wembley appearance, that play-off victory over Stockport. And he was always a popular figure at London Road despite sharing much of his career with local rivals Cambridge United! Chris was diagnosed with frontal lobe dementia in 2006 - possibly caused by heading the heavy footballs of old - and died in a local nursing home on 27th April 2015, aged 64. Posh fans then raised over £100,00 in his memory for the statute, the sculptor being Sean Hedges-Quinn whose previous works have included Bobby Robson, Alf Ramsey and Bob Stokoe. Chris won't be forgotten.
* * * * *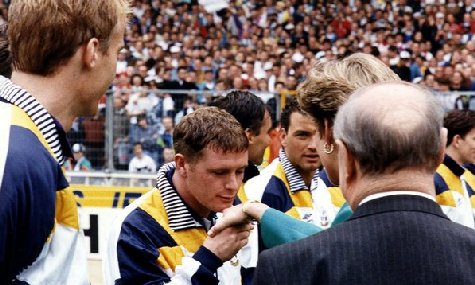 Paul Gascoigne kisses the hand of Princess Diana during the pre-match presentations at Wembley for the 1991 FA Cup Final between Spurs and Nottingham Forest - or was he just looking at her watch to see how long before kick-off! There was always going to be a humorous headline or two when those two met - sadly for both of them those humorous headlines are firmly in the past.
* * * * *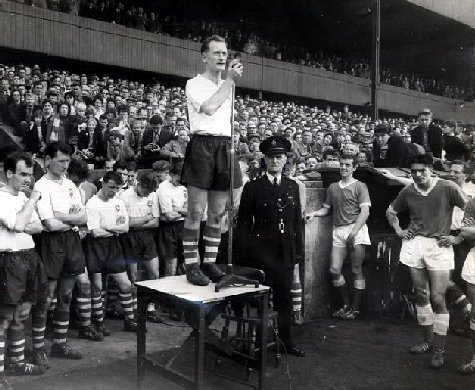 Tom Finney addressing the crowd at Deepdale after playing his last match for Preston – against Luton Town on 30th April 1960. Looks a bit precarious doesn't it – I think that there would be a few health and safety issues if he gave a speech standing on that table today!

Finney was born in 1922 and left school at 14 to join the family plumbing business – his later nickname was the 'Preston Plumber'. His footballing career was delayed by the Second World with his League debut coming on August 31st 1946 when it took him just 18 minutes to score for Preston in the 3-2 victory over Leeds at Deepdale. By the time he made his final League appearance in 1960 he had played in 473 league and cup matches, scoring 210 goals. Every one of those appearances was for Preston although he did come out of retirement at the age of 41 in 1963 to play for Distillery of Belfast against Eusebio's Benfica in a European Cup tie. Just a month after making his League debut Tom Finney played his first match for England, scoring in England's 7-2 victory away to Northern Ireland. He went on to play 76 times for England and his 30 England goals was a record at the time.

He was the first player to win the Footballer of the Year award twice and many still regard him as the best player England has produced. Yet he later estimated how much he had earned from football during his entire career – less than £15,000. He became Sir Tom in 1998 and died in 2014 aged 91.
* * * * *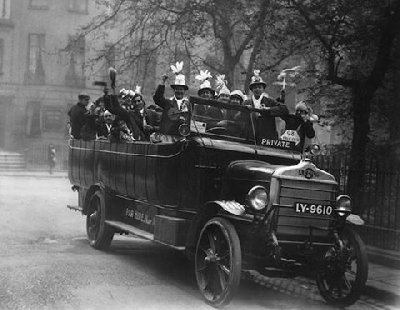 Now that's what I call a bus trip! Fans on their way to the first Wembley FA Cup final between Bolton and West Ham in 1923.
* * * * *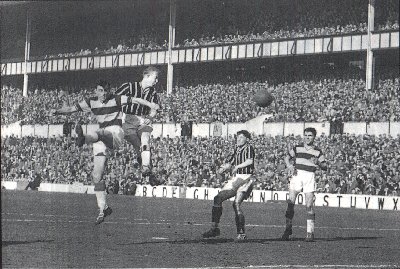 Tony Harding heading Barnet's second goal in their 2-0 FA Amateur Cup Semi-Final replay victory over Walthamstow Avenue in 1959. The match was played at what looks like a full White Hart Lane with the drawn semi having been played at Arsenal's Highbury ground - but Barnet were beaten by Crook Town at Wembley in the final. Not a bad trio of grounds to play at!

The FA Amateur Cup had been the only nationwide non-league cup competition from 1893 to the 1969-70 season (some of the Wembley finals had 100,000 attendances) when the FA Trophy was introduced for the professional non-leaguers. With the ending of the amateur status in football the last Amateur Cup final was played in 1973/74 with the FA Vase being introduced the following season with the stronger non-league sides entering the Trophy and the smaller clubs the Vase.
* * * * *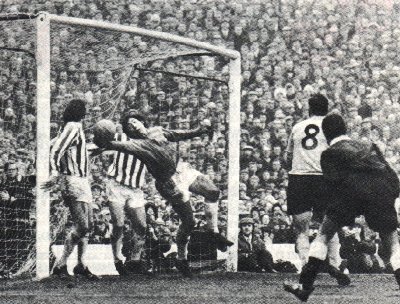 World Cup winner Gordon Banks at his best saving a header from Hull City's Terry Neil when playing for Stoke City in an FA Cup quarter final tie in 1971. But was the ball over the line before he hooked the ball clear was the talk of the time! No thought of goal-line technology in those days! Stoke won the match 3-2 at Hull's former home at Boothferry Park. The crowd was 41,452 with gate receipts of £22,229 meaning an average admission price of a little over 50p - those were the days!
* * * * *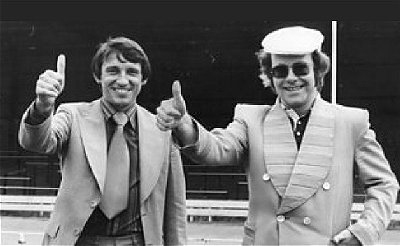 An unusual football partnership but an amazingly successful one.
Elton John took over the club he supported, Watford, in 1976 and the following year employed Graham Taylor as manager. Taylor had spent five years as Lincoln manager after a playing career with Grimsby and Lincoln and had turned down the managers' job at First Division WBA to take over at Watford - then in the Fourth Division. But by the 1982/83 they were in the top flight finishing second to Liverpool and a year later were beaten FA Cup finalists. Taylor left for Aston Villa in 1987 but although he had three years as boss of England and another spell at Vicarage Road it was probably that first spell at Watford that saw his best achievement in football.
* * * * *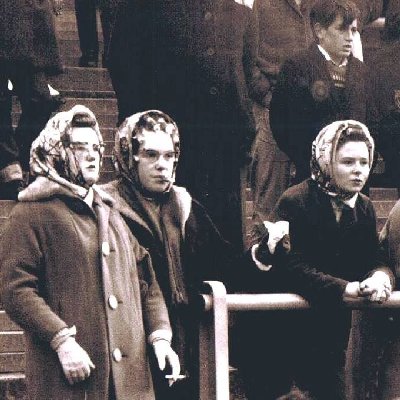 Now what were those Port Vale fans thinking of the match being played
on that long gone day?
* * * * *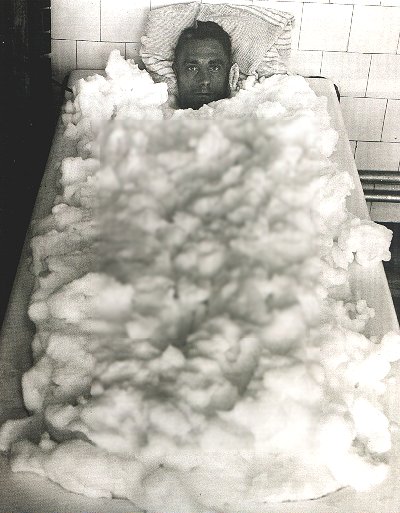 Evidence of a torture chamber at Highbury! No, this is not a picture of a bloke in a bubble-bath but of Arsenal player Wilf Copping in an ice bath in 1934. It's painful just looking at it, and he doesn't look too chuffed about it either! Quite what his injury was that needed that sort of treatment is unknown but under manager Herbert Chapman the Gunners were the top club in the country at the time and were innovators of many things that are normal practice now. Thankfully not this one though.
* * * * *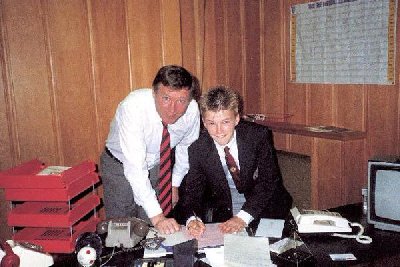 Don't they look young!
A 14-year-old David Beckham signs schoolboy forms for Manchester United 1989 and starts the relationship with Alex Ferguson that was to last until Beckham left to join Real Madrid in 2003. Sir Alex retired as manager at Old Trafford ten years after that.
* * * * * *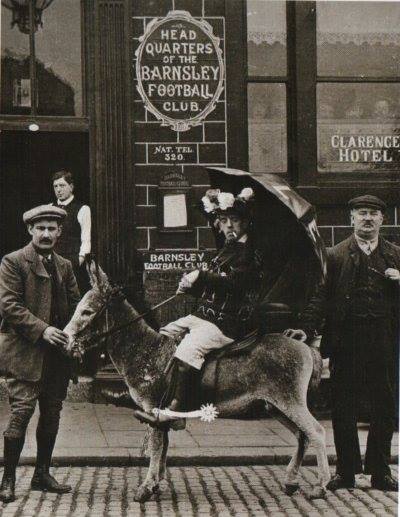 Mascots aren't a new invention - Amos helped Second Division Barnsley get to their first FA Cup Final in 1910. It is believed that Amos was the jockey and not the donkey. But you can't imagine any modern groundsman letting a donkey anywhere near a pitch nowadays. And I wonder how many of the people in the picture would have anticipated being looked at over a century later on this inter-web thing!
* * * * * *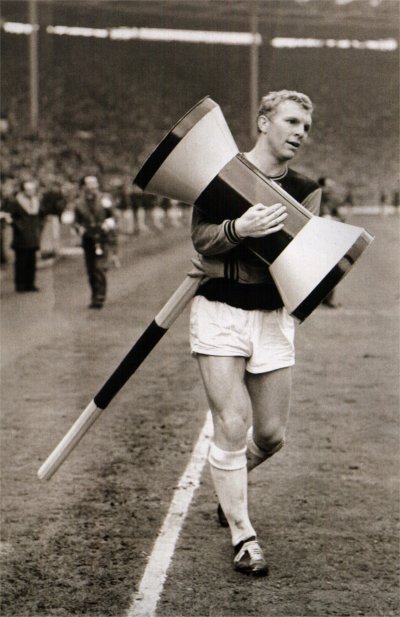 West Ham captain Bobby Moore celebrating at Wembley following the Hammers FA Cup final victory over Second Division Preston in 1964. I'm not quite sure if the hammer he is pictured with would get through the turnstiles at the London Stadium this season!

It was the first time that West Ham had won the FA Cup and was the first of three successful Wembley cup final wins for the England captain in three seasons. A year later West Ham were back at Wembley for the European Cup Winners Cup against TSV Munich while in 1966 it was that World Cup final victory over West Germany.
Great times.
* * * * *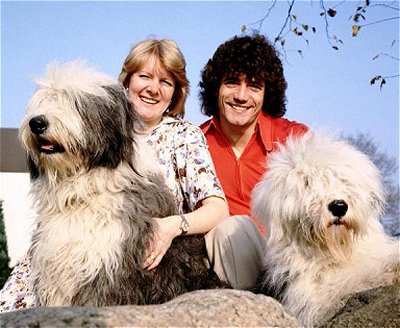 Kevin Keegan and family, a PR picture from the 1970s which was meant to show that footballers were just like the rest of us. It had to be said though that you probably needed to be a football superstar if you were going to be able to afford the weekly shampoo bill that must have put a strain even on the Keegan finances!
* * * * * *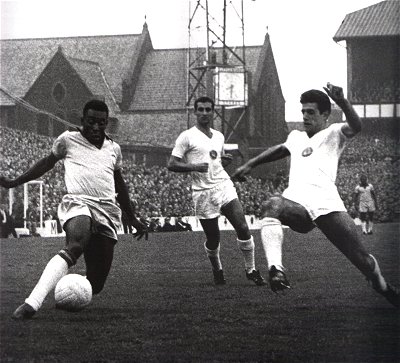 The venue? Well the church in the background is a give away. Pele in action in one of the two matches he played in England - both at Everton's Goodison Park - during the 1966 World Cup finals. He scored a goal in the pictured match - against Bulgaria - to become the first player to score goals in 3 World Cup finals. But with the reputation of being the best player in the world came some harsh treatment from opposition defenders. He missed Brazil's second match because of injury but returned for the third only to suffer the same treatment. Pele - and Brazil - were literally kicked out of the 1966 World Cup, failing to reach the knock-out stages after having won it in 1958 and 1962.
Link - Everton
* * * * * *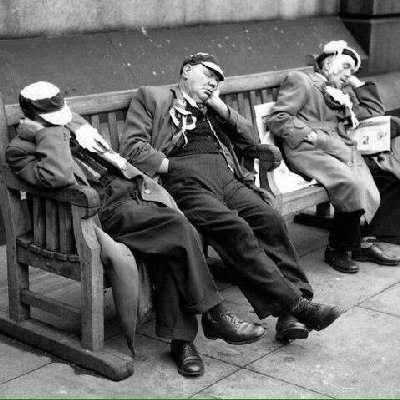 I bet all three of them were dreaming of scoring the winning goal at the
FA Cup Final at Wembley - yep, in those days, the FA Cup was important
enough to want to win!
* * * * * *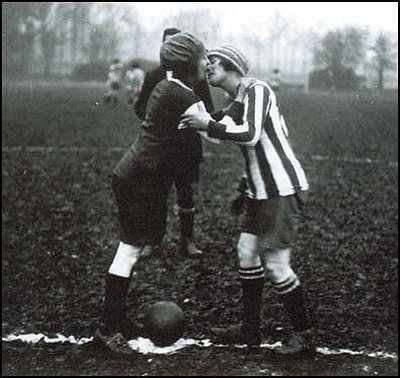 England's third place in the 2015 World Cup is a far cry from the beginnings of organised women's football in this country. That was back in the First World War when the women who worked in the munitions factories in the north played organised football to improve morale. The top team of the time was the Dick, Kerrs ladies side from Preston. They attracted an attendance of over 10,000 for a Christmas Day match at Preston's Deepdale ground in 1917 while on Boxing Day 1920 over 53,000 were present at Goodison Park for a friendly against St Helens Ladies. Earlier in 1920 they had played against a French side in what is considered to be the first unofficial women's international fixture. Dressed in a tea-cosy hat and the Newcastle United style kit the traditional Dick, Kerrs pre-match greeting was a kiss rather than a hand-shake - and by the looks of that picture that kiss appeared to be a bit more passionate than a peck on the cheek!
* * * * * *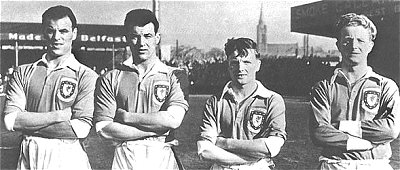 England had the Charltons and the Nevilles but on 20th April 1955 Wales became the first of the Home countries to play two sets of brothers in an international team. John and Mel Charles, Ivor and Len Allchurch were in their side for the 3-2 victory over Northern Ireland at Windsor Park, Belfast. John Charles scored a hat-trick.
* * * * * *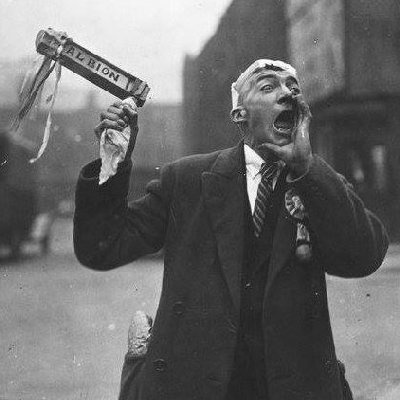 I was at a reserve team match a while ago (football isn't all about the
Premier League you know!) and there was a woman there with a rattle. There was a time when that was one of the few things they sold at football grounds (a rosette, club badge and programme being the others)...but not now. I wondered if she had turned up at a first team match with a rattle would it be confiscated as a dangerous weapon?
* * * * * *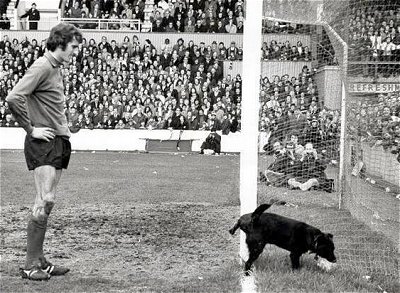 Well if that was a goal celebration it certainly didn't catch on! Liverpool's Ray Clemence didn't look too happy with the situation at a West Ham v Liverpool match at Upton Park in 1972.