QUIZ QUESTION ANSWER
Question:
Which former Coronation Street actor bought a
Premier League club?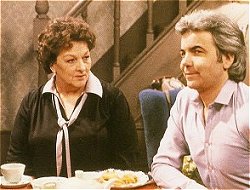 Answer: Bill Kenwright (Everton)
Bill Kenwright played the part of Gordon Clegg in Coronation Street and after leaving the soap made his fame - and fortune - as a theatre and film producer and owner of a record label. He used that wealth to become the largest shareholder and Chairman of the club he supported since childhood - Everton.
As Gordon Clegg he lived the normal life of someone in a soap. Changed his mind about marriage just before the ceremony, found out that his mother wasn't his mother and his father wasn't his father and then - the real shame of it - he ran away to become an accountant!
For hundreds of more questions click on Quiz