DID YOU KNOW.....
ABANDONED MATCHES
Football has a million and one stories and just as many facts and figures. Here are a few of them - the record-breaking, unusual and bizarre.
More Did You Knows...
Index
1 2 3 4 5 6 7 8 9 10 11 12 13 14 15 16 17 18 19 20
21 22 23 24 25 26 27 28 29 30 31 32 33 34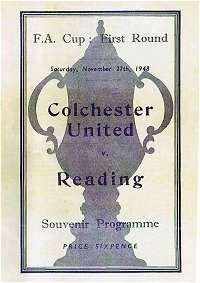 On Saturday January 10th 1953 63,499 were at St James' Park Newcastle for the FA Cup Third Round tie between Newcastle United and Swansea Town - but the match was abandoned after just 8 minutes play because of fog!

*********
Another particularly unfortunate abandonment was at Colchester United on Saturday 27th November 1948. The First Round FA Cup tie against Reading attracted 19,072 fans but was abandoned after 35 minutes due to fog. That was their highest-ever home attendance and that remained their record attendance at their Layer Road ground that they eventually left in 2008.
Amazingly almost exactly 70 years later the same thing happened at Accrington Stanley's Crown Ground (or the Wham Stadium to give it its correct sponsored name at the time). Accrington entertained Sunderland in a League 1 fixture on Saturday December 8th 2018 with referee Oliver Langford abandoning the match after 72 minutes due to a waterlogged pitch. The crowd of 5257 was a record for the Crown Ground - amazingly 2604 of those at the match were visiting fans.
*********
Football rules state that a match should last 90 minutes so should a match be abandoned and the 90 minutes is not completed generally it is ordered to be replayed with the original match being void. Only rarely in Football League history has the result of an abandoned match been allowed to stand, seven major instances being -
Match 1
Clubs suffering money problems is not something new, financial problems have been part of the game since the first footballs were kicked in anger. Back in the 1894/95 season Walsall Town Swifts (now Walsall FC) were battling both to keep their place in the Football League and to pay their bills. The financial problems meant that their players were not being paid and that came to a head on Saturday December 29th 1894 when they were due to entertain Newcastle United in a Second Division fixture. Put simply, they decided in the dressing room before the match it was a case of no pay - no play. Heated discussions followed and it wasn't until over 20 minutes after the scheduled kick off time that an agreement was reached between the players and the committee and the match finally started. Before some 2000 spectators Newcastle took a 3-0 half-time lead but Walsall then pulled two back after the interval. However the weather was atrocious with rain, sleet and a gale force wind and with fading light due to the late kick off the referee abandoned the match in the 78th minute. With Walsall being partly to blame for the abandonment the Football League decided to let the result stand and so the valuable points went to Newcastle. A few days after the Newcastle match Walsall sacked five of their players with the rest being asked to play for little more than expenses only. Not surprisingly things went further downhill for Walsall, they conceded 16 goals in their next two matches and at the end of the season were voted out of the Football League. Walsall 1894/95 results.
Match 2
When Oldham Athletic arrived at Ayresome Park for a Division 1 fixture on Easter Saturday (April 3rd) 1915 they were challenging for the League championship. However as the match progressed the more goals they conceded the more agitated they became with the referee who they believed was guilty of making poor decisions. After 10 minutes of the second half ref Mr H Smith of Nottingham awarded a penalty to Middlesbrough after Billy Cook fouled a home player in the penalty area. Walter Tinsley scored from the spot to complete his hat-trick and give Middlesbrough a 4-1 lead. Shortly afterwards Billy Cook was again guilty of foul play and the referee sent him off. Well, he tried to but Cook refused to leave the field. So the referee did, and abandoned the match. The result was allowed to stand and Oldham finished the season in second place, just one point behind League champions Everton. Cook received a 12-month ban from football.
Match 3
Until they lost their place in the Football League in 1972 a midweek match in Barrow was always a bit of a trip to a footballing outpost. No more so than when Gillingham tried to get there for a Fourth Division match on Monday October 9th 1961. With Barrow not having floodlights the match was due to kick off at 5.15pm and a train from London at 9.05 would have got the Gillingham party there an hour before kick off. Sadly the coach taking them to Euston Station was delayed and they missed the train. The next train wouldn't have got them to Barrow until after kick off time. Road travel was too slow (few motorways in those days) and scheduled flights to Manchester and Newcastle were both full so they chartered their own plane - something of a first in those days. That was delayed as well and it only got them as far as Blackpool with another 70 miles to travel by car. The kick off was put back 15 minutes and even with a police escort for part of the way Gillingham only managed to get to Holker Street at the new start time...and they still needed to change! With that sort of preparation it was hardly surprising that by the 76th minute Barrow had taken a 7-0 lead. But by then - despite turning on the training lights - it was too dark to continue and Gillingham's agony was ended with an abandonment. Thankfully the Football League took pity on Gillingham and did not order the match to be replayed, the 7-0 result standing.
One player who was particularly pleased that the match was not replayed was Gillingham's Billy Jervis. It was the only Football League match he ever played in so, despite it being a 0-7 defeat, if the match had been declared null and void his one league appearance would have been deleted from the record books.
Match 4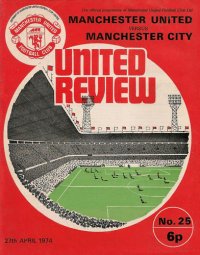 Six years after winning the European Cup Manchester United found themselves battling against relegation in 1973/74. In one of those 'did it really happen' storylines their last match of the season at Old Trafford was against Manchester City on Saturday April 27th 1974 which they had to win to have any chance of avoiding the drop. In the City side was former United legend Denis Law and in the 81st minute, with the score at 0-0, Law back-heeled the ball into the United net for the only goal of the match. He didn't celebrate, was immediately substituted and in fact retired without playing any more club football. Law later said 'I have seldom felt so depressed in my life as I did that weekend'.
But it wasn't the goal that relegated Manchester United. Even if Law hadn't scored and the match had ended 0-0 United would still have gone down. But United fans knew that they were facing the big drop and with five minutes remaining they invaded the pitch, perhaps hoping for a second chance if the match was abandoned and subsequently replayed. Referee David Smith did abandon the match but the result was allowed to stand and Manchester United were condemned to the Second Division in 1974/5.

Match 5
Bradford City entertained Lincoln City on Saturday 11th May 1985 in what should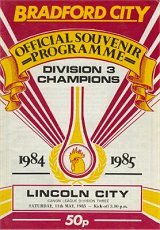 have been a celebration match. It was the final match of a season that had seen Bradford City win the Division 3 title. Instead it turned into one of football's worst tragedies. A discarded match set alight rubbish that had accumulated under the Main Stand over the years and the fire soon engulfed the antiquated wooden structure. A total of 56 people died as a result of the fire with over 250 suffering injuries. The first signs of a fire were seen at 3.40 and two minutes later referee Don Shaw abandoned the match with the scoreline 0-0. The Football League decreed that the match would not be replayed and the score would stand and thus it became the shortest officially completed Football League match.
Match 6
Saturday March 16th 2002 saw a unique abandonment of the First Division fixture between Sheffield United and West Bromwich Albion after what became known as the 'Battle of Bramall Lane'. After 9 minutes Sheffield United's keeper Simon Tracey was sent off for handling the ball outside the penalty area, United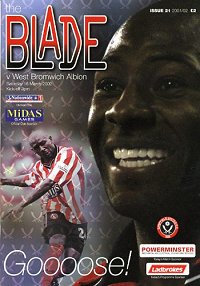 manager Neil Warnock using his first substitution by replacing an outfield player with the sub goalkeeper. Warnock later used his second and third subs and amazingly one of those, George Santos, was sent off in the 65th minute for a foul on Andy Johnson while the other sub, Patrick Suffo, received his marching orders in the skirmish that followed the Santos sending off. That left United with 8 players and no substitutions left. So when Michael Brown had to leave the pitch with an injury in the 80th minute and Robert Ullathorne followed him a couple of minutes later for the same reason it left Sheffield United with just 6 players. The minimum number a team must have is 7 players so ref Eddie Wolstenholme had no option but to abandon the game in the 82nd minute with visitors WBA leading 3-0.
WBA manager Gary Megson was not a happy bunny. He said after the match..

'There will be no replay. If we are called back to Bramall Lane we shall kick-off and then walk off the pitch. I've been in professional football since 16 and I'm 42 now. I've never ever witnessed anything as disgraceful as that. There is no place for that in any game of football, let alone professional football.'
Megson also accused Warnock of faking the injuries to end the game but an investigation cleared the Blades' manager of that accusation although United were fined £10,000 and the result was allowed to stand.
Match 7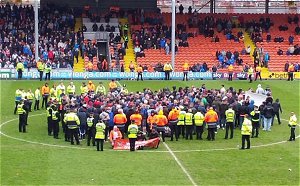 The 2014/15 Championship season was a dismal one for Blackpool. They had to cancel a pre-season tour to Spain because they only had eight first-team players signed-up, yet 50 players made League appearances for them during the season. They didn't manage an away League win - they looked like they might when they took a 2-0 half time lead at Watford in January, but they lost 7-2. They became the first club that season to be relegated - on 6th April - and finally finished a distant bottom. The lowest point though came at their last match of the season, exactly 62 years after probably their greatest day in their history when they beat Bolton in the 'Matthews' FA Cup final at Wembley. Saturday May 2nd 2015 saw Huddersfield Town visit Bloomfield Road for a Championship fixture and shortly after half-time hundreds of fans invaded the pitch protesting at the relegation and the running of the club by the Oyston family. The match was abandoned by referee Mick Russell and later the Football League declared that the match wouldn't be restaged and that the score when the match suffered its 48th minute abandonment (0-0) would stand as the result.
*********
Most abandoned matches are the result of mundane reasons, usually the weather, but sadly there are tragedies.
On April 30th 1927 at Bramall Lane, Bury full-back Same Wynne collapsed when about to take a free kick shortly before half-time at the First Division fixture between Sheffield United and Bury. He was stretchered off but died in the dressing room, the cause of death being found to be pneumonia. The match was abandoned at half time and when replayed the following Thursday (May 5th) the £680 gate receipts from the 15,000 crowd was donated to Sam Wynne's family.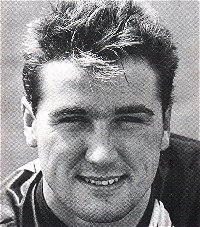 Sixty-three years later David Longhurst tragically died when playing for York City against Lincoln at Bootham Crescent in a Fourth Division fixture on 8th September 1990. The 25-year-old collapsed shortly before half-time and was pronounced dead on arrival at the local hospital, heart failure being given as the cause. The match was abandoned at half-time. He had only played six times for York in the League having previously made League appearances for Halifax, Northampton and Peterborough. In his memory a new stand at the Shipton Street end of York City's ground was named after him, the official opening of the David Longhurst Stand being marked with a friendly against Leeds United in October 1991.
On August 28th 2007 the Carling Cup Second Round tie between Nottingham Forest and Leicester City was abandoned by referee Keith Stroud at half-time after Leicester City defender Clive Clarke had collapsed in the dressing room with a heart-attack. In Spain earlier that day the death of Seville player Antonio Puerta had been announced three days after he had collapsed when playing against Getafe in a Liga match. Thankfully Clive Clarke recovered although he was forced to retire from playing football without making another first-team appearance. When the Carling Cup tie was restaged at the City Ground Forest allowed City 'keeper Paul Smith to score an unopposed goal straight from the kick-off to give the visitors the 1-0 lead they had when the first match was abandoned.
Link - Carling Cup results 2007/08
Sadly history repeated itself on March 17th 2012 when referee Howard Webb was forced to abandon the televised FA Cup 6th Round tie between Spurs and Bolton at White Hart Lane after 41 minutes play when Bolton midfielder Fabrice Muamba collapsed on the pitch. He had suffered a heart attack. After receiving medical treatment on the pitch from medical personnel from the two clubs and a cardiologist who had been at the match as a spectator he was rushed to hospital. from where it was later reported that his heart had stopped for 78 minutes. Thankfully the 23-year-old former England Under-21 international and Birmingham City player survived although, as with Clive Clarke, he was forced to retire from playing football as a result.
Link - FA Cup results 2011/12
And of course the officials should never be forgotten...
I find it hard to believe that the York v Halifax Fourth Division match at Bootham Crescent on Monday May 5th 1969 wasn't abandoned when referee Roy Harper collapsed shortly after kick off and died of a heart attack. One of the other officials took over and the match was completed. The proper respect was shown at Roots Hall over 30 years later on Monday April 16th 2001 when the Division 3 match between Southend United and Mansfield Town was abandoned shortly before half time after ref Mike North collapsed in the centre circle. Tragically he too died of a heart attack.
*********
Non-leaguers Altrincham were hoping to get the FA to allow the score in an abandoned match to stand after their FA Trophy third qualifying round match at Colwyn Bay was abandoned in November 2013. In the 83rd minute the referee Mark Ackerman suffered an calf strain and was unable to continue. Altrincham were 2-0 up at the time. There was no designated fourth official but a spectator - a qualified referee - offered himself as a substitute official but Colwyn Bay objected because they claimed he had been drinking. Altrincham's coach Ian Senior offered to run the line but the Welshmen objected again because of impartiality issues. At that point the match was abandoned much to the displeasure of Altrincham who demanded that the match should be awarded to them.
The FA, however, ordered the match to be replayed in full, and Altrincham went to to win it 2-0 with the same two players scoring their goals. Justice done!
*********
The Premier League started in 1992/93 and since then six Premier League matches have been abandoned -
Monday January 3rd 1994 - Manchester City v Ipswich Town
The match at Maine Road was abandoned by referee David Elleray after 39 minutes with heavy rain causing a waterlogged pitch. City were winning 2-0 at the time and won the rearranged fixture 2-1 a month later.
Wednesday August 13th 1997 - Derby County v Wimbledon
Derby County's first home League match at Pride Park was abandoned by ref Uriah Rennie in the 56th minute when the floodlights failed. Derby were winning 2-1 at the time but the clubs drew 1-1 when the fixture was re-staged in October.
Monday November 3rd 1997 - West Ham United v Crystal Palace
The Monday night televised London derby came to an abrupt halt in the 65th minute when the Upton Park floodlights failed forcing ref David Elleray to abandon the match with the score at 2-2. The re-arranged match was played exactly a month later when West Ham won 4-1.
Monday December 22nd 1997 - Wimbledon v Arsenal
Wimbledon's second abandonment of the 1997/98 Premier Division season came in their home fixture against Arsenal. Ref Dermot Gallagher called off the match after the Selhurst Park floodlights failed seconds after the second half started with the score 0-0. The match was restaged in March - Arsenal won 1-0 - but that match nearly didn't take place. A 'suspect package' was found outside Selhurst Park before the match and by the time the all-clear was given kick off had to be put back to 8.30.
Saturday April 8th 2006 - Sunderland v Fulham
The Sunderland v Fulham fixture was abandoned by referee Mike Riley after 21 minutes with heavy snow causing a waterlogged pitch. It was the first match to be abandoned at the Stadium of Light. Fulham were winning 1-0 at the time of the abandonment but in the rearranged match in early May Sunderland won 2-1.
Saturday December 30th 2006 - Watford v Wigan Athletic
The Watford v Wigan Athletic Premier League fixture at Vicarage Road was abandoned by referee Steve Tanner after 56 minutes due to a waterlogged pitch. The score was 1-1 at the time - the arranged match, played in February, also ended 1-1.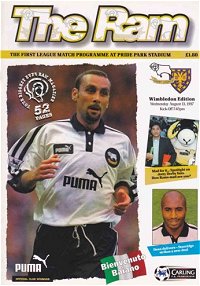 Floodlight failures at Premier League grounds should be as rare as hen's teeth. When Derby County's floodlights failed forcing the abandonment of the first ever League match played at Pride Park, against Wimbledon on Wednesday August 13th 1997, it was a major embarrassment. Three months later, on November 3rd 1997, the West Ham v Crystal Palace Premier League match was abandoned for the same reason. Amazingly a month later another floodlight failure and another abandonment at the Premier League match between Wimbledon and Arsenal at Selhurst Park on Monday December 22nd 1997. This seemed more than just a run of bad luck. It was, and the reason became clear in February 1999. Read the full story.
*********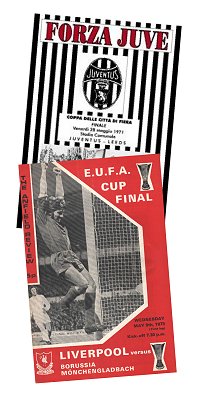 Given that they are played at the end of a season on some of the best grounds around it is perhaps a little surprising that two European club finals have been abandoned. Both involved English clubs.
The first of those was at the Stadio Comunale in Turin for the first leg of the European Fairs Cup Final between Juventus and Leeds United on Wednesday May 26th 1971. Torrential rain left pools of water on a waterlogged pitch forcing an abandonment after 57 minutes with the score at 0-0. Friday May 28th saw the rescheduled match played with the final score being 2-2. Turning 0-0 into 2-2 proved decisive for Leeds with the Yorkshiremen becoming the first club to win a European competition on the away goals rule.
Two years on it was the case of same again, this time at Anfield. On Wednesday May 9th 1973 in the first leg of the same competition, but now renamed the UEFA Cup, Liverpool's match against Borussia Moenchengladbach of West Germany survived just 27 minutes before being abandoned at 0-0 because of a waterlogged pitch. The match was played the following evening and Liverpool ran out 3-0 winners and were to win the competition 3-2 on aggregate.
*********

Almost exactly ten years before the Juventus match another fixture at the Stadio Comunale had fallen victim to the weather. Following Denis Law's transfer from Manchester City to Torino in 1961 his first match for the Italians was to proved to be a disappointing start to a disappointing short spell in Italy for the Scot. On Wednesday 7th June 1961 in a friendly in Turin between the two sides Law turned out for Manchester City in the first half, scoring a goal before torrential rain waterlogged the pitch. The second half saw him turn out as a Torino player but because of the state of the pitch his debut for his new club lasted just a couple of minutes before the match was abandoned. Denis assumed that the match hadn't been abandoned during half time because everyone wanted to see him in the Torino colours. Then he found out the real reason - if they hadn't at least started the second half they would have had to give the spectators their money back! Times don't change!
*********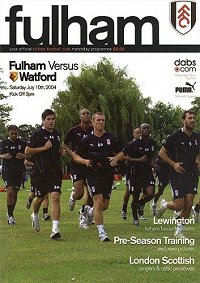 Another embarrassing abandonment at a ground 'first' happened at Craven Cottage on Saturday July 10th 2004 when Fulham finally returned to their refurbished home after two years groundsharing at Loftus Road. Their first match - a friendly against Watford - was meant to be the typical early-season low-key affair giving most of the respective squads an opportunity to kick a ball after the summer break. But referee Peter Walton had different ideas. Following on from the England v Australia international which had so many substitutions that it turned into a fiasco the rules had changed in the summer to limit substitutions to six a side. And the ref was going to stick to those rules. At half time both sides had used their permitted six subs and because of lack of fitness several players were unable to take any further part in the game. So it became a health and safety issue, words were spoken during the break and the ref abandoned the match and left the ground. However a linesman took over and the match continued as an unofficial exhibition game. By the time it finished 27 substitutions had been made!
*********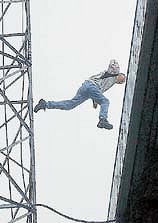 Floodlights were an indirect cause of a League match being abandoned in 2003 although in reality the abandonment was less the cause of floodlight problems more a failure in common sense. Tranmere had a 2-0 lead over Mansfield Town in a Second Division fixture at Prenton Park on Saturday 26th April 2003 when spectator Stephen Anglesey decided to have a wander - and climbed one of the floodlight pylons. He couldn't be persuaded down and jumped the gap between the floodlights and the roof of the Cow Shed stand. Fearing for his safety and the safety of the spectators the crowd of over 7,000 were asked to leave the ground at half time and shortly afterwards the match was abandoned by referee Mike Ryan with Anglesey still on the roof. In court he pleaded guilty to being drunk and disorderly and was fined £400 and banned from every football ground for five years. But he escaped a lifetime ban on floodlight climbing! The abandoned match was void and by the time the re-staged match was played just three days later Tranmere had lost their chance of a play-off place and Mansfield had been relegated but 10,418 turned up - thanks largely to the free admission I guess!
"I have never known anything like it in all my time in football".
Tranmere manager Ray Mathias after the abandonment. But read on - there are many more stranger stories to be told!
*********
Another bizarre abandonment came at Chester's Sealand Road home on Wednesday September 2nd 1981. A League Cup First Round First Leg tie between Chester and Plymouth Argyle came to a halt when Chester 'keeper Grenville Millington collided with an upright when making a save, breaking the post and presumably not doing his own health much good either. It couldn't be fixed so the match was abandoned after 78 minutes and Plymouth were forced into another long round-trip to replay the tie a week later.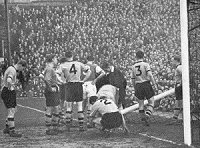 Broken goalposts don't always end in abandoned matches although perhaps Wolves wished it had when an upright broke just five minutes after kick-off in their FA Cup match against Bournemouth at Molineux in January 1957. It was fixed after just a few minutes but Bournemouth went on to win 1-0, a major giantkilling act at the time. Strangely enough the same thing happened at Molineux in August 1973 in the first League game of the season. Again the match continued and this time Wolves went on to win, beating Norwich 3-1. At Lincoln City's first home match of the 1970/71 season Brentford goalkeeper Chic Brodie broke the woodwork when swinging on the crossbar while making a save. It took some 45 minutes to make a repair and allow the final few minutes of the match to be completed. The prize for the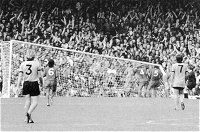 goalkeeper who did the greatest goalmouth damage must surely go to William 'Fatty' Foulke who played for England despite weighing over 22 stone at his peak. A Sheffield Daily Telegraph report in 1897 stated "It is a pity that Foulke cannot curb the habit of pulling down the crossbar, which on Saturday ended in his breaking it in two." Now that's what you call a secret weapon!
*********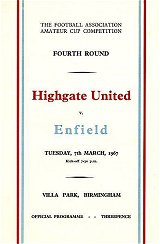 When an Amateur Cup 4th Round match at Highgate United kicked off on Saturday February 25th 1967 the rain didn't dampen the spirits of the supporters of the Worcester Combination side. They were hoping to continue their cup run at the expense of mighty Enfield but tragically those hopes were ended in the 27th minute when the match was abandoned with Enfield leading 1-0. A bolt of lightning hit the centre of the pitch knocking over several players and tragically one of those, the Highgate centre-half Tony Allden, died in hospital the following day from his injuries. When the match was restaged it was played at Villa Park with 31,632 present which was an amazing gesture of goodwill and sympathy. Enfield won that match 6-0 and went on to win the competition, beating Skelmersdale United in the replayed final.
*********
Amazingly Denis Law once scored 6 goals for Manchester City in an FA Cup tie against Luton Town on January 28th 1961 but still finished on the losing side!
That fourth round tie at Kenilworth Road was abandoned after 69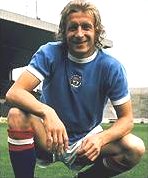 minutes because of a waterlogged pitch with City winning 6-2 and Law having scored all their goals. The two sides had to start again from scratch on February 1st and this time Luton emerged as the winners, by a 3-1 margin, with Denis Law again scoring for City.
The six goals that Law scored in the first match were expunged from the record book. If they had stood the Scotsman would have finished the 20th Century as the century's top FA Cup goalscorer. Instead that honour went to Ian Rush with 44 FA Cup goals (Liverpool 39, Chester 4 and Newcastle United 1). Denis Law finished second with 41 'official' FA Cup goals to his credit (Manchester United 34, Manchester City 4 and Huddersfield Town 3).
*******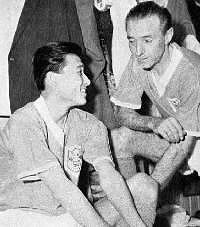 There was a time when the only 'foreign' players in the Football League were from Scotland, Ireland or Wales so when Cheung Chi Doy signed for First Division Blackpool in 1960 it created a lot of interest. He had seen Blackpool play in Hong Kong in 1958 when he decided that a footballing career in England was for him so he travelled to England, had a trial for Blackpool and duly signed for them. He became a regular scorer in Blackpool's reserve team in the Central League and was selected for his first team debut for the First Division match against Wolverhampton Wanderers at Bloomfield Road on Saturday January 14th 1961. I suppose if the fairytale continued I would be reporting that the first Chinese-born player to play in the Football League scored a hat-trick against Wolves but no - as you've probably guessed - the match was abandoned after just 9 minutes because of fog! He made his official debut the following Saturday in the 3-1 defeat at Bolton but then played only one more first team match - scoring the Blackpool goal in the 3-1 home defeat against Sheffield Wednesday on November 25th 1961 - before the lack of first team opportunities saw him move to pastures new.
Link - Blackpool results 1960/61.
*******
When it comes to weather frozen conditions and waterlogged pitches are the main reasons for abandoned - and postponed - matches with fog now not being the problem it once was. Rarely are matches called off because of high winds although the consequences of windy conditions can be tragic. On Saturday March 20th 2004 gale force winds hit the country, being particularly bad in the Midlands, with two League matches being abandoned and several more postponed. One of the postponed matches was the First Division fixture between Stoke City and WBA, the first postponement at the Britannia Stadium. Referee Keith Hill postponed the match 90 minutes before scheduled kick-off time explaining "The high winds are causing channelled air in parts of the stadium, making it difficult to stand in some areas of the field of play. Our prime concern is for the safety of players and spectators, and both managers agreed it would be impossible to play football in such conditions."
Third Division matches at Mansfield Town (against Oxford United) and Northampton (against Huddersfield) were abandoned because of the gale force winds. At Northampton referee Nigel Miller abandoned the match six minutes before the interval after two advertising hoardings had been blown loose, one landing on Huddersfield supporters in the away stand with the second being blown onto the pitch. The potential dangers of that happening had sadly been seen earlier that day. Before the start of the Leicester v Everton Premier League match Everton supporter Bernard Murphy had tragically been killed when a hoarding blew into him outside of the Walkers Stadium. Surprisingly the match was allowed to go ahead.
*******
Football in this country continued during the two World Wars - but perhaps not as we now know it! Take matches in the War Cup for example. In the first round of the 1940/41 War Cup Barnsley beat Chesterfield 9-3 on aggregate despite both home and away matches being played at Chesterfield's Saltergate home ground. The second round saw Barnsley drawn against Grimsby Town with their home leg at Oakwell finishing 1-1. The second leg in Cleethorpes was 3-3 at 90 minutes and 3-3 at the end of extra time. The rules were then that the match should be played to the finish - that is to when one of the sides scored a goal! Fifty further minutes passed without another goal and at that point the referee - Flying Officer McKenzie - was called away for urgent RAF duties. Doubtless much to the relief of two tired teams the match was then abandoned. You would have thought a replay would have followed but not so. Because Barnsley were higher placed in the League the tie was awarded to them, Grimsby were not chuffed!
*******
I've never been to an abandoned match but I would guess the level of my disappointment at being at an uncompleted fixture would depend on how well the team I supported was doing. Spare a thought for Newport County fans in the 6,741 crowd who were at Somerton Park on Friday 23rd March 1951 for a Division 3 (South) fixture. On a wet and windy Good Friday their side were 5-1 up against second-placed Norwich City and with a little more than a quarter of an hour remaining the two points looked a certainty. Then referee Arthur Blythe abandoned the match after Norwich defender Reg Foulkes injured himself after heading the rain-sodden leather ball. Those of you of a certain age will remember that a soaking-wet leather ball was often a lethal weapon! The Newport fans were not too chuffed and many stayed to demonstrate their disapproval and the ref could only escape the ground disguised as an ambulance man and with a police escort. That match was voided and in the replay a month later the points were shared in a 1-1 draw. Not only did Newport have the victory taken from them but the scorers in the first match had their goals deleted from the records. One of Newport's goalscorers in the original match was Reg Parker and when he retired in 1954 he had 99 League goals for Newport to his name, the century being denied him by that abandonment.
*********
Hooliganism was never far from the news in the 70s and 80s but few could have expected the consequences of Aston Villa arranging a friendly on Saturday October 9th 1976 to fill what would have been a blank international weekend for the club. The 'friendly' was against Scottish champs Rangers. Scots fans - many the worse for drink - descended on Birmingham causing problems in the city centre even before arriving at Villa Park. At the ground missiles were thrown onto the pitch, there were pitch invasions and battles with the police which left over a hundred spectators injured, including stabbings, and a similar number arrested. With Villa leading 2-0 the match was finally abandoned in the 53rd minute - and Rangers found it just a tad more difficult to play friendlies south of the border!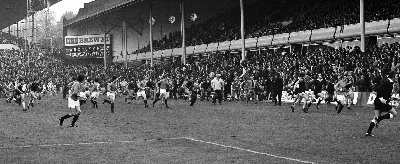 *********
The referee seems to have a tough time at Newport when an abandonment is on the cards. Just over a quarter of a century before the Newport v Norwich match was abandoned (see above) the first League match to be abandoned at Newport's Somerton Park was recorded on Saturday November 24th 1923. Thick fog descended on the ground just before kick off against Queens Park Rangers in a Division 3 (South) fixture but with several thousand fans already inside the ground and the fog getting worse referee Tolfree decided to start the match ten minutes before scheduled kick off time. Just a few minutes later though the visibility was so poor, less than 20 yards, the ref took both teams off. At that point the spectators expressed 'forcible criticism' and the ref, fearing the consequences of an early abandonment, restarted play even though visibilty hadn't improved. Newport and QPR scored a goal apiece although most fans were only aware of that because of the roar of the crowd who were close to the goalmouth. After 40 minutes no-one seemed to complain when the match was finally abandoned.
*********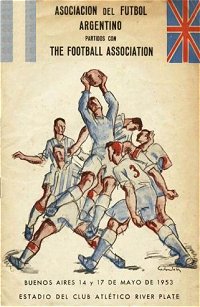 England have suffered just three abandoned matches in their long history. The first of those was in Buenos Aires on Sunday May 17th 1953 when a friendly against Argentina was stopped after 23 minutes with the score at 0-0 when heavy rain resulted in a waterlogged pitch. More recently, on Wednesday February 15th 1995 a 'friendly' in Dublin against the Republic of Ireland was abandoned after 27 minutes due to rioting within an English section of the crowd. England were losing 0-1 at the time. The only time England have suffered an abandonment in a competitive fixture was against Czechoslovakia in Bratislava on Wednesday 29th October 1975. The European Championship qualifier was abandoned after 17 minutes due to fog with the score 0-0. The match was then played the following day and England lost 1-2, England's first defeat with Don Revie as manager.
*********
Moving north of the border the Scots have had managed far more interesting reasons for international abandonments. OK, they have had the mundane - in September 2004 an away friendly against Spain was abandoned after 59 minutes due to floodlight failure - but two others are far more unusual.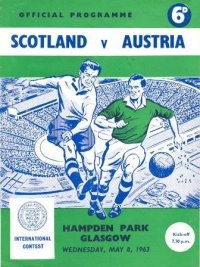 On Wednesday May 8th 1963 Scotland entertained Austria in a friendly at Hampden Park in front of 94,596 spectators - those were the days! After 15 minutes Davie Wilson scored for Scotland but the visitors believed it was offside and indeed a linesmen had flagged offside. But the goal stood and the Austrians were not happy and they remained in that frame of mind for the remainder of the match. Ten minutes later Wilson got a second and this time the Austrians protests saw Horst Nemec sent off. Denis Law scored a third goal before half-time and soon after the break Fritz Rafreider was carried off injured. Further goals from Denis Law and Anton Linhart made the scoreline 4-1 but the visitors then went down to 8 players when Erich Hof was sent off for a 'diabolical tackle at waist height'. The persistent fouling from Austria continued until the 79th minute when English referee Jim Finney thought it was getting a tad too rough and abandoned the match. He later said 'I felt that I had to abandon the match or somebody would have been seriously hurt'.
When Scotland visited Estonia on Wednesday 9th October 1996 for a World Cup qualifier it saw probably the most unusual international abandonment. Scotland trained at the Kadrioru Stadium in Tallinn the night before the match and found that the temporary floodlights to be used at the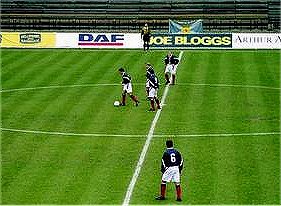 match were not up to standard. Scotland complained and FIFA agreed with them and brought forward the kick off time from 6.45 in the evening to 3 o'clock in the afternoon. The short notice of that decision caused a logistical nightmare for the Estonians - not least the TV contract was for an evening match - so they just didn't turn up. The 1000 or so crowd chanted 'One team in Tallinn, there's only one team in Tallinn', Billy Dodds kicked off and passed to John Collins then ref Miroslav Radoman abandoned the game...after just 3 seconds. The match was ordered to be replayed at a neutral venue, the two countries drawing 0-0 in Monaco on Tuesday 11th February 1997. Scotland qualified for the finals, Estonia didn't!
*********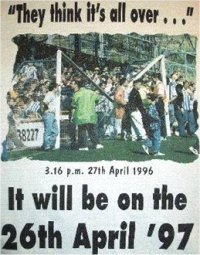 Moving to a new ground is never universally popular amongst fans but when Brighton moved ground after 95 years it was universally unpopular - their Goldstone Ground had been sold to make way for a retail park but they had no shiny new stadium to move to! Fans accused the owners of asset-stripping and breaking promises which brought together supporters from all parts of the country to oppose what was happening on the south coast. That protest culminated in a pitch invasion at what was due to be their last match at the Goldstone (although they subsequently agreed to stay for another season) against York City on Saturday April 27th 1996. At 3.16 fans invaded the Goldstone pitch from both ends and after both crossbars were pulled down the match was abandoned.

The consequences? The York match had to be replayed - it was a vital match for the visitors as they needed a point to stay in Division 2. Surprisingly the match was not played behind closed doors. It might as well have been though with it being played on the morning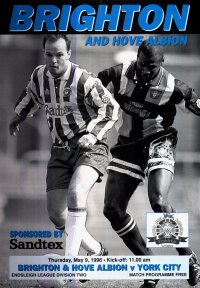 of Thursday May 9th and being all-ticket with tickets only being sold the day before the match. Mind you the programme was free! The 2106 who did attend saw York win 3-1 to retain their Division 2 place. Brighton also suffered a suspended 3 point deduction which almost cost them their League place. The reason for that was that the following season saw another pitch invasion - against Lincoln on Tuesday October 1st 1996 - and they were docked two of those three points. They won their last match at the Goldstone - 1-0 against Doncaster on Saturday April 26th 1997 to set up a winner-take-all last match of the season at Hereford United. They were equal on points at the bottom of Division 3 - the winner would stay in the League, the loser would drop to the Conference with a draw benefiting Brighton on goals scored. Brighton drew 1-1 and so 14 years after playing in an FA Cup final they lost their ground but just kept their place in the Football League.
'We will remember the celebrations and tears, the agonies and ecstasies, the joy and despair. They can take away the fabric, but they can't take away the memories.'
Brighton fan Tim Carder
*********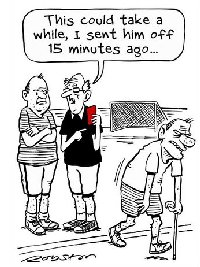 You probably couldn't think of anything more sedate to do as the grey hairs take over - walking football. Similar rules as the normal football but for the over 50s and played at a walking pace. But in January 2016 when Canterbury Walking Football Club played Herne Bay Walking Football Club - players were aged up to 70 - the outcome was a tad surprising. Within five seconds there was a 'robust' shoulder charge followed soon after by a 'crunching tackle' which was followed by a brawl - which included the ref! The match was abandoned after just two minutes. As a fan said 'These lads know how to handle themselves and although they might not be fit enough to run, they are fit enough to throw a punch or two'. Yep, there is life after 50!
*********
An abandonment in the 1904/05 season changed the outcome of the League championship. Everton's match at Woolwich Arsenal in November was abandoned after 76 minutes due to fog with the Merseysiders leading 3-1. When the match was eventually played again, just before the end of the season when they had to play 3 matches in 4 days, Everton lost 2-1. If the original match had been completed (and if the scoreline had remained the same), Everton would have pipped Newcastle to the League Championship by a point. Instead they finished second (Everton's results and league table).
*********

The Division 1 fixture between Sheffield Wednesday and Aston Villa played on Saturday November 26th 1898 was abandoned after 79 minutes due to bad light. Sheffield Wednesday were 3-1 up at the time. Uniquely, rather than let the score stand or order the whole match to be replayed, the League decreed that the two clubs should resume the match at Sheffield and play only the final 11 minutes. This they did nearly four months later on Monday March 13th 1899 when Sheffield Wednesday added one more goal to make the final score 4-1. By the time the match was resumed both clubs had changed their line-ups - Billy Garraty of Aston Villa, and Samuel Bosworth, Bob Ferrier, Ambrose Langley, Jack Pryce and Fred Richards (who scored the final goal) of Wednesday all played in only the final 11 minutes. Surely these players were the first substitutes used in a League match!
*********
On Saturday January 8th 1927 Oldham Athletic entertained Brentford in the Third Round of the FA Cup. Play was stopped after 73 minutes because of thick fog and believing the match had been abandoned Brentford manager Harry Curtis told his players to have their after-match bath. However the fog soon lifted and the referee wanted to resume play but Curtis explained what had happened and declined to allow his players to resume the match as he said it would be bad for their health. So with Oldham leading 2-1 the match was really abandoned being restaged two days later when visitors Brentford won 4-2. 1926/27 FA Cup results.
*********

An abandoned match on 12th October 1912 helped end a record appearance run by legendary Notts County goalkeeper Albert Iremonger. He was not too chuffed when the referee abandoned a First Division match at Tottenham due to fog with just 8 minutes remaining. Notts were 3-1 up at the time and were heading for their first League win of the season. The 6ft 5in goalkeeper's 'offensive remarks' to the referee saw him pick up a three match ban. When he started that ban two weeks later it ended an amazing run - he had been ever-present in the first team since February 9th 1907. In those 5+ years he had made 222 consecutive first team appearances for Notts County, 211 in the First Division and 11 in the FA Cup. That is still a Notts County club record.
*********
Inevitably when a match is abandoned one of the sides will be happier about the outcome than the other. The happier side will probably having been losing in the abandoned match and would be looking forward to wiping the slate clean and perhaps having injured players back in the team to improve their chances of a better outcome when the match is replayed. But not always so. When the First Division match between Arsenal and Grimsby in December 1930 was abandoned after 63 because of fog Arsenal were leading 1-0 and perhaps the Grimsby faithful present saw the abandonment as a 'get out of jail free' card. But Grimsby didn't improve when the match was restaged in January 1931. Far from it, they lost 9-1 which was Arsenal's record League victory at Highbury. Arsenal legend Cliff Bastin later wrote of the match in his autobiography - 'The Wednesday after our defeat at Stamford Bridge we compensated ourselves to a great extent by walloping Grimsby Town, 9-1. This game had been postponed some weeks back. Fog had led to its abandonment. I was rather surprised at the weak resistance Grimsby put up, for in the abandoned game they had been playing very well, and were only a single goal behind, when proceedings were adjourned. I had to be content with one goal out of the nine; David Jack and Jack Lambert were responsible for most of the others.'
*********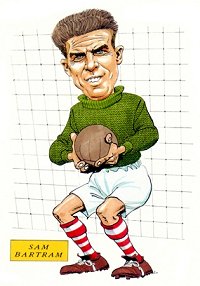 The First Division match between Chelsea and Charlton Athletic on Christmas Day 1937 suffered an abandonment when heavy fog descended on Stamford Bridge. The fog was so bad that Charlton 'keeper Sam Bartram was unaware that the match had ended, assuming that his inactivity was due to the play being in the Chelsea half. It was 15 minutes or so before a policeman told him that the game had been abandoned. In later years he described the events of that afternoon -

Soon after the kick-off fog began to thicken rapidly at the far end, travelling past Vic Woodley in the Chelsea goal and rolling steadily towards me. The referee stopped the game, and then, as visibility became clearer, restarted it. We were on top at this time, and I saw fewer and fewer figures as we attacked steadily.
I paced up and down my goal-line, happy in the knowledge that Chelsea were being pinned in their own half. 'The boys must be giving the Pensioners the hammer', I thought smugly, as I stamped my feet for warmth. Quite obviously, however, we were not getting the ball into the net, for no players were coming back to line up, as they would have done following a goal. Time passed, and I made several advances towards the edge of the penalty area, peering through the murk which was getting thicker every minute. Still I could see nothing. The Chelsea defence was clearly being run off its feet.
After a long time a figure loomed out of the curtain of fog in front of me. It was a policeman, and he gaped at me incredulously. 'What on earth are you doing here?' he gasped. 'The game was stopped a quarter of a hour ago. The field's completely empty.'
And when I groped my way to the dressing-room the rest of the Charlton team, already out of the bath, were convulsed with laughter.'
*********
Because of a terrible winter the 1962/63 season was a long one and it became longer still when one vital match was abandoned. At the bottom of Division 2 with one match left the final relegation spot was between Walsall and Charlton Athletic and those two sides met at Fellows Park on Tuesday 21st May 1963. A win for Charlton would see them stay up, any other result and Walsall would survive. A crowd of 18,820 assembled but at half-time, with the score at 0-0, the match was abandoned because of a waterlogged pitch. That was bad luck on Walsall but was nothing when compared to what happened when they played the match three days later. The 16,761 crowd who were at Fellows Park on Friday May 24th saw the home side go close after just five minutes, a shot from Graham Newton hitting the woodwork. But just minutes later Newton was carried off with a broken ankle and things got even worse half an hour later when Walsall keeper Alan Boswell suffered a broken jaw. No substitutes in those days and with just nine players Walsall lost 2-1 and were relegated to Division 3 on goal average.
*********
Even Fergie would have been proud of this one! When Manchester United played at Burnley in the quarter-final of the FA Cup in March 1909 they were looking to go out of the competition when 1-0 down and time running out. Then with 18 minutes remaining a severe snowstorm forced the abandonment of the match. The game was re-staged four days later and this time United won 3-2 and went on to win the FA Cup for the first time. Divine intervention or what?
*********
On Boxing Day 1932 Jimmy Oakes was a member of the Port Vale side that played at Charlton Athletic in a Second Division match that was abandoned after 63 minutes due to fog. In January he was transferred to Charlton for £3000 and when the re-arranged fixture was played on April 26th Oakes played again but this time for Charlton against his former Port Vale team-mates. So we can say he is the only person ever to play for both sides in the same League fixture! When the first match was abandoned Port Vale were leading 4-1 but in the replayed match Charlton finished 2-1 victors.

*********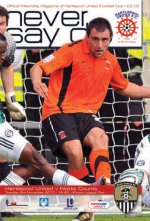 Tuesday November 2nd 2010 unusually saw three Football League matches abandoned. The League 2 match between Cheltenham and Southend lasted 66 minutes before a floodlight failure brought the match to an early end. Amazingly the two other matches in League 1 lasted a combined total of just 9 minutes! Heavy rain falling on already waterlogged pitches saw the Hartlepool v Notts County match last just 3 minutes while the Rochdale v Oldham survived only 6 minutes.


*********
When United Counties League sides Sleaford Town and Huntingdon Town met in an FA Cup First Qualifying Round tie at Sleaford's Eslaforde Park ground on Saturday 14th September 2013 the proverbial two men and a dog present would hardly have expected the match to hit the national headlines. But hit the headlines it did. With three minutes of normal time remaining and Sleaford leading 2-1 an attempt by a Huntingdon player to take a throw in was thwarted by an 'incident'. Then followed a mass brawl which allegedly involved all the players and club officials of both sides resulting in an ambulance being summoned and the inevitable abandonment of the match. Using the internet to the full the respective clubs had offered the world differing views of the 'incident' ranging from an accidental coming together of a player and official in the technical area when a 'Rory Delap' style throw-in was about to to taken to violent assault with racist overtones. The FA response was perhaps inevitable. Both clubs were warned, fined and expelled from the competition for failing to ensure that their players, officials and supporters conducted themselves properly giving scheduled 2nd qualifying round opponents Sudbury a bye to the third.
*********
In 2005 a non-league match was abandoned when the referee sent himself off and there was nobody to replace him! Yes it really happened - Referees.
*********
"If your side had been a goal down instead of 1-0 ahead you would have been only too happy to have the game abandoned".
Referee Bob Mann's words to the captain of a side who were winning 1-0 when the official abandoned the game. I guess similar sentiments are expressed every time was match is abandoned!