DID YOU KNOW.....
FOOTBALL MEMORABILIA
Football has a million and one stories and just as many facts and figures. Here are a few of them - the record-breaking, unusual and bizarre.
More Did You Knows...
Index
1 2 3 4 5 6 7 8 9 10 11 12 13 14 15 16 17 18 19 20
21 22 23 24 25 26 27 28 29 30 31 32 33 34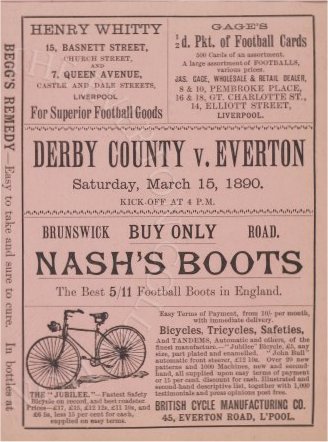 Over the years surely programmes have been the most collected item of football memorabila. When I first started attending matches - in the 1960's - the only souvenirs you could buy at Peterborough United matches were the match-day programme, a rosette and - if you could find the Supporters Club secretary - a club badge. So programmes it was. By far the best one-club collection of programmes - and memorabilia in general - is the 'Everton Collection'. A museum-quality collection of programmes from before the formation of the Football League as well as photographs, shirts, caps, contracts, minute-books and just about everything else that charts the progress of the clubs from its formation to the present day.
*********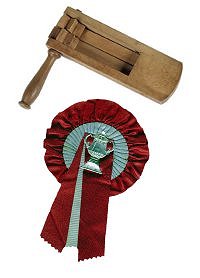 I was at an FA Youth Cup match the other day and sat behind someone who had a rattle. I always thought there was a time when everyone under 16 who attended a football match had a rattle but thinking about it I couldn't remember another time when I had ever heard a rattle at a match. I guess nowadays at a 'proper' match they would be confiscated as being a dangerous weapon. But definitely a genuine piece of footballing memorabilia as is the rosette. OK you still see rosettes around but not in the quantity that were around up to the end of the 1960's. There was always a man with a wooden contraption which not only sported rosettes of the two clubs you were watching that afternoon but seemingly every other club in the country as well. And in those days you just didn't feel a complete wassock by wearing one!
*********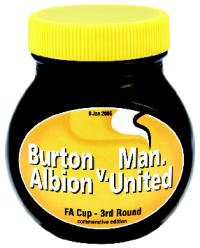 Now have you got this unique item in your memorabilia collection? When Burton Albion - then a non-league side - drew Manchester United at home in the Third Round of the FA Cup in January 2005 a Burton company wanted to mark the occasion with a commemorative limited issue of their product - Bovril! This they did, with labels in yellow for Burton fans and red for United supporters. Burton held the mighty Manchester United in the first match but lost 0-5 in the replay at Old Trafford.
*********
I'm sure all football fans of a certain age will have had an autograph book although ebay may have parted many of us from keeping them. There was a time when football players would happily sign anything put in front of them, often even if you knocked on their front door. In the long-distant past I even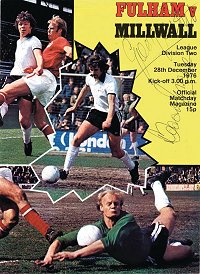 sent my book through the post to a number of clubs and got back a full set of signatures from every player on the books. Somehow now I don't think that you would even trust the Royal Mail to get them delivered but sadder still it seems to be too much bother now for players to sign autographs for free. Apart from a touch of arrogance many of the impoverished stars can make a small fortune for themselves by signing photos, shirts and balls for the commercial autograph market. It's big business, look at the prices for a Bobby Moore or Alf Ramsey signature. But it's true memorabilia. I defy any football fan - let alone Fulham fans - not wanting a Fulham programme from the 1970s which has the autographs of Fulham team-mates Bobby Moore and George Best on the cover. The memories that item would bring back - sad it was up for sale at £1250 in 2012!
*********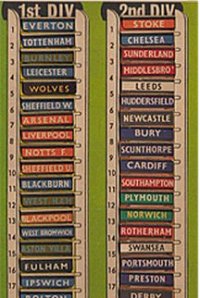 There is one piece of footballing memorabilia I have always thought of as being pointless - the League Ladder. At their most popular in the 60s and 70s they were given away in comics such as Lion, Valiant and Shoot - and amazingly in the era of computers they are still being produced. A cardboard chart with the (then) six England and Scottish divisions with a slot for each place into which you carefully placed teams tabs and moved them about each week depending on results. Yes, I fell into the trap of having them - collecting the ladder and tabs was part of the countdown to the start of the new season. But what was the point? Because they didn't show points won or goal average you needed to look at the tables in a newspaper to get the league positions before you could move all the team tabs about. Usually the effort lasted until about the third week of the season before Peterborough United miraculously not only found themselves promoted to the First Division but well on their way to the League championship while Northampton were relegated.
*********
Football supporters with an interest in philately have an almost endless supply of football stamps to choose from from every part of the world. For England fans there is one set that would be a must -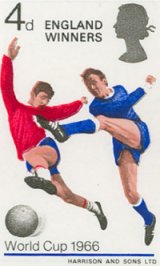 the 1966 World Cup set of three and the one overprinted 'England Winners'. As a teenager at the time I thought I would make a fortune by getting on my bike and travelling around the village post offices buying up supplies of the 'England Winners' stamps which were bound to increase dramatically in value. Sadly most people seemed to have had the same idea. So it isn't the stamps that are rare - the print quantity of the stamps was small but most people kept them as an investment rather than stuck them on envelopes so they are not at all rare or valuable. But all those village post offices are now as rare as hens teeth!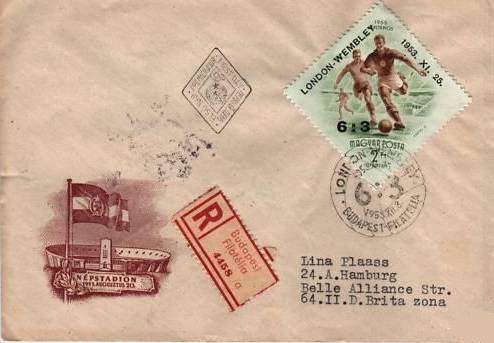 Some overprints are a bit more painful for England. In 1953 when Hungary became the first continental country to win in England the 6-3 scoreline hit the headlines round the world. In Hungary the postal authorities commemorated the achievement by overprinting a football stamp with the date and score and even used the score as part of a special postmark. Ouch!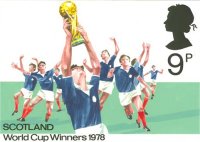 One stamp English fans will be perhaps be pleased not to have in their collection was the 1978 World Cup 'Scotland Winners' issue. It was designed just in case Scotland won it. Fat chance - but unlike England they at least did reach the finals!
Modern football and the postage stamp both have their origins in Britain but the most innovative football stamp must surely go the Austrians. In 2008 to mark their co-hosting of Euro 2008 they issued a stamp which commemorates a goal scored by Andreas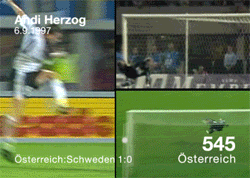 "Andi" Herzog for Austria in 1997 to help the Austrians reach the 1998 World Cup Finals. Using lenticular technology it shows moving images of the goal from three different angles. It's a big stamp - approx 2 x 2.5 inches so there's not a great deal of room left for the address - and has a face value of 5.45 Euros. But it moves!
*********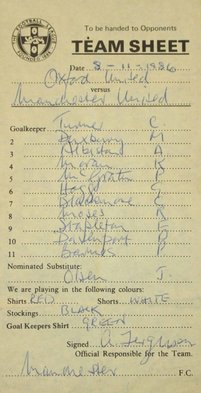 Well, they say never chuck anything away. Back in 1986 an Oxford United player of the time, Peter Rhoades-Brown, gave a fan a souvenir - a teamsheet that had been hanging up in the dressing room. And the fan kept it, the teamsheet surviving many a spring-clean until he decided to put it up for sale 27 years later. But it wasn't just any teamsheet, it was for the first team Alex Ferguson sent out as manager of Manchester United and was signed by the man himself. The match was played at Oxford's Manor Ground on Saturday 8th November 1986 and the home side recorded a memorable 2-0 victory. Despite that unsuccessful start to his United career Fergie became a legend and shortly after he retired the teamsheet was sold at auction in June 2013. It was expected to sell for between two and three thousand pounds but when the hammer went down the winning bid was a mahoosive £19,000. Not bad for a scrappy bit of paper!
Fergie's team that day - Chris Turner, Mike Duxbury, Arthur Albiston, Kevin Moran, Paul McGrath, Graeme Hogg, Clayton Blackmore, Remi Moses, Frank Stapleton, Peter Davenport, Peter Barnes with the one sub being Jesper Olsen.
*********
The ultimate bit of football memorabilia? Going to the Match was painted by LS Lowry in 1953 and won a prize in a competition which marked the 90th anniversary of the Football Association. It depicts a scene of fans on their way to a match at Burnden Park, the former home of Bolton Wanderers. Lowry lived close to the ground but his interest was probably more to do with turning the crowds into his trademark 'matchstick men' rather than the game itself. The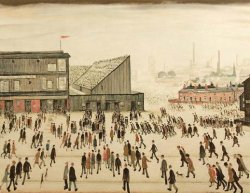 painting was bought by the Professional Footballers Association in 1999 at a Sotherby's auction. PFA Chief Executive Gordon Taylor did the bidding and said of the painting 'it represents the heart and soul of the game - the anticipation of crowds going to the match.' How much? Well in 1999 it cost the PFA £1,926,500 which at the time was a record for a modern British painting. The PFA cashed in their investment in October 2022 and made a decent profit. It was sold by Christie's for £6.6m with an additional buyers premium increasing the cost to the buyer to £7.8m.
*********
The Football League Review has proved to be very collectable since its demise in 1974. It started life as the Soccer Review in August 1965, was taken over by the Football League and renamed the Football League Review the following season and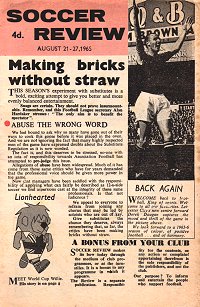 had become League Football by the time of its last edition in December 1974. OK it had its trivial bits, colour photos of players and teams, stats, letters etc etc but it also covered Football League affairs - everything from referees to the Benevolent Fund - in the sort of detail that would not have been attempted by the likes of Soccer Star or Football Monthly. The idea was that the Football League would produce it and sell at a discount to clubs who would include it in their match-day programme. Sadly it never made money and at its most popular was only taken by 73 of the 92 clubs (mostly the smaller clubs) with a circulation of up to a quarter of a million a week. Sadly missed - it often proved far more readable than the programme it was included in!

*********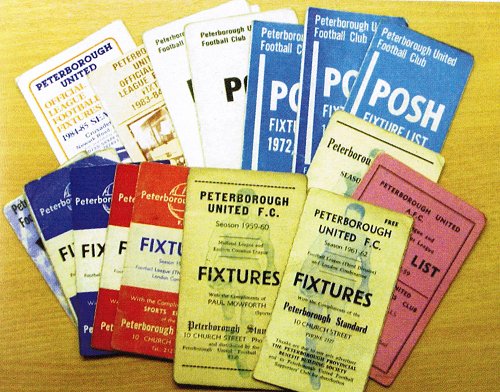 There was a time when the first sign of a new season was getting your club fixture card, it was something most of us looked out for. It was a great advert for the printer - often the local newspaper - and although it was a must-have for the start of the season it soon became out of date. League dates did change and cup matches had to be written in so after a short they did become a tad tatty. I haven't seen a newly-issued one for years, I guess the internet pretty much guarantees that they remain something very much from the past.
*********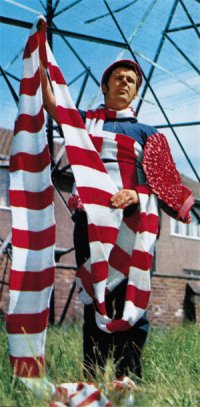 Well, there are a million and one different types of scarves you can buy nowadays but there was a time, before the invention of club shops, when the only club item you could wear was a club scarf - and you had to find someone to knit it for you!
Back in 1979 the self-proclaimed King of the Scarves was one Richard Pedder, a Liverpool fan, who claimed to have the longest scarf in the world - a 30 footer! He obviously didn't knit it - in those days that was a women's job (sorry, I'm joking!) so the real credit should surely go to the knitter, Richard's work colleague Sarah Brown, who took four months to complete the task. Although Richard did make his own rosette to accompany the scarf - and that was 18 inches in diameter!
And for those of you who love stats there were around 201,600 stitches in that scarf - that's 84 rows a foot and 80 stitches in a row!

*********
Peter Adolph, the creator of Subbuteo, first advertised the table-top football game from his home in August 1946. Not that he had anything to sell at the time, it was only when the orders started to arrive that he turned his idea into an actual product. The first Subbuteo sets were eventually ready in March 1947 and they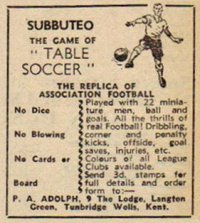 were very different from the current professional product. Then the game consisted of cardboard playing figures (available in red or blue kits) with their bases being buttons weighed down with lead washers. The goals were made of wire with paper nets and no pitch was included although chalk was provided along with instructions how to mark out the playing area on an old blanket.
The origins of the name Subbuteo? Originally Peter Adolph wanted to call the game Hobby but he wasn't to claim a trademark on that name. Instead he adapted the Latin name of a bird of prey, the Eurasian Hobby, which is Falco Subbuteo.
*********
One piece of memorabilia that will never be worth less than its face value is the Ulster Bank £5 note that was issued to commemorate the life of that great Ulsterman, George Best. Being legal tender the note can simply be handed over the counter to realise its value of £5 but I would guess that few would do that with this unique souvenir of an amazing player.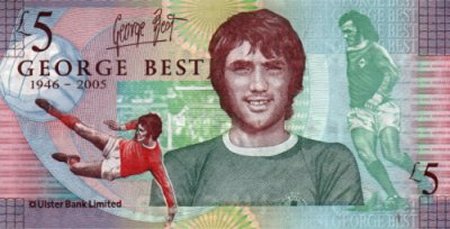 A pet hate shared by most supporters is of a disloyal player who is seen as greedy. When that happens its not unusual to find that the player concerned is put on a banknote of his own as a tribute to that greed. It's far from being legal tender but it is a genuine piece of football memorabilia all the same. Wayne Rooney was so honoured during his contract negotiations with Manchester United at the start of the 2010/11 season. But perhaps greed does pay - the outcome for him was that he received some 10,000 of the genuine version of the £20 notes every single week!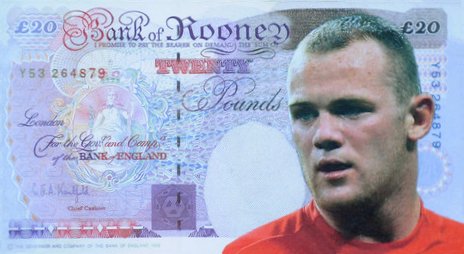 *********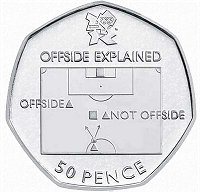 If you are of more limited financial means how about a 50p souvenir coin? To celebrate the 2012 Olympics the Royal Mint issued a set of 29 50p commemorative coins which have images of all the Olympic sports. The design chosen for the football coin is an explanation of the offside law. There's no truth in the rumour that the Royal Mint presented one to all the country's refs and assistant refs! The Royal Mint claimed that the 29 coins proved to be the most popular sellers since the currency was decimalised with an estimated 36 million out of the 52 million issued having been kept by collectors.