DID YOU KNOW....
CENTURIES of LEAGUE GOALS SCORED
in a SEASON
Football has a million and one stories and just as many facts and figures. Here are a few of them - the record-breaking, unusual and bizarre.
More Did You Knows...
Index
1 2 3 4 5 6 7 8 9 10 11 12 13 14 15 16 17 18 19 20
21 22 23 24 25 26 27 28 29 30 31 32 33 34
See also Centuries of League goals conceded in a season.
On 139 occasions 67 different clubs have scored a century or more of League goals in a season. Scroll down to find the 139 by season, by goals scored and by club or click on the category as a short cut.
*********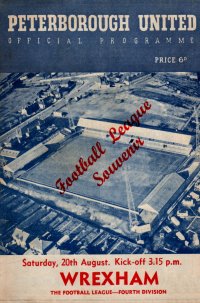 The top goalscorers in a single Football League season are Peterborough United who scored 134 League goals in their 46 Division 4 fixtures in the 1960/61 season. Remarkably, Posh were playing their first season in the Football League after having previously played in the Midland League. (Results 1960/61)


*********

Prior to Peterborough's record being set the League's top goalscorers were Bradford City (128 goals in 42 matches in Division 3 North in 1928/29 - results) and Aston Villa (128 goals in 42 Division 1 matches in 1930/31). Villa's achievement in 1930/31 is still the record for goals in the top division in a season (Results)
*********
Almost half the clubs who have scored a century of League goals (65 out of 139 times) finished the season as champions of the division they were playing in. The lowest League position recorded by a club scoring a century was Bristol City's 14th place in Division 3 in 1962/63.
*********
North of the border Raith Rovers have the better of their English counterparts, the Kirkcaldy club setting a Scottish League record with 142 goals in their 34 Division 2 matches in 1937/38 (Results).
*********
However non-league clubs have the better of the Football League sides in goalscoring terms. In their last five non-league seasons Peterborough United had goals for of 137, 148, 160, 137 and 108 in the Midland League. Chester did better still in their last season before joining the Football League for the first time. They scored 170 goals in 42 Cheshire County League matches in 1930/31. Amazingly every one of the 22 clubs in the Cheshire County League that season either scored or conceded 100 League goals, with eight clubs doing both! (Chester's results and table)
*********
The only club to both score and concede a century of goals in a Football League season was Manchester City in the First Division in 1957/58. (Results)
*********
Only one club has managed to score a century of League goals four seasons in a row. Wolves did it in the old First Division in 1957/8, 1958/9, 1959/60 and 1960/1. Two clubs have managed it three seasons in a row. Bradford (Park Avenue) scored 101 goals in each of the seasons 1925/26-7-8 and Coventry City scored three figures in 1931/32-3-4.
*********
Chelsea became the first club to score a century of Premier League goals when scoring 103 in their title-winning season of 2009/10. They were the first club to score a century of league goals in the top-flight since Spurs scored 111 back in the 1962/3 season. Manchester City and Liverpool both scored Premier League centuries in 2013/14, the first time two clubs from the top division had scored centuries of League goals since 1960/61.
*********
Seven clubs managed to score a century of League goals in the 1960/61 season but since 1967 clubs scoring a century of goals goals has only been achieved 11 times. The full list -
Centuries of League goals by season.
1 - League matches played
2 - Final League position
3 - Goals scored
1
2
3
1892/93

Sunderland

Division 1

30
1st
100
Results
1893/94
Birmingham City
Division 2
28
2nd
103
Results
1895/96
Liverpool
Division 2
30
1st
106
Results
1919/20
WBA
Division 1
42
1st
104
Results
1919/20
Tottenham Hotspur
Division 2
42
1st
102
Results
1925/26
Sheffield United
Division 1
42
5th
102
Results
1925/26
Bradford PA
Division 3N
42
2nd
101
Results
1925/26
Rochdale
Division 3N
42
3rd
104
Results
1925/26
Chesterfield
Division 3N
42
4th
100
Results
1925/26
Plymouth Argyle
Division 3S
42
2nd
107
Results
1926/27
Middlesbrough
Division 2
42
1st
122
Results
1926/27
Manchester City
Division 2
42
3rd
108
Results
1926/27
Rochdale
Division 3N
42
2nd
105
Results
1926/27
Bradford PA
Division 3N
42
3rd
101
Results
1926/27
Nelson
Division 3N
42
5th
104
Results
1926/27
Bristol City
Division 3S
42
1st
104
Results
1926/27
Swindon Town
Division 3S
42
5th
100
Results
1927/28
Everton
Division 1
42
1st
102
Results
1927/28
Manchester City
Division 2
42
1st
100
Results
1927/28
Preston North End
Division 2
42
4th
100
Results
1927/28
Bradford PA
Division 3N
42
1st
101
Results
1927/28
Tranmere Rovers
Division 3N
42
5th
105
Results
1927/28
Millwall
Division 3S
42
1st
127
Results
1927/28
Northampton Town
Division 3S
42
2nd
102
Results
1928/29
Bradford City
Division 3N
42
1st
128
Results
1928/29
Stockport County
Division 3N
42
2nd
111
Results
1928/29
Fulham
Division 3S
42
5th
101
Results
1929/30
Sheffield Wednesday
Division 1
42
1st
105
Results
1929/30
WBA
Division 2
42
6th
105
Results
1929/30
Port Vale
Division 3N
42
1st
103
Results
1929/30
Stockport County
Division 3N
42
2nd
106
Results
1929/30
Darlington
Division 3N
42
3rd
108
Results
1930/31
Arsenal
Division 1
42
1st
127
Results
1930/31
Aston Villa
Division 1
42
2nd
128
Results
1930/31
Sheffield Wednesday
Division 1
42
3rd
102
Results
1930/31
Everton
Division 2
42
1st
121
Results
1930/31
Chesterfield
Division 3N
42
1st
102
Results
1930/31
Lincoln City
Division 3N
42
2nd
102
Results
1930/31
Tranmere Rovers
Division 3N
42
3rd
111
Results
1930/31
Crystal Palace
Division 3S
42
2nd
107
Results
1931/32
Everton
Division 1
42
1st
116
Results
1931/32
Aston Villa
Division 1
42
5th
104
Results
1931/32
Wolverhampton W.
Division 2
42
1st
115
Results
1931/32
Plymouth Argyle
Division 2
42
4th
100
Results
1931/32
Lincoln City
Division 3N
40
1st
106
Results
1931/32
Tranmere Rovers
Division 3N
40
4th
107
Results
1931/32
Fulham
Division 3S
42
1st
111
Results
1931/32
Coventry City
Division 3S
42
12th
108
Results
1932/33
Arsenal
Division 1
42
1st
118
Results
1932/33
Hull City
Division 3N
42
1st
100
Results
1932/33
Wrexham
Division 3N
42
2nd
106
Results
1932/33
Reading
Division 3S
42
4th
103
Results
1932/33
Coventry City
Division 3S
42
6th
106
Results
1933/34
Grimsby Town
Division 2
42
1st
103
Results
1933/34
Barnsley
Division 3N
42
1st
118
Results
1933/34
Stockport County
Division 3N
42
3rd
115
Results
1933/34
Wrexham
Division 3N
42
6th
102
Results
1933/34
Barrow
Division 3N
42
8th
116
Results
1933/34
Coventry City
Division 3S
42
2nd
100
Results
1934/35
Arsenal
Division 1
42
1st
115
Results
1934/35
Charlton Athletic
Division 3S
42
1st
103
Results
1935/36
Sunderland
Division 1
42
1st
109
Results
1935/36
Chester
Division 3N
42
2nd
100
Results
1935/36
Coventry City
Division 3S
42
1st
102
Results
1936/37
Manchester City
Division 1
42
1st
107
Results
1936/37
Lincoln City
Division 3N
42
2nd
103
Results
1936/37
Luton Town
Division 3S
42
1st
103
Results
1946/47
Doncaster Rovers
Division 3N
42
1st
123
Results
1946/47
Rotherham United
Division 3N
42
2nd
114
Results
1948/49
Notts County
Division 3S
42
11th
102
Results
1950/51
Rotherham United
Division 3N
46
1st
103
Results
1950/51
Nottingham Forest
Division 3S
46
1st
110
Results
1951/52
Sheffield Wednesday
Division 2
42
1st
100
Results
1951/52
Lincoln City
Division 3N
46
1st
121
Results
1951/52
Plymouth Argyle
Division 3S
46
1st
107
Results
1951/52
Reading
Division 3S
46
2nd
112
Results
1952/53
Northampton Town
Division 3S
46
3rd
109
Results
1954/55
Blackburn Rovers
Division 2
42
6th
114
Results
1954/55
Bristol City
Division 3S
46
1st
101
Results
1955/56
Sheffield Wednesday
Division 2
42
1st
101
Results
1955/56
Derby County
Division 3N
46
2nd
110
Results
1955/56
Leyton Orient
Division 3S
46
1st
106
Results
1955/56
Brighton & Hove A.
Division 3S
46
2nd
112
Results
1955/56
Ipswich Town
Division 3S
46
3rd
106
Results
1956/57
Manchester United
Division 1
42
1st
103
Results
1956/57
Tottenham Hotspur
Division 1
42
2nd
104
Results
1956/57
Leicester City
Division 2
42
1st
109
Results
1956/57
Derby County
Division 3N
46
1st
111
Results
1956/57
Ipswich Town
Division 3S
46
1st
101
Results
1957/58
Wolverhampton W
Division 1
42
1st
103
Results
1957/58
Preston North End
Division 1
42
2nd
100
Results
1957/58
Manchester City
Division 1
42
5th
104
Results
1957/58
West Ham United
Division 2
42
1st
101
Results
1957/58
Charlton Athletic
Division 2
42
3rd
107
Results
1957/58
Mansfield Town
Division 3N
46
6th
100
Results
1957/58
Southampton
Division 3S
46
6th
112
Results
1958/59
Wolverhampton W.
Division 1
42
1st
110
Results
1958/59
Manchester United
Division 1
42
2nd
103
Results
1958/59
Sheffield Wednesday
Division 2
42
1st
106
Results
1958/59
Port Vale
Division 4
46
1st
110
Results
1958/59
Shrewsbury Town
Division 4
46
4th
101
Results
1959/60
Wolverhampton W.
Division 1
42
2nd
106
Results
1959/60
Manchester United
Division 1
42
7th
102
Results
1959/60
Southampton
Division 3
46
1st
106
Results
1959/60
Walsall
Division 4
46
1st
102
Results
1959/60
Notts County
Division 4
46
2nd
107
Results
1960/61
Tottenham Hotspur
Division 1
42
1st
115
Results
1960/61
Wolverhampton W.
Division 1
42
3rd
103
Results
1960/61
Burnley
Division 1
42
4th
102
Results
1960/61
Ipswich Town
Division 2
42
1st
100
Results
1960/61
Bury
Division 3
46
1st
108
Results
1960/61
Peterborough United
Division 4
46
1st
134
Results
1960/61
Crystal Palace
Division 4
46
2nd
110
Results
1961/62
Burnley
Division 1
42
2nd
101
Results
1961/62
Queens Park R.
Division 3
46
4th
111
Results
1961/62
Peterborough United
Division 3
46
5th
107
Results
1961/62
Colchester United
Division 4
44
2nd
104
Results
1962/63
Tottenham Hotspur
Division 1
42
2nd
111
Results
1962/63
Northampton Town
Division 3
46
1st
109
Results
1962/63
Bristol City
Division 3
46
14th
100
Results
1962/63
Mansfield Town
Division 4
46
4th
108
Results
1963/64
Southampton
Division 2
42
5th
100
Results
1963/64
Carlisle United
Division 4
46
2nd
113
Results
1964/65
Brighton & Hove A.
Division 4
46
1st
102
Results
1964/65
Chester
Division 4
46
8th
119
Results
1965/66
Hull City
Division 3
46
1st
109
Results
1965/66
Bradford PA
Division 4
46
11th
102
Results
1966/67
Queens Park R.
Division 3
46
1st
103
Results
1975/76
Lincoln City
Division 4
46
1st
111
Results
1979/80
Huddersfield Town
Division 4
46
1st
101
Results
1986/87
Northampton Town
Division 4
46
1st
103
Results
1996/97
Bolton Wanderers
Division 1
46
1st
100
Results
2001/02
Manchester City
Division 1
46
1st
108
Results
2009/10
Chelsea
Premier
38
1st
103
Results
2010/11
Peterborough United
League 1
46
4th
106
Results
2013/14
Manchester City
Premier
38
1st
102
Results
2013/14
Liverpool
Premier
38
2nd
101
Results
2014/15
Milton Keynes Dons
League 1
46
2nd
101
Results
2017/18
Manchester City
Premier
38
1st
106
Results
2019/20
Manchester City
Premier
38
2nd
102
Results
2021/22
Fulham
Championship
46
1st
106
Results
2022/23
Ipswich Town
League 1
46
2nd
101
Results
Centuries of League goals by goals scored.
1 - League matches played
2 - Final League position
3 - Goals scored
1
2
3
1960/61
Peterborough United
Division 4
46
1st
134
Results
1928/29
Bradford City
Division 3N
42
1st
128
Results
1930/31
Aston Villa
Division 1
42
2nd
128
Results
1927/28
Millwall
Division 3S
42
1st
127
Results
1930/31
Arsenal
Division 1
42
1st
127
Results
1946/47
Doncaster Rovers
Division 3N
42
1st
123
Results
1926/27
Middlesbrough
Division 2
42
1st
122
Results
1930/31
Everton
Division 2
42
1st
121
Results
1951/52
Lincoln City
Division 3N
46
1st
121
Results
1964/65
Chester
Division 4
46
8th
119
Results
1932/33
Arsenal
Division 1
42
1st
118
Results
1933/34
Barnsley
Division 3N
42
1st
118
Results
1931/32
Everton
Division 1
42
1st
116
Results
1933/34
Barrow
Division 3N
42
8th
116
Results
1931/32
Wolverhampton W.
Division 2
42
1st
115
Results
1933/34
Stockport County
Division 3N
42
3rd
115
Results
1934/35
Arsenal
Division 1
42
1st
115
Results
1960/61
Tottenham Hotspur
Division 1
42
1st
115
Results
1946/47
Rotherham United
Division 3N
42
2nd
114
Results
1954/55
Blackburn Rovers
Division 2
42
6th
114
Results
1963/64
Carlisle United
Division 4
46
2nd
113
Results
1951/52
Reading
Division 3S
46
2nd
112
Results
1955/56
Brighton & Hove A.
Division 3S
46
2nd
112
Results
1957/58
Southampton
Division 3S
46
6th
112
Results
1928/29
Stockport County
Division 3N
42
2nd
111
Results
1930/31
Tranmere Rovers
Division 3N
42
3rd
111
Results
1931/32
Fulham
Division 3S
42
1st
111
Results
1956/57
Derby County
Division 3N
46
1st
111
Results
1961/62
Queens Park R.
Division 3
46
4th
111
Results
1962/63
Tottenham Hotspur
Division 1
42
2nd
111
Results
1975/76
Lincoln City
Division 4
46
1st
111
Results
1950/51
Nottingham Forest
Division 3S
46
1st
110
Results
1955/56
Derby County
Division 3N
46
2nd
110
Results
1958/59
Wolverhampton W.
Division 1
42
1st
110
Results
1958/59
Port Vale
Division 4
46
1st
110
Results
1960/61
Crystal Palace
Division 4
46
2nd
110
Results
1935/36
Sunderland
Division 1
42
1st
109
Results
1952/53
Northampton Town
Division 3S
46
3rd
109
Results
1956/57
Leicester City
Division 2
42
1st
109
Results
1962/63
Northampton Town
Division 3
46
1st
109
Results
1965/66
Hull City
Division 3
46
1st
109
Results
1926/27
Manchester City
Division 2
42
3rd
108
Results
1929/30
Darlington
Division 3N
42
3rd
108
Results
1931/32
Coventry City
Division 3S
42
12th
108
Results
1960/61
Bury
Division 3
46
1st
108
Results
1962/63
Mansfield Town
Division 4
46
4th
108
Results
2001/02
Manchester City
Division 1
46
1st
108
Results
1925/26
Plymouth Argyle
Division 3S
42
2nd
107
Results
1930/31
Crystal Palace
Division 3S
42
2nd
107
Results
1931/32
Tranmere Rovers
Division 3N
40
4th
107
Results
1936/37
Manchester City
Division 1
42
1st
107
Results
1951/52
Plymouth Argyle
Division 3S
46
1st
107
Results
1957/58
Charlton Athletic
Division 2
42
3rd
107
Results
1959/60
Notts County
Division 4
46
2nd
107
Results
1961/62
Peterborough United
Division 3
46
5th
107
Results
1895/96
Liverpool
Division 2
30
1st
106
Results
1929/30
Stockport County
Division 3N
42
2nd
106
Results
1931/32
Lincoln City
Division 3N
40
1st
106
Results
1932/33
Wrexham
Division 3N
42
2nd
106
Results
1932/33
Coventry City
Division 3S
42
6th
106
Results
1955/56
Leyton Orient
Division 3S
46
1st
106
Results
1955/56
Ipswich Town
Division 3S
46
3rd
106
Results
1958/59
Sheffield Wednesday
Division 2
42
1st
106
Results
1959/60
Wolverhampton W.
Division 1
42
2nd
106
Results
1959/60
Southampton
Division 3
46
1st
106
Results
2010/11
Peterborough United
League 1
46
4th
106
Results
2017/18
Manchester City
Premier
38
1st
106
Results
2021/22
Fulham
Championship
46
1st
106
Results
1926/27
Rochdale
Division 3N
42
2nd
105
Results
1927/28
Tranmere Rovers
Division 3N
42
5th
105
Results
1929/30
Sheffield Wednesday
Division 1
42
1st
105
Results
1929/30
WBA
Division 2
42
6th
105
Results
1919/20
WBA
Division 1
42
1st
104
Results
1925/26
Rochdale
Division 3N
42
3rd
104
Results
1926/27
Nelson
Division 3N
42
5th
104
Results
1926/27
Bristol City
Division 3S
42
1st
104
Results
1931/32
Aston Villa
Division 1
42
5th
104
Results
1956/57
Tottenham Hotspur
Division 1
42
2nd
104
Results
1957/58
Manchester City
Division 1
42
5th
104
Results
1961/62
Colchester United
Division 4
44
2nd
104
Results
1893/94
Birmingham City
Division 2
28
2nd
103
Results
1929/30
Port Vale
Division 3N
42
1st
103
Results
1932/33
Reading
Division 3S
42
4th
103
Results
1933/34
Grimsby Town
Division 2
42
1st
103
Results
1934/35
Charlton Athletic
Division 3S
42
1st
103
Results
1936/37
Lincoln City
Division 3N
42
2nd
103
Results
1936/37
Luton Town
Division 3S
42
1st
103
Results
1950/51
Rotherham United
Division 3N
46
1st
103
Results
1956/57
Manchester United
Division 1
42
1st
103
Results
1957/58
Wolverhampton W
Division 1
42
1st
103
Results
1958/59
Manchester United
Division 1
42
2nd
103
Results
1960/61
Wolverhampton W.
Division 1
42
3rd
103
Results
1966/67
Queens Park R.
Division 3
46
1st
103
Results
1986/87
Northampton Town
Division 4
46
1st
103
Results
2009/10
Chelsea
Premier
38
1st
103
Results
1919/20
Tottenham Hotspur
Division 2
42
1st
102
Results
1925/26
Sheffield United
Division 1
42
5th
102
Results
1927/28
Everton
Division 1
42
1st
102
Results
1927/28
Northampton Town
Division 3S
42
2nd
102
Results
1930/31
Sheffield Wednesday
Division 1
42
3rd
102
Results
1930/31
Chesterfield
Division 3N
42
1st
102
Results
1930/31
Lincoln City
Division 3N
42
2nd
102
Results
1933/34
Wrexham
Division 3N
42
6th
102
Results
1935/36
Coventry City
Division 3S
42
1st
102
Results
1948/49
Notts County
Division 3S
42
11th
102
Results
1959/60
Manchester United
Division 1
42
7th
102
Results
1959/60
Walsall
Division 4
46
1st
102
Results
1960/61
Burnley
Division 1
42
4th
102
Results
1964/65
Brighton & Hove A.
Division 4
46
1st
102
Results
1965/66
Bradford PA
Division 4
46
11th
102
Results
2013/14
Manchester City
Premier
38
1st
102
Results
2019/20
Manchester City
Premier
38
2nd
102
Results
1925/26
Bradford PA
Division 3N
42
2nd
101
Results
1926/27
Bradford PA
Division 3N
42
3rd
101
Results
1927/28
Bradford PA
Division 3N
42
1st
101
Results
1928/29
Fulham
Division 3S
42
5th
101
Results
1954/55
Bristol City
Division 3S
46
1st
101
Results
1955/56
Sheffield Wednesday
Division 2
42
1st
101
Results
1956/57
Ipswich Town
Division 3S
46
1st
101
Results
1957/58
West Ham United
Division 2
42
1st
101
Results
1958/59
Shrewsbury Town
Division 4
46
4th
101
Results
1961/62
Burnley
Division 1
42
2nd
101
Results
1979/80
Huddersfield Town
Division 4
46
1st
101
Results
2013/14
Liverpool
Premier
38
2nd
101
Results
2014/15
Milton Keynes Dons
League 1
46
2nd
101
Results
2022/23
Ipswich Town
League 1
46
2nd
101
Results
1892/93
Sunderland
Division 1
30
1st
100
Results
1925/26
Chesterfield
Division 3N
42
4th
100
Results
1926/27
Swindon Town
Division 3S
42
5th
100
Results
1927/28
Manchester City
Division 2
42
1st
100
Results
1927/28
Preston North End
Division 2
42
4th
100
Results
1931/32
Plymouth Argyle
Division 2
42
4th
100
Results
1932/33
Hull City
Division 3N
42
1st
100
Results
1933/34
Coventry City
Division 3S
42
2nd
100
Results
1935/36
Chester
Division 3N
42
2nd
100
Results
1951/52
Sheffield Wednesday
Division 2
42
1st
100
Results
1957/58
Preston North End
Division 1
42
2nd
100
Results
1957/58
Mansfield Town
Division 3N
46
6th
100
Results
1960/61
Ipswich Town
Division 2
42
1st
100
Results
1962/63
Bristol City
Division 3
46
14th
100
Results
1963/64
Southampton
Division 2
42
5th
100
Results
1996/97
Bolton Wanderers
Division 1
46
1st
100
Results
Centuries of League goals by club.
1 - League matches played
2 - Final League position
3 - Goals scored
1
2
3
1930/31
Arsenal
Division 1
42
1st
127
Results
1932/33
Arsenal
Division 1
42
1st
118
Results
1934/35
Arsenal
Division 1
42
1st
115
Results
1930/31
Aston Villa
Division 1
42
2nd
128
Results
1931/32
Aston Villa
Division 1
42
5th
104
Results
1933/34
Barnsley
Division 3N
42
1st
118
Results
1933/34
Barrow
Division 3N
42
8th
116
Results
1893/94
Birmingham City
Division 2
28
2nd
103
Results
1954/55
Blackburn Rovers
Division 2
42
6th
114
Results
1996/97
Bolton Wanderers
Division 1
46
1st
100
Results
1928/29
Bradford City
Division 3N
42
1st
128
Results
1925/26
Bradford PA
Division 3N
42
2nd
101
Results
1926/27
Bradford PA
Division 3N
42
3rd
101
Results
1927/28
Bradford PA
Division 3N
42
1st
101
Results
1965/66
Bradford PA
Division 4
46
11th
102
Results
1955/56
Brighton & Hove A.
Division 3S
46
2nd
112
Results
1964/65
Brighton & Hove A.
Division 4
46
1st
102
Results
1926/27
Bristol City
Division 3S
42
1st
104
Results
1954/55
Bristol City
Division 3S
46
1st
101
Results
1962/63
Bristol City
Division 3
46
14th
100
Results
1960/61
Burnley
Division 1
42
4th
102
Results
1961/62
Burnley
Division 1
42
2nd
101
Results
1960/61
Bury
Division 3
46
1st
108
Results
1963/64
Carlisle United
Division 4
46
2nd
113
Results
1934/35
Charlton Athletic
Division 3S
42
1st
103
Results
1957/58
Charlton Athletic
Division 2
42
3rd
107
Results
2009/10
Chelsea
Premier
38
1st
103
Results
1935/36
Chester
Division 3N
42
2nd
100
Results
1964/65
Chester
Division 4
46
8th
119
Results
1925/26
Chesterfield
Division 3N
42
4th
100
Results
1930/31
Chesterfield
Division 3N
42
1st
102
Results
1961/62
Colchester United
Division 4
44
2nd
104
Results
1931/32
Coventry City
Division 3S
42
12th
108
Results
1932/33
Coventry City
Division 3S
42
6th
106
Results
1933/34
Coventry City
Division 3S
42
2nd
100
Results
1935/36
Coventry City
Division 3S
42
1st
102
Results
1930/31
Crystal Palace
Division 3S
42
2nd
107
Results
1960/61
Crystal Palace
Division 4
46
2nd
110
Results
1929/30
Darlington
Division 3N
42
3rd
108
Results
1955/56
Derby County
Division 3N
46
2nd
110
Results
1956/57
Derby County
Division 3N
46
1st
111
Results
1946/47
Doncaster Rovers
Division 3N
42
1st
123
Results
1927/28
Everton
Division 1
42
1st
102
Results
1930/31
Everton
Division 2
42
1st
121
Results
1931/32
Everton
Division 1
42
1st
116
Results
1928/29
Fulham
Division 3S
42
5th
101
Results
1931/32
Fulham
Division 3S
42
1st
111
Results
2021/22
Fulham
Championship
46
1st
106
Results
1933/34
Grimsby Town
Division 2
42
1st
103
Results
1979/80
Huddersfield Town
Division 4
46
1st
101
Results
1932/33
Hull City
Division 3N
42
1st
100
Results
1965/66
Hull City
Division 3
46
1st
109
Results
1955/56
Ipswich Town
Division 3S
46
3rd
106
Results
1956/57
Ipswich Town
Division 3S
46
1st
101
Results
1960/61
Ipswich Town
Division 2
42
1st
100
Results
2022/23
Ipswich Town
League 1
46
2nd
101
Results
1956/57
Leicester City
Division 2
42
1st
109
Results
1955/56
Leyton Orient
Division 3S
46
1st
106
Results
1930/31
Lincoln City
Division 3N
42
2nd
102
Results
1931/32
Lincoln City
Division 3N
40
1st
106
Results
1936/37
Lincoln City
Division 3N
42
2nd
103
Results
1951/52
Lincoln City
Division 3N
46
1st
121
Results
1975/76
Lincoln City
Division 4
46
1st
111
Results
1895/96
Liverpool
Division 2
30
1st
106
Results
2013/14
Liverpool
Premier
38
2nd
101
Results
1936/37
Luton Town
Division 3S
42
1st
103
Results
1926/27
Manchester City
Division 2
42
3rd
108
Results
1927/28
Manchester City
Division 2
42
1st
100
Results
1936/37
Manchester City
Division 1
42
1st
107
Results
1957/58
Manchester City
Division 1
42
5th
104
Results
2001/02
Manchester City
Division 1
46
1st
108
Results
2013/14
Manchester City
Premier
38
1st
102
Results
2017/18
Manchester City
Premier
38
1st
106
Results
2019/20
Manchester City
Premier
38
2nd
102
Results
1956/57
Manchester United
Division 1
42
1st
103
Results
1958/59
Manchester United
Division 1
42
2nd
103
Results
1959/60
Manchester United
Division 1
42
7th
102
Results
1957/58
Mansfield Town
Division 3N
46
6th
100
Results
1962/63
Mansfield Town
Division 4
46
4th
108
Results
1926/27
Middlesbrough
Division 2
42
1st
122
Results
1927/28
Millwall
Division 3S
42
1st
127
Results
2014/15
Milton Keynes Dons
League 1
46
2nd
101
Results
1926/27
Nelson
Division 3N
42
5th
104
Results
1927/28
Northampton Town
Division 3S
42
2nd
102
Results
1952/53
Northampton Town
Division 3S
46
3rd
109
Results
1962/63
Northampton Town
Division 3
46
1st
109
Results
1986/87
Northampton Town
Division 4
46
1st
103
Results
1950/51
Nottingham Forest
Division 3S
46
1st
110
Results
1948/49
Notts County
Division 3S
42
11th
102
Results
1959/60
Notts County
Division 4
46
2nd
107
Results
1960/61
Peterborough United
Division 4
46
1st
134
Results
1961/62
Peterborough United
Division 3
46
5th
107
Results
2010/11
Peterborough United
League 1
46
4th
106
Results
1925/26
Plymouth Argyle
Division 3S
42
2nd
107
Results
1931/32
Plymouth Argyle
Division 2
42
4th
100
Results
1951/52
Plymouth Argyle
Division 3S
46
1st
107
Results
1929/30
Port Vale
Division 3N
42
1st
103
Results
1958/59
Port Vale
Division 4
46
1st
110
Results
1927/28
Preston North End
Division 2
42
4th
100
Results
1957/58
Preston North End
Division 1
42
2nd
100
Results
1961/62
Queens Park R.
Division 2
46
4th
111
Results
1966/67
Queens Park R.
Division 3
46
1st
103
Results
1932/33
Reading
Division 3S
42
4th
103
Results
1951/52
Reading
Division 3S
46
2nd
112
Results
1925/26
Rochdale
Division 3N
42
3rd
104
Results
1926/27
Rochdale
Division 3N
42
2nd
105
Results
1946/47
Rotherham United
Division 3N
42
2nd
114
Results
1950/51
Rotherham United
Division 3N
46
1st
103
Results
1925/26
Sheffield United
Division 1
42
5th
102
Results
1929/30
Sheffield Wednesday
Division 1
42
1st
105
Results
1930/31
Sheffield Wednesday
Division 1
42
3rd
102
Results
1951/52
Sheffield Wednesday
Division 2
42
1st
100
Results
1955/56
Sheffield Wednesday
Division 2
42
1st
101
Results
1958/59
Sheffield Wednesday
Division 2
42
1st
106
Results
1958/59
Shrewsbury Town
Division 4
46
4th
101
Results
1957/58
Southampton
Division 3S
46
6th
112
Results
1959/60
Southampton
Division 3
46
1st
106
Results
1963/64
Southampton
Division 2
42
5th
100
Results
1928/29
Stockport County
Division 3N
42
2nd
111
Results
1929/30
Stockport County
Division 3N
42
2nd
106
Results
1933/34
Stockport County
Division 3N
42
3rd
115
Results
1892/93

Sunderland

Division 1

30
1st
100
Results
1935/36
Sunderland
Division 1
42
1st
109
Results
1926/27
Swindon Town
Division 3S
42
5th
100
Results
1919/20
Tottenham Hotspur
Division 2
42
1st
102
Results
1956/57
Tottenham Hotspur
Division 1
42
2nd
104
Results
1960/61
Tottenham Hotspur
Division 1
42
1st
115
Results
1962/63
Tottenham Hotspur
Division 1
42
2nd
111
Results
1927/28
Tranmere Rovers
Division 3N
42
5th
105
Results
1930/31
Tranmere Rovers
Division 3N
42
3rd
111
Results
1931/32
Tranmere Rovers
Division 3N
40
4th
107
Results
1959/60
Walsall
Division 4
46
1st
102
Results
1919/20
WBA
Division 1
42
1st
104
Results
1929/30
WBA
Division 2
42
6th
105
Results
1957/58
West Ham United
Division 2
42
1st
101
Results
1931/32
Wolverhampton W.
Division 2
42
1st
115
Results
1957/58
Wolverhampton W
Division 1
42
1st
103
Results
1958/59
Wolverhampton W.
Division 1
42
1st
110
Results
1959/60
Wolverhampton W.
Division 1
42
2nd
106
Results
1960/61
Wolverhampton W.
Division 1
42
3rd
103
Results
1932/33
Wrexham
Division 3N
42
2nd
106
Results
1933/34
Wrexham
Division 3N
42
6th
102
Results