DID YOU KNOW.....
REFEREES
Football has a million and one stories and just as many facts and figures. Here are a few of them - the record-breaking, unusual and bizarre.
More Did You Knows...
Index
1 2 3 4 5 6 7 8 9 10 11 12 13 14 15 16 17 18 19 20
21 22 23 24 25 26 27 28 29 30 31 32 33 34
Not everyone always saw the funny side of Paul Gascoigne's humour. At a Rangers v Hibs match at Ibrox on Saturday December 30th 1995 immediately after missing a sitter he found the ref's yellow card on the pitch. He showed it to himself for the miss and then jokingly held it up to the ref before returning it to him. Ref Dougie Smith didn't see the funny side of it and used the card for real and booked Gascoigne!

*********

Not all referees suffer from a humour by-pass, although perhaps it takes a guilty conscience to bring out the humour. When playing for Birmingham at Newcastle on Saturday August 30th 2003 hard-man Robbie Savage was poll-axed when hit by an arm in his face. A red card was shown but only in jest as referee Matt Messias gave to card to Alan Shearer to show to him - yes it was the referee who done it! The ref put his arm up to signal a free kick just as Savage was running by and down he went proving that he was more of a wuss than a man of steel.

*********

On Saturday August 31st 1996 Wendy Toms became the first woman to referee a senior match in England when taking charge of the Conference match between Woking and Telford United. After 14 minutes Woking's Andy Ellis became the first player to be booked at that level by a woman, for dissent. 'It's an honour', he said!
On Monday September 13th 1999 she was part of the first all-female trio to officiate at a senior match - Kidderminster Harriers v Nuneaton Borough in the Conference - assistant refs were Janie Frampton and Amy Rayner.
The highlight of her career was being the assistant referee at the Worthington Cup final between Leicester City and Tranmere Rovers in February 2000. Referee Alan Wilkie had the sad distinction of being stretchered off at Wembley in that match, suffering a pulled calf muscle in the 57th minute.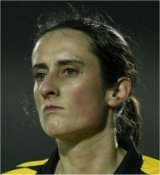 The honour of being the first woman to referee a Football League match went to Amy Fearn in the Coventry City v Nottingham Forest Championship match played on Tuesday February 9th 2010. With 20 minutes remaining referee Tony Bates was forced to leave the field with a calf strain, being replaced by Amy for the remaining minutes of the match.
Although women officials only became part of the senior game in the 1990's they had been part of the lower levels of the game for many years. Mrs Pat Dunn was the first woman to referee an all-male match sanctioned by the FA when taking charge of an East Lulworth v Freewheelers match in Dorset in 1976. In October 1981 Elizabeth Forsdick became the first woman official in an FA Cup tie when running the line at the the Third Qualifying Round tie between Burgess Hill Town and Carshalton Athletic. On Saturday November 9th 2013 Amy Fearn became the first woman to referee an FA Cup tie in the competition proper when booking four players in Dover Athletic's victory at Corby Town in a First Round tie.
*********
I suppose it had to happen (1) - a referee scoring a winning goal. On Saturday November 9th 1968 Barrow entertained Plymouth Argyle in a Third Division match at Holker Street. Ref Ivan Robinson tried to jump out of the way of a Barrow cross but the ball hit his heel and deflected past Plymouth keeper Pat Dunne into the net. He had to signal a goal - the only one of the match!
*********
I suppose it had to happen (2) - add together officials of the female variety, a boring match and YouTube and the result is predictable. Probably the first inevitable offering to go 'viral' was that of Serbian assistant ref Aleksandra Milojevic. The clip of her running the line in a match between Novi Pazar and Mapredak had over one million views in its first first seven days in October 2013!
*********
I can't believe this one did happen, especially in a major league! On January 14th 2018 in a French Ligue 1 match between Nantes and Paris Germain referee Tony Chapron ended up on the ground after an accidental collision with Nantes defender Diego Carlos. The ref then kicked the player and sent him off after giving him a second yellow card! The referee was banned for six months, half suspended, and the player had his second yellow card rescinded.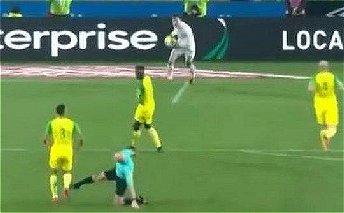 *********
It's rare for a referee to miss arriving at the scheduled kick-off time but on one occasion when that happened it resulted in a unique match in the Football League - The Match of 3 Halves.
*********
Back in 1996 the menfolk of the Exeter Sunday League were a tad surprised when a referee joined the after-match showers with them. The refs' name was Janet Fewings! None too pleased with the situation were the local WAGS and the men in suits from the Devon FA. Despite her protests at the prudish attitudes being shown and the lack of separate facilities she was charged with bringing the game into disrepute and it wasn't long before her Sundays lacked a footballing element.
*********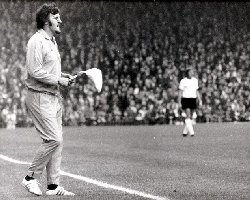 Jimmy Hill seems to be football's been there, done that sort of guy. On Saturday September 16th 1972 at the Arsenal v Liverpool fixture football personality Hill stepped in, superman-like, to prevent the match being abandoned when he took over as a substitute linesman. The original linesman, Dennis Drewitt, suffered torn knee ligaments in the first half and was unable to continue. Those were the days before we had extra officials at each game and an announcement was made to the crowd appealing for a qualified referee to take over on the line. Up stepped Jimmy Hill who had been at the match as a spectator and the day was saved.
*********
Just as players have to suffer the scrutiny of their performances so do referees and their is one person in particular who often hits the headlines with his comments on referees - Alex Ferguson.
In March 2008 Manchester United were beaten at Portsmouth in the FA Cup and Sir Alex criticised ref Martin Atkinson for not awarding United a penalty. 'Managers get sacked because of things like that and he's going to referee a game next week. That performance should not be accepted by our game.' Ferguson was charged with improper conduct and found not guilty.
Ref Alan Wiley was on the receiving end of Ferguson's tongue after a 2-2 Premier League draw with Sunderland at Old Trafford in October 2009. 'You see referees abroad who are as fit as butcher's dogs. We have some who are fit. He wasn't fit. He was taking 30 seconds to book a player. He was needing a rest. It was ridiculous.' Again a charge of improper conduct - this time found guilty and suffered a £20,000 fine and two-match touchline ban.
In March 2011 after a League defeat at Stamford Bridge Martin Atkinson was again on the receiving end of Ferguson's criticism. 'You want a fair referee. You want a strong referee anyway and we didn't get that. When I saw who was refereeing I feared the worst.' Another improper conduct charge, another guilty verdict, this time a £30,000 fine and a five-match touchline ban.
*********
While most condemned Sir Alex's remarks about Alan Wiley no-one disagreed with the principle that the officials need to be fit. Anyone who watches all four officials warm up before a senior match will realise that they take fitness as seriously as the players do. They need to - a recent investigation found that professional referees travel an average of over 8 miles a match, some at walking pace but more often full sprinting.
*********
Stories about Dean Windass often seemed to revolve around referees and suspensions. Back in January 2006 he had words with match referee Darren Drysdale in the Valley Parade car park after the 3-3 League 1 draw between Bradford City and Brentford. Windass claimed the words amount to a tongue-in-cheek joke while Drysdale claimed that he was verbally abused. Windass received a five-match ban for improper conduct. Worse came his way in 1997 when referee Stuart Dougal sent him off three times when playing for Aberdeen in a SPL match against Dundee United at Tannadice. Two bookings (after just 22 minutes) saw him shown the first red card with the second being for dissent when he made his displeasure known to the ref. On his way to the tunnel he took his frustrations out on a totally innocent corner flag for which he was sent off for the third time. That was a total of 22 penalty points for which he received a 6-match ban plus a club fine of 2 weeks' wages.
*********
What did we do before we had the email inbox humour to look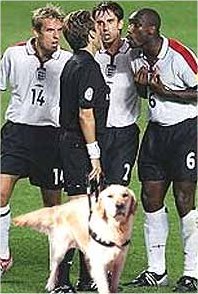 forward to? Shortly after a poor decision by Urs Meier in England's defeat against Portugal in Euro 2004 Herr Meier's image was seemingly on every computer in the country. Sadly some newspapers took it too far and published the Swiss ref's contact details forcing into hiding from angry England fans.
The same thing happened at Euro 2008 but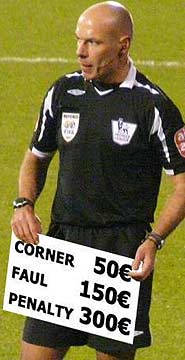 this time it was English ref Howard Webb who was on the receiving end. He awarded co-hosts Austria a late penalty which allowed them to draw 1-1 with Poland. That saw him the butt of computer humour but again it went OTT with even Polish Prime Minister Donald Tusk seeming to wish him harm. Within hours websites were listing the home address, telephone number and works email details of Howard Webb of Rotherham - but it was not even the right man and a completely different Howard Webb of Rotherham ended up needing police protection!
*********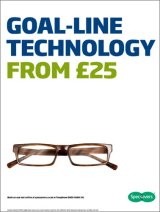 Fast forwarding to the 2010 World Cup Finals the same might have been expected following that 'mile-over-the-line' goal from Frank Lampard against Germany. But Uruguayan referee Jorge Larrionda escaped the worst of the criticism - most of that seemed to be directed to Sepp Blatter and his dismissive rejection of using goal-line technology. And who would want to remember anything about England's clueless contribution to the tournament? But there was humour - thanks to the Specsavers advertising department!
*********
The idea behind using red and yellow cards to indicate dismissals and bookings was that of Englishman Ken Aston. Having previously refereed at the highest level he was in charge of referees at the 1966 World Cup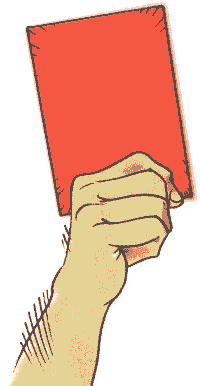 finals in England. The infamous sending off of Antonio Rattin in the quarter-final between Argentina and England, when Aston had to go on to the playing area to remonstrate with the player to leave the pitch, made him think that their had to be a better system of allowing a referee to make his intentions clearer to a player who might not speak the same language. As he drove away from the stadium the solution came to him - "As I drove down Kensington High Street, the traffic light turned red. I thought, 'Yellow, take it easy; red, stop, you're off'." So the red card and yellow cards were introduced to allow both players and fans to clearly understand when players had been dismissed or booked.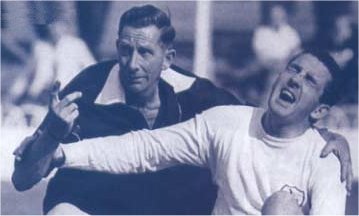 Ken Aston in his refereeing days.
The cards were first used in the 1970 World Cup finals in Mexico. The first player in the Football League to see red was David Wagstaff, playing for Blackburn Rovers at Orient on Saturday October 2nd 1976. Later that afternoon George Best, playing for Fulham at Southampton, was also red-carded.
For a period between the 1980/81 and 1987/88 season the use of red and yellow cards was suspended in the Football League.
*********
I think that it would be fair to say that referees never always get it right but back in 2000 Ref Rob Harris got it very wrong. On Saturday January 8th 2000 a Fourth Round FA Cup tie between Tranmere Rovers and Sunderland at Prenton Park had a lively last few seconds. Tranmere's Clint Hall was sent off in injury time for a second bookable offence but during the ensuing on-pitch confrontation a Tranmere sub, Stephen Frail, was sent on unnoticed by the officials. Until the error was noticed - resulting in another confrontation - Tranmere played with a full team, much to the displeasure of Sunderland who lost the match 1-0. Sunderland manager Peter Reid said 'It was like Billy Smart's circus out there. I don't like talking about officials instead of football - but someone has made a major error.' The Wearsiders lost an appeal to have the match replayed but for the first time match officials were brought before an FA Commission to examine their actions. Ref Harris, assistant ref Tony Green and fourth official David Unsworth were all said to have 'less than proficiently applied the laws of the game' with Harris being given a ban as a result.
*********
On Saturday May 23rd 2009 Clive Oliver refereed the League 2 play off final at Wembley between Gillingham and Shrewsbury Town. The following day his son Michael refereed the League 1 play off match at Wembley between Millwall and Scunthorpe United. At the Rotherham United v Port Vale Carling Cup First Round match on Tuesday 23rd August 2005 the two had become the first father and son to officiate together in a senior match in England.
One of the officials found that he had a family connection when he ran the line at a Littlewoods Cup fixture at Brighton in 1986 - and it shouldn't have happened! Read more - Whoops!
*********
Match officials, like players, suffer their share of injuries with one of the most unusual being suffered by our friend Wendy Toms. Due to run the line at the Aston Villa v Liverpool Premier League match in October 1999 after clipping on her radio earpiece rather than then listening to ref Rob Harris she instead heard piercing feedback which affected her balance. Medical attention was needed and she missed the match.
*********
When Peterborough North End kicked off their Sunday League match against Royal Mail in January 2005 about the only media coverage they could have expected would have been the result in the local paper. Instead they received national coverage. The reason? Well Andy Wain wasn't having a good week. When a Peterborough NE player made an uncomplimentary comment to him Wain lost his temper, eyeballing the startled goalkeeper. The problem was that Andy Wain wasn't a opposition player - he was the referee! The referee in him took over .... and he sent himself off! To make matters even worse because their was no other official to take over, he also had to abandon the match. "It was totally unprofessional. If a player did that I would send him off, so I had to go" he later said. The Northants FA banned him for 35 days and fined him £50.
*********
A Spanish Third Division match between Jumilla and Puente Tocinos played on Sunday September 6th 2009 was interrupted during the second half when there was an announcement over the PA system in which local police requested the presence of the owner of an Audi A4 car which had been vandalised in the car park. It belonged to referee Madrigal Soria who sprinted off the pitch. The match was held up for five minutes while the ref sorted matters out with the police.
*********
"Referees should be wired up to a couple of electrodes and they should be allowed to make three mistakes before you run 50,000 volts through their genitals."

Aston Villa manager John Gregory in October 1999, at a guess after a refereeing decision he disagreed with!
*********
It's easy to take the Michael out of the officials but the reality is that they are as important to the game as the players. And they too make their sacrifices.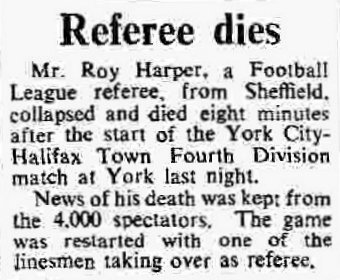 There were tragic scenes at York City's Bootham Crescent ground on the evening of Monday May 5th 1969 at York's final Fourth Division match of the season, against Halifax Town. Referee Roy Harper collapsed shortly after kick off and died of a heart attack. The match was completed and I have to say that I find it both amazing and shocking that the match wasn't abandoned out of respect. Sadly Roots Hall was the scene of the next tragedy involving a League referee. On Monday April 16th 2001 the Division 3 match between Southend United and Mansfield Town was abandoned shortly before half-time when referee Mike North collapsed in the centre circle and died of a heart attack.