DID YOU KNOW.....
CRIME & PUNISHMENT
Football has a million and one stories and just as many facts and figures. Here are a few of them - the record-breaking, unusual and bizarre.
More Did You Knows...
Index
1 2 3 4 5 6 7 8 9 10 11 12 13 14 15 16 17 18 19 20
21 22 23 24 25 26 27 28 29 30 31 32 33 34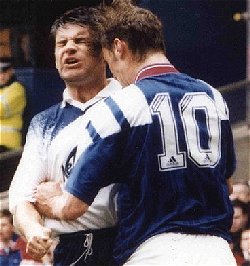 The first British professional player to be jailed for an incident during a match was Duncan Ferguson of Rangers. In a Scottish League match at Ibrox between Rangers and Raith Rovers on Saturday 16th April 1994 Ferguson head-butted visiting defender Jock McStay. Although not picked up by the match officials it didn't escape the cameras and he was charged with assault. He was found guilty and with three similar convictions to his name (he had previously crossed swords with the odd policeman, fisherman and Hearts supporter!) he was sentenced to 3 months in prison. He eventually served 44 days in Barlinnie prison by which time he had become an Everton player.
*********

South of the border the first jailing of a player because of an incident during a game was in January 2007 when Barrow defender James Cotterill was sentenced to four months in prison for causing grievous bodily harm to Bristol Rovers forward Sean Rigg. In an FA Cup First Round tie between the clubs at Barrow's Holker Street ground on Saturday November 11th 2006 Cotterill had punched the Rovers player after half an hour, breaking his jaw in two places. As in the Ferguson incident the match officials had not seen the offence although Match of the Day cameras had. When passing sentence Judge Robert Brown said: 'The courts have for a long time now made it absolutely clear that this sort of violence on the field of play cannot and will not be tolerated. And for this kind of off-the-ball incident a custodial sentence is inevitable."
*********
In 1995 Eric Cantona narrowly escaped prison but receives an eight month ban from playing after attacking a Crystal Palace fan at Selhurst Park. Full story.
*********
New technologies bring with them new ways of falling foul of the authorities. In January 2011 Ryan Babel became the first player to be punished for comments made on Twitter. The Liverpool striker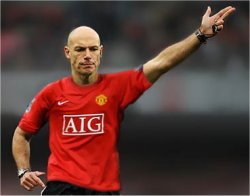 was not too pleased with two decisions made by ref Howard Webb in the 1-0 FA Cup defeat by Manchester United at Old Trafford on Sunday January 9th 2011. In what was Kenny Dalglish's first match back in charge of Liverpool the referee awarded United a penalty in the second minute, from which the winning goal was scored, and half an hour later sent off Steven Gerrard. Babel criticised the ref and posted a link to a doctored picture of Webb - wearing a Manchester United shirt! Babel admitted an FA charge of improper conduct and was fined £10,000 and was warned about his future conduct.
*********
In December 2003 Rio Ferdinand was banned from football and fined £50,000 for 'failure or refusal to take a drugs test'. The Manchester United player had been asked to take a test on September 23rd at the clubs' Carrington training ground but left without providing a urine sample. He claimed that he forgot as he was pre-occupied with moving house - and went shopping instead! After an unsuccessful appeal the 8 month ban ran from the end of January to the end of September 2004 and in addition to missing domestic competition the ban included international football and so he was absent from Euro 2004 in Portugal.
*********
Saturday January 6th 1990 was a great day for Cardiff City. Their FA Cup Third Round tie against Queens Park Rangers saw them bank record club record receipts for a match at Ninian Park - £50,517.75. Well, they would have banked it on Monday but sadly for Cardiff's bank balance thieves broke into the safe over the weekend and pinched the lot!
*********
Liverpool's Jamie Carragher was hit by a coin thrown from the crowd in an FA Cup 4th Round tie against Arsenal at Highbury on Sunday January 27th 2002. He threw it back into the crowd for which he was red-carded followed by a police warning, £40,000 club fine and three-match FA ban.
*********
When Manchester United face either Manchester City or Leeds United highly-charged matches are always in prospect, perhaps no more so than when Roy Keane of Manchester United came up against Alf-Inge Haaland. On Saturday September 27th 1997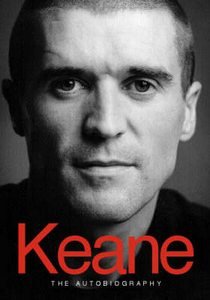 Leeds beat Manchester United 1-0 in a Premier League match at Elland Road. Late in the match Roy Keane injured himself when attempting to tackle Alf-Inge Haaland. The Norwegian then stood over the injured Keane, criticising him for the tackle and accusing him of feigning injury. The Irishman had in fact suffered a cruciate-ligament injury - which ended his playing season - and was booked as he was helped off the pitch. The two players were next on opposing sides in April 2001 when Haaland had moved to Manchester City. This time Keane was sent off for a savage knee-high tackle on the Norwegian which was seen as an act of revenge. The FA handed out a three-match ban and £5000 fine to Keane. However matters escalated in 2002 when Keane admitted in his autobiography that the tackle had been a deliberate attempt to injure Haaland following their clash in 1997. He later said 'He got his just rewards. My attitude is an eye for an eye.' Keane was charged with bringing the game into disrepute and this time received a five-match ban and £150,000 fine.
*********
With three matches remaining of the 1964/65 season Chelsea were still in with a chance of the League championship. All three matches were in the north-east - at Liverpool, Burnley and Blackpool - and as all the matches were to be played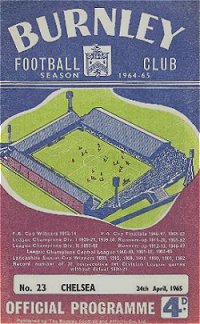 in just a week the Londoners decided to base themselves in Blackpool. Big mistake. After losing 2-0 at Liverpool on Monday 19th April 1965 their next match wasn't until the Saturday, and boredom set in. Despite a curfew eight Chelsea players snuck out of the hotel for a night on the town. When Chelsea manager Tommy Docherty was informed by a night porter that a fire-escape door had been left open and a number of Chelsea players were believed to be missing the Doc, in a fluffy white dressing-gown, sat in wait by the door. The 'Blackpool Eight' arrived back just before 4am. The following day all eight - first teamers Barry Bridges, George Graham, Marvin Hinton, John Hollins, Eddie McCreadie, Bert Murray, Terry Venables and reserve player Joe Fascione - were sent home and didn't play in the Saturday match. Chelsea lost that match 6-2 at Burnley and their championship hopes were over. So was the punishment the act of an incredibly brave manager - or a stupid one?
*********
The 'honour' of being the first player to play a League match while wearing an electronic tag went to Ipswich Town defender Gary Croft. After serving a quarter of a four month sentence for driving while disqualified and perverting the course of justice he was released from prison and required to be tagged. Shortly afterwards he was named as a substitute for Ipswich against Swindon Town in a First Division match at Portman Road on Saturday 15th January 2000. With the tag clearly visible on his left ankle he came on as a 71st minute substitute to help Ipswich to a 3-0 victory. The tag came with a curfew from 7pm to 7am so no evening matches in the early weeks after his release but later in the season an untagged Croft appeared at Wembley in Ipswich's 4-2 play-off final victory over Barnsley.
The first player to appear in the Premier League with a tag was Jermaine Pennant who had been released from prison after 31 days of a three-month sentence for drink driving, driving while disqualified and driving without insurance. Ref Howard Webb allowed him to play for Birmingham against Spurs on Saturday April 2nd 2005, much to the disgust of the Campaign against Drink Driving. Pennant, who was on loan from Arsenal at the time, was also subject to a 7am to 7pm curfew.
*********
Well, its always important to know the rules. When Brechin City beat Hamilton Academical 2-1 in a Scottish Cup 4th Round replay on 28th January 2008 in front of 696 hardy souls at their Glebe Park ground their fans started to look forward to their attractive 5th Round tie at Aberdeen. It then emerged that Brechin had fielded Michael Paton in the team who was signed on loan from Aberdeen after the first match between Hamilton and Brechin was played on January 12th and so was ineligible to play in the replay. For that infringement of the rules the tie was ordered to be replayed and Brechin were fined £10,000. Then is was discovered that another member of the team - Willie Dyer who was recently signed from St Johnstone - hadn't been eligible to play in the replay for the same reason. For that Brechin were kicked out of the Scottish Cup!
*********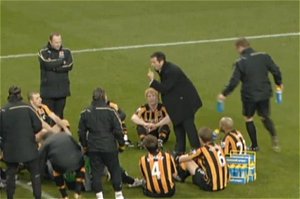 On Boxing Day 2008 Hull City's 'crime' was to give a first half 'Sunday League performance' in a Premier League match at Manchester City which saw them 0-4 down at the break. Manager Phil Brown's punishment was to refuse to let them enjoy the comforts of the dressing room at half-time and instead sat them on the pitch in front of the 5500 travelling fans and gave the players a rollicking. They drew the second half 1-1.
*********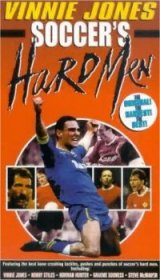 Vinnie Jones made a successful debut as a cinema actor in Lock, Stock and Two Smoking Barrels but one of his efforts in a small-screen production was not so widely-acclaimed. His association with the video Soccer's Hard Men saw the Wimbledon player charged by the Football Association with bringing the game into disrepute as the FA considered the video glorified violence in football. Found guilty of the charge, in November 1992 he was fined £20,000 by the FA (a record at the time) and received a six-month ban, which was suspended for three years.
The Wimbledon owner Sam Hammam called Jones a 'mosquito brain' for his involvement with the video, although presumably not to his face! But doesn't the fact that it was a video make it sound really historical!
*********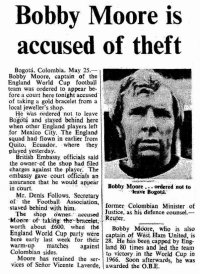 The most famous arrest of an English footballer? When England were in Columbia in May 1970 preparing to defend the World Cup (doesn't that sound great!) in Mexico Bobby Moore was arrested and held under house arrest. He was accused of stealing an emerald bracelet from a jewellery shop located in the Hotel Tequendama in Bogota where the squad were staying. Salesgirl Clara Padillo de Salgado alleged that she saw the England captain put the bracelet in his pocket. A diplomatic incident followed but with no real evidence of a theft let alone one by Moore the matter was dropped but it was later described by Moore as being the worst incident in his footballing career.
*********

I was going to start off this bit with something like 'how they got away with it' but given that they know good lawyers and earn more in a week than I seem to be able to do in a lifetime I think 'how justice was done' is a more suitable starting point.
When Alex Ferguson was caught driving on the hard shoulder of the M602 in February 1999 his defence in court was perhaps a tad more embarrassing than if he had just taken a fine and penalty points - he had to get to the toilet! The Manchester United manager was suffering from acute gastroenteritis which caused severe diarrhoea and as his doctor explained in court when he was stuck in a traffic jam and had an urgent need to visit a toilet he had one of two choices - 'One is unthinkable and one is to take evasive action'. He added 'It's not easy for someone in his position to come into court and, with respect, explain his toilet difficulties on that day.' Very true, but it makes a great story. Bury Magistrates found him not guilty.
Later in 1999 one of Ferguson's players, David Beckham, won an appeal against an eight month driving ban after being found guilty of driving his Ferrari - sorry as ever proper journalist would say - driving his £150,000 Ferrari at 76mph in a 50 mph zone. He explained to the court that he was trying to escape a paparazzi photographer who had been chasing him for 10 miles. 'The man was leaning over taking photos. He was definitely not in control of the car and he nearly caused me to crash. I thought if I didn't put my foot down it would cause an accident' he explained in court. Those 'special circumstances' saw him escape the ban although his conviction for speeding stood.
After his £140,000 (the cheapskate!) Bentley Continental GT was caught by a speed camera doing 38mph in a 30mph zone Manchester City's Carlos Tevez faced a court summons in September 2011 for not identifying who the driver was. He successful defence was although he had been in England since 2006 his command of the English language was poor and his post was dealt with by his staff, which they didn't do on this occasion. But he was fined a few minutes wages (£60) and given three penalty points for the speeding offence.
But please don't try any of these at home. I would guess if a mere mortal tried any of these defences for a driving offence in a local magistrates could the laughter would be followed by a contempt of court charge!
By the way, arguably the best player to play for a Manchester club - Duncan Edwards - was prosecuted in 1955 for an offence on his £2 10 shilling push-bike, and he didn't get away with it (Those were the days...)
*********
Travelling to Iceland for a European Championship qualifier in May 1990 the Albania squad found themselves at Heathrow airport waiting for a connecting flight. All 37 of the travelling Albanians - players, management, coaches and doctors - where then arrested when it was found that they had helped themselves to thousands of pounds worth of items from the shops without paying. In their defence they claimed that they didn't get out much and thought duty-free meant all-free! They weren't charged but had a close police escort when they were finally returned to the airport to catch a later flight to Reykjavík, where they lost 2-0 to Iceland.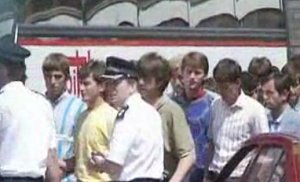 *********
I've got a feeling if you or I did this it would be classed as illegal but when Paul Gascoigne did it it was a hilarious joke. It seems at the 1990 World Cup Finals in Italy (we finished fourth in that one) Gazza would sit at his upstairs bedroom window at the team hotel and drop water and eggs onto the passers-by below. Extra points were given for hitting one of his team-mates.. Somehow I can't believe Bobby Moore or Alf Ramsey did that in 1966!
*********
Let's conclude with a story that has a happy ending. In June 2011 Tracy Chandler was sacked by Doncaster Rovers as the club mascot Donny Dog. Her 'crime' was to appear in her underwear alongside the mascot costume in a cheeky but tasteful charity photo shoot for the Sunday Sport newspaper. She was sacked by email after being accused of 'disgracing the club' by appearing in the pictures. Tracy was reported to have descended into a flood of tears. She said 'It's OK for the players to strip off and do a naked calendar for charity, that you can buy in the Rovers gift shop where lots of children will see it, but I'm not allowed to pose in my underwear for charity.' Fair comment!
Whatever bad publicity the club might have had because of the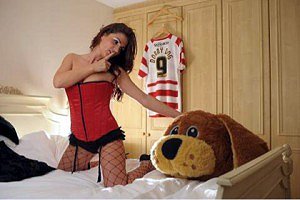 photos it was nothing compared with the worldwide coverage it got for sacking her, of course every story being illustrated with one of the pictures! A disgraceful exploitation of sex I say! The club relented and gave her her job back. Doncaster chairman John Ryan said 'Donny Dog is very popular with youngsters and we didn't like the association with Sport and children seeing that paper.' And you know, I think if she chucked away that stupid dog costume she would be pretty popular with the Dad's as well!