DID YOU KNOW.....
DEBUTS
Football has a million and one stories and just as many facts and figures. Here are a few of them - the record-breaking, unusual and bizarre.
More Did You Knows...
Index
1 2 3 4 5 6 7 8 9 10 11 12 13 14 15 16 17 18 19 20
21 22 23 24 25 26 27 28 29 30 31 32 33 34


A souvenir programme and national media coverage for an 'A' team match between Notts County and Nottingham Forest. Yes it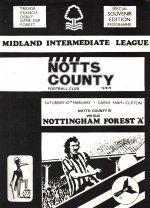 happened on 10th February 1979 when Trevor Francis, who had just become Britain's first £1 million footballer after his move from Birmingham City to Nottingham Forest, made his debut for Forest in a Midland Intermediate League match.
His manager, the great Brian Clough, wanted to ensure that his debut was in the sort of surroundings that would keep his feet firmly on the ground. Francis made his League debut a couple of weeks later, coming on as a sub for Martin O'Neill against Bristol City at the City Ground. His signing in February meant that he was ineligible to play in Europe until Forest reached the European Cup final in May and he repaid much of that fee by scoring the only goal in the defeat of Malmo in Munich.
*********
Goalkeeper Tony Coton was an instant hit with the Birmingham City fans when he made his debut for the Blues against Sunderland on Saturday December 27th 1980. Within a minute Blues defender Joe Gallagher gave away a penalty and Coton's first touch of the ball on his debut was to save John Hawley's spot-kick.
*********
North of the border Belgian Marc de Clerck made a perfect debut for Aberdeen against Berwick Rangers in a Scottish League Cup match at Shielfield Park on Saturday 30th August 1980. Not only did he keep a clean sheet in Aberdeen's 4-0 win but he scored a goal in the 22nd minute, a long clearance bouncing over the Berwick keeper into the back of the net.
*******
Another impressive debut north of the border came on 2nd January 1930 in the Scottish League Second Division match between King's Park and Forfar Athletic. Jim Dyet was making his club debut for King's Park - a club based in Stirling - and scored 8 goals in the 12-2 victory, a British record for a player making his debut in a League match. King's Park had joined the Scottish League in 1921/22 and remained in that division until 1938/39 when the competition was suspended due to the war. Bomb damage to their ground saw them go bust which led later to the formation of Stirling Albion.
*******
Another goalkeeper didn't have such an enjoyable debut. When Stanley Milton made his debut for Halifax Town against Stockport County in Division 3 (North) on Saturday January 6th 1934 he was on the wrong end of a 13-0 defeat, a record scoreline in a Football League match!
*********
Stanley Milton must surely have wished that his debut could have been wiped from the records just as fellow 'keeper Jim Brown's debut in the Football League was nearly 40 years later. Chesterfield had signed Jim Brown from Albion Rovers on December 22nd 1972 but the letter registering the player with the Football League was delayed in the Christmas post and didn't arrive until two days after he had made his Boxing Day debut for Chesterfield. In that match Chesterfield had won 1-0 at Blackburn in a Division 3 fixture but as he was unregistered and so ineligible to play the match was declared void and had to be replayed in March - Jim Brown again helping Chesterfield to a 1-0 victory, but this time it counted!
*********
When Tony Cottee made his League debut for Everton he was the most expensive purchase by a British club following his £2.2 million move from West Ham to Goodison. He needed to impress in his debut - and he did against Newcastle on August 27th 1988 scoring after 34 seconds and completing a hat-trick in Everton's 4-0 win.
*********
They say that the first rule of success is to make the most of every opportunity as it comes along. Eighteen-year-old Marcus Rashford only made the starting line-up for his Manchester United debut after team-mate Anthony Martial suffered an injury in the pre-match warm-up against FC Midtjylland on 25th February 2016. United started their Europa League Last 16 Second Leg tie at Old Trafford 2-1 down to the Danes and soon went a further goal behind but two goals from Rashford helped the Reds to a comfortable 5-1 victory on the night. Those goals saw him break a record held by George Best for over 50 years by becoming the youngest United player to score in European competition. Three days later he scored another two in the 3-2 Premier League victory over Arsenal at the Theatre of Dreams. Those goals brought him another record - the youngest player to score a goal on his League debut for Manchester United. By the end of those three days everyone had heard of Marcus Rashford. A legend in the making....time will tell!
*********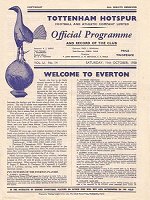 I'm sure that there has not been anyone making his managerial debut who would even have dreamed of making the debut that Bill Nicholson made. On Saturday 11th October 1958 in his first match in charge of Tottenham - in fact his first match as manager of any club - he saw his side defeat Everton 10-4 in a First Division match at White Hart Lane. So it was downhill from then on....!



*********
I'm sure that every player making a high-profile debut wants to be remembered for playing a blinder, but not always so. When Jimmy Bullard moved from Fulham to Hull City in January 2009 the £5 million the Tigers paid for him was a club record amount. He made his debut against West Ham in the Premier League on January 28th 2009 but lasted less than a hour before being forced off with a knee injury. And it it wasn't just an ordinary knee injury but a cruciate ligament problem which kept him out of first-team football until October 2009.
*********
Bob Blanthorne's debut for Newcastle United against Bradford City on the opening day of the 1908/09 League season was memorable for the wrong reason. It lasted just ten minutes before he broke his leg and that proved to be the only time he played in the first team in his two and a half years at the club.
*********
When Tom 'Pongo' Waring made his debut for Aston Villa in February 1928 it was for the reserves in a Central League match. But hardly low-profile though with the match at Villa Park being against local rivals Birmingham and a crowd of 23,667 witnessing him score a hat-trick in the 6-3 victory. He went on to become a Villa legend scoring 159 goals in 216 League appearances including a club record 49 League goals in the 1930/31 season.
*********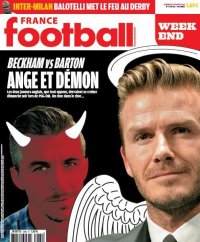 Every debut made by David Beckham hit the headlines, none more so than his first match for Paris St-Germain against Marseille on Sunday February 24th 2013. Saint David had agreed to donate his PSG pay to a children's charity while in the Marseille line-up was exiled English bad-boy Joey Barton. That was a gift for the headline writers and the front page of the leading French football mag billed the meeting as Beckham v Barton, Ange et Demon. It almost ended in anti-climax with Le Spice Boy not coming on as a sub until just 16 minutes from the end. But he got an assist in the second goal in PSG's 2-0 victory.
*********
Nowadays you would think that a player making his League debut would know everything about how he would fit into his own team and about the opposition. Such was not always the case. When Jack Charlton made his debut for Leeds United against Doncaster in April 1953 he waited in vain in the dressing room before the kick off for his manager Raich Carter to give him some guidance as what he should be doing in the match. As he was about to leave the dressing room he finally asked Carter what he wanted him to do. The manager thought for a moment and said 'See how fast their centre forward can limp.'
*********
Jimmy Greaves was another player who didn't receive any tactical advice before his League debut for Chelsea in 1957. Despite having managed Chelsea to the League title Ted Drake's pre-match encouragement was generally to wish the team 'All the best.' Mind you that didn't seem to hamper Jimmy Greaves. He scored on his League debut for Chelsea (against Spurs on August 23rd 1957) and made scoring debuts for every senior team he played for - England Under 23s (against Bulgaria on September 25th 1957), England (against Peru on May 17th 1959), AC Milan (against Botafogo on June 7th 1961), Spurs (against Blackpool on December 16th 1961) and for West Ham (against Manchester City on March 20th 1970).
*********

One player who did hear some invaluable words before his debut for Manchester City at Bolton on Saturday November 19th 1949 was goalkeeper Bert Trautmann. The former German prisoner-of-war was a figure of hatred when he first signed up at Maine Road but City captain Eric Westwood made him feel welcome - 'There's no war in this dressing room. We welcome you as any other member of staff. Make yourself at home...and good luck.' We went on to make 545 League and Cup appearances for Manchester City and became a folklore legend when injured in the 1956 FA Cup Final - footballing injuries.
*********
Some debuts seem a little strange don't they? An example was the debut of former Brazil World Cup captain Sócrates for his only English club on 20th November 2004. At the time he was 50, had been retired from playing for 15 years and he turned out for Garforth Town. He came on as a late sub in the Northern Counties East Football League match between Garforth and Tadcaster Albion and those 12 minutes proved to be the only time he turned out for his club. As the Garforth boss explained 'I decided not to play him in the next game because his warm-up had consisted of drinking two bottles of Budweiser and three cigarettes which we had in the changing rooms. I didn't think it was a good idea for him to carry on playing too much more though he was keen to."
*********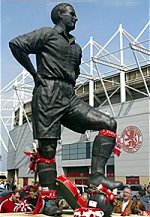 Things can get better.... When George Hardwick played his first match in the Football League - for Middlesbrough against Bolton at Ayresome Park on December 18th 1937 - he scored an own goal with his first touch of the ball in the first minute of the match! He later wrote in his autobiography, 'I wanted the hallowed turf to swallow me up and take me well away from the place.' He later went on to captain club and country and now has a statue to commemorate him at Middlesbrough's Riverside Stadium.
*********
When Ralph Brown played his first match for Aston Villa it was not only his debut but also the only first team match he played for the club. He finished on the losing but still picked an honour most footballers only dream of. He was in the side that lost 2-0 at Rotherham on Tuesday August 22nd 1961 in the first leg of the League Cup Final held over from the previous season. Without him Villa won 3-0 in the second leg to win the trophy which allowed him to be presented with a winners tankard (not medals in those days).
*********
Jonathan Woodgate signed for Real Madrid from Newcastle in August 2004 but injuries prevented him from making his competitive debut for Real until September 22nd 2005 against Athletic Bilbao. And what a debut it was - he scored an own-goal and was sent off after 65 minutes for his second yellow card. In 2007 he was voted the worst signing by a Spanish club in the 21st century.
*********
Another player who made a less than perfect debut was Jason Crowe. After replacing Lee Dixon in Arsenal's 4-1 Coca-Cola Cup victory over Birmingham in October 1997 he lasted just 33 seconds before being sent off by ref Uriah Rennie for a high tackle.
*********
After a £13,000 move from Bradford Park Avenue to Newcastle United Len Shackleton made his debut for the Magpies in a Division 2 match against Newport County on 5th October 1946 in front of a St James' Park crowd of 52,137. Despite missing a penalty within 90 seconds Newcastle proceeded to equal the highest score in Football League history with a 13-0 victory with new-boy Shackleton scoring six of them. A perfect debut or what!
*********
Swindon Town could hardly have hoped for a better debut in the Football League as in their first match in the competition, on Saturday August 28th 1930, they defeated Luton Town 9-1. The result is still their best League victory to this day. Mind you they soon came down to earth, losing the return Third Division fixture at Luton, played a week later, 0-2.
*********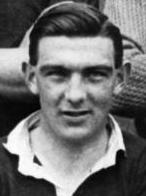 When New Brighton's Neil McBain made his League debut for the club in 1947 - then in Division 3 (North) - he made history. In his prime he was an excellent centre-half who had played three times for Scotland but his prime had long gone - he was 51 years and 4 months old when he made his debut, which was his only League appearance for the Merseyside club, as an emergency goalkeeper! McBain was manager of New Brighton and team selection problems meant that he had to select himself between the posts for the match at Hartlepools United on Saturday March 15th 1947. Hartlepools won 3-0 but McBain had an excellent match. Neil McBain made his first-class debut for Ayr United in 1915 which meant that his playing career spanned an amazing 32 years.
*********
Another golden oldie making his debut was Andy Cunningham in his first match for Newcastle United, against Leicester City in a Division 1 fixture at St James' Park on February 2nd 1929. At 38 years and 2 days old he was the oldest player ever to make his debut in the Football League. The Scottish international, a £2,300 buy from Rangers, later became Newcastle's player-manager and was probably the first player-manager to grace the top division.
*********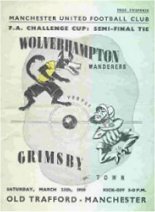 Goalkeepers seem to be getting plenty of mentions in this section. For a goalkeeper making his first team debut in an FA Cup semi-final against a club chasing the double and in front of a record crowd perhaps you he be hoping for a bit of luck - as well as a good defence in front of him! Sadly Grimsby Town's goalkeeper George Moulson luck deserted him when playing for the Mariners against Wolves in the semi-final on Saturday 25th March 1939 in front of a 76,962 Old Trafford crowd, still a record attendance for that ground. He only got his place in the side shortly before the match when regular keeper George Tweedy dropped out with a bout of flu but his debut lasted just 20 minutes before he was carried off with concussion after diving at the feet of Wolves forward Dickie Dorsett. With no substitutes in those days Grimsby put outfield player Jack Hodgson in goal but with 10 men they lost 5-0.
*********
Last but not least the story about a near debut! On November 23rd 2002 Manchester City manager Kevin Keegan was about to bring on as substitute the 20-year-old Joey Barton in the Premier League defeat against Middlesbrough at the Riverside Stadium for what would have been his senior debut. But then Barton discovered that he had lost his shirt! He had left it in the dugout at half time and it seems that a Boro fan had lifted it in his absence – and there was no spare!. The rules were clear, he had to wear a shirt with his squad number – 41 – on it to play and so without it it was Ali Benarbia who Keegan brought on as the sub. Joey Barton had to wait until April 5th 2003 before making his first team debut, against Bolton in the Premier League. And then a lot more stories followed!