DID YOU KNOW.....
THOSE WERE THE DAYS........(or were they?)
Football has a million and one stories and just as many facts and figures. Here are a few of them - the record-breaking, unusual and bizarre.
More Did You Knows...
Index
1 2 3 4 5 6 7 8 9 10 11 12 13 14 15 16 17 18 19 20
21 22 23 24 25 26 27 28 29 30 31 32 33 34
So why do fans support the club they support? In his autobiography Frank Skinner explains why he has always supported WBA.
'My birth certificate says I was born in the town of West Bromwich, in the area of West Bromwich, in the County Borough of West Bromwich. So when people ask me why I support West Bromwich Albion Football Club, I explain that my decision was based on the only criterion anyone should ever use when choosing a football club - geography. You sit with a pencil, a ruler, and a map, identify the nearest professional football club to your place of birth, you buy a scarf with their name on it and that's that.'
Nowadays the Registrar of Births must give out a Manchester United fan club application form instead of a birth certificate!
*********

In the same autobiography Frank Skinner described how he saw the game when he first became a supporter in the 1960s -

'Football was, at the time, an almost exclusively working-class male thing. The terraces, when I was a kid, were all about bad language, the smell of Woodbine cigarettes, a blind passion for your team, and for football in general, in that order.'
Fast forward to November 2000 and Manchester United captain Roy Keane had something to say about certain sections of the Old Trafford crowd after a Champions League match against Dynamo Kiev. It spawned the phrase 'the prawn sandwich brigade' to describe the corporate 'fans' who inhabit the hospitality boxes -

'Away from home our fans are fantastic. I'd call them the hardcore fans. But at home they probably have a few drinks and probably the prawn sandwiches and they don't realize what's going on out on the pitch. I don't think some of the people who come to Old Trafford can spell football, never mind understand it.'
*********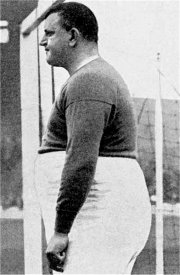 We tend to think nowadays that to be a top-class footballer involves being an athlete who can do a double back flip at a moments notice. Anyone slightly more robust than that stereotype gets the full blast of 'Who Ate All The Pies'. So, all of us who are a little bit more rounded should have as our hero one William 'Fatty' Foulke who was 6ft 4in tall and at his peak weighed in at around 22 stone. A goalkeeper, he played over 400 senior matches for Sheffield United, Chelsea and Bradford City between 1894/95 and 1906/07. He was both a good goalkeeper and a crowd-puller - at Sheffield United he won a League championship medal in 1898 and FA Cup winners medals in 1899 and 1902, playing once for England in 1897.

*********
Modern superstars misbehaving in their expensive supercars is now hardly news. But in January 2010 Chelsea's Ashley Cole received a 4-month driving ban and a £1000 fine having been caught driving at 104mph in a 50mph zone in his £150,000 Lamborghini Gallardo. Despite earning an estimated £80,000 per week his solicitor asked for 21 days to pay his fine!
Turn back the clock and things were slightly different. Duncan Edwards of Manchester United and England was regarded as the superstar of his generation before his tragic death at Munich in 1958. After playing in a local derby against Manchester City at Old Trafford in February 1955 he was caught by the police riding home on his bike without lights. He was fined five bob (25p) by the courts and two weeks wages by Manchester United for bringing their name into disrepute.
And some players couldn't even afford a bike it seems. A Wolves programme in August 1968 detailed the problems that goalkeeper Phil Parkes faced when getting from his West Bromwich home for training at Molineux when the buses weren't running. On one occasion 'Lofty' - he went on to play a total of 303 League games for Wolves - thumbed a lift. A cheese van was his first mode of transport, then a lorry to Bilston where he walked to Molineux arriving just 10 minutes late. Still I suppose he was lucky that the lorry driver wasn't a WBA fan or he might have found himself half way to Scotland before he stopped!
*********



Well, the 1974-75 season doesn't seem that long ago but it is a lifetime as far as admission prices are concerned. Back then a season ticket for the best seats at Chelsea's Stamford Bridge ground cost £62.50 - that was for 21 First Division home matches, all home FA Cup ties and all home reserve matches. Yes, in those days reserves were allowed to play their matches at their proper home rather than adopting the ground of a local non-league club. Nowadays you would pay the same amount for just one match but back then the best seats per match cost just £2.50, less than you would pay for a programme now. The rubbish seats cost less than a quid a match while adult admission to stand and watch a game - yes you could do that at Stamford Bridge in those days - was just 50p a match with kids at 25p. Is there anything you can buy at a football match for 50p now? And to get tickets you had to send a cheque by post with a return stamped addressed envelope - no internet or credit card payments. The 1974/75 season was a disastrous one for Chelsea, being relegated from the old First Division along with Carlisle United and Luton Town. Yes that's Carlisle and Luton - Chelsea really did rub shoulders with them once!
*********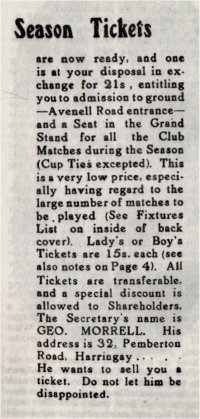 Sixty years before those prices, above, were being charged at Stamford Bridge Arsenal - then still Woolwich Arsenal - were advertising season tickets for their first season at Highbury. In their first match at Highbury - against Leicester Fosse in a Second Division fixture played on Saturday September 6th 1913 - their programme advertised stand season tickets for a guinea (21 shillings or £1.05 in real money). It would be a definite no-no now but ladies could buy the same tickets for just 15 shillings (75p) and to get them you contacted the club secretary, George Morrell, at his home address. No club official would surely give his home address in a current programme. A further discount on the season ticket price was allowed for shareholders and also publicised in the programme was how to buy shares. They cost just £1 each and you could buy them with four monthly payments. In August 2010 each Arsenal share was worth £10,250 - not a bad rate of return!
*********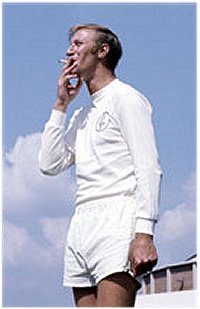 It's hard to believe that top-class footballers - or athletes in any sport - would also be smokers because of the health and moral objections. But a surprising number are, although the fact that they generally try to hide their habit is a victory for the anti-smoking lobby. In recent years footballers who have been caught smoking include Wayne Rooney, David Ginola, Paul Gascoigne, Zinedine Zidane, Fabian Barthez, Mario Balotelli, David James, Maradonna and William Gallas. Looking back a bit further in time World Cup winner Jack Charlton did little to hide his smoking while former Brazil captain Socrates - or more precisely Sócrates Brasileiro Sampaio de Souza Vieira de Oliveira - perhaps couldn't hide his habit as he was reputedly a 40-a-day man. Looking back further still there was a time when smoking was seen as glamorous and top footballers actually endorsed smoking. Amazingly Stanley Matthews was one of them. A teetotaller and a vegetarian he was fit enough to play football in the top flight at 50 years old but in the 1952/53 season - the one when he won his only major club honour - he endorsed Craven 'A' cigarettes. Although a non-smoker the advert quoted him as saying 'For a really satisfying cigarette that's kind to your throat give me Craven 'A' every time.' You can probably understand why cigarette advertising was banned!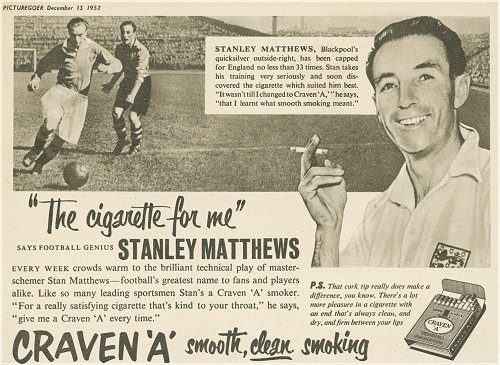 *********
Well OK, scoring a goal is always going to be worthy of a moment or two of celebration but the extent of those celebrations have certainly changed over the years. Nowadays its not just the kissing and cuddling but it is often the start of a choreographed routine which may well include a gymnastics display worthy of an Olympic event. As I write this Wayne Rooney is in trouble for swearing direct to a television camera as part of one of his goal celebrations.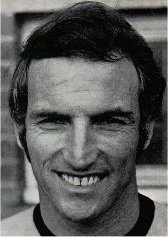 In contrast take a look at a DVD of a match from the fifties or sixties. The two things you would probably immediately notice? No diving and goal celebrations which consisted of nothing more than a handshake with the closest player at hand. Derek Dougan scored his first goal in the Football League for Portsmouth against Wolves at Fratton Park on Saturday 9th November 1957 and merely raised his arms above his head to celebrate - and didn't that cause a fuss! One journalist commented on his 'arms akimbo' display of histrionics and asked his manager, Eddie Lever, to comment. He said -
'It was the natural elation of a youngster scoring his first goal for his club. He's a bit of a showman, I'll admit, but there is nothing wrong with that.'
*********
Travelling to away matches? Nowadays definitely at least a luxury coach or perhaps by air. In the past? Before motorways came along away travel could be a nightmare. Jimmy Armfield made his debut for Blackpool at Portsmouth in 1954. This is how he remembered travelling to that match -
"We had to take the bus from Blackpool to Preston, then get a train from Preston to London, stay overnight in London, get up the next morning, get on a bus to Waterloo station where we took the train to Portsmouth, had lunch and went to Fratton Park. And by the time we got there, the gates were closed, it was a full house!"
*********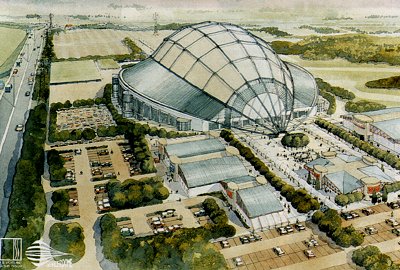 They say that the one thing every football fan needs is hope. Most of the things we hope for soon come to nothing and looking back its interesting to remember the things that were promised and just didn't happen. Take the Kohlerdome at Luton for example. Kenilworth Road is not the most inspiring of grounds and Luton fans have been promised a new ground on a regular basis. In 1995 a new 20,000 seater indoor stadium near the M1 was proposed. Known as the Kohlerdome - yes you have probably already guessed that the club chairman was one David Kohler! - the £30 million scheme also included a hotel, restaurants and and leisure facilities. Perhaps Hatters fans had every reason to be hopeful at the time - although recently relegated they had spent 10 seasons rubbing shoulders with the big boys in the old First Division and had made three recent FA Cup semi-final appearances and had won the League Cup. The reality? Well the ground didn't get planning permission and Luton are still playing at Kenilworth Road!
*********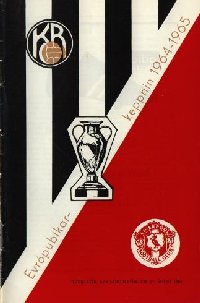 Monday August 17th 1964 saw Liverpool play their first match in European competition - a trip to Iceland to play KR Reykjavik in the Preliminary Round of the European Cup. Those were the days before clubs chartered an aeroplane to take them to away matches in Europe and Liverpool's trip to Iceland proved a bit long-winded. They flew from Liverpool to London and then from London to Prestwick in Scotland. They had a few hours to spare there so Liverpool manager Bill Shankly got them all on a bus and showed them the area he knew from his childhood - including a stop at the local Butlins holiday camp. They then flew on to Iceland. They won the match 5-0 although it is not known if any of the players were impressed enough by Butlins to book their summer holiday there!
*********
It is almost written into a players contract nowadays that they don't need to play more than once a week, but it wasn't always so. Take Arsenal in the 1904/05 season when Christmas was hardly a time of rest and enjoyment for footballers. They didn't play a match on Christmas day but did play First Division matches on December 24th, 26th, 27th, 28th and 31st with seven players playing in all five of those matches.
West Bromwich Albion were also a tad busy when they finished the 1911/12 season playing 7 matches in 10 days and two of those matches were FA Cup Finals, both of which went to extra time. WBA results 1911/12.
*********
Alf Ramsey's last match as England manager was the friendly international in Portugal in April 1974. He was forced to give six players their international debut (Trevor Brooking was one of them) because so many of his regulars had dropped out because of injury. Alf was not a happy man, complaining 'There is only one thing to do - punish the clubs concerned. If a player does not report for an international match or a training session, he should not be permitted to play for his club on the following Saturday.' Perhaps little has changed since but it is interesting to hear what one of the 'injured' players - Paul Madeley of Leeds - had to say in reply. 'Sir Alf once told me that unless I was 100 per cent fit I should drop out of the England squad. Who would be foolish enough to pass up the chance of earning £100.' Wow, £100 was considered important by an England international! Yes I have heard of inflation but in 2010 I was told by an autograph dealer that he had got Wayne Rooney to sign 1000 bits of memorabilia for £50 - that's £50 for each signature. Players from the 60s and 70s must have sleepless nights wishing they had been born 30 years later.
*********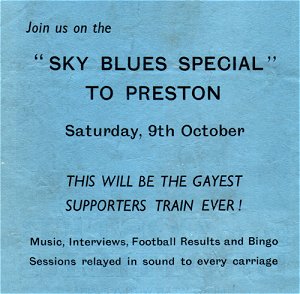 I was watching an old Hovis ad on tele the other night and thought that although it was over 10 years old it could just as well be televised today. Perhaps that is not always the case with old ads. Take an advert in the Coventry programme back in 1965 publicising a supporters club train (remember them - fare 24/-) to Preston. Perhaps the wording would be changed now....or not, as the case might be!

*********
Its common-place nowadays to find footballers on the front page of the tabloids for all the wrong reasons. Extra-marital affairs are rarely even newsworthy nowadays and players with serious problems with gambling, drugs and alcohol are sadly far too common. Its seems the norm to have serious gambling schools on coaches to away matches. It was reported that while on England duty in 2006 Wayne Rooney and Michael Owen fell out over a £700,000 gambling debt amassed by Rooney while Matthew Etherington regularly lost his £20,000 a week wages gambling on the coach while at West Ham, he estimated his total betting losses at £1.5 million. Worst of them all was Paul Merson who estimated his gambling losses at £7 million. It has made life easy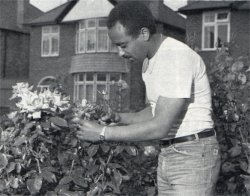 selecting titles for autobiographies - which include Rock Bottom (Paul Merson) and Addicted (Tony Adams).
OK, the past was never innocent but it certainly had a more innocent air about it. Take a look at an article on Pedro Richards in 1981 when he was with Notts County in the old First Division. In it batchelor Richards said -
'Tomatoes are my specialty and my lettuces are not bad, either. I enjoy messing about in the garden when I've go a bit of time to spare and I'm also into Yoga. I've read books on the subject and find it interesting.'
Perhaps today's footballers should get a fork and spade with their wage-packet!
*********
When Moses Russell signed for Plymouth Argyle in 1914 even though a club record transfer fee was paid - £400 - he still had to decorate his new house before he moved. This he and a friend duly did and when fully decorated the pair discovered something important - wrong house!
*********
So, do you enjoy the pre-season friendlies? If you support a smaller club perhaps you will have a home match against a Premier League reserve side to look forward to. Supporters of bigger clubs may not even get a home match to see before the start of the competitive season with their clubs perhaps selling the 'brand' in the US or Asia. Not so 50 years or more ago. One of the most eagerly-awaiting fixtures of the season was the pre-season public trial match. All the new signings were on show and every player had something to play for - a place in the first team! And this happened at grounds large and small up and down the country. On the Saturday before the start of the 1955/6 Football League season - Saturday August 13th 1955 - Old Trafford staged a Reds v Blues public trial match where everyone played at least 45 minutes. Just look at some of those names - if that match could be played today Sky would pay a fortune to televise it!