DID YOU KNOW.....
FLOODLIGHTS
Football has a million and one stories and just as many facts and figures. Here are a few of them - the record-breaking, unusual and bizarre.
More Did You Knows...
Index
1 2 3 4 5 6 7 8 9 10 11 12 13 14 15 16 17 18 19 20
21 22 23 24 25 26 27 28 29 30 31 32 33 34
The first football match ever played under floodlights took place at Bramall Lane, Sheffield, on Monday 14 October 1878 between two local representative sides. It was a great success with 12,000 paying to enter to witness the spectacle and probably another 8,000 sneaking in under the cover of darkness. Two 8-horsepower generators behind each goal powered floodlights mounted on 30ft towers located in each of the corners. Only the pitch was lit and not the entrances which explains why so many were able to get in without paying. The crowd was a record for a football match in England - by contrast the FA Cup final played a few months earlier had an attendance of only 4500.
*********
Despite the success of that match the lack of any official encouragement meant floodlit football was limited to exhibition fixtures. The first floodlit match that is believed to have had any official sanctioning was played at Mansfield's Field Mill ground on Saturday 22nd February 1930. But it was not one of the major fixtures of the footballing calendar - Ollerton Forest v Welbeck Athletic in the final of the North Nottinghamshire Senior Cup. However in August 1930 the FA banned floodlit football, even rebuking Watford for switching on the trackside lighting used for greyhound racing during a match in December 1930.
*********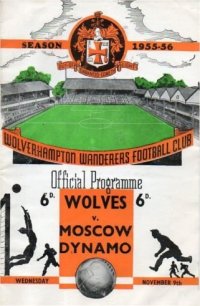 The FA ban remained in place until December 1950 although a month later they added a qualifying clause which stated that no competitive match could be played under lights without permission of the FA or the County FA and the organisers of the competition. But clubs began to see the importance of floodlights. Swindon Town became the first League side to install floodlights - their first match a friendly against Bristol City on Monday 2nd April 1951. Arsenal soon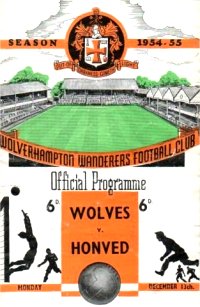 followed with the first match under the Highbury lights taking place on Wednesday 19th September 1951 when 40,000 attended a friendly against Hapoel Tel Aviv. But it was Wolves, who switched their lights on in a friendly against South Africa on Wednesday 30th September 1953, who did the most to further the cause. Friendlies against clubs such as Honved, Moscow Spartak and Moscow Dynamo were to show that the paying public had an appetite for floodlit football and for fixtures against top-class foreign opposition. European competitive football was not far away.
*********
Following the lifting of the FA ban the first competitive fixture played under floodlights was at the Dell on Monday 1st October 1951 when Southampton Reserves played Spurs Reserves in the Football Combination.
The first FA Cup tie to be played under floodlights was a Preliminary Round replay between Kidderminster Harriers and Brierley Hill Alliance played on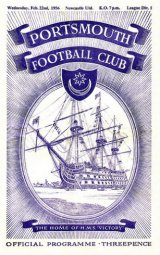 Wednesday 14th September 1955.
Two months later the first FA Cup match involving League sides was played at St James' Park, Newcastle, on Monday November 28th 1955 when Carlisle United met Darlington in the second replay of a First Round tie (results).
It wasn't until the League AGM in June 1955 that the Football League changed its rules to allow League matches to be played under lights, the first such match being at Fratton Park on Wednesday 22nd February 1956 when Portsmouth entertained Newcastle in a First Division fixture.
*********
The last club to play in the Football League without floodlights were Chesterfield. The Spireites finally switched on their lights in a friendly against Sheffield Wednesday on Wednesday 18th October 1967. The last club to play in the top flight without floodlights was Fulham who played their first floodlit match at Craven Cottage on Wednesday September 19th 1962 when defeating Sheffield Wednesday 4-1 in a First Division encounter.
*********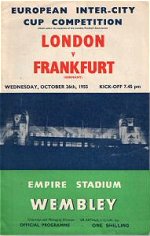 Considering that it is our national Stadium, Wembley was a tad slow to adopt floodlighting. They were installed at a cost of £22,000 with the first match under floodlights being an Inter-Cities Fairs Cup match between London and Frankfurt on Wednesday October 26th 1955 (results).

England played under the Wembley lights for the first time for the final 15 minutes of their friendly against Spain on Wednesday November 30th 1955. Amazingly England didn't play a full 90 minutes under the Wembley floodlights until they played Northern Ireland in a Home International match on Wednesday November 20th 1963, which England won 8-3.

England's first match under floodlights though wasn't at Wembley but in the US of A on Monday 8th June 1953 at New York's Yankee Stadium. Two goals apiece from Tom Finney and Nat Lofthouse helped England to a 6-3 victory over the United States.
*********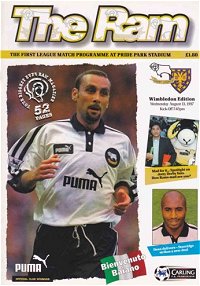 Derby County's programme cover for the Premier League match against Wimbledon on Wednesday August 13th 1997 proudly announced that it was the first League match at their newly-opened Pride Park ground. But pride turned to embarrassment when the floodlights failed after 11 minutes of the second half when Wimbledon were leading 2-1. Ref Uriah Rennie abandoned the match half an hour later after attempts to resolve the problem proved unsuccessful. Derby Vice-Chairman Peter Gadsby said: 'We had 11 maintenance people on duty including six electricians but nobody has yet worked out why both generators failed. There was a bang of such strength that it fused them both.'
Three months later, on November 3rd 1997, another Premier match suffered an abandonment because of floodlight failure. The Monday night televised match between West Ham and Crystal Palace went dark immediately after Frank Lampard's 65th minute goal for the Hammers which had made the score 2-2. Again attempts to restart the match failed and ref David Elleray was forced to abandon the fixture. West Ham managing director Peter Storrie said 'The floodlights at the south end contracted a fault which was impossible to find in the timescale. As this end controls the floodlights for both ends of the ground, this is why the whole system went down.'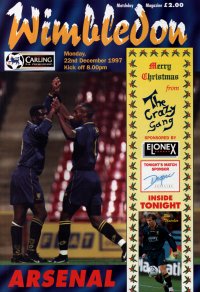 Amazingly the following month the same happened again. At Selhurst Park on Monday December 22nd 1997 a failure of the switch gear controlling the ground's power supply seconds into the second half of the Premier League match between Wimbledon and Arsenal caused a blackout. Engineers managed to briefly restore power but the supply failed again before play restarted forcing ref Dermot Gallagher to abandon the televised match with the score 0-0.
Wimbledon owner Sam Hammam commented on the three abandonments 'This shouldn't be happening. Once was bad enough, the second wasn't pretty, and this is getting near a disaster. Unless we stop it there will be shame on the game. We are all embarrassed by it.' Foul play was suspected but police could find no evidence of wrong-doing. Until February of 1999 that is.
Police were made aware of an attempt to install a remote control device which would have interfered with the floodlights at the Charlton v Liverpool Premier League match at the Valley on February 13th 1999. An investigation concluded that a Malaysian-betting syndicate was behind the floodlight failures at West Ham and Wimbledon and the incident at Charlton - but could find no link with the problem at Pride Park. Betting on Premier League matches is big business in Asia and unlike in Britain, where bets on the result of an abandoned match are void, in Asia the score stands in matches that survive to the second half before being abandoned. So there was a potential profit of millions of pounds if a match could be ended in the second half when there was a favourable scoreline for floodlight saboteurs. Wai Yuen Liu, Eng Hwa Lim and Chee Kew Ong plus Charlton security supervisor Roger Firth were all found guilty of conspiracy to cause a public nuisance and jailed. And from then on floodlights became a bit more reliable!
*********
Huddersfield Town left it late to install floodlights at their old Leeds Road ground and it was only after they sold Denis Law to Manchester City in 1960 for a then British record transfer fee of £55,000 that they decided to invest some of that fee in floodlighting. Their first match under lights was an FA Cup Cup 3rd Round replay against Wolves on January 11th 1961 but a little over a year later - in February 1962 - a gale blew down two of the pylons with one landing on the pitch.
*********
Question:
Which former Football League ground had three traditional floodlight pylons and then this one, attached to the top of a stand?
Click for answer
*********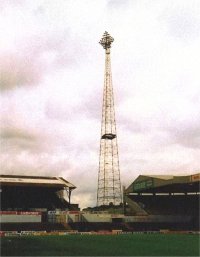 There was a time when finding a football ground was straightforward enough - four floodlight pylons made navigation very easy. The easiest ground of them all to find was the Elland Road home of Leeds United. Because of the various Leeds stands the pylons were built outside the ground and so each had to be nearly 260 feet tall - the tallest in the League and reputedly the tallest in Europe (pictured). They came down after the East Stand was opened in 1993 which had - as in most modern grounds - floodlights along the roof of the stands. I'm sure its no coincidence that sat-navs needed to be invented when when we started losing floodlight pylons!
*********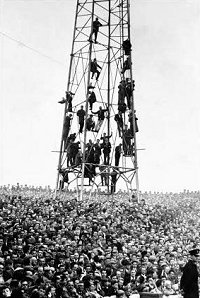 Floodlight pylons weren't just useful for navigation but as these Cardiff City fans at Ninian Park in 1961 show they were also a useful platform for watching the match. Obviously long before 'Health and Safety' was invented!
*********
When Cheltenham Town, then in the Southern League, installed floodlights at their Whaddon Road ground in the early 1950's their neighbours weren't too chuffed. When the floodlights were switched on all the houses in the area of the ground lost power! And it wasn't because the ground was brilliantly illuminated. The lights were only 20 feet or so from the ground so every time the ball was kicked higher from that it disappeared from view with players having to anticipate where it would reappear!
*********
The Manchester United junior sides were playing floodlit matches at the club's Cliff training ground long before floodlights were installed at Old Trafford. Such was the novelty of those floodlit matches a vital clue was given in the programme as to how it could be read after the evening darkness had descended - 'To read - hold programme to light'. Now we know!