* The Charity Shield match against Burnley was drawn and the clubs held the trophy for 6 months each - (match details)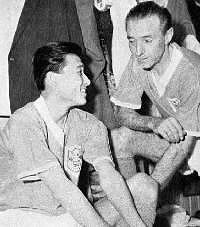 ** The Blackpool v Wolves First Division match at Bloomfield Road on Saturday January 14th 1961 was abandoned after 9 minutes play due to fog - match void. That match saw the first Chinese-born player playing in the Football League with Blackpool's Cheung Chi Doy making his first team debut but with the match being voided that achievement was scrubbed from the record books. He did however make his official debut the following Saturday but then played just once more in the first team (scoring a goal against Sheffield Wednesday in November 1961) before moving on from Bloomfield Road.
The Football League Cup was played for the first time in the 1960/61 season but Wolves did not enter the competition.