1931/32 F.A. Charity Shield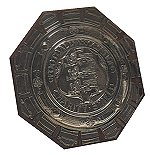 Wednesday 7th October 1931
Venue: Villa Park, Aston Villa FC
Arsenal 1
(Bastin)
West Bromwich Albion 0

Half-time 0-0
Attendance: 21,276
The Charity Shield match was between 1930/31 Football League champions, Arsenal, and 1930/31 FA Cup winners West Bromwich Albion.
Arsenal: C Preedy, T Parker, E Hapgood, C Jones, H Roberts, A Haynes, J Hulme, D Jack, J Lambert, A James, C Bastin.

West Bromwich Albion: H Pearson, G Shaw, H Trentham, T Magee, W Richardson, J Edwards, T Glidden, H Raw, W Richardson, E Sandford, S Wood.