1932/33 F.A. Charity Shield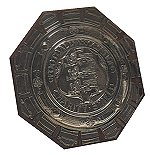 Wednesday 12th October 1932
Venue: St James' Park, Newcastle United FC
Everton 5
(Dean 4, Johnson)
Newcastle United 3
(McMenemy 2, Boyd)
Half-time 3-1
Attendance: 15,000
The Charity Shield match was between 1931/32 Football League champions, Everton, and 1931/32 FA Cup winners Newcastle United.
Everton: E Sagar, B Williams, W Cresswell, C Britton, T White, J Thomson, E Critchley, J McGourty, D Dean, T Johnson, J Stein.

Newcastle United: M Burns, J Nelson, D Fairhurst, D Bell, D Davidson, S Weaver, J Boyd, J Richardson, J Allen, H McMenemy, T Lang.