1934/35 F.A. Charity Shield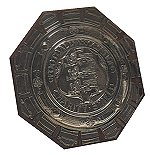 Wednesday 28th November 1934
Venue: Highbury, Arsenal FC
Arsenal 4
(Birkett, Marshall, Drake, Bastin)
Manchester City 0

Half-time 2-0
Attendance: 10,888
The Charity Shield match was between the 1933/34 Football League champions, Arsenal, and the FA Cup winners of 1933/34, Manchester City.
Arsenal: F Moss, C Male, E Hapgood, F Hill, N Sidey, W Copping, R Birkett, J Marshall, T Drake, R John, C Bastin.
Manchester City: F Swift, W Dale, L Barnett, M Busby, S Cowan, J Bray, E Toseland, J McLuckie, S Tilson, J Heale, E Brook.