1935/36 F.A. Charity Shield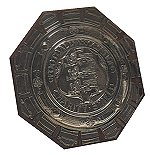 Wednesday 23rd October 1935
Venue: Highbury, Arsenal FC
Sheffield Wednesday 1
(Dewar)
Arsenal 0

Half-time 0-0
Attendance: 13,500
The Charity Shield match was between the 1934/35 Football League champions, Arsenal, and the FA Cup winners of 1934/35, Sheffield Wednesday.
Sheffield Wednesday: J Brown, J Nibloe, A Catlin, R Rhodes, W Millership, H Burrows, M Hooper, R Starling, N Dewar, R Bruce, E Rimmer.
Arsenal: A Wilson, C Male, E Hapgood, F Hill, B Joy, W Copping, J Milne, W Crayston, J Dunne, R Davidson, C Bastin.