1938/39 F.A. Charity Shield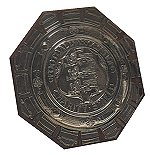 Monday 26th September 1938
Venue: Highbury, Arsenal FC
Arsenal 2
(Drake 2)
Preston North End 1
(R Beattie)
Half-time 2-0
Attendance: 35,000
The Charity Shield match was between the 1937/38 Football League champions, Arsenal, and the FA Cup winners of 1937/38, Preston North End.
Arsenal: G Swindin, G Male, L Compton, W Crayston, B Joy, W Copping, A Kirchen, L Jones, E Drake, B Jones, H Cumner.
Preston North End: G Holdcroft, F Gallimore, A Beattie, W Shankly, R Batey, J Milne, T McGibbon, G Mutch, J Dougal, R Beattie, J Maxwell.