1948/49 Charity Shield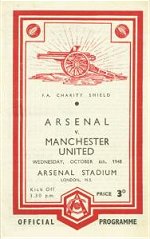 Wednesday 6th October 1948
Venue: Highbury, Arsenal FC
Arsenal 4
(Lewis 2, Jones, Rooke)
Manchester United 3
(Rowley, Burke, Mitten)
Half-time 4-2
Attendance: 31,000
The Charity Shield match was between 1947/48 Football League champions, Arsenal, and 1947/48 FA Cup winners Manchester United.
Arsenal: G Swindin, W Barnes, L Smith, A Macaulay, L Compton, J Mercer, D Roper, J Logie, R Lewis, R Rooke, B Jones.
Manchester United: J Crompton, J Carey, J Aston, J Anderson, A Chilton, J Warner, J Delaney, J Morris, R Burke, J Rowley, C Mitten.