1956/57 Charity Shield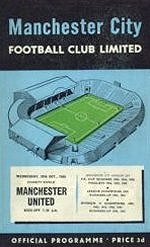 Wednesday 24th October 1956
Venue: Maine Road, Manchester City FC
Manchester United 1
(Viollet)
Manchester City 0
Half-time 0-0
Attendance: 30,495


The Charity Shield match was between 1955/56 Football League champions, Manchester United, and 1955/56 FA Cup winners Manchester City.
Manchester United: R Wood (sub: J Gaskell), W Foulkes, R Byrne, E Coleman, M Jones, D Edwards, J Berry, W Whelan, T Taylor, D Viollet, D Pegg.
Manchester City: J Savage, W Leivers, R Little, D Revie, D Ewing, R Paul, F Fagan, J Hayes, R Johnstone, J Dyson, R Clarke.