1969/70 Charity Shield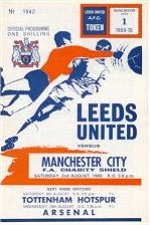 Saturday 2nd August 1969
Venue: Elland Road, Leeds United FC
Leeds United 2
(Gray, Charlton)
Manchester City 1
(Bell)

Half-time 0-0
Attendance: 39,835
The Charity Shield match was between 1968/69 Football League champions, Leeds United, and 1968/69 FA Cup winners Manchester City.
Leeds United: G Sprake, P Reaney, T Cooper, B Bremner, J Charlton, N Hunter, P Madeley, A Clarke, M Jones (sub: P Lorimer), M Giles, E Gray.
Manchester City: J Corrigan, T Book, G Pardoe, M Doyle, T Booth, A Oakes, M Summerbee, C Bell, F Lee (sub: D Connor), N Young, A Coleman.