1973/74 Charity Shield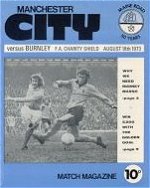 Saturday 18th August 1973
Venue: Maine Road, Manchester City FC
Burnley 1
(Waldron)
Manchester City 0


Half-time 0-0
Attendance: 23,988
The Charity Shield hit something of a low-point with both the 1972/73 League champions (Liverpool) and FA Cup winners (Sunderland) not taking part in the new-season curtain raiser. Manchester City, who finished mid-table in the First Division, took on Second Division champions Burnley. It was the last match staged at a League ground with the match moving to Wembley the following season in a bid to regain its importance in the calendar.
Burnley: A Stevenson, M Docherty, K Newton, J Dobson, C Waldron, J Thomson, G Nulty, F Casper, P Fletcher, J Collins, L James.
Manchester City: J Corrigan, T Book, W Donachie, M Doyle, T Booth, A Oakes, M Summerbee, C Bell, D Law, F Lee, R Marsh.