1984/85 Charity Shield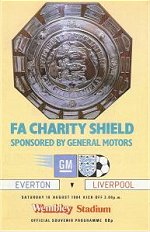 Saturday 18th August 1984
Venue: Wembley Stadium
Everton 1
(Grobbelaar og)
Liverpool 0

Half-time 0-0
Attendance: 100,000
The Charity Shield match was between 1983/84 Football League champions, Liverpool, and 1983/84 FA Cup winners Everton.
Everton: N Southall, M Stevens, J Bailey, K Ratcliffe, D Mountfield, P Reid, T Steven, A Heath, G Sharp, P Bracewell, K Richardson.
Liverpool: B Grobbelaar, P Neal, A Kennedy, M Lawrenson, R Whelan, A Hansen, K Dalglish, S Lee (sub: P Walsh), I Rush, S Nichol, J Wark.