Leading League goalscorer:
Paul Benson
(Dagenham & Redbridge)
28 League goals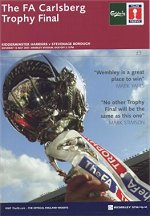 It didn't take long for Conference sides to test out the new Wembley Stadium. The first cup final to be decided at the revamped national stadium saw an all-Conference final with Stevenage Borough beating Kidderminster Harriers 3-2 to take the FA Carlsberg Trophy. The crowd of 53,262 was a record for the competition.

The following weekend Morecambe beat Exeter City at Wembley in the Conference play-off final to book their place in the Football League for 2007/08.
Barrow defender
James Cotterill became the first English professional player to be jailed for causing an injury during a match.
(Crime & Punishment)
Southport and Tamworth were relegated to the Conference North and St Albans to the Conference South. Altrincham escaped relegation as Boston United dropped from the Football League to the Conference North.
Histon (champions) and Salisbury City (play-offs) were promoted from the Conference South into the Conference for 2007/08 while Droylsden (champions) and Farsley Celtic (play-offs) were promoted from the Conference North.