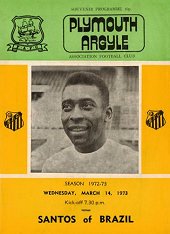 * Only rarely do I include friendly matches in club results but a meeting between Third Division Plymouth and mighty Santos of Brazil - including Pelé - is always going to be worthy of a mention. But the match almost didn't take place. Minutes before kick-off and with Home Park packed to the rafters with 37,639 fans the Brazilians demanded another £2500 over and above the agreed match fee - or no match. Argyle paid under protest.
Plymouth made the perfect start with a Mike Dowling goal after just three minutes with Derek Rickard and Jimmy Hinch adding two more to gave the Pilgrims a 3-0 lead at the break. The Brazilians produced the magic in the second half with goals from Pelé - a penalty - and Edu but it ended 3-2 to Plymouth. Only a friendly, but surely one of the most memorable matches in their history.
Plymouth Argyle: Furnell (Aleksic), Provan, Sullivan, Hore, Saxton, Hague, Dowling, Rickard; Hinch (Davey), Latcham, Welsh.
Santos: Claudio, Alberto, Murias, Hermes, Leo, Marcal, Jair, Brecha (Pitico), Pitico (Vincente), Alcindo, Pelé, Edu.