Leading League goalscorer:
Trevor Senior
(Reading)
36 goals
In the third season of three points being awarded for a win, York City become the first club to amass a century of points in a League season.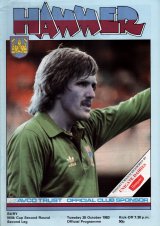 Famous last words - Bury manager Jim Iley said before his sides' Milk Cup visit to West Ham on Tuesday 25th October 1983 'West Ham will certainly know they've been in a match. We're going there to win.'
Bury lost 0-10.
Iley was sacked 4 months later.