1933/34 F.A. Charity Shield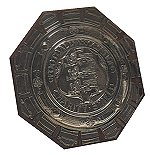 Wednesday 18th October 1933
Venue: Goodison Park, Everton FC
Arsenal 3
(Birkett 2, Bowden)
Everton 0

Half-time 1-0
Attendance: 20,000
The Charity Shield match was between 1932/33 Football League champions, Arsenal, and 1932/33 FA Cup winners Everton.
Arsenal: F Moss, C Male, E Hapgood, C Jones, N Sidey, R John, R Birkett, E Coleman, E Bowden, A James, F Hill.

Everton: E Sagar, W Cook, W Bocking, C Britton, C Gee, J Thomson, A Geldard, J Dunn, T White, T Johnson, J Stein.