Leading League goalscorer:
Steve Howard
(Luton Town)
24 goals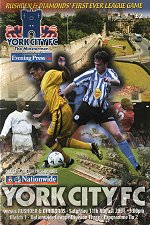 Just 9 years after they were formed following the merger of Rushden Town and Irthlingborough Diamonds, Rushden & Diamonds made a winning start to their Football League membership with a 1-0 victory at York City on August 11th 2001.
When The Right Reverend Richard Harries, the Bishop of Oxford, held a small blessing ceremony in November 2001 at Oxford United's new Kassam Stadium he might have thought it was just a bit of a PR job. Little did he realise the power of a good story. The Kassam Stadium appeared to have a gypsy curse on it (don't all grounds seem to have them!), Oxford had won only 4 of their 16 League matches prior to the ceremony and the blessing had included the phrase 'Bless this place and protect it from evil'. So the news was it was a full-blown exorcism of the curse. One unhappy Bishop and perhaps his curse was added to the gypsy one.