Leading League goalscorer:
Sylvain Ebanks-Blake
(Wolverhampton Wanderers)
25 goals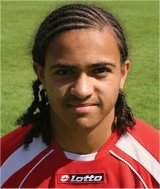 Reuben Noble-Lazarus became the youngest player to play in the Football League when he came on as a sub for Barnsley at Ipswich Town on Tuesday 30th September 2008. At 15 years 45 days old he bettered the previous record by 113 days.
Attendances are on the up with a total of 9,877,552 attending the 552 Championship games at an an average of 17,894 a match. Once again it is the 4th most-watched league in Europe. Only the Premier League, Germany's Bundesliga and Spain's La Liga doing better with Serie A lagging well behind the Championship.
Sheffield Wednesday did a League double over neighbours Sheffield United - the first time they had done that since the 1913/14 season.