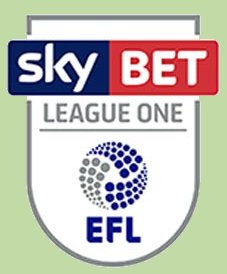 Northampton Town extended their unbeaten League record to September 17th 2016 when Chesterfield beat them 3-1. Their unbeaten run had lasted 31 games with their last League reverse being on December 19th 2015. They were also to lose their next match - although that defeat against Manchester United in the League Cup was watched by a record crowd at Sixfields - 7798.
The League 1 match between Bradford City and Bristol Rovers was halted for several minutes when ref Andy Haines took the players off the pitch for health and safety reasons - a drone was flying over the pitch! It's not going to be the last one is it?
AFC Wimbledon were formed in June 2002 by fans of Wimbledon FC after that club had decided to up-sticks and move to Milton Keynes to become MK Dons. AFC started life in tier nine of English football but by 2016/17 both clubs were in League 1 and on Sunday October 9th - when AFC won at Oxford and MKD lost at home to Port Vale - for the first time the phoenix club were above the original club in the League table. AFC were in 10th spot in League 1, one point and two places higher than MKD.