Leading League goalscorer:
Mark Bright
(Crystal Palace)
25 goals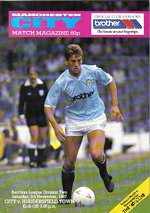 Less than a month after being appointed manager, Malcolm Macdonald watches his Huddersfield Town side lose 10-1 against Manchester City at Maine Road. Paul Stewart, Tony Adcock and David White each scoring a hat-trick for the home side. It was the last time that a club scored 10 or more in a League match. A couple of months later the same two clubs were back at Maine Road for an FA Cup tie - that time it ended 0-0!
Millwall finished as champions and earned themselves a place in Division 1 for the first time in their history. Also automatically promoted were Aston Villa after one season out of the top flight. They didn't do it the easy way though, not managing a home League victory until their 8th attempt.