11th October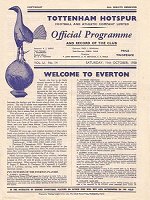 Football On This Day – 11th October 1958
Bill Nicholson started his new career as a manager on this day and watched his Spurs side beat Everton 10-4 in a First Division match at White Hart Lane. Not a bad debut!
Link - Debuts
Link - Tottenham results 1958/59


Football On This Day – 11th October 1994
Northampton Town were the last League side to have its home at a cricket ground. The football pitch at the County Ground had the reputation of having the worst playing surface in the League, largely the result of the pitch being used as a spectator area/car park/picnic area during the cricket season, as shown in the picture. The Cobblers played their last match there on Tuesday October 11th 1994, a 0-1 Division 3 defeat by Mansfield Town. Four days later they drew 1-1 with Barnet in their first match at the Sixfields Stadium.
Link - Football & Cricket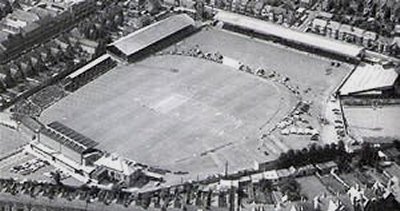 Football On This Day – 11th October 2014
The two goalkeeping subs named for the League 2 match between Carlisle United and Stevenage had a combined age of 95. An injury crisis saw the Stevenage goalkeeping coach, former England international Dave Beasant, on the subs bench 11 years after retiring from playing – at the age of 55! Tony Caig, Carlisle's goalkeeping coach, was the Carlisle sub but being a mere 40 years old had been a regular on the Carlisle bench. Had he played, Dave Beasant would have been the oldest person to play in the Football League but as it was neither of the senior citizens took part in Carlisle's 3-0 victory.
12th October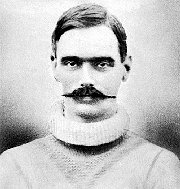 Football On This Day – 12th October 1912
Legendary Notts County goalkeeper Albert Iremonger was not too chuffed when the referee abandoned a First Division match at Tottenham due to fog with just 8 minutes remaining. Notts were 3-1 up at the time and were heading for their first League win of the season. The 6ft 5in goalkeeper's 'offensive remarks' to the referee saw him pick up a three match ban. When he started that ban two weeks later it ended an amazing run - he had been ever-present in the first team since February 9th 1907. In those 5+ years he had made 222 consecutive first team appearances for Notts County, 211 in the First Division and 11 in the FA Cup. That is still a Notts County club record.
Link - Abandoned matches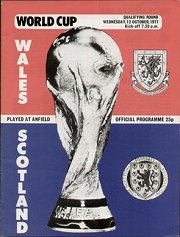 Football On This Day – 12th October 1977
Scotland beat Wales in a World Cup qualifier to reach the 1978 World Cup finals in Argentina - and were the only British nation to qualify. Scotland's 2-0 win was helped along by a hotly-disputed penalty and the choice of venue. After crowd problems at an Wales match at Cardiff's Ninian Park the Welsh FA decided to stage the home match 'abroad' at Liverpool's Anfield Stadium rather than in Wrexham. Their were so many members of the Tartan Army in the 50,850 Anfield crowd it almost seemed to be an away match for the Welsh.
Football On This Day – 12th October 1996
Aston Villa's goalkeeper Mark Bosnich hadn't been a favourite of Tottenham Hotspur fans following a clash between the Australian 'keeper and Jurgen Klinsmann of Spurs at Villa Park in January 1995. Klinsmann was knocked unconscious in the Premier League fixture. When the clubs met in another Premier League match in October 1996, at White Hart Lane, Spurs fans chanted the name of Klinsmann every time Bosnich touched the ball. In response Bosnich did a Nazi salute directed at the home fans. With Spurs having a deep Jewish heritage there was immediate outrage at the incident and later football fans generally condemned the actions of Bosnich. Complaints from fans saw the Australian interviewed by police and charged with misconduct by the FA for which he was later fined £1000 and warned about his future conduct.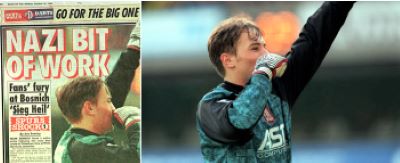 13th October

Football On This Day – 13th October 2001
In an attempt to increase interest in the club Brentford gave free admission to everyone who attended their Second Division match against Peterborough United on Saturday October 13th 2001. The 11,097 crowd (who would have paid about £70,000 if they had all been charged for entrance) was about twice the size of the previous home gate but sadly was also twice the size of their next game at Griffin Park. It was a season of nearly but not quite for Brentford finishing one point short of automatic promotion and then being beaten by Stoke in the Play Off final at the Millennium Stadium in Cardiff.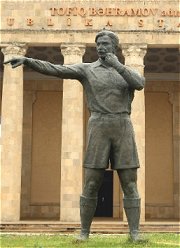 Football On This Day – 13th October 2004
Tofiq Bahramov will always be remembered with affection by England fans - he was the linesman who helped get awarded the controversial England third goal in the 1966 World Cup final. When his native Azerbaijan gained independence from the Soviet Union their national stadium was renamed in his honour complete with a statue erected outside. England visited the stadium for the first time on this day in 2004 for a World Cup qualifier with captain Michael Owen scoring the only goal of the match.

14th October

Football On This Day – 14th October 1997
Jason Crowe didn't make the best of debut's for Arsenal in their 4-1 Coca-Cola Cup victory over Birmingham at Highbury. His debut lasted just 33 seconds before ref Uriah Rennie sent him off for a high tackle.
Link - Debuts
Football On This Day – 14th October 2006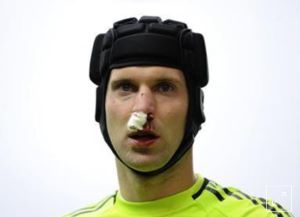 Chelsea gained a 1-0 Premier League victory over Reading at the Madjeski Stadium in a match not likely to be forgotten by anyone present that Saturday afternoon. In the first minute Chelsea 'keeper Petr Cech collided with Stephen Hunt, the Reading midfielder's right knee hitting Cech's head which resulted in the Czech 'keeper being stretchered off. Substitute 'keeper Carlo Cudicini took his place but in added time he too was stretchered off, unconscious, after a collision with Ibrahima Sonko. Chelsea captain John Terry took over in goal for the closing seconds of the fixture which saw Chelsea down to 9 players as Mikel John Obi had been sent off earlier, as had Reading's Andre Bikey. Reading's Ivar Ingimarsson scored the only goal of the match - an own goal - to give Chelsea the 1-0 win and end Reading's 14 month unbeaten home record. The injury to Petr Cech was initially believed to be concussion but was later found to be a potentially life-threatening depressed skull fracture. But the Czech goalkeeper was back in action for Chelsea again in January 2007 wearing what became a trademark headguard. Mind you that caused him a bit of strife with the Chelsea kit providers in the early days - the headguard wasn't one of theirs!

15th October
Football On This Day – 15th October 1887
The date of one of the best-known scorelines in the FA Cup - Preston North End 26 Hyde United 0 in a First Round tie at Deepdale. Not only was it the top score in the FA Cup but also the highest score in a senior match in England. Preston were the top-dogs of the day. They played in eight FA Cup matches that season (one was declared void) scoring 56 goals with Jimmy Ross himself scoring 20 of them, 8 of them in the Hyde match. They reached the final and legend has it they were so confident of victory they asked to have a picture taken of them with the FA Cup before the match was played. Referee Major Marindin said 'Had you better not win it first?' and of course Preston were beaten 2-1 by West Brom!
Football On This Day – 15th October 1892
Manchester United - then known as Newton Heath - played their first matches in the Football League at the start of the 1892/93 season. The Heathens didn't make the best of starts to their League membership not managing a victory in their first six First Division matches of the season which included a 6-0 reverse at Everton. Then in the seventh match they entertained Wolves at their North Road, Newton Heath, ground - and won 10-1. It still ranks as the highest goals for figure for United and worst goals against figure for Wolves in their respective League histories. Newton Heath only managed five more League wins in 1892/93 and finished the season bottom of the table!
Link - all the tables and results of Manchester United in the Football League.


16th October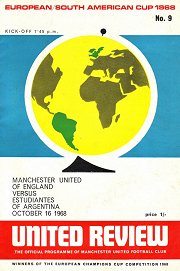 Football On This Day – 16th October 1968
The first attempt by an English side to win the Intercontinental Cup ended the same way as had Celtic's try the previous season - in a bad-tempered defeat by the champions of South America. After losing 1-0 in the first leg in Argentina - Nobby Stiles was sent off - European champions Manchester United met Estudiantes in the second leg in front of 63,500 at Old Trafford on this day in 1968. Juan Ramón Verón - the father of future United player Juan Sebastián Verón - scored for the visitors in the opening minutes, George Best was sent off and Willie Morgan equalised in the closing seconds so Estudiantes won the trophy 2-1 on aggregate.

Football On This Day – 16th October 2002
A gaffe from England's David Seaman brought more criticism for the Arsenal 'keeper when he allowed Macedonia's Artim Šakiri to score direct from a corner kick. The 2-2 draw with Macedonia in a Euro qualifier at St Mary's in Southampton proved to be David Seaman's 75th and final appearance for his country.


17th October
Football On This Day – 17th October 1919
This I'm sure will never happening again. Just after the start of the 1919/20 season the footballing authorities closed down Leeds City and expelled them from the Football League with their fixtures being taken over by Port Vale. Their crime had been to make illegal payments to players during the First World War. That saw the need to auction off the club assets to pay the debts so on 17th October 1919 representatives of 30 League clubs assembled at the Metropole Hotel in Leeds to bid for everything from boots to goalnets to....the players! The Yorkshire Post newspaper described it as "a melancholy spectacle" as the playing squad was sold as if they were cattle. Billy McLeod was bought by Notts County for £1250, John Hampson (to Aston Villa) and Harold Millership (to Rotherham County) went for £1000 each while £100 was the bargain price Lincoln City paid for Francis Chipperfield. Their whole squad went for around £10,000. Almost slavery I would have thought but out of that hardship a new club was soon playing at the Elland Road home of Leeds City....Leeds United.
Link - Leeds City expelled from the Football League.
Football On This Day – 17th October 1962
Leyton Orient have only ever played one season in the top flight of the League and on this day in that season they recorded their record highest score of 9-2. No, it wasn't against Liverpool or Manchester United - it was against Chester in the Third Round of the League Cup! It proved to be a rare good day in front of goal for Leyton Orient with the O's only managing 37 goals in their 42 Division One outings which saw them finish a distant bottom in the First Division table that season.
Link - Leyton Orient results and table 1962/63.
Football On This Day – 17th October 1973
England needed to beat Poland in front of a 100,000 Wembley full-house to get to the 1974 World Cup finals, anything less then Poland would be there. In his pre-match analysis TV pundit Brian Clough called the Polish 'keeper Jan Tomaszewski a 'clown' and so, inevitable, he produced a brilliant performance in the 1-1 draw. England were out of the World Cup and after two memorable World Cup final tournaments they found themselves as being just ordinary again.
Football On This Day – 17th October 2007
England played Russia on the artificial surface of the Luzhniki Stadium in Moscow and a 2-1 defeat was a major setback in their hopes of qualifying for Euro 2008. They eventually finished third in the group – behind qualifiers Croatia and Russia – and equal on points with Israel. England manager Steve McClaren only lasted another month in the job following the defeat in Russia.

18th October
Football On This Day – 18th October 1961
Second Division strugglers Stoke City paid £3,500 to buy a 46 year old player to improve their fortunes. It worked - the last home League match before he arrived attracted 8,409 fans but in the first match after he arrived 35,974 were at the Victoria Ground. The player they had brought back from Blackpool was Stanley Matthews who made made his League debut for Stoke back in 1932 and who would go on playing until he was 50. Amazing or what?

Football On This Day – 18th October 1992 and 2005
Over the years October 18th seems to have been a popular day for famous English goalscorers to lose some important scoring records. On October 18th 1992 Liverpool visited Old Trafford for the first time in the Premier League. Ian Rush started the match on 286 goals for Liverpool, which was a record for the club he held jointly with the England World Cup winner 'Sir' Roger Hunt. Liverpool drew 2-2 with Manchester United, Ian Rush scoring the second which made the record all his. The Welsh goal-machine had set the record just two days short of his 31st birthday and by the time he left Anfield in 1996 he had increased that record to 346 goals. Fast forward 13 years to 18th October 2005 when Arsenal also found themselves with a new record goalscorer. The Gunners started that day with Ian Wright being their top scorer in all competitions on 185 goals and Frenchman Thierry Henry one goal behind him. Arsenal visited Sparta Prague that evening in the Champions League, winning 2-0 with Henry scoring both to set a new record of 186 goals. By the time he moved on to Barcelona in 2007 he had increased the record to 228 goals.

19th October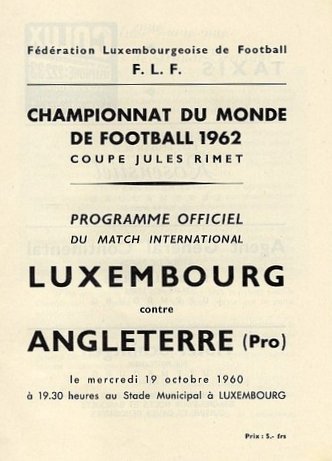 Football On This Day – 19th October 1960
Nowadays Andorra, Liechtenstein and San Marino are the countries who are the whipping-boys of European football but back in the 1960's that honour belonged to Luxembourg alone. On this day in 1960 England visited Luxembourg for a World Cup qualifier and won 9-0, England's highest score in the competition. Bobby Charlton and Jimmy Greaves each scored hat-tricks, Bobby Smith a couple of goals and Johnny Haynes one.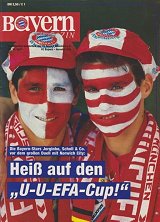 Football On This Day – 19th October 1993
Norwich City wouldn't perhaps be considered the most notable of English clubs who have played in European competitions but on this day in 1993 they did something no other English club had ever done. The Canaries beat Bayern Munich in the Olympic Stadium, then Bayern's home ground, in the UEFA Cup. A draw in the return leg at Carrow Road saw them into the Third Round where they lost to Inter Milan.
Link - Norwich City's results 1993/94
Football On This Day – 19th October 2013
Wolves fan Peter Abbott – who lived in Ipswich in Suffolk – missed his first Wolves home match since 1976 when his step-daughter got married. Inconveniently for him the wedding was on the same day that Wolves entertained Coventry at Molineux although Wolves made the clash less of a pain by sending along a surprise wedding guest - club legend Steve Bull. Not sure what the bride thought of it though!
Football On This Day – 19th October 2015
'Leeds United are not a big club. Don't get me wrong, they used to be, now they're just a circus run by puppets, watched by blinkered seals. If they ever offered me a job, I'd turn it down. I want to be the captain of a cruiseliner, not the Titanic.' Steve Evans said that in April 2013 - and yep, as you've guessed, he was appointed manager of Leeds United on October 19th 2015!
20th October

Football On This Day - 20th October 1928
Leicester recorded their highest League score with a 10-0 First Division victory over Portsmouth at Filbert Street. Arthur Chandler equalled the Leicester individual record with six goals in that win which became known as the 'six swans match'. After Chandler had scored five goals five swans flew over Filbert Street. A sixth swan flew over shortly afterwards and the fans demanded a sixth goal from Chandler, which he duly scored.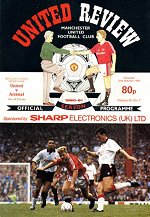 Football On This Day – 20th October 1990
The First Division match between Manchester United and Arsenal became the 'Battle of Old Trafford' - or is that one of many 'Battles of Old Trafford!' - when a clash between Arsenal's Nigel Winterburn and United's Brian McClair erupted into a full-scale brawl involving 21 players, only Arsenal's 'keeper David Seaman watching on. As a result both clubs were charged with, and found guilty of, bringing the game into disrepute. Manchester United were docked one point and Arsenal - because they had been involved in a similar brawl the previous season against Norwich - lost two points.
Link - points deductions
Link - Manchester United results 1990/91
Link - Arsenal results 1990/91
Football On This Day – 20th October 1999
Now we have all heard about those dodgy Scottish goalkeepers. When Aberdeen visited Motherwell for a Scottish Premier League fixture in October 1999 not many goals were expected. Aberdeen had lost all their previous seven League matches that season, scoring just a single goal in those matches. The opposing goalkeepers that day were the two top Scottish keepers of that era - Andy Goram and Jim Leighton. So Aberdeen won 6-5.
Football On This Day – 20th October 2017
It was announced that the clubs who took part in the 2016/17 Champions League shared £1.25 billion in payments from UEFA. Leicester City in their debut season in the competition were the second biggest earners with £73.2m with the Foxes being ahead of winners Real Madrid (£72.6m) but behind runners-up Juventus (£98.6m). The biggest portion of the payments related to television money which was based on the TV deal operating in the country of each club. Funnily enough I had just been reading an Oxford United programme from 1986 just after they had won the Milk Cup (League Cup) at Wembley. For winning the 'biggest team prize in British sport' their bank balance was better off by £72,000. Beaten finalists QPR collected £55,000, the beaten semi-finalists £18,000 each down to the First Round losers who each received £1,750. Times had certainly changed!
21st October

Football On This Day – 21st October 2005
The harm that can be done to football clubs by rich 'saviours' was evident on this day in 2005 when former Darlington owner George Reynolds was jailed for 3 years for tax evasion. The court heard that he was virtually penniless which was a far cry from when the one-time safe-breaker joined the club and promised Premier League football and actually delivered an amazing 25,000 capacity stadium. What followed was Darlington going out of the League and then going out of business. They reformed and currently play at the home of Darlington rugby club.


22nd October

Football On This Day – 22nd October 1966
Blackpool's best First Division result in the 1966/67 season came on this day in 1966 when they thumped Newcastle United 6-0 at Bloomfield Road. What made the result even more impressive was the fact that it was also their only home League victory of the season. They finished bottom!
Link - Blackpool results and table 1966/67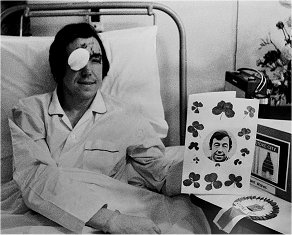 Football On This Day – 22nd October 1972
Travelling home after a session with the Stoke physio Gordon Banks was involved in a car accident which cost him his sight in his right eye and ended the playing career of one of the best goalkeepers the world has known.
Football On This Day – 22nd October 2011
It's always good to see foreign players try out some of the British traditions but when Manchester City's Mario Balotelli and friends decided to celebrate Guy Fawkes Night it hit the national headlines. No, not because he got the date wrong more to do where they let the fireworks off - in his bathroom! The resulting fire caused a reported £400,000 of damage to his rented home. The incident happened in the early hours of the day before a reasonably important Premier League fixture for City - against Manchester United at Old Trafford although amazingly it proved to be the perfect preparation for the fixture - Balotelli scored twice in City's 6-1 victory.

23rd October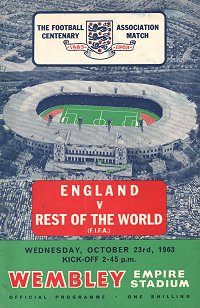 Football On This Day – 23rd October 1963
A 100,000 Wembley full-house saw England celebrate the centenary of the Football Association with a 2-1 victory over a Rest of the World team which included Lev Yashin, Alfredo Di Stéfano, Eusébio and Ferenc Puskás. Jimmy Greaves and Terry Paine were the England scorers, Denis Law replied for the visitors.
Football On This Day – 23rd October 2011
Less than two months after the Old Trafford faithful had witnessed Manchester United's 8-2 demolition of Arsenal the boot was on the other foot in another Premier League match at the Theatre of Dreams - Manchester United 1 Manchester City 6.
Link - Manchester United results 2011/12
Link - Manchester City results 2011/12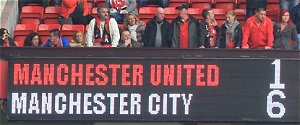 24th October
Football On This Day – 24th October 1925
Five players – George Armitage, captain Claude Ashton, Billy Austin, Frank Hudspeth and Sydney Puddefoot made their England debuts in the 0-0 draw against Northern Ireland in Belfast. Puddefoot was the only one of the five to play for England a second time!
Football On This Day – 24th October 1997
When the then Harrods owner Mohamed Al-Fayed bought Fulham in 1997 he said he would see them in the Premier League in five years time - and to be fair he put his money where his mouth was. On October 24th 1997 Fulham shattered their club record transfer fee paid when they bought Paul Peschisolido (the husband of Karren, sorry now Baroness, Brady) from WBA for £1.1million, the first million pound purchase by a third tier club. Just a week previously The Cottagers had set their previous record fee paid when buying Ian Selley from Arsenal for £500,000 (a broken leg saw him play only 3 League matches for Fulham) while in early December 1997 both Fulham's and the divisional record were shattered when the Londoners bought Chris Coleman from Blackburn Rovers for £2.1million. Fulham were playing in the Premier League in 2001 and later Chris Coleman progressed to club manager after an injury ended his playing career.
Football On This Day – 24th October 2004
Manchester United beat Arsenal 2-0 at Old Trafford in the Premier League, amazingly Arsenal's first League defeat since May 2003. Since then the Gunners had gone a record 49 League matches without defeat, including the whole of the 2003/04 season.
Link - The 49 matches


25th October

Football On This Day – 25th October 1961
England beat Portugal 2-0 at Wembley to qualify for the 1962 World Cup Finals – Burnley players John Connelly and Ray Pointer were the scorers. England didn't play another World Cup qualifier for 11 years – they were hosts in 1966 and holders in 1970 (wouldn't it be great if either of those were true again!).


26th October

Football On This Day – 26th October 1863
October 26th 1863 is seen as the starting date of organised football when at a meeting at the Freemasons' Tavern in London's Great Queen Street the Football Association was formed. It has been English football's governing body ever since and was the first such organisation in the world.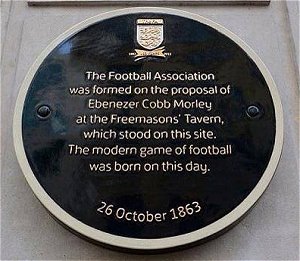 Football On This Day – 26th October 1938
In 1938 England had still to enter the World Cup but when they beat a Rest of Europe side 3-0 at Highbury in a match that marked the 75th birthday of the Football Association many thought we didn't need to bother. The visitors included five Italians in their line-up – Italy had retained the World Cup earlier in the year – and so England had to be the best in the world. Ignorance can be bliss!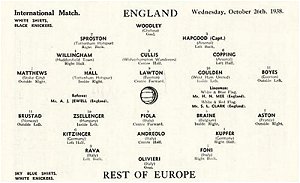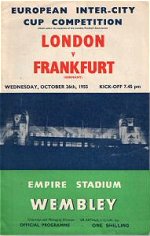 Football On This Day – 26th October 1955
Considering that it is our national Stadium, Wembley was a tad slow to introduce floodlights. They were installed at a cost of £22,000 with the first match under floodlights being an Inter-Cities Fairs Cup match between a London representative side and Frankfurt on Wednesday October 26th 1955.
Link - Inter-Cities Fairs Cup results 1955-58


27th October
Football On This Day – 27th October 2005
England's men suffered their worst defeat in Hungary but on this day in 2005 England's womens team achieved their record victory – 13-0 away to Hungary in a qualifying match for the Women's World Cup finals of 2007. Eight England players got their names on the scoresheet in the match with Kelly Smith scoring a hat-trick.
Football On This Day – 27th October 2009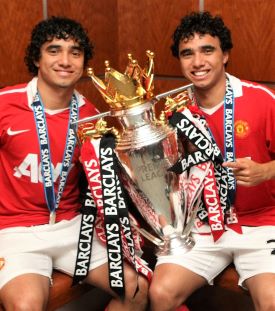 Brothers playing in the same senior team is a bit of a rarity and far rarer still if the brothers are identical twins. When Manchester United boss Alex Ferguson took his side to play Peterborough United in a pre-season friendly in August 2008 there was a family connection with Peterborough's manager being Alex's son, Darren Ferguson. There was a family connection in the Manchester United side as well with the match seeing the debuts of Brazilian brothers Rafael and Fábio da Silva - and they were identical twins! The story goes that the only way Sir Alex could tell the difference between the two was that Fabio wore a wedding ring - but of course the brothers would often swap the ring around to fool the boss! Trouble came their way though on this day in 2009 when United visited Barnsley in a League Cup 4th Round encounter. Late on both brothers challenged Jamal Campbell-Ryce with referee Chris Foy booking Fábio for foul play. However television replays showed that it was Rafael who should have been yellow carded and an appeal to the FA followed which saw the correct brother having a yellow card transferred to his disciplinary record from the innocent brother.
Link - Manchester United results 2009/10


28th October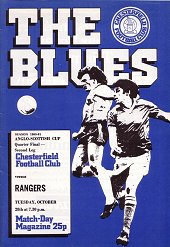 Football On This Day – 28th October 1980
Chesterfield celebrated one of their greatest ever victories – in the Anglo-Scottish Cup - but it was against mighty Rangers in the quarter-finals of the competition. After drawing the first leg at Ibrox the return was played at Saltergate on this day in 1980 and 13,914 Chesterfield fans saw their side beat Rangers 3-0 on their way to eventually winning the competition in its final season.

Football On This Day – 28th October 2017
World Cup wins are just like buses aren't they – you wait 51 years for a win then two come along in just 139 days! After England's Under 20's World title success in June 2017 the Under 17s won their world title in October 2017 – and didn't they do it in style! They beat Brazil in the semis thanks to a Rhian Brewster hat-trick - he also scored three in the quarter-finals and went on to win the tournament Golden Boot award – to set up a final against Spain. England had been beaten by the Spanish in final of the UEFA Under 17 competition in May and history looked to be repeating itself when Spain took a 2-0 lead in the World final played in Kolkata in India. But then things changed with goals from Brewster, Gibbs-White, Foden (2) and Guehi seeing England dominate to record a memorable 5-2 win. Team team - Curtis Anderson (Manchester City); Steven Sessegnon (Fulham), Joel Latibeaudiere (Manchester City), Marc Guehi (Chelsea), Jonathan Panzo (Chelsea); Tashan Oakley-Boothe (Tottenham Hotspur), George McEachran (Chelsea); Phil Foden (Manchester City), Morgan Gibbs-White (Wolverhampton Wanderers), Callum Hudson-Odoi (Chelsea); Rhian Brewster (Liverpool) with the playing subs being Nya Kirby (Crystal Palace) for Gibbs-White, Conor Gallagher (Chelsea) for McEachran and Angel Gomes (Manchester United) for Oakley-Boothe. Head coach – Steve Cooper.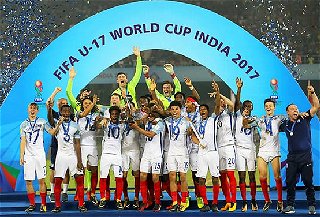 The England development teams had a magnificent 2017 – World titles for the Under 17s and Under 20s while in UEFA Euros the Under 19s won their title, the Under 17s were beaten finalists and Under 21s were beaten semi-finalists. Surely the England senior side will be winning World cups with ease in the future!!
Football On This Day – 28th October 2017
In their 2-1 National League North win at Bradford Park Avenue Salford City's goalkeeper Max Crocombe was sent off for something he later apologised for saying that he 'was in a very uncomfortable position and made an error of judgement'. His crime? Well with a few minutes remaining he was caught short and urinated on the pitch in front of some very unchuffed supporters!
Link - Pitches, and what they have had to put up with.


29th October
Football On This Day – 29th October 1898
'Character' footballers have always been an important part of the game and going back to the turn of the century - and in this case that being the nineteenth to twentieth century! - William 'Fatty' Foulke was certainly seen as a character player. And he was a good one as well A goalkeeper with Sheffield United, Chelsea and Bradford City he played for England, picked up a league championship and two FA Cup winners medals and also played county cricket for Derbyshire. But his great claim to fame was his size at around 6ft 4in and up to 24 stone in his prime he was a striking figure. Pictured below I'm sure you will guess which player he is even though back in the day goalkeepers routinely played in the same colours as outfield players! His exploits included swinging on a crossbar during a match - breaking it - and an after-match search for a referee, while naked, to protest a controversial goal scored against him. But on Saturday 29th October 1898 he was involved in a famous incident and conceded a penalty which helped Liverpool to a 2-1 victory over his defending League champions side Sheffield United side in a First Division encounter at Anfield. Liverpool forward George Allan had the reputation as a fearless striker and he challenged the goalkeeper as he was making a save which annoyed the 'keeper who grabbed hold of the forward turned him over and stood him on his head. The penalty followed!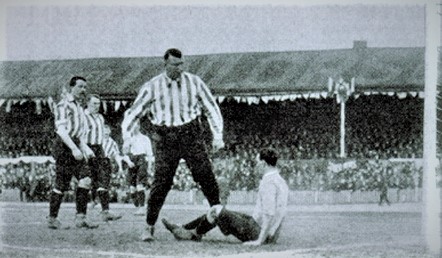 Football On This Day – 29th October 1975
England have only had three internationals abandoned in their history and only one of those was a competitive match. On this day in 1975 a Euro qualifier in Bratislava against Czechoslovakia was abandoned after 17 minutes because of dense fog with the score at 0-0. The match was restaged the following day, England losing 2-1.
Football On This Day – 29th October 2017
An amazing match at Blundell Park where Grimsby beat Burnley 6-5 in a Division 1 fixture. Eight players scored goals in the match with the scoreline progressing 1-0. 1-1, 2-1, 2-2, 3-2, 4-2, 4-3, 4-4, 5-4, 6-4 and then 6-5. Burnley were no strangers to heavy League defeats in 2002/03 although amazingly their four other major reverses were all recorded at their own Turf Moor home. They lost 2-5 to Reading, 2-6 to Rotherham, 2-7 to Sheffield Wednesday and 4-7 to Watford. Relegation form you might think but in fact Burnley finished a little below mid-table in 2002/03.
Link - Burnley results and table 2002/03.


30th October
Football On This Day – 30th October 1954
A player who perhaps shouldn't have got away with the statement 'I'm off to the match this afternoon, darling' was Southport's Billy Holmes. Married in the morning of Saturday 30th October 1954 the afternoon saw him playing for Southport against Carlisle United in a Division 3 North fixture - and he scored a hat-trick in Southport's 4-1 victory.
Football On This Day – 30th October 1974
Don Revie managed England for the first time and goals from Mick Channon and Colin Bell (2) gave England an impressive 3-0 win over Czechoslovakia in a Euro qualifier at Wembley. Revie's England side didn't concede a goal in his first six matches in charge and were unbeaten in his first nine (including a 2-0 defeat of West Germany) but exactly a year on - 30th October 1975 - England lost for the first time during Revie's reign away to the Czechs in the return match. Czechoslovakia went on to win the qualifying group and then the tournament itself for the only time in its history.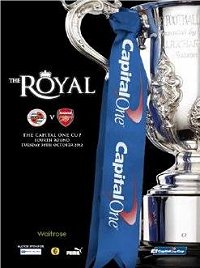 Football On This Day – 30th October 2012
Arsenal were 4-0 down after just 37 minutes of a Capital One (League Cup) tie at Reading but the Arsenal fans weren't despondent and sang 'We're going to win 5-4'. But they were wrong - Arsenal won 7-5.
Link - League Cup results 2012/13


31st October

Football On This Day – 31st October 2002
When the Football Association replaced Graham Kelly with Adam Crozier as chief executive in January 2000 they hoped that the skills that seen him become CEO of advertising giant Saatchi and Saatchi would help bring the FA into the 21st Century. And to be fair despite having no experience in football - and being Scottish! - he oversaw some major changes and achievements in the organisation running much of English football. During his tenure the FA moved their HQ from Lancaster Gate to Soho Square, England controversially employed their first foreign manager (Sven-Goran Eriksson), the management structure was dramatically streamlined with the FA becoming more commercially aware, the Wembley Stadium rebuild project went from a dream to reality....and England won 5-1 in Germany! But he also had his critics. In October 2002 in newspaper articles Ken Bates said that Crozier was 'hopelessly out of control' and had 'exceeded his authority' and several days later - on October 31st 2002 - Adam Crozier resigned his £613,000 FA job. He later became CEO at Royal Mail and ITV and was replaced at the FA by Mark Palios.
Football On This Day – 31st October 2007
Monthly pay doesn't seem real until you've had a chance to look at the payslip but for Liverpool's John Arne Riise on this day in 2007 his monthly pay became real for anyone with an internet connection. A copy of one his monthly payslips mysteriously appeared on the net and proved very interesting reading. A monthly basic of £120,000 plus £4,000 appearance money, £250 points bonus and £15,384.62 for the Champions League making a total of £139,634.62. Deductions totaled £57,220.95 - tax £55,508.28, NIC £1,611.67 and meals and tickets £101 leaving take-home of £82,413.67....for the month! How on earth he could make ends meet with that is beyond me!