2nd November
Football On This Day – 2nd November 1946
Huddersfield Town were a top-flight side in the 1946/47 season but didn't have the best of luck in October losing the four First Division matches they played by 4-1 (twice), 5-0 and 6-1. But it was all-change in their first match the following month - November 2nd - when they beat Charlton, score 5-1.
Link - Huddersfield results & table 1946/47
Football On This Day – 2nd November 2010
Abandoned League matches are rare nowadays but on Tuesday November 2nd 2010 three League matches were abandoned. In League 1 the Hartlepool v Notts County fixture lasted just 3 minutes and the Rochdale v Oldham game was called off after 6 minutes - both waterlogged pitches. In League 2 the Cheltenham v Southend match lasted 66 minutes before the floodlights failed.
Link - Abandoned matches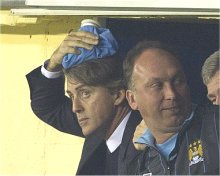 Football On This Day – 2nd November 2011
Manchester City manager Roberto Mancini learnt a painful lesson in a Champions League match against Villarreal in Spain - don't get excited in a dugout that you are not familiar with. In a tense moment he jumped up to discover the problem - it had a low roof! He spent the rest of the match with an ice-pack on his head.
Link - Manchester City's results in Europe


Football On This Day – 2nd November 2013
A goal scored after 13 seconds is rare enough but a goal scored after 13 seconds by a goalkeeper takes some beating. But that happened on this day in 2013 in a Premier League encounter at the Britannia Stadium between Stoke City and Southampton. Stoke 'keeper Asmir Begovic got an early back pass and hoofed the ball upfield. Aided by a very strong wind the first bounce saw it fly over Southampton goalkeeper Artur Boruc and after the second bounce it was in the net. The official distance of the 'shot' was given as 97.5 yards. The remainder of the match saw just one more goal with the result being 1-1.


3rd November
Football On This Day – 3rd November 1987
Chelsea's record of being unbeaten in 86 consecutive home League matches is one they are justly proud of but 3rd November 1987 saw them start a record run they would prefer not to remember. On that day they were beaten 3-1 at Arsenal in a First Division encounter and that was the first of 21 League matches without a win - a Chelsea record. The 21st and final match in that sequence saw Chelsea draw 1-1 at Stamford Bridge in the return match against Arsenal but the following week - April 9th - they beat Derby in another home match. The dismal run saw former player John Hollins sacked as manager but that victory over Derby was their last league win of the season and they were duly relegated.
Link - Chelsea results & table 1987/88

Football On This Day – 3rd November 2001
Tony Ford made what was his last appearance in the Football League, in midfield for Rochdale in their 2-0 Division 3 defeat of Torquay United at Spotland. He had made his League debut as a 16 year old back in 1975 and in the intervening years had made 931 League appearances, a record for an outfield player. An amazing achievement!

4th November
Football On This Day – 4th November 1933
Well, if you were Welsh and knew how to kick a football you may have been in contention for an appearance for Wales when they played Northern Ireland in a Home international match on this day in 1933. Their team selection problems were so bad that FA of Wales Secretary Ted Robins had to ring round clubs asking for recommendations for the Welsh side. Alf Day of Tottenham made his debut for Wales that day based on such a recommendation – his football up to then having been in non-league and the Spurs reserves side! He didn't make his debut for the Spurs first team until April 1934 – and he never played for Wales again. Day was one of 4 Welshman to earn his international debut in that match – the others being Tommy Mills of Clapton (now Leyton) Orient, Harry Hanford of Swansea and David Jones of Leicester. Another Spurs player, Eugene O'Callaghan, was the most experienced Welsh international that day, making just his ninth appearance for his country. The match was drawn 1-1 in Belfast.
Football On This Day – 4th November 1952
The FA Youth Cup was first competed for in the 1952/53 season and in as early as the Second Round in 1952 a record score was set which still stands to this day. At the Cliff training ground Manchester United beat non-leaguers Nantwich Town 23-0 with 'Busby Babe' Duncan Edwards scoring five of the goals.
Link - Clubs scoring 10 in a cup match
Football On This Day – 4th November 1970
The 1970/71 season saw the penalty shoot-out reach the premier club tournament in Europe - the European Cup. The first-ever European Cup shoot-out penalty was taken by an English player and ... it was saved! Joe Royle was the player and Everton his club but despite his failure Everton reached the Third Round 4-3 on penalties. Perhaps that was a surprising result considering the opposition that evening were the Germans of Borussia Mönchengladbach - if only future shoot-outs against the Germans were equally as successful!
Link - Everton results in Europe

5th November
Football On This Day – 5th November 1932
Arsenal won 7-1 at Wolves – the previous Saturday they had beaten Leicester 8-2 at Highbury – but back in North London the underground opposite their home ground was renamed Arsenal from Gillespie Road.
Link - Arsenal results and table 1932/33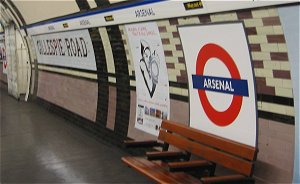 Football On This Day – 5th November 1969
Emlyn Hughes made his England debut in a 1-0 friendly win over Holland in Amsterdam. He went on the win 62 caps for his country and was the only player to make appearances for England in the 1960s, 1970s and 1980s. 'Crazy Horse' Hughes found continued fame as a team captain in BBC's A Question of Sport, once being threatened with a battering from Princess Anne and her handbag!
Link - Football in the Media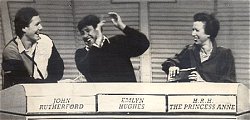 Football On This Day – 5th November 1999
Nowadays it seems you need to be an Arab Sheikh to purchase a major football club but in days gone by it was television companies who had their cheque books out ready to buy clubs. Back on 5th November1999 - six months after British Sky Broadcasting had failed in a bid to buy Manchester United outright for £623 million - BSkyB bought a 9.9% share of Manchester City for £5.5 million. That valued the then second-tier City at a mahoosive £54million! That wouldn't buy them a decent reserve team player nowadays!
6th November
Football On This Day – 6th November 1954
Middlesbrough suffered their record League defeat, 0-9 at Blackburn Rovers in a Second Division match. The following Saturday they fielded exactly the same team at home to Fulham - and won that one 4-2.
Football On This Day – 6th November 1965
Goalkeepers are used to having things thrown at them but Brentford 'keeper Chic Brodie was a tad surprised at what was directed at him when playing against Millwall in a Third Division fixture at Griffin Park in 1965 - a hand grenade! He calmly threw it into the back of the net and got on with the game - it was only after the match that it was found to be a dud.

7th November
Football On This Day – 7th November 1923
When Aberdare Athletic were elected to the Football League at the start of the 1921/22 season it was a bit of a high-point for football in Wales. Wales - well south Wales - for the first time had 6 Football League clubs - Aberdare, Cardiff City, Merthyr Town, Newport County, Swansea Town (as they then were) and Wrexham. Aberdare kicked off their League career with a 0-0 home draw against Portsmouth in front of 9,722 fans but times were financially difficult with the local coal-mining industry suffering tough-times in the 1920's. Their low-point came on Wednesday November 7th 1923 when a fire broke out at their Ynys ground. Money had been spent on rebuilding their stand to help gain League membership but the fire destroyed the stand, offices and press box. The dressing room and all its contents were also destroyed leading to appeals for boots and playing kit to give the players something to wear for the next match three days later. Their insurance was insufficient delaying the stand rebuild, they lost their League place in 1927 (to Torquay United) and went bust not long afterwards. Sad.
Link - all Aberdare's League results and tables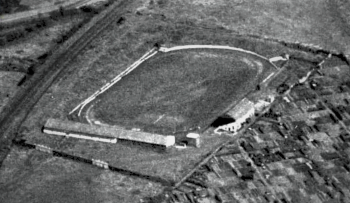 Football On This Day – 7th November 1931
Rochdale beat New Brighton in a Division 3 (North) match – and then managed to pick up just a single point in the remainder of the season. That was 27 League and cup matches with one draw and 26 defeats - including a 9-1 thumping.
Link - Rochdale results and table 1931/32
Football On This Day – 7th November 1987
Less than a month after being appointed Huddersfield Town manager Malcolm Macdonald had to watch his side suffer a 10-1 Division 2 defeat against Manchester City at Maine Road. Three City players - Paul Stewart, Tony Adcock and David White - scored hat-tricks in the match. That was the last time a club scored ten or more goals in a League fixture.
Link - Clubs scoring double figures in League matches
Football On This Day – 7th November 2015
In one of those strange quirks of the fixture list Premier League new boys Bournemouth - the most southerly side who had ever played in the Premier League - entertained Newcastle - the most northerly side ever to play in the PL. On the same day at Carrow Road Norwich City, the most easterly club to have played in the PL, played Swansea City - you've guessed it, the most westerly side ever to play in the Premier League. There were 1-0 victories for Newcastle and Norwich.

8th November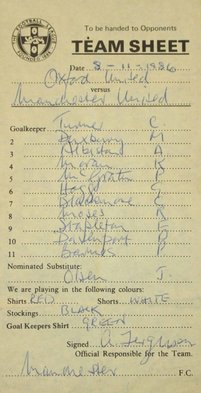 Football On This Day – 8th November 1986
The date of Alex Ferguson's first match as manager of Manchester United. It didn't prove to be the best of starts with a 2-0 First Division defeat at the Manor Ground home of Oxford United. I think that the smartest person that day was the fan who got hold of Fergie's team-sheet for the match - in June 2013 he sold it at auction for a mahoosive £19,000! Not bad for a scrappy bit of paper on which the manager had listed his team for that fixture - Chris Turner, Mike Duxbury, Arthur Albiston, Kevin Moran, Paul McGrath, Graeme Hogg, Clayton Blackmore, Remi Moses, Frank Stapleton, Peter Davenport, Peter Barnes with the one sub being Jesper Olsen.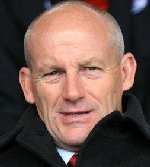 Football On This Day – 8th November 1996
Steve Coppell left Crystal Palace to make over as manager of First Division Manchester City in October 1996 but after only 33 days and six matches as boss he resigned the Maine Road job because of stress on this day in 1996. His assistant Phil Neal became caretaker manager.



9th November
Football On This Day – 9th November 1889
When Notts County found themselves a player short for their Football League match against Aston Villa on November 9th 1889 they borrowed a player from their near neighbours, non-leaguers Nottingham Forest. The match ended 1-1 at Trent Bridge but Villa objected saying the borrowed player was ineligible as he wasn't registered to play for County. The League Management Committee upheld that complaint docking Notts County one point and fining them £5. The player Notts County borrowed was Tinsley Lindley who was a remarkable character. As a 16-year old he scored a hat-trick on his debut for Nottingham Forest and later scored 14 goals in 13 appearances for England. He wore walking shoes rather than traditional football boots as he could run quicker in them and remained an amateur player throughout his playing career. He also played County cricket for Nottinghamshire. He also studied law at Cambridge University and was a barrister and in that capacity took charge of County's appeal against the punishment claiming that by imposing both a fine and a points penalty Notts County had been punished twice. A General Meeting of the League clubs accepted his argument dropping the one point deduction but increasing the fine to £25.
Football On This Day – 9th November 1990
Love him or hate him Mark Lawrenson was a well-known as a football pundit on TV but he once had a 'proper' job in the game. After a long and successful playing career with Brighton, Preston and Liverpool he dipped his toe into management but that career came to an end on 9th November 1990. After a little over a year as manager of Fourth Division Peterborough United a fall-out with the clubs' board saw him leave the Posh and those television cameras were waiting.
Football On This Day – 9th November 1997
Aberdeen's Dean Windass had the distinction of being sent off three times in the SPL match against Dundee United at Tannadice Park. Two bookings saw him shown the first red card with the second being for dissent when he made his displeasure known to referee Stuart Dougal. On his way to the tunnel he took his frustrations out on a corner flag for which he was sent off for the third time. That was a total of 22 penalty points for which he received a 6-match ban plus a club fine of 2 weeks wages.
Football On This Day – 9th November 2000
The day after an Old Trafford crowd of 66,776 had seen Manchester United defeat Dynamo Kiev 1-0 to narrowly qualify from their Champions League group United captain Roy Keane criticised the poor vocal support the team had at the match. His main complaint was directed to the fans in the hospitality boxes with Keane saying 'they have a few drinks and probably the prawn sandwiches and they don't realise what's going on out on the pitch.' From then on people in hospitality boxes became the prawn sandwich brigade while Roy Keane couldn't escape the association with the crustacean - years later many shops gave buyers of his newly published autobiography a free prawn sandwich!
Football On This Day – 9th November 2016
Donald Trump was declared the next President of the US of A just months after the shock Brexit vote and we were all told why this had happened - it was Leicester City's fault! It seems that City's shock Premier League title success gave hope to all the underdogs in the world that they can stand up and be successful. So the world voted for Brexit and Donald Trump. Well, I can see the logic!


10th November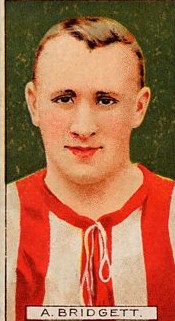 Football On This Day – 10th November 1923
Arthur Bridgett first made his name in the history books with his career at Sunderland in the early 1900s. The left-winger made 320 First Division appearances for Sunderland between 1903 and 1912, scoring 108 goals. He also scored three times in 11 appearances for England. He then dropped to non-league football, as a player and manager, before returning to League football with Port Vale in 1923. At the age of 41 and after 11 years away from League football – which included the years of the First World War – he made the perfect debut for Port Vale. That was on November 10th 1923 at Port Vale's former Old Recreation Ground home in a Second Division match against Clapton Orient (now Leyton Orient). In the second minute he scored the only goal of the match! His Port Vale career consisted of 15 league and cup matches in which he scored 7 goals. Arthur Bridgett was one of the few players who refused to play in matches on Christmas Day or Good Friday on religious grounds.
Football On This Day – 10th November 1954
It wasn't as famous as the hat-trick scored at Wembley 12 years later but the 3 goals Chelsea's Roy Bentley scored against Wales in the British Home Championship was the first hat-trick by an England player at Wembley (it opened in 1923!). England won 3-2, John Charles scoring the two goals for Wales.
Football On This Day – 10th November 2019
The financial problems that afflicted Maccesfield Town in 2019/20 saw club staff - players and non-playing staff - regularly paid late. That resulted in their first-team players going on strike for their home FA Cup First Round tie against Kingstonian on Sunday November 10th 2019. The Silkmen fielded a team of youth players and loanees against the non-leaguers - and lost 4-0 in front of a crowd of just 996 with over a quarter of them being from Kingstonian. Worse was to follow with two League matches postponed because of striking staff and with Macclesfield being docked a total of 17 points for their financial problems they lost their place in the Football League at the end of the season. Worse was to follow with the Silkmen going bust before the start of the 2020/21 season.
Link - full details.
.

11th November
Football On This Day – 11th November 1905
When the first Football League matches were played in 1888 it was very much a northern competition with the first London club to become a member – Woolwich Arsenal – not doing so until the 1893/94 season. The next London clubs to join the League were Chelsea and Clapton – now Leyton – Orient in the 1905/06 season and it was when those two clubs met in that first season that London fans witnessed the first all-London Football League encounter. That match was played on Saturday 11th November 1905 at Clapton Orient's Millfields Road ground with Chelsea winning the Second Division match 3-0. It took almost two more years for the first all-London match in the top flight which was played on Saturday 9th November 1907 at Stamford Bridge with Chelsea recording a 2-1 victory over Woolwich Arsenal in the First Division fixture.
Football On This Day – 11th November 1987
A few names from the past. England played Yugoslavia for the last time in a competitive match, winning 4-1 in Belgrade in a Euro 88 qualifier. Peter Beardsley, John Barnes, Bryan Robson and Tony Adams scored the goals in the first 25 minutes to see England top their qualifying group, dropping just one point from six matches and with a goal difference of +18. It left England with high hopes for the Euro 88 finals in Germany - where they lost all three matches!
Football On This Day – 11th November 2006
Mick Newell gained a bit of a reputation of having a go at match officials when he was manager of Luton Town. After Luton had been beaten 5-1 by Preston in February 2006 he described the fourth official as an incompetant who couldn't do his job – he received an FA warning for those comments. But after Luton's 3-2 home defeat against QPR on Saturday 11th November 2006 he hit the headlines after criticising the ref and one of the assistant refs who failed to award Luton a penalty. The assistant referee in question was Amy Rayner in the early days of women officiating in the Football League. Mick Newall said about her "She shouldn't be here. I know that sounds sexist but I am sexist. This is not park football, so what are women doing here?" Wow! Condemned across the board he later apologised to Amy Rayner and received a warning from his club and a £6,500 fine from the FA.
Football On This Day – 11th November 2006
A First Round FA Cup tie between Barrow and Bristol Rovers at Holker Street saw the first player in England to be jailed for an incident during a football match. After half an hour Barrow defender James Cotterill punched the Bristol Rovers forward Sean Rigg, breaking his jaw in two places. The match officials hadn't seen the attack but Match of the Day cameras had and Cotterill was charged with causing grievous bodily harm, found guilty and sentenced to four months in prison.
Link - Crime and Punishment

Football On This Day – 11th November 2016
World Cup qualifiers between England and Scotland at Wembley are always going to well talked about but when the two countries met on November 11th 2016 all the talk seemed to be about….poppies! The match was played on Armistice Day and England players, as well as the Scots, wore armbands displaying poppies, a minute's silence was held, the Last Post was played, there was a display of poppies on the big Wembley screens and poppy T-shirts were handed out to the fans. The trouble was FIFA had a ruling banning 'political and religious' symbols and displays at matches and they considered poppies to be just that! Ridiculous or what! England were 3-0 winners but were fined a little over £35,000.


12th November

Football On This Day – 12th November 1881
Nowadays local derbies between Manchester City and Manchester United are fixtures which receive national attention but that wasn't the case when the clubs played each other for the first time back in 1881. Back then they were just two 'ordinary' Manchester clubs and in that first meeting – a friendly played on Saturday November 12th 1881 – St Mark's (West Gorton) lost 0-3 at home to Newton Heath. In modern language that would be Manchester City 0 Manchester United 3, a match which a local paper, The Ashton Reporter, described as being 'a pleasant game'. The two clubs progressed and both joined the Football League in 1892/93 although Newton Heath – they didn't become Man U until 1902 - joined the First Division and Manchester City (St Mark's had become Ardwick and then Man City) started out in Division 2. It wasn't until Newton Heath were relegated to Division 2 after two seasons that the clubs met for the first time in the Football League. That match was played on Saturday November 3rd 1894 with another sound victory for Manchester-United-to-be – Manchester City 2 Newton Heath 5.
Football On This Day – 12th November 1921
Billy Walker became the first player to score a hat-trick of penalties in the League in Aston Villa's 7-1 home First Division victory over Bradford City.
Link - Aston Villa results and table 1921/22


13th November

Football On This Day – 13th November 1982
When Dane Allan Simonsen was transferred to his only English club you just had to check to see if it was April 1st because it was unreal. The former European Footballer of the Year was on the move from Barcelona and turned down Real Madrid in preference to joining ... Second Division Charlton Athletic! His debut on this day in 1982 for Charlton against Middlesbrough saw their crowd double from their previous League match at the Valley - but that was only from 5,278 to 10,807. Sadly Charlton could only afford his wages for four months before he was on the move again but he had scored 9 goals in 16 League outings and the memories were real!

14th November
Football On This Day – 14th November 1934
England's line-up for their 'friendly' against world champions Italy at Highbury included seven Arsenal players - Bastin, Bowden, Copping, Drake, Hapgood, Male and Moss. That was - and still is - the record for the most players from a single club in the starting line-up of an England team. England later fielded seven Manchester United players against Albania in 2001 only five were in the starting line-up and two came on later as subs. Then followed the 'Battle of Highbury' which was one of the most ill-tempered matches in history - a broken foot, a broken arm and a broken nose to name but three injuries....and England won 3-2.
Football On This Day – 14th November 1973
England were beaten 1-0 by Italy in a friendly at Wembley. It was the 108th and last England appearance for Bobby Moore while the Italy goalscorer would have an England connection in the future - Fabio Capello.
Football On This Day – 14th November 2012
Liverpool's Steven Gerrard won his 100th cap in England's visit to Sweden. He became the sixth England player to achieve a century of England appearances, the first five being Billy Wright, Bobby Moore, Bobby Charlton, Peter Shilton and David Beckham. Steven Gerrard had made his debut back in 2000 in a 2-0 friendly win over Ukraine at Wembley and he went on to play 114 times for England. The match in Sweden was a friendly to mark the first football match played at the country's new national stadium, The Friends Arena in Stockholm. A 49,967 crowd was present under a closed roof to witness a 4-2 win for Sweden, Zlatan Ibrahimovic scoring all four Sweden goals.

15th November
Football On This Day – 15th November 1969
On this day in 1969 Liverpool's 2-0 victory over West Ham at Anfield was the first match to be transmitted in colour. At the time colour TVs were still rare so the commentators had to ensure that their commentaries were suitable for viewers with either colour or black and white sets. That caused problems. John Motson once famously said "For those of you watching in black and white, Spurs are in the all-yellow strip"
Link - Colemanballs
Football On This Day – 15th November 1972
After qualifying for the 1966 World Cup finals as hosts and the 1970 finals as holders England found themselves playing in their first World Cup qualifying fixture in 11 years on Wednesday 15th November 1972. It was against Wales played at Cardiff City's former Ninian Park home and before the kick off England boss Alf Ramsey was presented with a silver salver to mark his 100th match in charge of the Three Lions. Liverpool players Kevin Keegan and Ray Clemence both made their England debuts in that fixture with the other 9 England players that day being Storey, Hughes, Hunter, McFarland, Moore, Bell, Chivers, Marsh and Ball. What a team! Colin Bell scored the only goal of the match to secure victory against Wales but eventually it was the third country in the group – Poland – who would qualify for the 1974 World Cup Finals in West Germany.

Football On This Day – 15th November 1986
The Oxford United players were told that their coach home would leave at 5.30pm on the dot after their First Division match at Queens Park Rangers - and it did. The problem was that four Oxford players - Jeremy Charles, Les Phillips, Peter Rhoades-Brown and leading scorer John Aldridge - were standing by the coach signing autographs...and the bus left without them! They had to get a lift home with supporters, and they weren't too chuffed about it!


16th November

Football On This Day – 16th November 1938
England recorded a memorable 7-0 victory over Northern Ireland in a Home International Championship match at Old Trafford. Tottenham's Willie Hall stole the show scoring 5 goals - equalling what is still the record for England - including a hat-trick in under 4 minutes which is also an England record. The other goals came from Tommy Lawton and Stanley Matthews while Joe Mercer made his England debut. Those were the days! Willie Hall played 10 times for England and made 205 League appearances for Spurs – scoring 27 times - before the Second World War effectively ended his playing career. Tragically after the war he suffered the part amputation of both his legs. He was a very popular personality which was highlighted when Eamonn Andrews highlighted his life story in TVs 'This Is Your Life' in February 1959.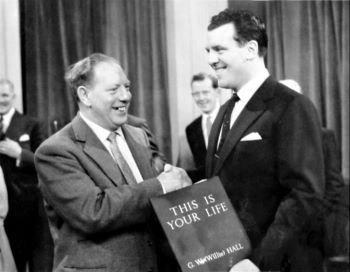 Football On This Day – 16th November 2009
North of the border the footballing news of the day was the sacking of Scotland manager George Burley. Appointed to the job in January 2008 George Burley, best known as a player and manager with Ipswich Town, had overseen just 3 Scotland wins in his 14 matches in charge of his country. That poor run covered all of Scotland's 8 qualifying matches for the World Cup finals of 2010 when they finished a full 14 points behind the only qualifiers from their group, the Netherlands. But the final straw wasn't the World Cup elimination but a poor Scotland performance in a 3-0 defeat to Wales in Cardiff two days earlier. The following month saw the SFA announce his replacement, Craig Levein.


17th November

Football On This Day – 17th November 1873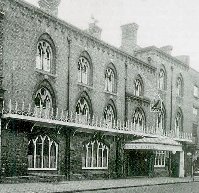 The Raven Hotel in Shrewsbury (pictured) was the unlikely setting for a bit of footballing history. The FA Cup 1st Round tie between Sheffield FC and Shropshire Wanderers had ended in 0-0 draws at the Bramall Lane cricket ground (as it was then) and in the replay at the Shrewsbury Race Course. Rather than have a second replay the teams decided during an after-match meal to decide the winners by a toss of a coin. That was the only time an FA Cup tie has been decided by a toss of a coin - Sheffield calling correctly and progressing to the Second Round. I'm not sure what surprises me more - that the FA Cup rules were so loose to allow two teams to decide the outcome of a tie in that way or that the two teams were still friendly enough after a cup tie to eat together!
Link - FA Cup results 1873/74

Football On This Day – 17th November 1945
Friendlies are rarely matches that stick in the memory but the
one exception that I can think of was when Moscow Dynamo toured Britain in November 1945. The Second World War had just ended and the country wanted to be entertained again and the footballers from far-off Russia did just that. Unbeaten in their four friendly matches against Arsenal, Cardiff, Chelsea and Rangers they packed the grounds they played in with many believing over 100,000 were at Stamford Bridge and not many fewer being present at Ibrox. But when they played Cardiff City at a packed Ninian Park on 17th November 1945 Moscow Dynamo produced a masterclass in a 10-1 victory and British football was never quite the same again.
Link - Clubs scoring 10 or more goals in cup and friendly matches.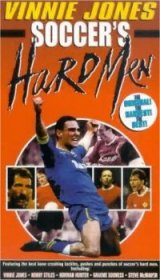 Football On This Day – 17th November 1992
One of the early steps Vinnie Jones took on the path to becoming a film-star was not a successful one. He brought out a video - Soccer's Hard Men - which the Football Association considered a glorification of violence in the game. He was charged by the FA for bringing the game into disrepute and on this day in 1992 was found guilty and fined £20,000 (then a record) and received a six month playing ban, which was suspended for three years.
Link - Crime & Punishment





Football On This Day – 17th November 1993
A new low for England. In their final qualifying match for the 1994 World Cup finals England needed to thump mighty San Marino in Bologna to have have any chance of qualifying. Instead after just 8 seconds Davide Gualtieri scored for San Marino! OK England won 7-1 watched by a 2,378 crowd but they failed to qualify for the finals - finishing third in the group behind Norway and the Netherlands - and within a week Graham Taylor had resigned as manager.
Football On This Day – 17th November 1993
England might have failed to get to the World Cup finals - as did Scotland, Wales and Northern Ireland - but at least an English-born manager would be in the USA. Roy Hodgson's Switzerland beat Estonia in their final qualifier to finish in the second qualifying spot in their group behind Italy.
Football On This Day – 17th November 1993
A tragedy in Wales. A distress rocket of all things was fired at the Wales v Romania World Cup qualifier at the Cardiff Arms Park which hit and killed a spectator. The two people responsible were later tried and convicted of manslaughter and were each sentenced to 3 years in prison, the judge describing the act as one of 'mindless and crass stupidity'.
Football On This Day – 17th November 1998
It was 'Arise, Sir Geoff' as Geoff Hurst received his knighthood from the Queen in recognition of his services to football. He was the third person connected to England's 1966 World Cup victory to be knighted after player Bobby Charlton (in 1994) and manager Alf Ramsey (in 1967). He said that the Buckingham Palace ceremony was more important to him than the hat-trick he scored in the World Cup final against West Germany.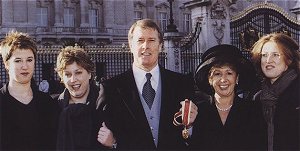 Football On This Day – 17th November 1999
Welshman John Toshack was sacked as the Real Madrid manager - for the second time. He had joined the club in February of that year but his unpopular reign came to an end after 11 matches of the new season with the club in a lowly 8th place. Almost exactly nine years to the day previously he had been sacked for the first time by the Spanish giants despite guiding the club to a La Liga title and only losing 8 of the 64 matches he was in charge.


18th November
Football On This Day – 18th November 1905
In their first season in the Football League Chelsea were forced to play in the qualifying rounds of the FA Cup. The fixture congestion that caused saw the Londoners have to play two matches in one day. On 18th November 1905 Chelsea's first team beat Burnley 1-0 at Stamford Bridge in the Second Division while their reserves lost 7-1 at Southern League Crystal Palace in the 3rd Qualifying Round of the FA Cup. That is still the worst defeat suffered by a League side against a non-league team in the FA Cup.
Link - Chelsea results 1905/06
Football On This Day – 18th November 1995
After an impressive run of 25 undefeated Premier League League matches on the trot (13 at the end of 1994/95, 12 at the start of 1995/96) Nottingham Forest were hoping that their successful days were back. Then on this day they lost 7-0 against Premier League champions Blackburn Rovers at Ewood Park!
Link - Nottingham Forest League history
Football On This Day – 18th November 2009
The Republic of Ireland were eliminated from the World Cup in the most controversial of circumstances. All square during extra time of their play off second leg against France in Paris Thierry Henry handled the ball twice before passing to William Gallas who headed the ball into the net. The 'goal' was allowed and France had won their place in the 2010 World Cup finals in South Africa. Thierry Henry was widely branded as a cheat but attempts to get the match replayed were rejected by FIFA. In June 2015 it emerged that FIFA had made a €5million payment to the FA of Ireland to prevent any legal action being taken against them over the incident.
Football On This Day – 18th November 2017
Scunthorpe fans Richard and Tracey Bailey were two of the crowd at the 3rd Division encounter between Cambridge United and Scunthorpe played on 13th February 1999. And it started a bit of a run for the married couple. Over 18 years later, on 18th November 2017, they were down at Northampton to witness a 3-0 Scunthorpe victory in a League 1 match and they made the headlines having attended 1000 consecutive matches played by Scunthorpe United since that match at Cambridge United. They hadn't missed a single one although a motorway closure on the long trip down for a fixture at Bournemouth did involve some spectacular driving in order to arrive on time. What's even more amazing is that they didn't live in Scunthorpe, their home was in Derby which is 75 miles from Scunthorpe! That meant that they travelled around 70,000 miles just to get to the home matches and back in those 1000 fixtures! The couple were later presented with '1000' club shirts to commemorate that magnificent achievement.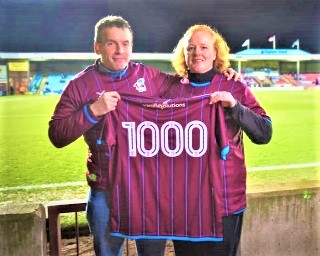 19th November

Football On This Day – 19th November 1960
Jimmy Greaves scored a hat-trick for Chelsea in their 6-3 thumping of Manchester City in a First Division fixture at Stamford Bridge. In doing so he scored his 100th League goal and, at 20 years 290 days old, he became the youngest player ever to score a century of League goals.
Link - Chelsea results 1960/61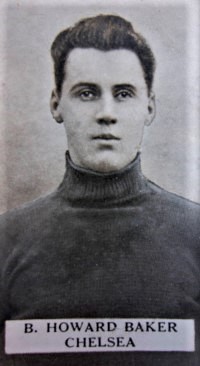 Football On This Day – 19th November 1921
When I was a kid at school a sporting 'all-rounder' was someone who could get into the house team at both football and cricket. But there are those who can do a tad better than that! In the early 1900s goalkeeper Benjamin Howard Baker was good enough to play for England at football. He also represented GB at the Olympics in 1912 and 1920 (high jump and triple jump) and was a decent hurdler, long-jumper and discus thrower. He was water-polo player of international standard, a championship-winning tennis player and did a lot more than play for his school house at cricket! A First World War injury saw him concentrate on football and the 1920s saw him make League appearances for Chelsea, Everton and Oldham. Most of those appearances were for Chelsea - 93 in League and FA Cup - and in one of those on 19th November 1921 he showed a bit more of his varied abilities. On that day goalkeeper Baker scored the only goal for Chelsea in the First Division match against Bradford City at Stamford Bridge - from the penalty spot. He lost his penalty-taking duties after a miss against Arsenal later in the season but, hey, what an all-rounder!


20th November
Football On This Day – 20th November 1965
Tony Read scored his first League hat-trick when helping Luton Town to a 5-1 Fourth Division defeat of Notts County at Kenilworth Road. Not bad....for a goalkeeper! When he signed for the Hatters from Peterborough an injury prevented him playing between the posts so he moved to the outfield instead where he started scoring goals in the reserves and progressed to the first team. He played in 33 of Luton's 46 League matches in 1965/66 with only the last six being in his favoured position of 'keeper while in the other 27 matches as a forward he scored 12 times including that hat-trick. Not a bad ratio for a goalkeeper!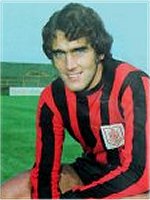 Football On This Day – 20th November 1971
Ted MacDougall set a new goalscoring record for the FA Cup competition proper (first round onwards) when he scored 9 goals for Bournemouth in their 11-0 thumping of Southern League Premier Division side Margate in a First Round tie. He later said 'I was disappointed as I thought I should have got 11.'
Link - FA Cup results 1971/72


Football On This Day – 20th November 2004
Former Brazilian World Cup captain Sócrates made an unusual debut for his only English club side. He was 50, had been retired for 15 years and the club he played for was Garforth Town of the Northern Counties East Football League! His one game for the Yorkshire club saw him come on as a sub with 12 minutes remaining of the 2-2 draw with Tadcaster Albion. Garforth's boss explained why that was his only match for them - 'I decided not to play him in the next game because his warm-up had consisted of drinking two bottles of Budweiser and three cigarettes which we had in the changing rooms. I didn't think it was a good idea for him to carry on playing too much more though he was keen to."


21st November
Football On This Day – 21st November 1936
A 4817 crowd at the Feethams saw an entertaining Third Division North fixture between Darlington and Hartlepools United. The match ended 5-5 with nine players scoring goals - Logan, Brown, Towers and Stranger (2) for Darlington and Scott, Hill, English, Robertson and Wigham for Hartlepools (they had an 's' in their name in those days!).
Football On This Day – 21st November 1967
It was announced that Peterborough United were to be relegated from the 3rd to the 4th Division at the end of the 1967/68 season after being found guilty of financial irregularities. One of those irregularities was offering Posh players an illegal bonus to beat Sunderland in an FA Cup tie the previous season - Posh had lost 7-1. At the time of the punishment Peterborough were still hopeful of a promotion challenge but the season became almost meaningless - surely the most severe punishment ever handed out by the football authorities?
Link - Points deductions, demotions and expulsions.
Football On This Day – 21st November 1974
Peter Shilton joined Stoke City for a £325,000 transfer fee, at the time a world record for a goalkeeper. A week later the England international was part of a team - which included Mike Pejic, Jimmy Greenhoff, Alan Hudson, Jimmy Robertson and Geoff Hurst - that beat his former club Leicester City 1-0 to go top of the First Division. They finished the season in fifth place, four points behind League champions Derby County.
Football On This Day – 21st November 1977
He was 37 and playing for a non-league club but you couldn't keep Jimmy Greaves out of the headlines. Playing for Barnet on this day in 1977 against Chelmsford City in an Eastern Floodlit League match he was sent off for using foul and abusive language. He refused to leave the pitch so the referee abandoned the match.
Link - Abandoned matches
Football On This Day – 21st November 1979
For the first time an England match at Wembley was postponed, the scheduled European Championship qualifier against Bulgaria being called off because of heavy fog. The match was played the following evening although without England captain Kevin Keegan who had to return to his club, Hamburg. England won 2-0 with Glenn Hoddle scoring on his international debut.


22nd November
Football On This Day – 22nd November 1930
Clapton Orient – now Leyton Orient – played their first home Division 3 (South) match at their new temporary home – Wembley Stadium! Their own Lea Bridge Road ground had been closed for alterations to be made and on this day in 1930 a Wembley crowd of 8,319 saw them beat Brentford 3-0. Two weeks later they played their second and last League match at Wembley, just 1,916 witnessing a 3-1 victory over Southend.
Link - full story
Football On This Day – 22nd November 2007
The day after England's hopes of qualifying for Euro 2008 ended with a 3-2 defeat against Croatia at a soggy Wembley England boss Steve McClaren was christened the 'Wally with a brolly' by the Daily Mail...and was sacked by the FA. McClaren had only been in charge of England for 18 matches. Also sacked was his assistant, Terry Venables.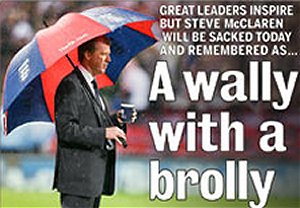 Football On This Day – 22nd November 2016
Footballers are like the rest of us - they don't know when they will make the news...or what that news will be for! When Braintree Town striker Simeon Akinola was travelling to Bromley for a Vanarama National League match he was doubtless thinking of how many goals he would score in this 'man of the match' performance that evening. Reality hit home when he arrived at Bromley's empty Hayes Lane ground - the match was being played 60-odd miles away at Braintree! He managed to get back to the right ground by half-time and made an appearance as a second-half substitute, helping to set-up Braintree's second goal in the 2-2 draw. And then the news people took over!


23rd November
Football On This Day – 23rd November 1896
Tragedy struck Woolwich Arsenal in their fourth Football League season (Woolwich Arsenal became Arsenal in 1914). Full-back Joe Powell suffered a horrific broken arm in a United League match at Kettering Town's North Park ground on November 23rd 1896 with dirt getting into the wound causing blood poisoning and tetanus. His arm had to be amputated but sadly on November 29th the 26-year-old died at his Plumstead home. Joe Powell had joined Woolwich Arsenal in 1892 when the Londoners bought him out of the army. He captained the Woolwich Arsenal side in their first match in the Football League, against Newcastle in September 1893, and had played in 86 of the 98 Football League matches Woolwich Arsenal had played prior to the Kettering fixture.

Football On This Day – 23rd November 1978
John Gordon, Scotland's top ref, and linesmen Rollo Kyle and David McCartney were suspended by the Scottish FA after admitting they accepted 'excessive hospitality' from AC Milan before their UEFA Cup tie against Levski Spartak. They had been taken on a shopping trip in Milan to buy gifts the day before the match. AC Milan were fined £8,000 by UEFA.
Football On This Day…. November 23rd 2002
There have been plenty of stories about Joey Barton over the years with his first headlines coming before he made his senior debut. In fact that was the story! Manchester City manager Kevin Keegan was about to bring on the 20-year-old Barton as a substitute in the Premier League defeat against Middlesbrough at the Riverside Stadium for what would have been his first team debut. But then Barton discovered that he had lost his shirt! He had left it in the dugout at half time and it seems that a Boro fan had lifted it in his absence - and there was no spare! The rules were that he had to wear a shirt with his squad number - 41 - on it to play and so without that it was Ali Benarbia who Keegan brought on as the sub. Joey Barton had to wait until April 5th 2003 before eventually making his first team debut, against Bolton in the Premier League.
Link - Debuts
Football On This Day – 23rd November 2014
England's women played their first match at the revamped Wembley, a friendly against Germany. Despite transport problems in London the crowd of 45,619 was over 5000 up on England's mens' last friendly at the ground. The Germans, inevitably, spoilt the day with a 3-0 victory.


24th November
Football On This Day – 24th November 2001
Southampton moved from The Dell to their new St Mary's Stadium at the start of the 2001/02 season, but they found it hard to win at their new ground. Their first five Premier League matches at their new home saw four defeats and a draw so - as you do - they brought in the Pagan Priestess Cerradwen 'Dragonoak' Connelly for help. She performed an exorcism at St Mary's, site of a Anglo-Saxon village called Hamwick, to banish a curse from the ground. Don't knock it because the very next day - Saturday 24th November 2001 - Southampton beat Charlton 1-0 to record their first victory at St Mary's in front of 31,198 fans which was the record home crowd for the Saints at any ground (since bettered). Magic or what?
Football On This Day – 24th November 2017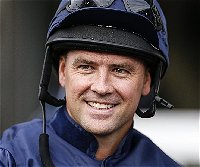 Times have changed since the days when the best career an ex-pro footballer could hope for was to run a pub. Michael Owen earned a bob or two playing for some of the top sides in Europe and on retirement turned his attention to the racetrack as a owner and breeder of race-horses. And on Friday November 24th 2017 in the 12.15 at Ascot the 37-year-old former England international made his debut as a jockey. He lost over a stone in a month to make the weight and rode Calder Prince to second place in the Prince's Countryside Fund race. Afterwards he said he was 'chuffed' and likened it to playing in the World Cup quarter-finals against Brazil - I guess because England finished second in that one as well!


25th November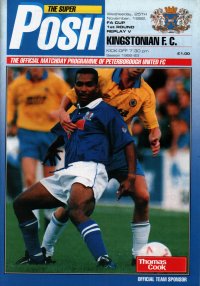 Football On This Day – 25th November 1992
First Division Peterborough United beat non-leaguers Kingstonian 9-1 in an FA Cup First Round replay with Tony Philliskirk scoring five of the goals. Both were club records - for a few days anyway until the FA declared the match void and ordered a replay behind closed doors. The reason for the punishment - Kingstonian 'keeper Adrian Blake had been hit by a coin thrown from the crowd in the 55th minute and was replaced by an outfield player when the score was just 3-0
Link - FA Cup results 1992/93
Link - Peterborough United results 1992/93


26th November
Football On This Day – 26th November 1904
An abandonment in the 1904/05 season changed the outcome of the League championship. Everton's match at Woolwich Arsenal on November 26th 1904 was abandoned after 76 minutes due to fog with the Merseysiders leading 3-1. When the match was eventually played again, just before the end of the season when they had to play 3 matches in 4 days, Everton lost 2-1. If the original match had been completed (and if the scoreline had remained the same), Everton would have pipped Newcastle to the League Championship by a point. Instead they finished second.
Link - Everton results and table 1904/05
Link - Abandoned matches
Football On This Day – 26th November 1983
Kenny Dalglish scored for Liverpool in their 1-1 draw at Ipswich in their First Division clash, his 100th League goal for Liverpool. Prior to joining Liverpool Kenny Dalglish had scored 111 League goals for Celtic and while he wasn't the first player to score a century of goals north and south of the border he was the first to achieve that feat when playing for just one club in both England and Scotland. He went on to better his goals at Celtic with 118 League goals for Liverpool. He was also the first Scot to make a century of appearances for his country, he managed Liverpool, had an Anfield stand named after him and became Sir Kenneth in 2018. A true footballing legend.

Football On This Day – 26th November 1991
In 1991 the rules were changed to allow penalty shoot-outs to replace multiple replays in the FA Cup. The first tie to be decided by the new rules was the First Round tie between Rotherham and Scunthorpe on Tuesday November 26th 1991 when, after two drawn games, Rotherham won the penalty decider 7-6 at the Millmoor replay.
Link - FA Cup results 1991/92
Link - Penalty shoot-outs
Football On This Day – 26th November 1992
Manchester United bought Eric Cantona from Leeds United for £1.2m. Not a bad buy I guess!
Football On This Day – 26th November 2011
Dreams can come true in football. On 26th November 2011 Jamie Vardy scored a goal for non-leaguers Fleetwood Town in front of a crowd of 768 in a Conference match at Gateshead. Four years later - almost to the day - on November 28th 2015 he scored for Leicester City against Manchester United. He had scored in 11 consecutive Premier League matches breaking the record of 10 set by Manchester United's Ruud van Nistelrooy in 2003. Vardy increased the record to 12 in helping Leicester City's Premier League title challenge - surely another unlikely dream come true in itself!
Link - Leicester City's results 2015/16


27th November
Football On This Day – 27th November 1916
Hartlepool United's Victoria Ground recorded an unwelcomed footballing first - the first English ground to be bombed in a war-time air-raid. Two First World War German Zeppelins jettisoned their bombs over Hartlepools when confronted by the Royal Flying Corps, destroying the main stand at the Victoria Ground. After the war ended the club demanded £2500 from the German Government to cover the damage - they didn't get it!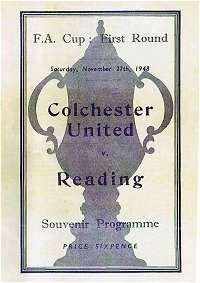 Football On This Day – 27th November 1948
Colchester United's old Layer Road all-time record crowd of 19,072 was set on this day at a First Round FA Cup tie against Reading. The match was abandoned after 35 minutes because of fog!
Link - FA Cup results 1948/49
Link - Abandoned matches

Football On This Day - 27th November 1957
Future England manager Bobby Robson made his England playing debut, against France at Wembley. Times have changed - he had first discovered that he had been selected for the England squad when he read the news in a newspaper stop press column! He scored twice in the 4-0 victory. Manchester United's Tommy Taylor scored the other two but tragically that was the last time that he, Duncan Edwards and Roger Byrne were to play for England with the Munich tragedy claiming their lives before England played again, against Scotland in April 1958. Despite scoring twice on his debut Bobby Robson also missed the Scotland match being dropped and replaced by a player who made his debut. That player was Bobby Charlton - not sure if he had much of an England career after that!!
Football On This Day - 27th November 2006
The Ulster Bank in Northern Ireland marked the first anniversary of the death of George Best when they issued 1 million £5 notes in honour of the greatest player to come from the north of Ireland. They were legal tender but I bet not many were found in change as they immediately became worth more than face value in the souvenir market.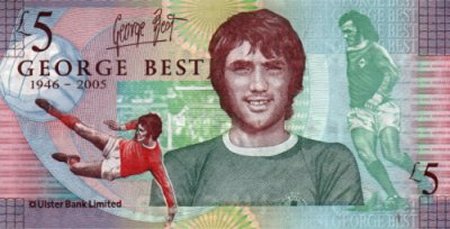 Football On This Day - 27th November 2008
The early 2000's saw Portsmouth enjoy some good times - 7 seasons in the Premier League and 2 FA Cup finals winning one of those finals which saw them qualifying for what has been their only season in European competition. The highlight of that season in the UEFA Cup was on 27th November 2008 when in a group match they entertained Italian giants AC Milan who had World Player of the Year Kaka in their ranks. A 20,403 Fratton Park crowd saw Pompey make a great start - they took a 2-0 lead with goals from Younes Kaboul and Kanu while Peter Crouch missed three good chances. Sadly in the 84th minute Ronaldinho scored from a free kick for Milan with Inzaghi scoring the equaliser in injury time. A draw but Portsmouth failed to qualify from the group and the European dream was over.
Link - Portsmouth UEFA Cup results and table 2008/09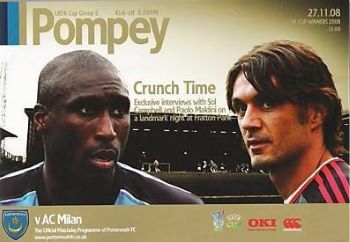 28th November
Football On This Day – 28th November 1955
For the first time two Football League sides played an FA Cup tie under floodlights. The second replay of a First Round tie between Carlisle United and Darlington was played at St James' Park, Newcastle, with Darlington winning 3-1.
Link - FA Cup results 1955/56
Link - Floodlights
Football On This Day – 28th November 1970
Goalkeeper Chic Brodie made over 400 Football League appearances but is probably best remembered for the incident with a dog on the pitch. Playing for Brentford against Colchester United in a Fourth Division fixture at Layer Road a dog ran onto the pitch and collided with Brodie, breaking his kneecap. He said 'the dog may have been small - but it just happened to be solid.' Although it is perhaps seen as a comical injury it did effectively end his Football League career and I certainly said 'ouch' when I first saw it........
Football On This Day – 28th November 1975
George Best made his League debut for Stockport County, yes he really did! After his acrimonious departure from Old Trafford in 1974 he made his first brief return to League football at Edgeley Park and made his debut for Stockport in their home Fourth Division match against Swansea City on 28th November 1975. He scored a goal in County's 3-2 victory and played in their next two home matches, against Watford and Southport, before moving on again.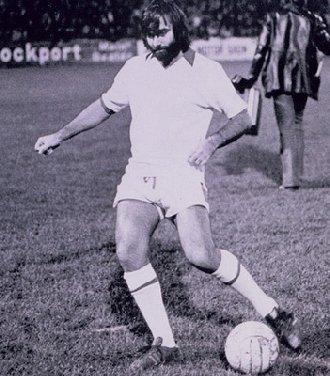 Football On This Day – 28th November 1999
On this day in 1999 Paraguayan goalkeeper José Luis Chilaver scored a hat-trick - all from the penalty spot - in his Argentinian club side Vélez Sarsfield's 6–1 victory over Ferro Carril Oeste. Amazingly Chilavert scored 48 goals in his 341 appearances for Vélez and another 8 in his 74 international matches for Paraguay. That record certainly gives a new meaning to the term 'all rounder'!
Link - Penalties
Football On This Day – 28th November 2016
Tragedy in South America. A plane travelling from Brazil crashed on its landing approach to Medellin airport in Colombia, 71 of the 77 on board being killed. The plane was carrying the players and officials of Brazilian football team Chapecoense on their way to the biggest match in their history – a 2016 Copa Sudamericana final (equivalent to the Europa League in Europe) first leg match against Colombia's Atlético Nacional. Nineteen players were amongst those killed – just three survived the crash – and as a result the final matches weren't played and Chapecoense were awarded the 2016 trophy. The reason for the crash was announced shortly later – amazingly the plane had run out of fuel!


29th November

Football On This Day – 29th November 1990
On his 17th birthday a youth team player at Manchester United, who was considered the best prospect since George Best, was offered a 5-year professional contract with the club. The player...Ryan Giggs. He duly signed the contract! Whatever happened to him?

30th November
Football On This Day – 30th November 1872
The first ever official international match was played when England played Scotland at the West of Scotland Cricket Club ground in Partick. A crowd of around 4,000 saw a 0-0 draw.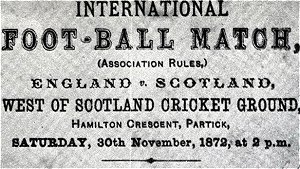 Football On This Day – 30th November 1994
The 'golden goal' arrived in English football. At an Auto Windscreens Second Round match between Huddersfield Town and Lincoln City Huddersfield's Iain Dunn became the first player to score a sudden death winner, in the 107th minute of the match. Later in the season Birmingham beat Carlisle in the Wembley final of the same competition with a golden goal.