8th April
Football On This Day – 8th April 1944
In its heyday the Park Avenue sporting complex in Bradford hosted cricket, rugby union and rugby league as well as football. The Bradford football club had its home there but was better known as Bradford (Park Avenue) to avoid confusion with rivals Bradford City. Bradford PA were members of the Football League from 1908 to 1970 and were famously members of the Southern League (yes the Southern League!) before joining the Football League. Their Park Avenue ground was also famously had the 'Doll's House' in one of its corners (pictured) which was similar to The Cottage at Fulham's Craven Cottage home. Less well known though is that Bradford PA were the only League side to have their record attendance recorded in a war-time fixture. You wouldn't have thought large attendances would have been allowed in the war years but on Saturday 8th April 1944 32,810 crammed into their Park Avenue ground for a war cup-tie against Blackpool. The great attraction - Stanley Matthews was playing for the opposition.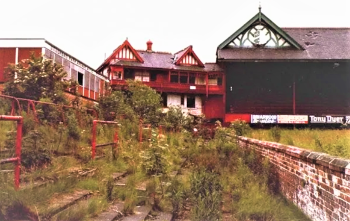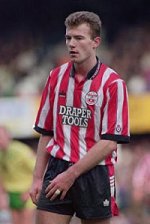 Football On This Day – 8th April 1988
After having made two substitute appearances in the League for Southampton Alan Shearer made his starting debut for the Saints against Arsenal at the Dell and at 17 years 240 days of age became the youngest player to score a hat-trick in the top flight. Southampton won 4-2.

9th April

Football On This Day - 9th April 1928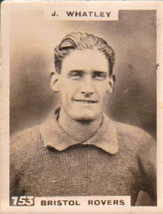 When goalkeeper Jesse Whatley played his first match for Bristol Rovers, who were then in the Southern League, he didn't make the most memorable of debuts – he let in five goals. Rovers then progressed to the Football League and Jesse Whatley progressed to setting an amazing playing record. He played all his League football for Bristol Rovers and from August 1922 he played in 246 consecutive Football League matches for the Pirates. Those 246 matches comprised playing in every League match for 5 full seasons and the first 36 matches of the following season which at the time was a League best and still remains a Rovers record. The last match in that amazing sequence was on 9th April 1928 against Crystal Palace at Eastville and then he asked to be left out of the team for the rest of the season to allow deputy Bert Densley a run in the side. Amazing!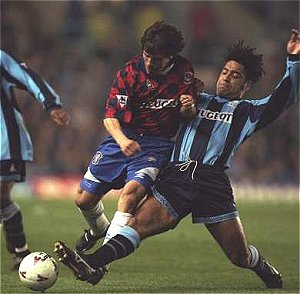 Football On This Day – 9th April 1997
Peugeot, Coventry's shirt sponsors, got their monies worth when a colour-clash of kit saw Chelsea needing to borrow Coventry's away strip in the Coventry v Chelsea Premier League match at Highfield Road.

10th April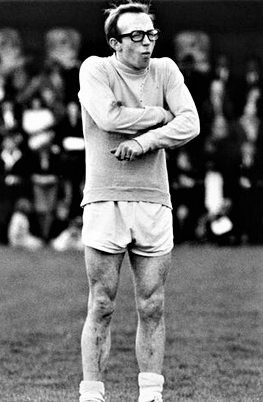 Football On This Day – 10th April 1965
Norbert Stiles - probably better known as Nobby Stiles! - was a very popular character and player and of course he was a member of the 1966 England World Cup winning side. He played 28 times for England, all while a Manchester United player, making his debut in the 2-2 draw against Scotland at Wembley on Saturday April 10th 1965. Norbert - sorry Nobby - was famously very short-sighted and often described himself as half-blind. After that debut match he and the other England players went to the Café Royal in London for the traditional after-match banquet. Not wearing his glasses he got lost in the corridors there before finding a busy dining room and sitting down in it. He started to wonder were his team-mates were and then a fellow diner lent over and asked him a question - "So, do you know the bride or the groom?" Whoops!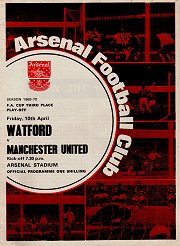 Football On This Day – 10th April 1970
Highbury staged the first FA Cup 3rd/4th place match which replaced the FA Cup Final eve England v Young England fixture. Manchester United beat Watford 2-0 in front of 15,105 - the fixture only lasted 5 games!
Link - England v Young England/FA Cup 3rd/4th place



Football On This Day – 10th April 1999
Fulham owner Mohamed Al-Fayed welcomed a special guest for the Division 2 match against Wigan – singer Michael Jackson. That was his only visit to Craven Cottage but 12 years later Fulham marked that visit with a statue of their 'greatest supporter'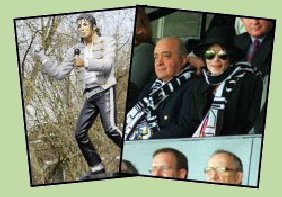 11th April
Football On This Day – 11th April 1936
Swansea Town weren't too chuffed with the Easter fixture list in the 1935/36 season. On Good Friday - April 10th - they were on the south coast for a Second Division fixture against Plymouth Argyle, which they won 2-1. The following day their Easter Saturday fixture was away again - this time up north at Newcastle United! They lost that one 0-2.
Football On This Day – 11th April 1937
France were due to play Italy in 1937 but when the Italians pulled out of the fixture the opposition that replaced them was perhaps an unusual choice.....Charlton Athletic! So on April 11th 1937 - the day after the Londoners had defeated Huddersfield Town 1-0 at the Valley in the First Division - Charlton were in Paris to take on France. And amazingly Charlton won 5-2 with goals from Don Welsh (2), George Tadman (2) and Harold Hobbis.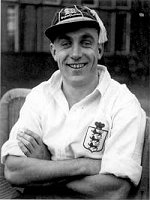 Football On This Day – 11th April 1959
Billy Wright of Wolves became the first England player – in fact the first player in the world – to make his 100th international appearance in England's 1-0 victory over Scotland at Wembley. He eventually won 105 caps, captaining England 90 times.

Football On This Day – 11th April 2015
Cambridge United chairman Dave Doggett identified a new threat in his programme notes for the League 2 clash with Accrington Stanley – senior citizen violence! He said that his club had identified a number of fans in their 50s and 60s who were trying to relive the 1980s by fighting with rival fans on match days. He wrote 'Many of them are grandparents trying to encourage the next generation to join their gangs. It sounds pathetic but unfortunately it is reality. We are working closely with police.'
Football On This Day – 11th April 2017
The Champions League quarter-final first leg between Borussia Dortmund and Monaco was postponed when the bus carrying the Borussia players and officials to the Westfalenstadion was attacked by three roadside bombs. One of their players, Marc Bartra, and a policeman were injured but thankfully the strengthened windows of the bus prevented multiple casualties. Islamic terrorism was initially suspected but then a financial motive was discovered with the bomber planning to make a profit if the attack caused the club share price to drop dramatically. The match was played the following evening, Monaco winning 3-2.

12th April

Football On This Day – 12th April 1924
In the first ever international match at Wembley England drew 1-1 with Scotland in front of a disappointingly low crowd of 37,250.
Football On This Day – 12th April 1987
Hillsborough hosted the FA Cup semi-final between Coventry City and Leeds United. For Coventry it was the first time they had reached the last 4 of the FA Cup while in the Leeds camp defender Neil Aspin was forced to postpone his wedding which had been arranged for that day. Leeds didn't have a match on that Sunday when the wedding date had been set! Well Coventry won the match - and went on to defeat Spurs in the final - and Aspin got married a couple of weeks later. I guess he was forced to do the washing-up for weeks as his penance!
Link - FA Cup results 1986/87

13th April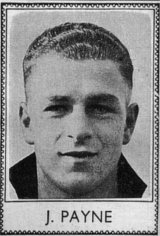 Football On This Day – 13th April 1936
Luton Town defeated Bristol Rovers 12-0 in a Division 3 (South) match. In his first match as a centre-forward Joe Payne scored 10 of the goals which is still the most goals any player has scored in a League match.
Link - Goals and their goalscorers
Football On This Day – 13th April 1996
Fergie came out with some great excuses for poor Manchester United displays with one of the most bizarre coming at half-time in the Premier League match against Southampton at the Dell on April 13th 1996. He blamed the 3-0 deficit at the break on the grey kit United were wearing saying that his players couldn't pick each other out against the background of the crowd. He ordered them to change into a blue strip for the second half and to be fair United scored the only goal in the second period. Mind you United wore blue when they visited the Dell the following season - and lost 3-6!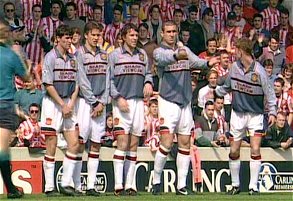 Football On This Day – 13th April 1997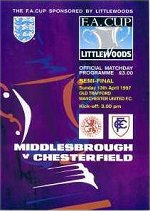 They say that when it comes to the FA Cup fans of the clubs from lower leagues don't dream of reaching the Wembley final - too unrealistic - but do dream of being drawn away to a top side and visiting one of the iconic grounds like Old Trafford or Anfield. But for fans of a third tier club 13th April 1997 saw them play at one of those iconic grounds with the dream of a Wembley final almost coming true. Chesterfield reached the semi-final of the FA Cup and were up against Middlesbrough at Old Trafford. The match was a classic. Middlesbrough had a player sent off in a goalless first half. Chesterfield took a 2-0 second half lead before Middlesbrough pulled one back. Then a major controversy, A Chesterfield shot hit the underside of the crossbar and appeared to cross the line - but it was disallowed. Instead of being 3-1 down Middlesbrough made it 2-2 with a penalty and took a 3-2 lead in injury time. Chesterfield then scored in the last minute to draw 3-3. Sadly though Chesterfield were well beaten - 3-0 - in the replay at Hillsborough and that particular dream was over.
Link - Chesterfield results 1996/97

14th April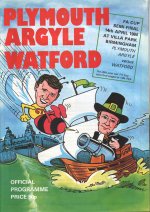 Football On This Day – 14th April 1984
Some 20,000 fans of Third Division Plymouth Argyle travelled to Villa Park for the clubs' first – and still only – appearance in an FA Cup semi-final. They lost 1-0 to Watford who reached their first FA Cup Final.
Link - FA Cup results 1983/84

15th April
Football On This Day – 15th April 1961
England thumped Scotland 9-3 at Wembley. Jimmy Greaves scored a hat-trick and Scotland 'keeper Frank Haffey had a nightmare.
Football On This Day - April 15th 1964
Both George Best and Pat Jennings made their senior international debuts for Northern Ireland on this day in 1964 in a 3-2 victory over Wales in the British Home Championship match at the Vetch Field in Swansea. Jennings went on to make a record 119 appearances for his country but Best sadly not making enough with just 37 caps to his name.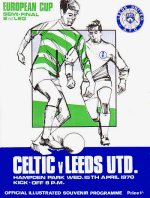 Football On This Day – 15th April 1970
The record attendance for a European club competition match was set at Hampden Park when 136,505 saw Celtic beat Leeds to reach the European Cup Final. Celtic lost to Feyenoord in the final. Surely that's a record that will never be broken?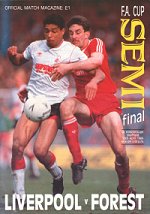 Football On This Day - 15th April 1989
At 3.06pm the FA Cup semi-final between Liverpool and Nottingham Forest at Sheffield Wednesday's Hillsborough ground was brought to a halt when it became apparent that overcrowding at the Leppings Lane End was causing serious injuries to Liverpool supporters in the standing terraces. The death of 97 fans was the worst disaster in English football history and things would never be the same again. Was it really that long ago - and isn't it a national disgrace that the full truth of what happened on that tragic day is still not known!


16th April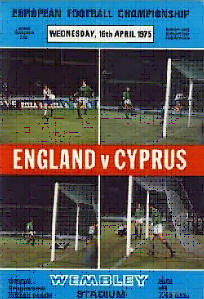 Football On This Day – 16th April 1975
Newcastle United's Malcolm Macdonald scored all of England's goals in the 5-0 defeat of Cyprus in a Euro qualifier at Wembley.




Football On This Day - 16th April 1983
Oxford United owner Robert Maxwell announced that he had bought a controlling interest in Reading FC and that he intended to merge the clubs and play under the name of Thames Valley Royals.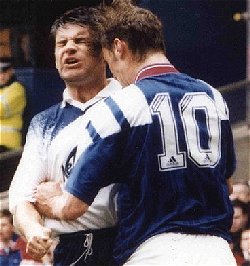 Football On This Day - 16th April 1994
Duncan Ferguson of Rangers became the first professional player in Britain to be jailed for a incident on the football pitch. In a Scottish League match at Ibrox on 16th April 1994 he head-butted visiting Raith Rovers defender Jock McStay and although the clash wasn't noticed by the match officials it was caught on camera and he ended up in court charged with assault. He was found guilty and with previous convictions (although not from footballing incidents) he was sentenced to 3 months in prison. He eventually served 44 days in Barlinnie prison after which he became an Everton player (although I don't think that was part of the punishment!).
Link - Crime and Punishment
Football On This Day - 16th April 2001
Tragic scenes at Southend United's Roots Hall ground at their Division 3 match against Mansfield Town. Referee Mike North collapsed in the centre circle shortly before half time and died of a heart attack. The match was abandoned.


17th April
Football On This Day – 17th April 1937
A European record attendance for a football match of 149,415 saw Scotland beat England 3-1 at Hampden Park in a Home Championship match.
Football On This Day – 17th April 1971
Hooliganism was an ever-present problem in the 70s with one particularly bad incident at Elland Road in April 1971. Leeds were involved in a tight battle with Arsenal for the League title and in a crucial match against WBA referee Ray Tinkler allowed a clearly off-side goal. The ref was jostled during a pitch invasion which followed. Leeds lost the match 1-2 and were pipped by a point by Arsenal for the title. Their punishment for the incident was a four-match banishment from Elland Road at the start of the 1971/72 season.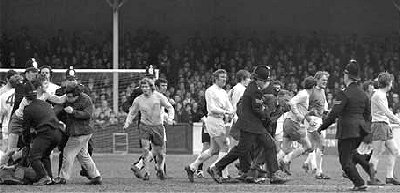 Football On This Day – 17th April 2006
Alan Shearer was one of the greats of the English game. His 206 Newcastle United goals and 260 Premier League goals were both records, he was a Footballer of the Year, PFA Player of the Year, one of his transfers was for a world record fee, he was a Premier League title winner and scored 30 times in 63 England appearances. He had planned to retire at the end of the 2005/06 season, his tenth at hometown club Newcastle United. But on Monday 17th April 2006 his playing career came to a slightly premature end when a knee injury saw him substituted in what proved to be his last match with three matches of the season remaining. Mind you it was a fitting finale with Newcastle winning 4-1 away to their local rivals Sunderland. Of course Alan Shearer scored one of those goals. A great player.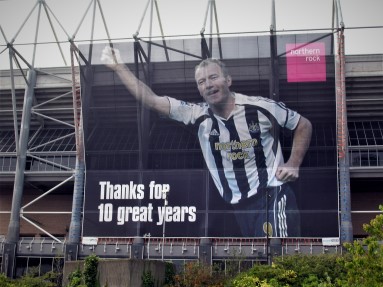 18th April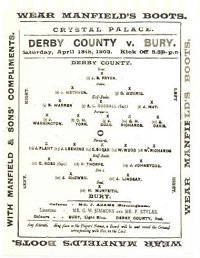 Football On This Day – 18th April 1903
Bury beat Derby County 6-0 in the FA Cup Final played at Crystal Palace. It's still a record high score in the final although was equalled when Manchester City beat Watford by the same scoreline in the 2019 Wembley final.
Link - FA Cup results 1902/03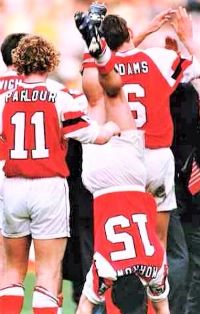 Football On This Day – 18th April 1993
Some players seem to be in the news all the time while others can only dream of hitting the headlines even once in their career. Steve Morrow was a player in the second category. He spent nearly 10 years at Arsenal during which time he made 85 first team appearances for them, many as a sub, scoring 3 goals. He played for his country - Northern Ireland - before making his Arsenal debut! But Monday April 18th 1993 was the day he definitely made the footballing headlines. With John Jensen injured Steve Morrow was selected for the Arsenal team against Sheffield Wednesday at Wembley in the Coca-Cola (League Cup) final - and he scored the winning goal which was his first for Gunners. But there was more for the headline writers. After the final whistle Arsenal captain Tony Adams tried to lift Morrow on to his shoulders in celebration of his part in the victory - but dropped him! While his team-mates were collecting their winners' medals the unfortunate Morrow was on his way to hospital with a broken arm. He did get a Wembley presentation of his medals though, in May before Arsenal's FA Cup final against - ironically - Sheffield Wednesday which they won after a replay.
Link - Footballing Injuries



19th April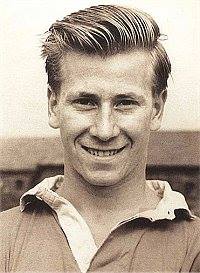 Football On This Day – 19th April 1958
Just two months after the Munich air disaster Manchester United's Bobby Charlton made his England debut in the 4-0 defeat of Scotland at Hampden Park scoring the first of what would become a record 49 goals for his country.
Football On This Day – 19th April 2014
For the first time Chelsea manager Jose Mourinho suffered a Premier League defeat at Stamford Bridge. After 61 wins and 16 draws in his first 77 league matches at the ground in his two spells at the club along came bottom club Sunderland to win 2-1 against title chasing Chelsea. In his after-match interview he praised his players, he praised Sunderland and then had this to say about the referee who had turned down several Chelsea penalty appeals but awarded one to Sunderland. "Third point, I want to congratulate again Mike Dean. I think his performance was unbelievable and I think when referees have unbelievable performances I think it's fair that as managers we give them praise. So, fantastic performance. He came here with one objective. To make a fantastic performance. And he did that." Yes he was being sarcastic and yes he was fined, £10,000.
Football On This Day – 19th April 2016
When the PA announcer at the Rochdale v Gillingham League 1 match made an appeal for a car owner to return to his vehicle because the car lights had been left on the owner was a bit preoccupied. He was playing in the match! Rochdale's Callum Camp got one of the backroom staff to sort out his problem - then went on to score Rochdale's goal in the 1-1 draw.

20th April
Football On This Day – 20th April 1901
A then world-record crowd for a football match at the Crystal Palace for the FA Cup final between Sheffield United and Tottenham Hotspur. The official attendance was 110.802 although thousands more gained entrance to witness a 2-2 draw. The replay, played a week later at Bolton's Burnden Park, saw Southern League Spurs become the only non-league side to win the FA Cup since the Football League was founded in 1888 with a 3-1 victory.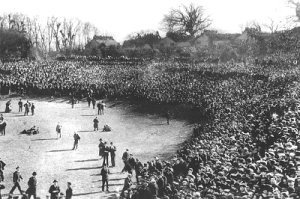 Football On This Day – 20th April 1955
Wales became the first British international side to field two sets of brothers. John and Mel Charles, Ivor and Len Allchurch were in their side for the 3-2 victory over Northern Ireland at Windsor Park, Belfast. John Charles scored a hat-trick.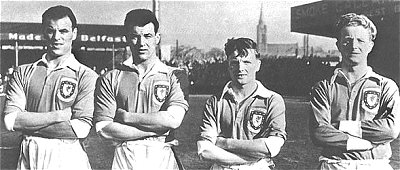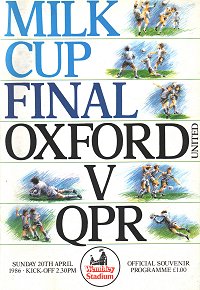 Football On This Day – 20th April 1986
Robert Maxwell perhaps wasn't the most popular of club chairman but under his control Oxford United did enjoy its most successful period. As a First Division club - the top tier in those days - on this day in 1986 Oxford beat favourites QPR in front of 90,396 at Wembley to win the Milk Cup (League Cup). Twenty years later they were relegated to the Conference.

21st April
Football On This Day – 21st April 1909
When Nottingham Forest beat Leicester Fosse (now Leicester City) in what was expected to be a keenly-fought First Division relegation battle the scoreline raised a few eyebrows - Forest won 12-0. An inquiry was held where it was found that the reason for Fosse's poor performance was that two days before the match the Leicester players had attended the wedding of team-mate Turner - and that the celebrations had continued until the early hours of the morning of the match against Forest!
Link - the full story
Football On This Day – 21st April 1930
Leicester City and Arsenal drew 6-6 at Filbert Street in a First Division fixture. That was the first time that scoreline had been recorded in the Football League and has been repeated just once since - Charlton v Middlesbrough in a Second Division match in 1960/61.
Football On This Day – 21st April 1930
Brentford beat QPR 3-0 at Griffin Park and so won all their 21 home fixtures in Division 3 (South) that season. That was the last time a club won all their home matches in a League season and although five clubs had achieved that record previously the most home matches any of those club had played was 17. Amazingly though Brentford weren't promoted!
Link - Brentford results 1929/30 and League table
Football On This Day – 21st April 1979
World Cup winner Alan Ball completed 100 League appearances for Southampton. He was the first player to achieve this with four different clubs – the others being Blackpool, Everton and Arsenal.
Football On This Day – 21st April 1986
One of the more unusual hat-tricks was scored by Alvin Martin in West Ham's 8-1 First Division victory over Newcastle United at Upton Park. Injuries saw Newcastle play three different goalkeepers - Martin Thomas, Chris Hedworth and Peter Beardsley - and Alvin Martin completed his hat-trick by scoring a goal against each of them.
Link - match details and West Ham results 1985/86
Football On This Day – 21st April 1990
Player-manager Ian Bowyer and his son Gary were in the Hereford team for their Division 4 match at Scunthorpe. In was the first time a father and son had player together in the League since 1951. Gary scored his first ever League goal in the 3-3 draw while former European Cup winner Ian turned out in just one more League match before retiring from playing.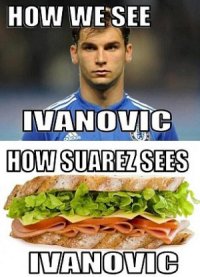 Football On This Day – 21st April 2013
When Liverpool's Luis Suárez bit Branislav Ivanović's arm in the Liverpool v Chelsea Premier League match at Anfield the comedians on the internet had a field-day. On a more serious note the Uruguayan - who had previous for the same offence while at Ajax - suffered an undisclosed club fine and a 10 game FA ban for violent conduct. And we all wondered when 'Cannibal' Suárez would strike next!



Football On This Day – 21st April 2017
Brighton goalkeeper David Stockdale made history by becoming the first keeper to score two own goals in a League match. All the other 39 double own goal scorers in League history had been outfield players. Amazingly the own goals were almost identical – shots from Norwich's Alex Pritchard hit the Brighton woodwork, they rebounded and hit the back of the unfortunate Stockdale before bouncing back into the net. A 2-0 defeat for Brighton who picked up just one point from their last 3 matches of the 2016/17 Championship season and were pipped by Newcastle for the title by just one point.
Link - Own goals


22nd April
Football On This Day – 22nd April 1959
Crystal Palace goalkeeper Vic Rouse became the first player from the Fourth Division to win a full international cap. He played for Wales against Northern Ireland in Belfast. The Irish won 4-1 - it was the only cap he won!
Football On This Day – 22nd April 1964
I was going to start this with do you remember Eric Morecambe's mimicking the announcer of the classified results - then I thought perhaps not many of you would even remember Eric Morecambe! Anyway Eric, of Morecambe & Wise comedy fame, made us all laugh when giving the result -

"East Fife (downward inflection) 4 - Forfar (upward lilt) 5"

Well it made us laugh at the time! But that result has never been read in reality but on 22nd April 1964 it came close with Forfar 5 East Fife 4. No, not quite the same.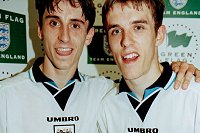 Football On This Day – 22nd April 1998
Brother substituted brother for the first time for England when Phil Neville replaced his brother Gary in the second half of England's 3-0 victory over Portugal at Wembley.

23rd April
Football On This Day – 23rd April 1948
On the eve of playing in the 1948 FA Cup final Blackpool's Stanley Matthews was named as the first winner of Football Writers' Association 'Footballer of the Year' award. The final didn't bring more success for him with Manchester United beating Blackpool 4-2 in a classic Wembley final and Matthews had to wait another five years for that elusive winners' medal.
Football On This Day – 23rd April 1984
A 0-0 draw at Grimsby was Cambridge United's 31st League match on the trot without a win. They beat Newcastle in their next Division 2 match but those 31 matches without a victory set a record that lasted until Derby suffered 36 winless matches in a row in 2008.
Link - Cambridge United results 1983/84.


24th April
Football On This Day – 24th April 1929
Halifax Town's Bob Suter made his last appearance in the Football League - a 2-0 Division 3 (North) defeat at Darlington - just three months short of his 51st birthday. An injury to regular Halifax Town keeper Howard Matthews - a sprightly 43 year old - saw trainer Bob Suter forced out of a 7-year retirement to become the second oldest player to appear in the Football League.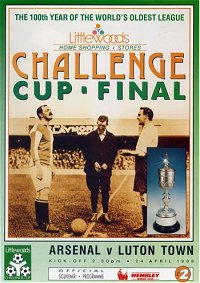 Football On This Day – 24th April 1988
Luton Town beat the strong favourites and cup holders Arsenal to win the Littlewoods (League) Cup in front of 95,732 at Wembley. It was decided in the final 10 minutes when Luton saved a penalty and then scored an equaliser and a winner. It was the first major piece of silverware the Hatters had won – and then they broke the trophy during their celebrations!
Link - Littlewoods Cup (League Cup) results 1987/88
Football On This Day – 24th April 1996
Iceland's Eiður Guðjohnsen was probably best known in the English game for the goalscoring partnership he formed with Jimmy Floyd Hasselbaink at Chelsea but he also made League appearances for Bolton, Spurs, Stoke and Fulham. His debut for Iceland came on April 24th 1996 in a friendly against Estonia in Tallinn and it certainly made the footballing headlines - he came on as substitute for his dad! He and dad Arnór Guðjohnsen were both in the squad for the Estonia match - Arnór played in the first half with Eiður replacing him as sub in the second half. It was definitely a newsworthy footballing first! Iceland's next match was a home fixture and the plan was that father and son would play alongside each other on home soil in that game but sadly before that could happen Eiður broke his leg and he didn't regain fitness until after his dad had retired - much to the great disappointment of both players.
Football On This Day – 24th April 1999
Who said that opposing fans can't help each other out? Going into their Premier Division match against Arsenal at the Riverside Middlesbrough were on a high. Only one home League defeat in 36 matches, a 7-match unbeaten League run and only one League goal conceded at the Riverside in 1999. By the time Arsenal had taken a 6-0 lead hordes of home fans had shown their displeasure by heading home early. But in the 87th minute Middlesbrough scored a consolation goal with Alun Armstrong heading home from an Andy Townsend free-kick. The trouble was there were hardly any Middlesbrough fans left in the ground to celebrate the goal. Sensing the problem the away fans cheered the Middlesbrough goal as if it was one of their own. Thoughtful or what!

25th April
Football On This Day – 25th April 1953
Jack Charlton made his League debut against Doncaster Rovers at Elland Road in Leeds' last Division 2 match of the 1952/53 season - the first of what would be a club record 629 League appearances for the Yorkshire club. As he left the dressing room he asked manager Raich Carter what he should be doing in the match and received the reply 'See how fast their centre forward can limp.'
Link - debuts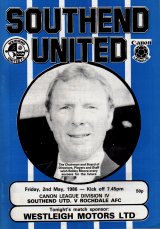 Football On This Day – 25th April 1986
Bobby Moore resigned as manager of Southend - the only League club he managed - for personal reasons. His two years at Roots Hall had been tough ones but despite financial problems he had helped turn Southend from Division 4 strugglers to a club who finished 9th in 1985/86 and who would win promotion the following season.


Football On This Day – 25th April 2007
Alan Ball, the youngest member of England's 1966 World Cup winners, tragically died of a heart attack while putting out a bonfire in the garden of his home.
Football On This Day – 25th April 2009
Losing 2-0 at home to Spurs at the break Manchester United brought on Carlos Tevez as a second half sub. Along with Rooney, Ronaldo and Berbatov - some strikeforce that - United won 5-2 and went on to retain the Premier League title that season.
Link - Manchester United results by season
Football On This Day – 25th April 2015
They say that politicians should keep clear of animals and children - perhaps football should be added to that list. In a speech in the run-up to the 2015 general election Prime Minister David Cameron said he wished everyone would support West Ham. An ex-Eton boy supporting the Hammers, now that would have been a first - but then the PM remembered he supported Aston Villa! He blamed 'brain fade' for the mistake but most people thought it was just more bullshit! Then came Boris!
Football On This Day – 25th April 2015
There was very much a 'Division 5' look about the non-league Conference going into the last day of the League season. Recent ex-League sides Barnet and Bristol Rovers were both in with a chance of the title and with it a place back in the Football League. Bristol Rovers beat Alfreton 7-0 at the Memorable Ground in front of a new Conference record crowd of 11,085 but Barnet beat Gateshead 2-0 to pip Rovers to the title and promotion. Three weeks later though Bristol Rovers won back their League place beating Grimsby Town on penalties in the play off final at Wembley - the 47,029 crowd setting a new Conference play-off attendance record.


26th April
Football on This Day – 26th April 1902
Heavily in debt Second Division side Newton Heath are saved when new investment came their way. As part of a fresh start they decided to make a few changes - their colours were changed from gold and green to red and white and their name became... Manchester United!
Football on This Day – 26th April 2003
Be honest, if you owned the club you supported you would be tempted to get yourself picked for the team wouldn't you? Well that's exactly what the Doncaster Rovers owner did in 2003. In the final League match of the Conference season club owner John Ryan came on as a last minute sub in Doncaster's 4-2 win at Hereford United. He said after the match 'I didn't actually get a kick of the ball but I had a good run around' but his one and only appearance for them did see him enter the record books. He was just days short of his 53rd birthday at the time and became the oldest player to make an appearance in an English professional league beating the record set by Neil McBain in 1947.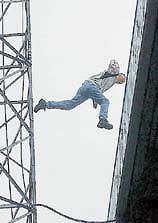 Football on This Day – 26th April 2003
One of the more unusual reasons for abandoning a match. Tranmere had a 2-0 lead over Mansfield Town in a Second Division fixture at Prenton Park in April 2003 when spectator Stephen Anglesey decided to have a wander - and climbed one of the floodlight pylons. He couldn't be persuaded down and jumped the gap between the floodlights and the roof of the Cow Shed stand. Fearing for his safety and the safety of the spectators the crowd of over 7,000 were asked to leave the ground at half time and shortly afterwards the match was abandoned by referee Mike Ryan with Anglesey still on the roof.
Link - abandoned matches
Football on This Day – 26th April 2016
After two years the second Hillsborough inquest finally gave its verdict - the 96 fans who died as a result of the 1989 Hillsborough disaster were unlawfully killed. The inquest jury concluded that the tragedy was the result of failings by the police and ambulance services with match commander, Chief Superintendent David Duckinfield, being 'responsible for manslaughter by gross negligence'. The jury also ruled that Liverpool supporters - who police had originally blamed for the fatal crush - did not cause or contribute to the tragedy. So the truth is finally out - but isn't it a national disgrace that it took over 27 years and needed inquiries and inquests that cost over £100 million to get to that truth!
Football on This Day – 26th April 2017
A bad day for football news. The offices of West Ham United and Newcastle United were raided by HMRC officials investigating an income tax and national insurance fraud. French tax authorities were also involved in the investigation and Chelsea were implicated. Joey Barton was in trouble again picking up an 18 month FA ban for placing 1260 bets on football matches between 2006 and 2013 which included matches he was playing in. There was also speculation that the Premier League would block a possible £200million takeover of Southampton by a company owned by Chinese businessman Gao Jisheng. There were doubts as to whether he would pass the 'fit and proper' standard that the Premier League sets for club owners. The newspapers were full of it the following day with the prize probably going to The Sun with the stories making the front page and relegating Rhian and 'Her Best Bits' and Boris calling Jeremy Corbyn 'a mutton-headed mugwump' to the inside pages!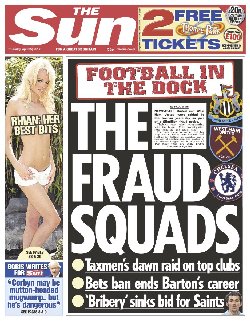 27th April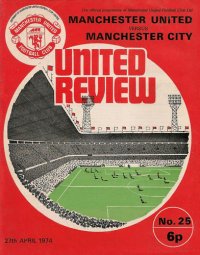 Football On This Day – 27th April 1974
A back-heel from Manchester City's Denis Law resulted in one of the most famous goals in League history – it was against his former club, Manchester United, which put United on the verge of relegation. Law was immediately substituted and didn't play League football again and the match was later abandoned after fans invaded the pitch although the result - his goal was the only goal - was allowed to stand and United were relegated.
Link - abandoned matches
Link - Manchester United results 1973/74




Football On This Day – 27th April 1985
In response to an FA warning following a pitch invasion at Stamford Bridge in March 1985 controversial Chelsea chairman Ken Bates had a shocking solution - a 12-foot high electrified fence around the pitch! It was due to be switched on at the Chelsea v Tottenham First Division fixture on Saturday 27th April 1985 but days before the match the Greater London Council threatened legal action if the switch-on took place. So the big question on match-day was would they or would they not switch on the 12-volts. They didn't - and never would.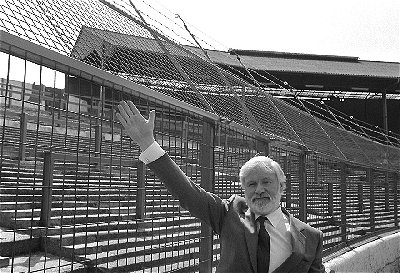 28th April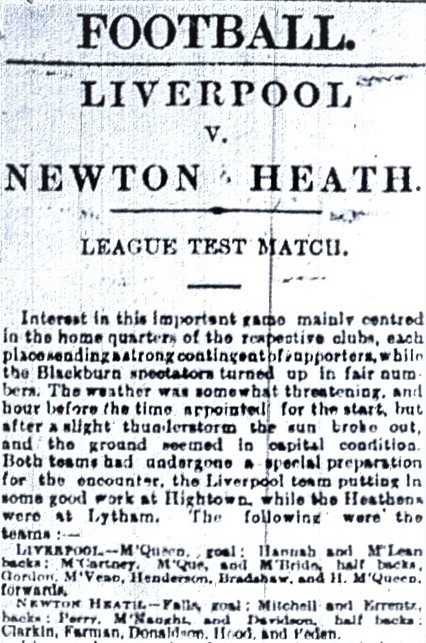 Football On This Day – 28th April 1894
Saturday 28th April 1894 saw the first match played in a rivalry that has proved to be one of the most intense seen in English football. At the unlikely venue of Ewood Park in Blackburn the first competitive match was played between Liverpool and Newton Heath - now Manchester United. And it was an important one - Newton Heath had finished bottom of Division 1 and Liverpool top of Division 2 in 1893/94 with promotion and relegation being decided with test matches. Some 5,000 were present for the match at Ewood Park with gate receipts totalling a mahoosive....£109. First half goals from Patrick Gordon and Harry Bradshaw gave Liverpool the victory and so saw them in their first Football League season promoted to the top flight while Newton Heath were relegated. Liverpool only survived a season in Division 1 which saw the two clubs meet in Football League action for the first time in 1895/96. And both those Division 2 encounters went the way of the home sides - Liverpool winning their home match 7-1 while Newton Heath were 5-2 winners in Manchester.
Link - all the results and tables of Liverpool and Manchester United
Football On This Day – 28th April 1923
Bolton beat West Ham United 2-0 in the FA Cup Final. It was the first match to be played at Wembley and the last FA Cup Final not to be all-ticket. The official attendance was 126,047 but perhaps over 200,000 gained access to the ground. The match, which kicked off 45 minutes late, became known as the 'White Horse Final' in honour of the policeman on a white horse who helped keep the crowds back behind the touchlines to allow the match to be played.
Link - FA Cup results 1922/23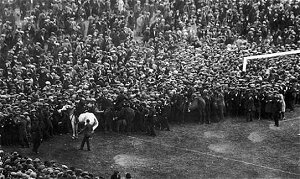 Football On This Day – 28th April 1973
Bobby Charlton played in his 606th and last League match for Manchester United – a 1-0 defeat against Chelsea at Stamford Bridge. His six League goals that season was enough to see him finish as the top scorer for United in 1972/73 when the club finished just above a relegation spot. On the same day his older brother Jackie played his last League game, for Leeds against Southampton at the Dell. Jackie's whole League career was at Elland Road although Bobby went on to play for Preston after leaving Old Trafford.

29th April

Football On This Day – 29th April 1912
Managers moan nowadays if their players have to play twice in a week but West Bromwich Albion completed the 1911/12 season on 29th April 1912 having played seven matches in just 10 days. Amazingly two of those matches were the FA Cup final and final replay and four of those matches were played on four days in a row.
Link - WBA results 1911/12
Football On This Day – 29th April 1950
Bomb damage had seen Old Trafford closed for the first three post-war seasons with Manchester United setting up home at Manchester City's Maine Road ground. But they were finally back at Old Trafford at the start of the 1949/50 season - although perhaps the novelty soon seemed to wear off. The final First Division match of the season - against Fulham on April 29th 1950 - saw what is still the lowest post-war League attendance at Old Trafford - just 11,968.
Link - Manchester United results 1949/50.
Football On This Day – 29th April 1961
A 15,318 London Road crowd saw Peterborough United beat Barrow 6-2 in their final Division Four match of the season. Not only did Posh top the division in their first Football League season but those six goals saw the club complete the season with a record 134 League goals. Terry Bly scored a hat-trick against Barrow to finish the season with 52 League goals, a post-war League best.
Football On This Day – 29th April 1978
A most un-German end to the 1977/78 Bundesliga season. Going into the last match of the season Borussia Mönchengladbach and Cologne were equal on points but Cologne's goal difference was better by 10 goals. Cologne were odds-on favourites for the title but amazingly Mönchengladbach beat Borussia Dortmund by a record-breaking 12-0 scoreline. Cologne still took the title, they beat St Pauli 5-0 to maintain a better goal difference (of 3 goals) but so dramatic was Mönchengladbach's victory there was suspicion of match-fixing. The final conclusion though was that Dortmund's players just gave up on the match and each member of their team was fined for their poor performance.
Football On This Day – 29th April 1991
David Icke was a half-decent goalkeeper playing 37 times for Hereford United in their first League season, 1972/73. When arthritis then ended his playing career cruelly early he became a half-decent BBC TV sports presenter. Then he turned slightly 'strange' saying, amongst many other things, that he was 'the son of God'. Appearing on the BBC Wogan programme on 29th April 1991 he was ridiculed by Terry Wogan with the studio audience - and I guess the wider television public - laughing at his statements which included that Britain would be devastated by tidal waves and earthquakes. The interview was on his 39th birthday which I guess was his Christmas Day! Sad.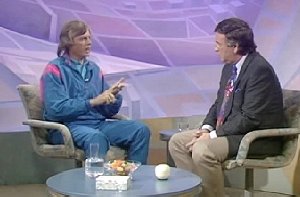 Football On This Day – 29th April 1992
Gary Lineker scored his 48th – and last – England goal in Moscow against CIS (Russia). He played in a further 6 internationals without scoring another goal - he missed a penalty in the 1-1 draw with Brazil at Wembley - leaving his total one short of Bobby Charlton's England record.


30th April
Football On This Day – 30th April 1927
A tragedy at Bramall Lane. Bury full back Sam Wynne collapsed when about to take a free shortly before the interval at the First Division match between Sheffield United and Bury. He was stretchered off but died in the dressing room, the cause of death being found to be pneumonia. The match was abandoned at half time and when replayed the following Thursday (May 5th) the £680 gate receipts from the 15,000 crowd was donated to Sam Wynne's family. In October 1923 he had become the first player to score 2 goals for each side in a League match when playing for Oldham against Manchester United at Boundary Park.
Link - abandoned matches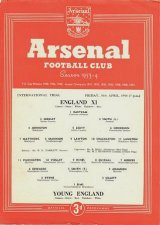 Football On This Day – 30th April 1954
To give the northern hordes something to do the night before attending the FA Cup Final the Football Association arranged the first of what would become a regular eve of Cup Final fixture until 1969 - England v Young England.
Link - England v Young England

Football On This Day – 30th April 1960
A 29,781 crowd at Deepdale saw Tom Finney play his last game for Preston North End, a 2-0 First Division defeat of Luton Town. Every one of his 433 League appearances was for Preston although 3 years later - in September 1963 - he was coaxed out of retirement for a one-off appearance in Belfast for Distillery in a European Cup match against Eusebio's Benfica.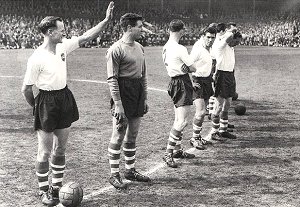 Football On This Day – 30th April 1977
Top grounds nowadays hardly have a blade of grass out of place but there was a time when that was far from true. One of the worst puddings of a pitch was at Derby County's former home, the Baseball Ground, were the pitch was several feet below street level, the drainage was non-existent and the stands stopped any drying winds. Even then Cloughie often ordered that the pitch be watered before a match if a 'sticky' surface would give the Rams an advantage. Things went very wrong though on this day in 1977 when Derby played Manchester City in a First Division match at the Baseball Ground. With minutes remaining and Derby 3-0 up they were awarded a penalty. But the pitch was in such a poor state that the penalty spot had disappeared into the mud. Before the pen could be taken the groundsman, Bob Smith, helped by the referee, had to measure out the distance from the goal line and then paint the mud to mark the new penalty spot from which Gerry Daly scored.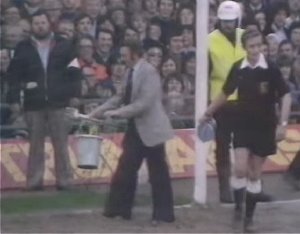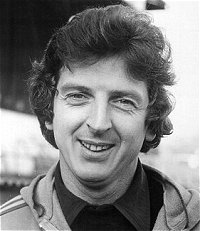 Football On This Day – 30th April 1982
Bristol City sacked Roy Hodgson from his first managerial job in England. With six matches remaining they were doomed to relegation from Division 3 being 13 points from safety with just 6 matches left.
Football On This Day – 30th April 1988
Derby County goalkeeper Peter Shilton broke Terry Paine's Football League appearance record when playing in his 825th League match in the 1-1 First Division draw against Watford at Vicarage Road. He went on to increase the record to 1005 League appearances.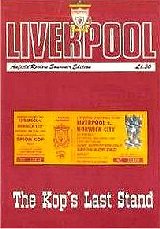 Football On This Day – 30th April 1994
At their final home match of the season Liverpool welcomed back onto the Anfield pitch former players including Billy Liddell, Kenny Dalglish, Tommy Smith, Ian Callaghan and Steve Heighway to mark a sad occasion….the last match in front of a standing Kop. First used in 1906 in its heyday the Kop accommodated around 30,000 standing supporters but capacity had been reduced to around half that for the final match against Norwich City. The Taylor report, which followed the Hillsborough disaster, brought an end to standing terraces in the top divisions with all-seater stadiums being the future. Norwich won 1-0.